I have always questioned myself as to what makes me want to change my cookware set. At times it may be the urge of trying something new and more compatible than my old pots and pans. Or it may be the wear and tear on my existing cookware set. It should be well-constructed, non-toxic, and high-performing; it should meet the ends of my kitchen requirements and should complement the look of my kitchen interiors.
Yes, this is why I have picked the two pioneers of the kitchenware industry here – Cuisinart and Calphalon. I am going to review and compare their two best picks – Cuisinart's GreenGourmet cookware set and Calphalon Classic collection cookware set. We will go in-depth and check the various features they offer. We will compare the performance, durability, compatibility, and the costs of both of them to see which one stands out. To start with, let's have a look at what both cookware sets offer.
Cuisinart vs Calphalon cookware: Let's get started!
The Best Calphalon Cookware Sets
The Best Cuisinart Cookware Sets
At A Glance
Feature
Cuisinart Cookware
Calphalon Cookware
Quantity
12-Piece
14-Piece
Materials
Hard-anodized aluminum
Hard-anodized aluminum
Non-Stick
Yes (water-based ceramic)
Yes (dual-layer nonstick)
Compatibility
Yes (except induction)
Yes (except induction and broiler)
Versatility
Yes
Yes (includes measuring lines, pouring spouts, and straining covers)
Non-Toxic
Yes (PFOA, PTFE, petroleum-free)
Yes (PFOA and PTFE free)
Oven-Safe
Yes (up to 500F)
Yes (up to 450F)
Dishwasher Safe
No (hand-wash only)
No (hand-wash only)
Handles
Riveted recycled stainless steel stay-cool handles
Long cast stainless steel stay-cool handles
Lids
Stainless steel flat lids
Shatter-resistant tempered glass lids
Cuisinart vs Calphalon Cookware: Our Top Picks
Cuisinart GreenGourmet Hard-Anodized 12-Piece Nonstick Cookware Set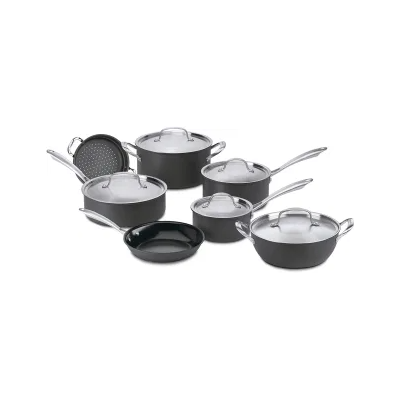 This Cuisinart GreenGourmet collection allows you to cook environmental-friendly meals without having to compromise on the taste. This 12-piece set contains all the basic kitchen pots and pans that are required to start a new kitchen. This cookware set is constructed using the hard-anodized aluminum, which makes it highly conducive to heat; it also allows even heating, eliminating hotspots. You can cook delicious meals using minimal energy and saving a lot of your precious time. The handles and the lids are made of riveted 70% recycled stainless steel to stay cool on the cooktops at all times.
The cookware has a ceramic nonstick coating, which is eco-friendly and healthy (water-based ceramic material.) This surface does not peel off and is 100% free of petroleum and toxins, including PFOA and PTFE. The cookware features a scratch-free and corrosion-resistant surface for a fantastic cooking experience. The cookware allows you to cook food with minimal oil consumption. These pots and pans are extremely versatile and compatible with most cooktops except induction. It is oven-safe and broiler-safe with heat tolerance of up to 500F.
Calphalon Classic Hard-Anodized 14-Piece Nonstick Cookware Set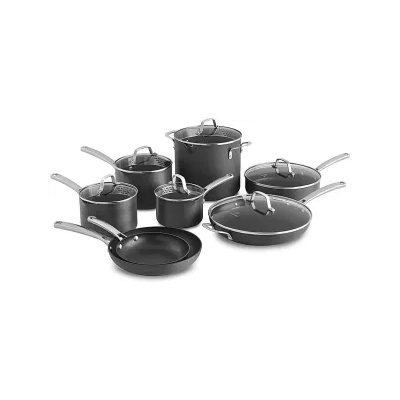 This Calphalon classic series of cookware set is an excellent inclusion for your kitchen, especially if you are a busy person struggling to cook mouth-watering meals for your family and guests. This 14-piece cookware set gives every facility that you need for perfect, daily cooking – measuring lines, pouring spouts, and straining covers. These pots and pans are constructed using durable hard-anodized aluminum, and the surface has a dual-layer nonstick coating. The aluminum allows speedy, even heating to cook perfect meals without any hotspots. The nonstick coating allows for easy clean-up and convenient food release.
This cookware set includes all the basic inclusions a new kitchen requires to start. It is versatile and compatible with most cooktops except induction. The pots and pans are oven-safe with heat tolerance up to 450oF. The nonstick coating is 100% PFOA and PTFE free to promote healthy, everyday cooking. This allows you to keep food warm until served on your dinner plates. The handles are made long enough with cast stainless steel to stay cool on all cooktops, and the lids are made of shatter-resistant tempered glass. Hand-wash only is recommended for long-lasting durability.
Cuisinart vs Calphalon Cookware: Detailed Comparison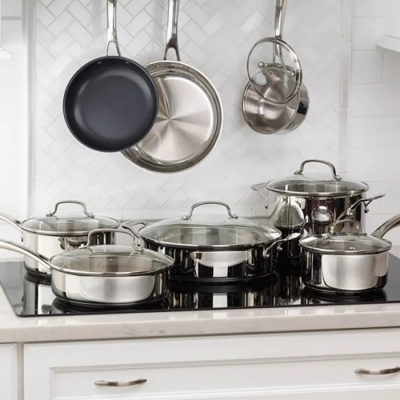 1. Design and Construction
Both Cuisinart and Calphalon brands offers complete kitchenware solutions with its new collection of pots and pans. The GreenGourmet promotes eco-friendly cooking and encloses 12 pieces of versatile cookware, while the Classic collection offers 14 pieces of cookware and is toxin-free too. The former is designed for comfort, while the latter is designed for excellence. The pots and pans of Calphalon cookware have measuring lines, pouring spouts, and straining covers included in the interior design.
Both cookware is constructed using hard-anodized aluminum and double-layer of nonstick coating. Cuisinart uses ceramic-based nonstick; while, Calphalon uses regular nonstick coating. Both the brand's pots and pans are equipped with stainless steel 'stay-cool' handles, and the collection includes shatter-resistant, tempered glass lids for perfect cooking that retains all the moisture and flavors within.
PS: Calphalon brand exceeds the design and construction expectations; also, it encloses 14-pieces of cookware with perfect cooking design. I go with the Calphalon brand's pots and pans here.
MORE ABOUT CALPHALON COOKWARE:
All-Clad vs Calphalon – Which Should You Buy?
Calphalon Stainless Steel Review: The Best Cookware?
Calphalon Cookware Review: Pros, Cons And Rating
Circulon vs Calphalon Cookware – Which Cookware is Better?
Calphalon Classic Review: Pros, Cons and Rating
Anolon vs Calphalon – Which Cookware is Better?
Calphalon Select Cookware Reviews: Worth Buying?
T Fal vs Calphalon Cookware – Which Cookware is Better?
2. Material and Durability
As far as the basic construction is concerned, both have used the heavy-duty, hard-anodized aluminum; however, they are distinct when nonstick cooking is concerned. Cuisinart GreenGourmet has a nonstick surface that is made of water-based ceramic material – ceramic. It is PFOA-free, petroleum-free, and PTFE-free; while, the Calphalon Classic has a superior quality regular nonstick coating, which is just PFOA free – it lacks to remove the PTFE toxins.
Talking about durability, Cuisinart's nonstick surface is fragile compared to Calphalon's surface. The nonstick easily wears out, peels off and cracks after prolonged use in the former cookware pots and pans. Calphalon shows long-lasting durability as far as the material is concerned.
PS: Calphalon Classic is PFOA-free, which makes it non-toxic. The nonstick coating lasts longer than the other option; therefore, my pick here is the Calphalon brand.
3. Performance
Calphalon cookware are born to perform; the food doesn't stick on its nonstick surface; thereby, releasing food on your plates is a blissful experience. You can cook healthy, oil-free food on these pots and pans. The aluminum base speeds-up your cooking process due to even heat distribution and high heat conductivity. You can perfectly cook meals in just a few minutes.
Contrarily, although the Cuisinart has a nonstick ceramic coating, food upon repeated use tends to stick on the surface. Food release is easy; however, if overcooked, then you would have to scratch the food out of the pan. This results in the nonstick layer getting peeled, scratched, and wrapped.
PS: I don't want particles of ceramic to come into my food; thereby, I choose Calphalon brand and its cookware in terms of performance.
4. Cleaning and Maintenance
Both are easy to clean as they are designed with nonstick surfaces. A dishwasher can deteriorate the material-quality; therefore, the brands recommend not to use them in the dishwasher. Hand-wash them, which is easy and quick. Simply use a soft sponge and liquid soap to clean up the pan's mess in no time. Again, Calphalon cookware is easy to clean here as the food practically doesn't stick on to the surface a lot.
PS: Calphalon cookware is better performing than Cuisinart's cookware; therefore, you know my choice here too.
MORE ABOUT CUISINART COOKWARE:
Cuisinart vs All-Clad Cookware: An Unbiased Brand Comparison
Cuisinart TOB-260N1 Chef's Convection Toaster Oven: Full Review
Detailed Product Review: Cuisinart TOA-60 Toaster Oven Air Fryer
Review of Cuisinart MCP-12N Multiclad Pro Stainless Steel Cookware Set
Cuisinart Greengourmet Cookware Review: Should You Buy This?
Cuisinart Cookware Review: Worth Buying?
5. Cooktop Compatibility and Versatility
The Cuisinart cookware set is compatible for use with most cooktops such as gas stoves, electric, glass top stoves, ceramic, halogen, oven and broiler. It does not support induction cooking and can withstand heat up to 500F. On the other hand, Calphalon cookware is compatible with mostly all cooktops mentioned above except induction and broiler and can withstand heat up to 450F.
Both are equally versatile, and you can cook all types of meals, cuisines and try out innovative dishes using them.
PS: Cuisinart ceramic cookware collection being compatible with grills and broilers, and being able to withstand higher heating temperatures exceeds by a point here.
6. Value for Money
When it comes to investing your hard-earned money, you always want to look for a cookware option that is durable and lasts long. You also want it packed with cooking features, and should be compatible and versatile when it comes to cooking varieties for your family and guests. Cuisinart company is an exceptional compilation of cookware range that can complement your kitchen and provide you with excellent cooking experience; however, the ceramic coating does not promise long-lasting performance.
The Calphalon cookware company is an all-in-one cooking solution that offers a great cooking experience to everyone, including beginners as well as chefs. It is highly durable, long-lasting, compatible, versatile, and a complete value for money that you tend to invest in. Of course, this set of pots and pans is more expensive than the other ones, but it is all worth the purchase.
Which Cookware Brand Is Better: Cuisinart or Calphalon?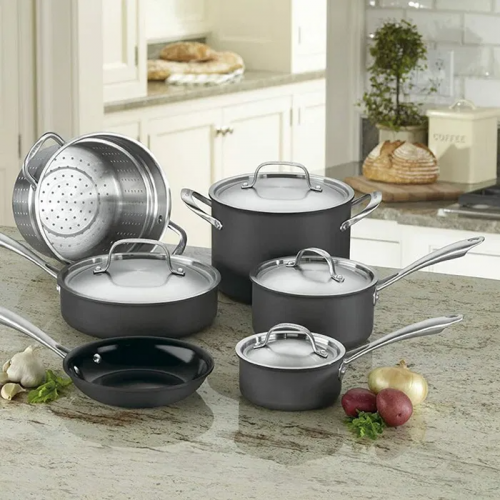 I have done an in-depth analysis of both the cookware sets and after careful research, I have concluded that the Calphalon Classic nonstick cookware set , although a little high-priced compared to the other cookware option, is 100% worth the purchase. You will not regret this investment, and I am sure you will love cooking in these pots and pans. I have made my choice – what about you?

Talya Davis
Talya, like all members of the HomeDesignX team, is enamored by all things related to cooking and eating. She's written cookware articles for numerous publications before working with her lifelong friend Jessica to create their very own website on cookware.
She's currently writing a book on induction cooktops, and enjoys making clean, vegan meals for her family.