About Cuisinart Cookware
Festive season comes with decorations, beautiful outfits, celebrations, gifts, and, most importantly, great festival food. It's all fun making good food until we realize that the cooking utensil got all stained up, and it'll never go even after hundreds of washes; that's when we think of an essential thing" stainless material." It's necessary to save the dishes from getting stained and very useful as it saves time and money for using the dish cleaner again and again.
Cuisinart has been doing a great job since 1971 with a humble food processor and is now offering the best range of cookware sets with the best quality and outstanding performance throughout the years. They've been providing easy and handy products with the safest measures to use them and are the best in their field. Cuisinart serves people with quality products and offers various kitchen and cookware materials, including dinner sets, dishes, etc.
Stainless Steel Cookware
Since we all know earlier, Teflon was used in coating almost every kitchen product and almost every household carrying those products. Teflon was then proved to be releasing dangerous and toxic fumes that could be fatal if consumed with air. This gave birth to a new era kitchen appliance, and that was "the stainless steel."
It's a healthy and reliable material with no issues with its uses, easy to clean, and doesn't react with any food, and, most importantly, it does not catch rust. The stainless steel has been ruling over since then as it never loses its luster, which makes it even better for use. Everyone who cooks prefers stainless steel only because it is very easy to clean such utensils.
Stainless steel is undoubtedly very important and everyone's first choice, but it's a fact that many companies make fake or bad quality products, and it becomes difficult for people to choose the right one. The Cuisinart MCP-12N Multiclad Pro Stainless Steel 12-Piece Cookware Set has all the qualities needed to make a product best and stand out in contingent.
Detailed Review: Cuisinart MCP-12N Multiclad Pro Stainless Steel 12-Piece Cookware Set
What is Cuisinart MCP-12N Multi-Clad Pro 12-piece Cookware Set?
The Cuisinart Multi-Clad Pro has an aluminum core bonded feature with a smooth and brushed finishing of stainless steel along with a delicately covered polished and stainless mirror interior work. Not only this interior looks good, but it also gives a worry-free experience with 100% customer satisfaction. If taken care of properly, the product will last long for several years and has great durability.
What Are Included?
This ideal cookware set contains a variety of pans, skillets with lids. It also includes a steamer insert along with a lid. The set provides you with all the essential basic cookware pieces you require to cook your favorite multi-course meal. The different sizes of each cookware benefit you as it gives you an option to choose the right-sized piece according to your needs.
The Cuisinart MCP-12N Multi-Clad Pro Cookware Set contains:
1.5-quart saucepan and lid
3.5-quart sauté pan with lid
3-quart saucepan and lid
10-inch open skillet
8-inch open skillet
8- quart stockpot
A steamer insert with a lid
The smaller cookware is useful for cooking small side dishes, warming and reheating while the larger ones provide a great option for main course meals and dinners.
Are you looking for a high-quality cookware set? Here's our full review of Cuisinart MCP-12N Multiclad Pro Stainless Steel 12-Piece Cookware Set and why should buy this set.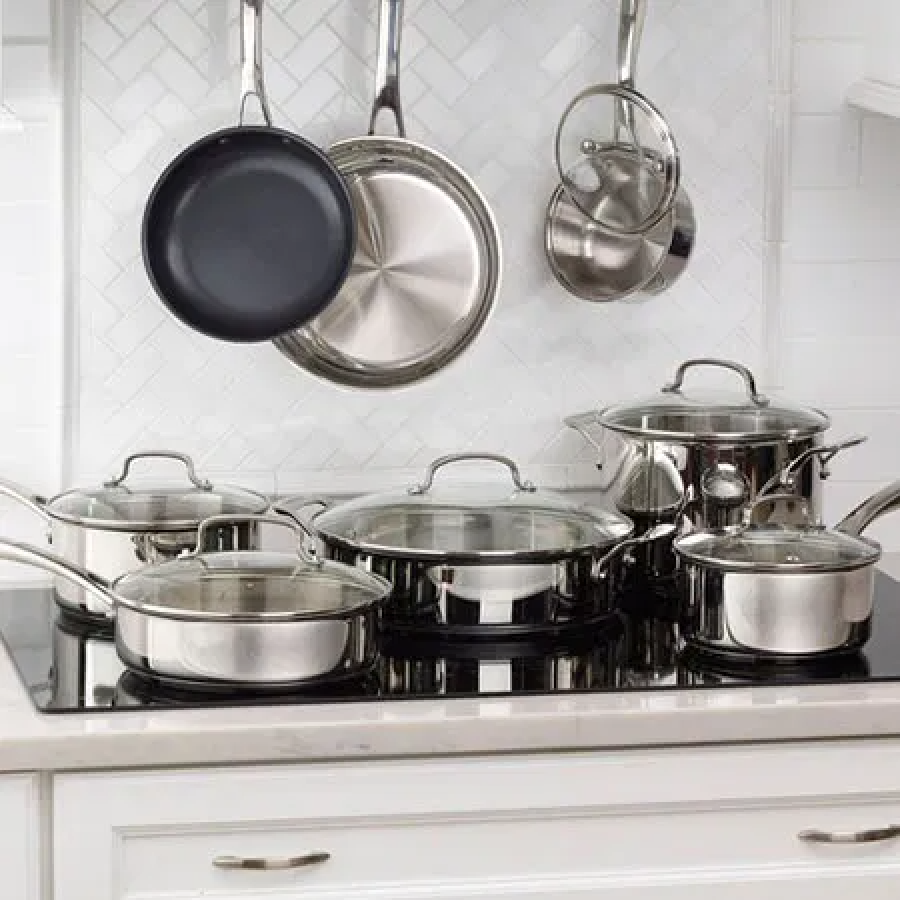 Quick Facts
The flawlessly designed Cuisinart MCP-12N Multi-Clad Pro Cookware Set has professional brushed finish interiors and exteriors.
It is provided with an even heat surround technology that offers consistent heat distribution all over the cookware.
It comes with a "tri-ply" feature as the aluminum layer is sandwiched between two layers of steel, which improves the cookware's conductivity and assists in a weight reduction of the cookware.
The stainless steel handles are riveted securely to the cookware and don't lose or fall off, preventing accidental breakage.
The sturdy design is long-lasting and resists warping, so even if you lose yourself for a moment watching your favorite show, you need not worry much.
The stainless steel lids are self-basting, tight-fitting but provide easy escape of excess pressure and moisture. Thus preventing your food from being too soggy or too dry.
Some of the lids can be swapped between the pans hence reducing your burden of a hasty search.
The long handles provide efficient balance and fabulous stability for carrying the cookware easily.
Pros
Provides excellent heat transfer with great heat retention power.
Their prices are quite affordable and budget-friendly (you need not loosen your purse strings)
Its sturdy design can accompany you for a long time unless you don't tend to pour your anger on it and break it.
The steamer insert provides an opportunity for the steaming of healthy and delicious vegetables. Steaming is a faster and healthier alternative to the traditional method of boiling.
It can be easily used on an induction stovetop. The aluminum layer makes it induction-compatible.
The tri-ply construction provides quick and efficient cooking of meals.
The specially tapered rims are drip-free, which facilitates easy pouring.
Easily transferrable from stovetop to oven.
It's far from discoloration and does not react with food materials.
They are comfortable and safe to handle.
Cons
It requires considerable and time-consuming cleaning. It's a bit of a challenge to keep it clean and shiny as before.
The cookware is somewhat on the heavier side in comparison to the non-stick cookware pieces.
The handles present on the sides can get hot.
Overheating while preheating may damage the product.
The oil rainbows, along with stains of proteins, may become visible on the surface.
Some parts of the cookware, which highly mirror polished, can be susceptible to temperature shock.
Should You Buy Cuisinart Multiclad Pro Stainless Steel Cookware Set?
Now you know the features, benefits as well as detrimental of using this product, the question arises whether you should give it a place in your kitchen or not.
Let's look at some reasons why you should buy this Cuisinart MCP-12N Multiclad Pro cookware set:
This complete solid set of cookware is well-crafted and brightly designed. It's outstanding quality cookware, which perfectly adds value to your kitchen. It does not alter the taste of the food cooked and captures the aroma and flavor very well. It is a whole set of cookware containing all the necessary different sized assortments. With the attractive design and versatility, it makes cooking fun. It's a beautiful, reliable, and healthier alternative to toxic Teflon cookware.
It offers you a natural, enduring, and traditional route of cooking. It reduces the time spent on preheating dishes as the conduction power is quite high. The varied cookware present in this set can be used for various purposes fulfilling numerous kitchen tasks. The variety of tools in his superb set allows you to perform all the basic tasks from preparing entries for the whole family to just reheating a small portion of breakfast dishes and soups. The dishes stay warm, and you can easily set the table without worrying about the cooling-off with proper care and maintenance; it can last a lifetime, and you will be free from the obligation of choosing more cookware sets. Apart from using in our kitchens, it can be a valuable, perfect gift option you can surely give with pride.
Read more: Cuisinart cookware review
Final Thought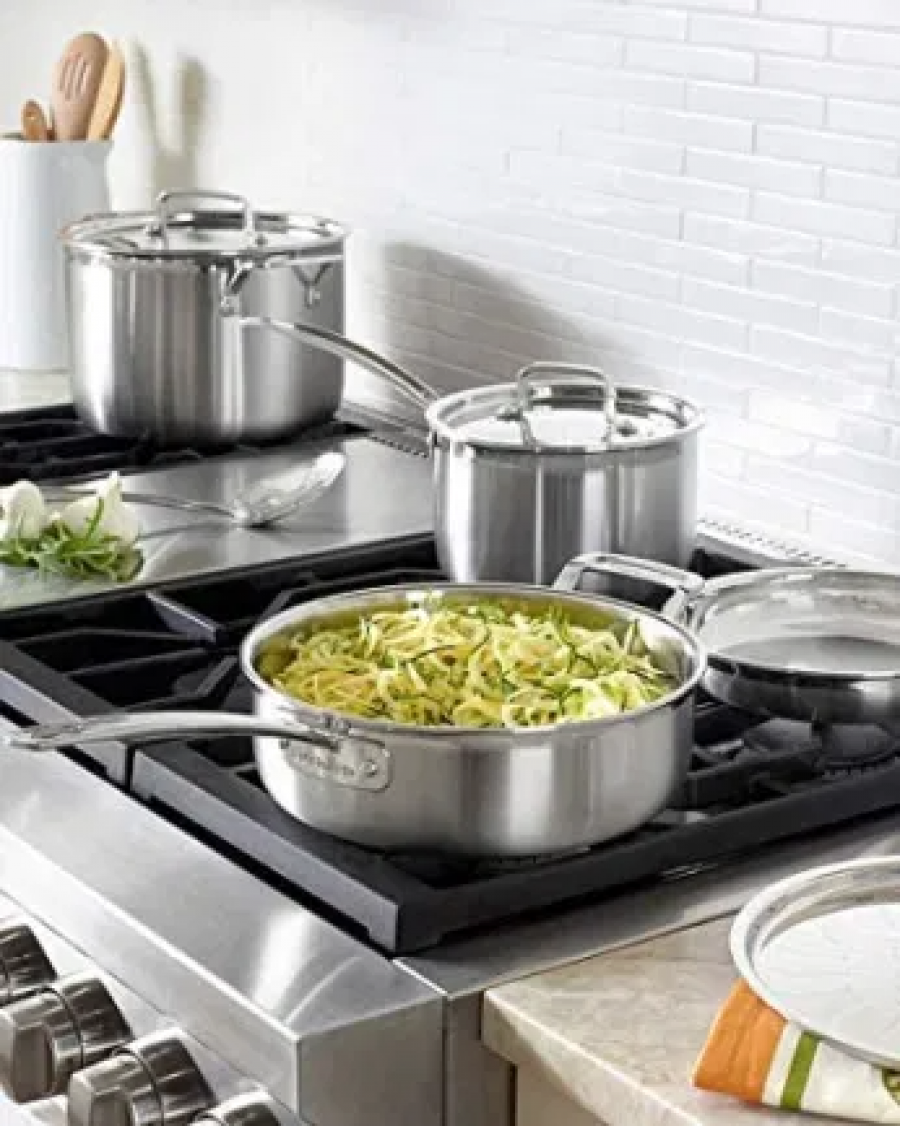 Are you a beginner in the kitchen or on the way to making a complete change in the pans and pots category? Then the Cuisinart MCP-12N Multiclad Pro Cookware Set is specially made for you. It's time to switch to stainless steel and leave the toxic Teflon fumes behind.
The professional brushed finish and easy maintenance make it a foremost choice for a traditional kitchen approach. This is a perfect choice for customers who look for the best quality and promising performance. Its beautiful design will make you fall in love with it. It fulfills all the demands of a modern kitchen.
What could be a better option than Cuisinart MCP-12N Multiclad Pro Cookware Set at such a lovable price? Make use of this impressive cookware set and let your investment be worthwhile. Just keep in mind to cook at lower temperatures to prevent sticking and scorching of food, and then rest assured. It will serve your family and support you for many years to come. Welcome home classic style cookware on a low budget and satisfy your needs for perfect cooking. Use this Cuisinart MCP-12N Multiclad Pro Cookware Set and let the fun of cooking begin. It's a dream come true for chefs and homemakers.

Talya Davis
Talya, like all members of the HomeDesignX team, is enamored by all things related to cooking and eating. She's written cookware articles for numerous publications before working with her lifelong friend Jessica to create their very own website on cookware.
She's currently writing a book on induction cooktops, and enjoys making clean, vegan meals for her family.