Buying new cookware gets hard, especially when there's a wide variety available in the market today. Cuisinart and All-Clad are two amazing brands that are highly trending, and a lot of buyers tend to confuse them with which brand to choose from.
This article will help you by providing an in-depth comparison between the two most famous cookware brands, Cuisinart and All-Clad. I will compare them in terms of materials, construction, design, cooking efficiency, ease of use, price, and much more.
Cuisinart vs All-Clad: Let's get started!
Cuisinart Cookware: Introduction and Full Review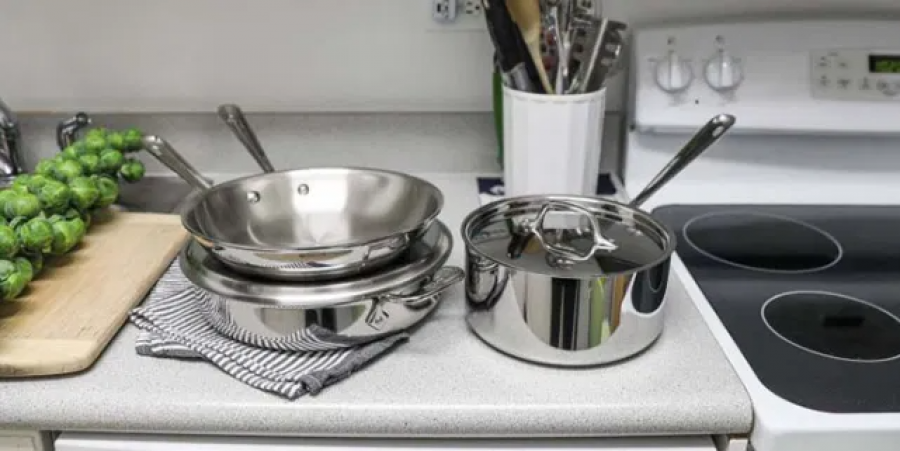 About Cuisinart Cookware
Unlike All-Clad, Cuisinart is not a premium cookware brand. However, Cuisinart is a Chinese kitchen appliance brand that also produces high-quality cookware. The brand's cookware is perfect for the average home cook looking for reliable performance and durability at a reasonable price rate.
Read more: Cuisinart MCP-12N Multiclad Pro Stainless Steel 12-Piece Cookware Set: Full Review
Pros of Cuisinart Cookware
One major drawback of All-Clad was its price, and that is the advantage of Cuisinart cookware. They offer solid performance and durability at a reasonable price.
The brand provides elegantly designed stainless and non-stick cookware made of high-quality materials.
Cons of Cuisinart Cookware
Unlike All-Clad, Cuisinart doesn't provide 5-ply construction or copper core cookware. These are helpful for professional chefs, and hence, Cuisinart cookware remains limited to home cooking.
The majority of the brand's collections are manufactured in China, which reduces its prestige.
As compared to All-Clad, Cuisinart cookware is slightly less durable.
The Best Cuisinart Cookware Sets
All-Clad Cookware: Introduction and Full Review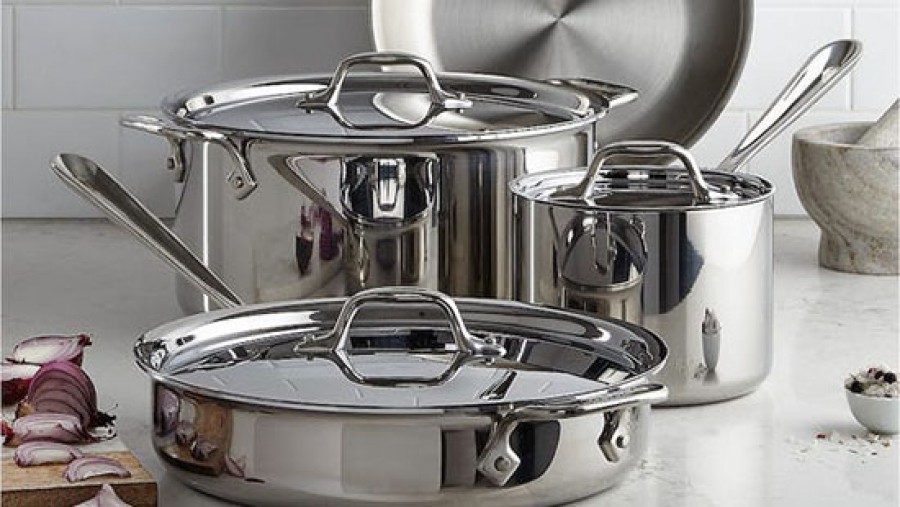 About All-Clad Cookware
All-Clad has created prestige over the past decades as one of the world's finest cookware brands. The brand is used by millions of residence cooks and skilled chefs around the globe. Though All-Clad is best known for its stainless steel multi-clad collections, they also sell many non-stick hard-anodized aluminum options, including the HA1 and B1 collections.
Read more: All Clad D3 vs D5 Cookware – Which One Will Suit Your Kitchen?
Pros of All-Clad Cookware
Every stainless steel All-Clad pan is fully-clad, which means that the bonded layers extend throughout the piece.
The advantage of fully-clad construction is that not just the foundation, the entire pan heats easily and evenly.
All-Clad is made with metals of the highest quality, including stainless steel 18/10 (cooking surface), stainless steel 18/0 (exterior), and aluminum or copper (core).
All-Clad is known for its toughness, and a lifetime warranty comes with each product.
Cons of All-Clad Cookware
The primary drawback of All-Clad cookware is its price. It is one of the market's most expensive brands. However, if you think you're never going to need a replacement, it's a durable investment.
Some clients, especially on steamers and pots, complain about the design of the handles. It can be hard to keep and pour because of the U-shaped form and flat edges. There are upgraded handles in some of the newer sets, but it's something to consider.
All-Clad focuses mainly on fully-clad stainless steel cookware and has a small range of non-stick pots and pans of hard-anodized aluminum.
The cleaning process of the pans is quite hard, especially for the stainless steel ones. Food will stick if you do not heat and oil the pan the correct way.
The Best All-Clad Cookware Sets
Cuisinart vs All-Clad Cookware: Comparison Chart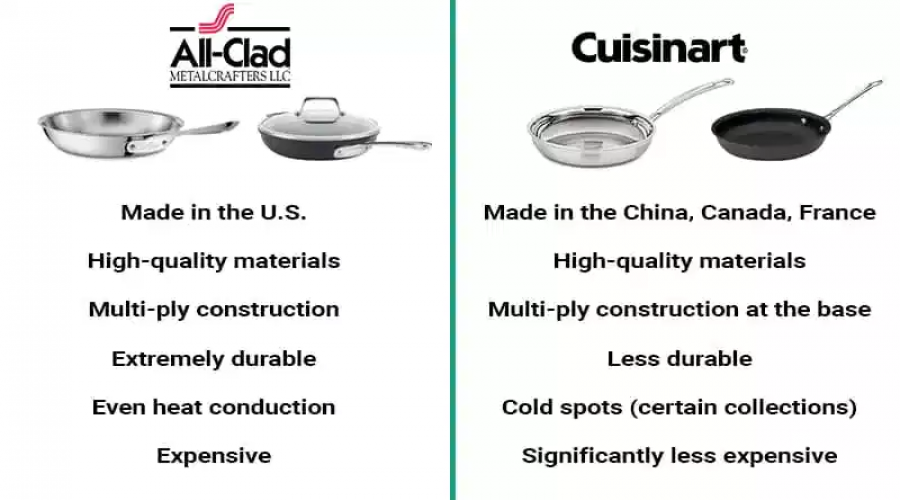 Cuisinart vs All-Clad Cookware: Detailed Comparison
1. MATERIAL
Although both All-Clad and Cuisinart use similar raw materials, like aluminum, stainless steel, hard-anodized aluminum, and non-stick coating, they also have their share of differences.
In terms of stainless steel cookware, All-Clad offers two of their collections, Copper core and C4 copper that has copper has their core layer. On the other hand, almost all Cuisinart cookware is made with an aluminum core.
Copper core cookware conducts heat quicker and offers more control over the temperature; however, they're quite costly.
For non-stick cookware, All-Clad has two options that are both made with hard-anodized aluminum, a bonded steel base, and three layers of PFTE coating on the surface.
The bonded steel base helps to increase durability and makes the cookware compatible with different cooktops. On the other hand, Cuisinart offers a much greater variety of non-stick cookware options. However, none of Cuisinart's non-stick collections offer a steel base. Hence, they're not compatible with induction cooktops.
2. DESIGN
Both the brands offer beautiful and stylish cookware designs that add to the kitchen aesthetics elegantly. The triple-ply stainless steel collection is almost identical. With flared rims, highly polished cooking surfaces, and stainless steel handles attached by steel rivets; they feature an elegant design.
All-Clad's handles are quite straight forward in terms of handles, whereas Cuisinart's handles are fairly curved. Moreover, Cuisinart also provides different color options for their non-stick and stainless steel collections.
3. DURABILITY
In terms of durability, All-Clad fairly wins over Cuisinart. All-Clad claims a limited lifetime warranty, and the fact is that the cookware does last for long decades. All-Clad derives its materials mostly from the U.S.A., unlike Cuisinart that majorly manufactures in China. In terms of quality and durability, All-Clad doesn't make its customers compromise in any way and provide only the best.
Nonetheless, Cuisinart also provides a limited lifetime warranty on their cookware that is fairly durable.
4.PRICE
This is probably the biggest difference between the two brands that set them apart. All-Clad is significantly more expensive than Cuisinart in terms of all their collections. To provide a clearer idea, All-Clad cookware costs almost twice as much as Cuisinart.
The primary reason behind this price gap is that All-Clad sources its materials from the U.S.A., unlike Cuisinart that manufactures in China. All-Clad incorporates premium quality materials for all their collections and offers maximum durability.
Cuisinart vs All-Clad Cookware: The Winner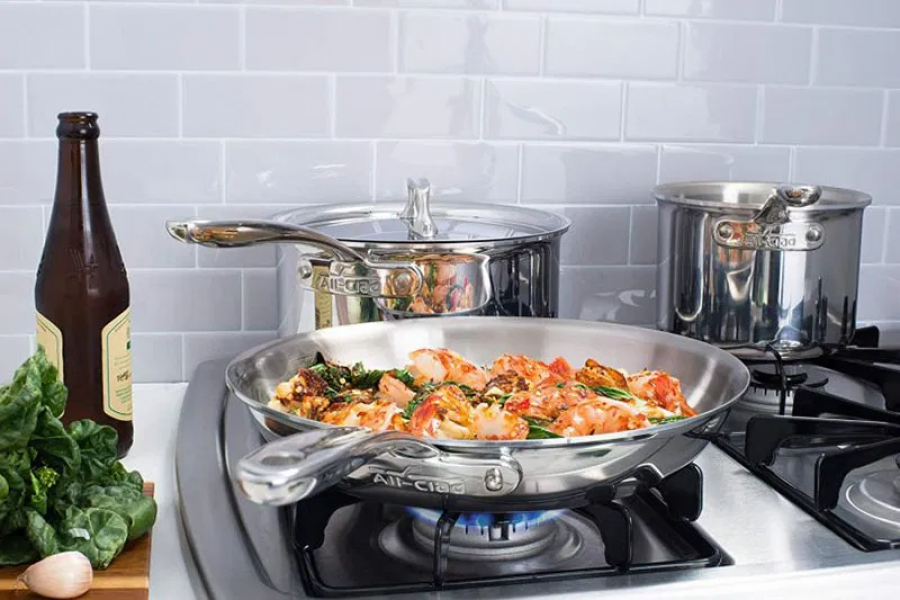 After looking at this quick comparison of All-Clad and Cuisinart's two brands, we hope that now you have a much clearer idea about the two brands. In my opinion, All-Clad stands out for its stainless steel collection and beats Cuisinart in most of the categories. All-Clad cookware is extremely durable and bound to last a lifetime.
Nonetheless, Cuisinart wins in two categories. The first one is the price, and it's amazing to get good quality cookware at such a reasonable price. Secondly, Cuisinart also offers a wider variety of options across all of their collections. To sum up, if the price isn't an issue for you, All-Clad is an amazing brand worth the premium price tag. However, if you're on a budget and don't mind replacing your cookware in a few years, go for Cuisinart.

Talya Davis
Talya, like all members of the HomeDesignX team, is enamored by all things related to cooking and eating. She's written cookware articles for numerous publications before working with her lifelong friend Jessica to create their very own website on cookware.
She's currently writing a book on induction cooktops, and enjoys making clean, vegan meals for her family.