All-Clad cookware – the name itself is enough to draw attention. It is an American brand that operates solely from Canonsburg, Pennsylvania. It promises lifetime durability and top-notch performance for all its fully-clad stainless steel cookware.
Here, we are going to review and compare the two of its best lines: The All Clad D3 vs D5.
I am going to touch on every important factor here, including design, construction, material, feature, performance, compatibility, versatility, warranty, and cost. Let's take a quick look at each cookware set to begin.
What's better: All Clad D3 or D5 cookware? Let's find out!
All Clad D3 vs D5: Full Reviews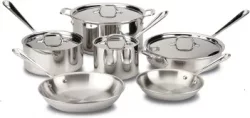 Pieces included:
8 inch frying pan
10 inch fry pan
2-quart sauce pan with lid
3-quart sauce pan with lid
3-quart saute pan with lid
8-quart stockpot with lid
Are you passionate about cooking delicious meals for your family and friends? The All-Clad D3 stainless steel cookware set will be a timeless inclusion to your kitchen.
It's known for its performance, tri-ply construction, and ease of use. This 10-piece set of frying pans and pots is an ideal investment for all your versatile cooking requirements – you can braise, sear, sauté, and simmer, all with this one set.
Made in the USA, this cookware is built to last for a lifetime. It even comes with a lifetime limited warranty.
This D3 stainless steel cookware set is made of tri-ply alternating layers of conductive aluminum and American, fully clad stainless steel.
The handles are secured with stainless steel rivets and offer stay-cool technology for a comfortable grip. The set is compatible with all stovetops, including induction cooktops, broilers, and ovens with a heat-tolerance of 600°F.
The set also includes tight-fitting, stainless steel lids to retain all the food's nutrients and juices.
This cookware is dishwasher-safe, making it easy to use, clean, and maintain. Like with most cookware, however, we recommend hand-washing only in order to preserve its lifespan as much as possible
Pros
Very responsive to changes in temperature
The more affordable option of the two
Will last a lifetime if treated well
Relatively lightweight for easy handling
Good variety of cooking items (sauce pans, frying pans, stockpot)
Made in the USA
Comes with a warranty
Tri-ply stainless steel construction
Cons
Heat retention is slightly lower than the D5 collection
Unlike the D5 collection, there's no option for a brushed exterior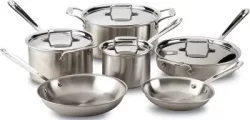 Pieces included:
8 inch fry pan
10 inch fry pan
1.5-quart sauce pan with lid
3-quart sauce pan with lid
3-quart saute pan
5.5-quart dutch oven with lid
Are you looking for a chef-level professional cookware set? The Stainless Steel All-Clad D5 cookware set is an ideal choice that offers your kitchen an immersive, professional appeal.
This set offers professional performance along with sturdy 5-ply construction and long-lasting durability.
It is an all-in-one cookware set for professional braising, searing, simmering, and sautéing, promising versatility in chef-style cooking.
This stainless steel and aluminum cookware set is proudly manufactured in the USA and offers a limited lifetime warranty.
This D5 cookware set stainless steel is made of 5-ply alternating layers of impact-bonded aluminum and American, fully-clad stainless steel with construction straight up to the rim. The exteriors are brushed for an elegant stainless steel look.
It offers excellent even heat distribution for speedy, warp-free, and perfect cooking results. The pans and pots alike are designed with flared rims to deliver drip-free pouring.
The stainless steel handles are long and riveted so they provide a sturdy, comfortable grip. The set includes stainless steel covers as well, which allows the nutrients and flavors to remain intact.
This cookware set offers 100% compatibility with all stovetops, ovens, and grills with a heating capacity of 600°F, and is dishwasher-safe.
Pros
Flared rims for mess-free pouring
Greater heat retention than the D3
Comes with larger handles than the D3
Comes with a warranty
You can choose between the All-Clad D5 brushed or polished exterior
Made in the USA
5-ply stainless steel construction
Cons
More expensive than the D3
Heavier than the D3 line
Heats a bit slower than the D3
At A Glance
Feature
All-Clad D3 Stainless Steel 10-Piece Cookware Set
All-Clad D5 Stainless Steel 10-Piece Cookware Set
Quantity of Items
10-Piece
10-Piece
Materials
American Tri-ply stainless steel and heavy-duty aluminum
American 5-ply stainless steel and impact-bonded aluminum
Compatibility
Yes (all cooktops)
Yes (all cooktops)
Versatility
Yes (metal utensil-safe)
Yes (metal utensil-safe)
Oven-Safe
Yes (up to 600F)
Yes (up to 600F)
Handles
Riveted, stay-cool stainless steel handles
Riveted, stay-cool stainless steel handles
Lids
Flat, tight-fitting stainless-steel lids
Flat, tight-fitting stainless-steel lids
All Clad D3 vs D5 Cookware: A Detailed Comparison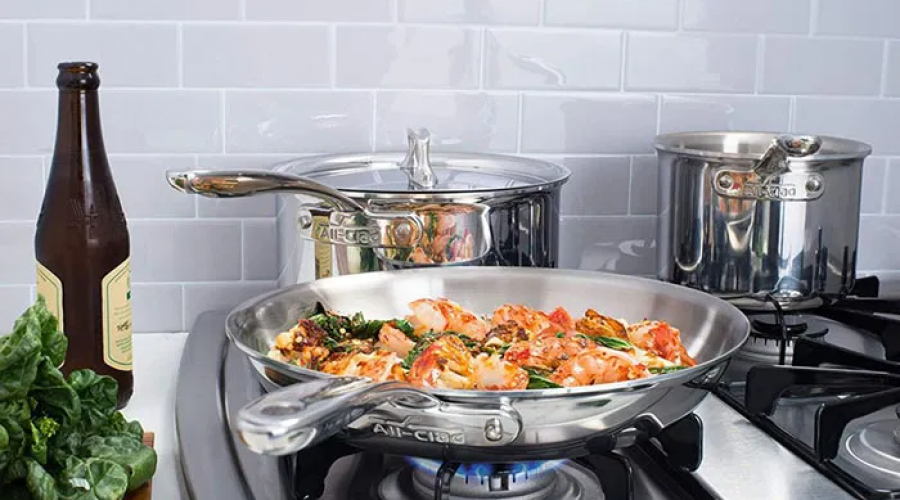 1. Design and Construction
The first criteria in our comparison of the d3 vs d5 is design and construction.
The All Clad D3 and D5 cookware offer similar design and construction. However, there are factors that differentiate them from one another. The All Clad D3 cookware set offers a simple stainless steel exterior, whereas the All Clad D5 set offers a brushed stainless steel exterior.
The former cookware set is designed for home kitchens, while the latter is designed for more professional kitchens. Both are professional sets that you could find world-renowned chefs using.
The All Clad D3 cookware is constructed with tri-ply (three bonded layers) of heavy-duty aluminum and American stainless steel. In contrast, the All Clad D5 cookware is made of five bonded layers of impact-bonded aluminum and American stainless steel.
Both sets of cookware are constructed for sturdy, long-lasting use and promise to perform for a lifetime. There is a difference that the number of bonded layers affects, however.
While both the All Clad D3 and D5 cookware are made with a steel cooking surface, exterior and aluminum core, D5 cookware has two additional layers of steel in addition to the normal tri-ply stainless steel.
We'll talk about the difference these extra layers make in a little bit.
Winner: All-Clad D5. When it comes to the design and construction, the added layers just add an extra bit of security and sturdiness.
2. Material and Durability
The All-Clad D3 cookware set is made of heavy-duty aluminum and American stainless steel, while the All Clad D5 cookware is made of impact-bonded aluminum and American stainless steel. Yes, both are constructed using similar materials; however, the durability is slightly different.
D5 has five layers bonded with each other, and D3 has tri-ply stainless steel layers bonded together. However, because the D3 is already built to be nearly indestructible, there isn't a huge difference between All-Clad D3 and D5 in durability for the average person.
The D3 is built for everyday home-based cooking, while the D5 set is designed to withstand years of professional cooking and use.
Winner: It's hard to choose one of the two because they are similar in material and durability; however, the All Clad D3 is perfect for me as far as my needs are concerned. The difference of two extra layers to the tri-ply stainless steel is not significant for my cooking style.
3. Overall Performance
The All-Clad D5 set performs better in some areas than the All-Clad D3, but worse in others. Let me explain.
In terms of heat distribution, the two extra layers of stainless steel in the D5 set helps to slow the spread of heat across the cooking surface of the cookware. This means it's guaranteed to heat the frying pan up evenly every time.
The tri-ply D3 heats evenly as well, but the additional layers in the D5 are a bonus to ensure heat spots never form in your food.
Both sets hold heat well thanks to their stainless steel and aluminum ply construction. However, the D5 wins in the heat retention department, if only slightly, because of its extra layers.
When it comes to heating up, however, the D3 is the clear winner. This is because the cooking surface can heat up about 10% faster than the D5, since it's made with fewer metals.
The D3 is also more responsive than its newer counterpart, largely for the same reason. This means the D5 won't react to changes in heat as quickly.
Finally, when it comes to weight, the D3 is more forgiving. The additional weight from the two extra layers of steel in the D5 make it harder to maneuver, if not only slightly. When you're cooking a lot of food with many pots and pans, the weight can add up.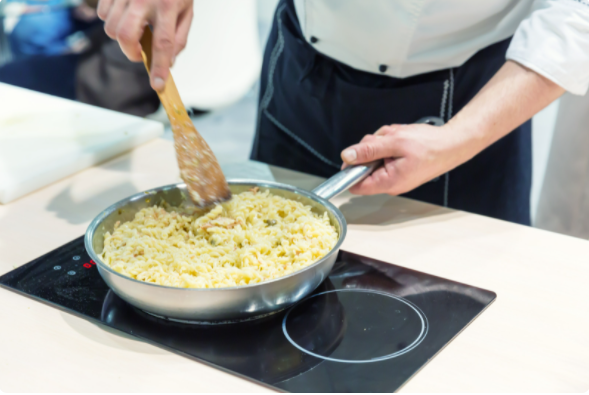 In both sets, the handles are constructed for a comfortable grip, and the lids perfectly fit the pots and pans to ensure that the food's flavors, nutrients, and moisture remain within.
These sets are both made with a high-quality stainless steel cooking surface and exterior, making them scratch-resistant and corrosion-free.
Winner: It's a bit hard to say, but I personally believe the D3 is the victor in this case. It's just a bit less heavy and bulky since it's only tri-ply, and heats up faster as a result, so the overall performance is better.
4. Cleaning and Maintenance
Both cookware sets are dishwasher-safe. Therefore, using, cleaning, and maintaining these sets is quick and convenient.
In any case, if food sticks on the cooking surface, then you must mix detergent, vinegar, and hot water. Dip the cookware inside the mixed liquid, and leave it for around 30 minutes. The stains, stuck food, and other unwanted remains will disappear.
Winner: It's a tie here, since both are dishwasher-safe and easy to clean. However, I personally recommend washing all cookware (not just All-Clad) by hand with light soap and a non-abrasive sponge, just to ensure its longevity.
5. Cooktop Compatibility and Versatility
These cookware sets are extremely compatible and versatile. Both of these sets are compatible for use on all cooktops, including gas stoves, electric, ceramic, glass cooktops, halogen, and induction stovetops.
These sets are oven-safe and broiler-safe too – they can tolerate heat up to 600°F, which means you can cook all kinds of food even in the highest oven and grill temperatures.
You can simmer, braise, sear, bake, and sauté in these cookware sets. They'll be an all-in-one cooking solution for your kitchen at home or at work. They are scratch-free, meaning you can use all types of utensils, including metal, wood, or nylon with these pans and pots.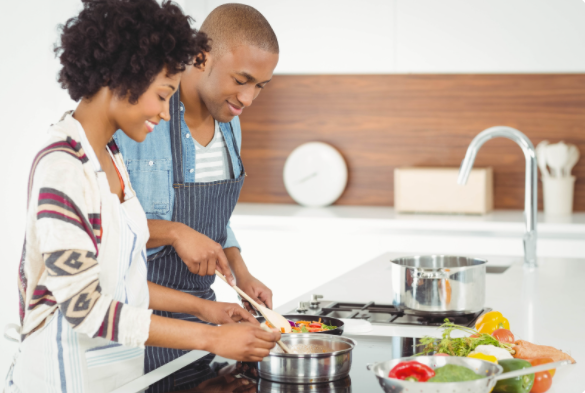 When it comes to storage, the D3 cookware set seems to stack up a bit more compactly, saving you some space in your cabinets if you don't have a large kitchen.
What more can you ask for in a cookware set?
Winner: As you can tell, it's basically another tie when it comes to compatibility in the topic of All-Clad D3 vs D5.
6. Value for Money
These sets can deliver great cooking performance for a lifetime and are manufactured in the USA. Whichever set you choose will indeed be a bit of a steep investment, but that's because it really is an investment. These pots and frying pans will last you a lifetime if you treat them well.
The brand, All-Clad, offers a limited lifetime warranty with them. The difference in the cost between All Clad D3 and D5 cookware is pretty negligible. Both offer high-end performance results and are extremely durable.
Both have lifetime warranties attached, and both are made in the USA, making them equally reliable. This dependability is what makes All-Clad a renowned brand for everyday cooks and professionals alike.
In short, the D5 stainless steel cookware set offers a complete value for your money and has slightly better durability over its lifetime. This makes it worth the slightly higher price compared to the D3.
Winner: If you're looking to save a few bucks, then the All-Clad D3 cookware set is the way to go. However, both are a good investment for the cooking performance you get.
All-Clad D3 vs D5: The Similarities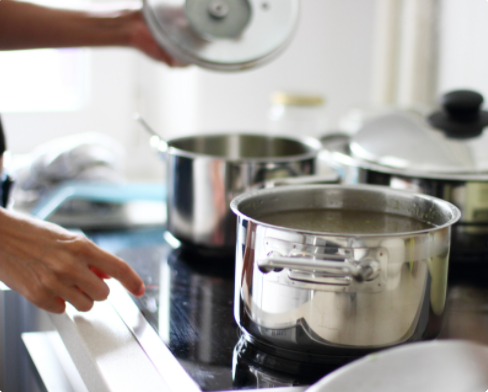 Now that we've looked at some of the key differences between these two All-Clad cookware lines, let's take a quick look at what is similar between them. As you may have noticed from the chart at the top of this page, there is quite a bit of overlap between both choices.
Bonded Build
Both the All-Clad D3 and D5 feature the industry-famous bonded metal technology they've used in their cookware for a long time. This combines a layer of aluminum and steel to create cookware that is both conductible and durable.
All-Clad cookware is fully-clad (hence the name), which essentially means that it's not just the base of the frying pan or pot that's made of an aluminum core, such as is the case with most brands. With All-Clad, the aluminum core extends to the entirety of the pots and pans.
Stainless Steel Material
Both collections are made with a 18/10 stainless steel cooking surface and exterior. This number is essentially indicative the chromium-to-nickel ratio, which makes the cookware non-reactive and easy to clean.
This ratio also ensures that the cookware is resistant to stains and more durable overall.
In addition, both sets are built with a magnetic exterior of 18/0 stainless steel, which makes the cookware induction-compatible.
Warranties
All-Clad is a reputable cookware company that has great confidence in the quality of its products. These sets are built to last you a lifetime so you'll never have to buy another pan or pot for your kitchen.
This isn't just a spiel, either; they put their money where their mouth is by offering a limited lifetime warranty on all of their cookware, including these two sets!
Lids and Handles
Both of these sets come with riveted handles for convenient handling (pardon the pun) and stay-cool technology. Most pieces also come with tight-seal lids to ensure no moisture escapes the food in the cooking process. This applies to both the D3 and D5 sets.
American-Made
If you'd rather buy local cookware as opposed to something made in China, you can't go wrong with either of these sets. All-Clad's cookware sets are proudly made in the USA in their Pennsylvania factories. Thus, they adhere to all the American standards of manufacturing and quality control.
Oven Safety
Both sets are oven and broiler safe and built to handle heat up to 600 degrees Fahrenheit.
All-Clad D3 vs D5: Product Collections
With both the All-Clad D3 and D5 lines, you'll have more options than just choosing between the two base sets; you can also choose among a few different particular collections. Both sets have their own variations.
Here's a quick rundown of the various options for both lines:
All-Clad D3 Collection:
1. D3 Stainless, which is the original D3 line we already looked over. Personally, this is the one I recommend most highly of all the D3 options, as it is the most widely-known, renowned, and uncomplicated of the bunch. It has everything you need, honestly.
2. D3 Compact, which is exactly what it sounds like; it's built with storage space and convenience in mind. The D3 Compact is built with the same three layers as the main tri-ply model, but the pots and pans are designed to be stackable and fit within one another. Check it out on Amazon.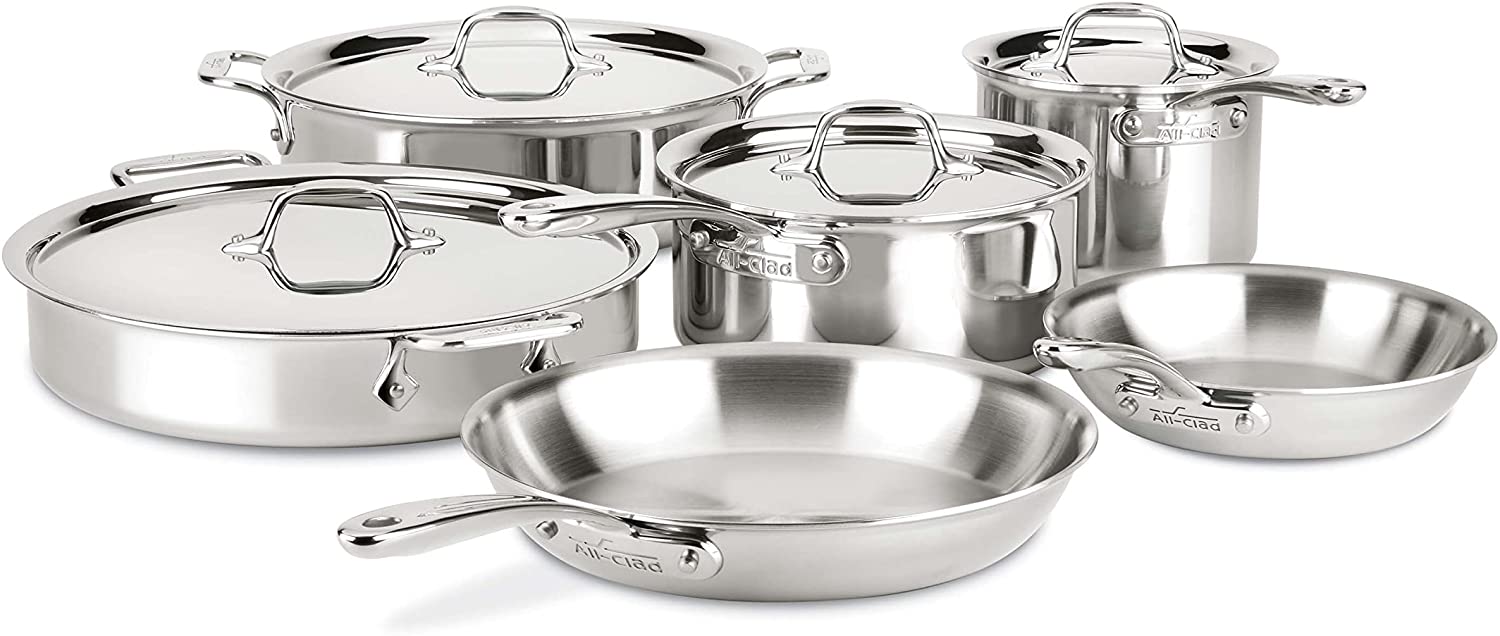 3. D3 Armor, which is built to be somewhat non-stick as it has a bumpy cooking surface that allows food to slide out of the pan more easily.
All-Clad D5 Collection:
1. All-Clad D5 Brushed, which is the default of the D5 line. The D5 Brushed has a beautiful and modern matte finish that looks great and will impress any guests you have in your kitchen. While the D5 Brushed is not quite as shiny as a polished exterior, it tends to hide scratches better, so that's one reason to prefer the matte finish of the brushed D5 stainless set.
2. All-Clad D5 Polished, which, as the name implies, is the same as the original D5 Brushed line but with a polished, shiny finish instead of matte/brushed exterior. Right now, however, All-Clad doesn't offer a complete set of D5 polished cookware. This means you'll have to buy individual pots and pans if you want a whole set like them. Or, settle for the D5 brushed alternative.
Conclusion: All Clad D3 vs D5 - Which is Better for Your Kitchen?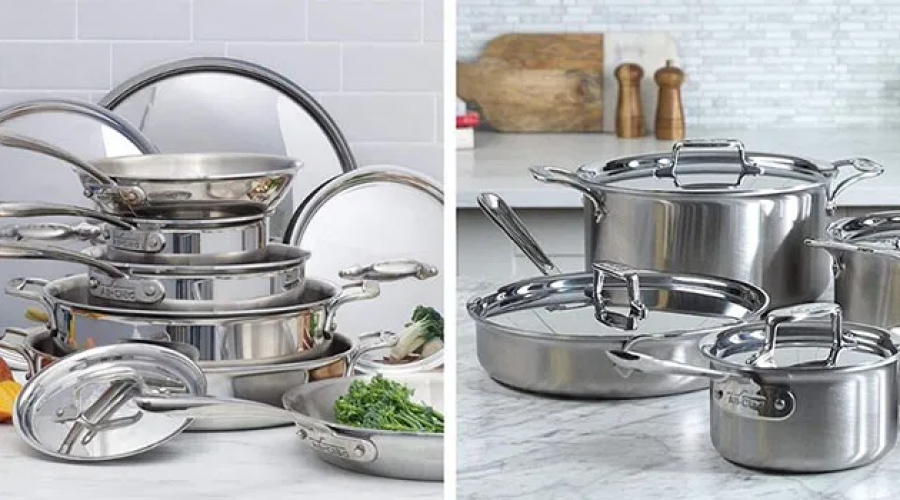 To bring the debate of All-Clad D3 vs D5 to a close, let's conclude on what we've learned.
After in-depth research on both All-Clad cookware collections and a detailed review of both sets, hopefully you have enough insight to help you make an informed decision on which set is right for your kitchen.
If you're looking for a sturdier (although slightly heavier) set of cookware with a solid build and don't mind the extra cost, then the D5 is likely better for you.
If you're trying to save some cash and still get an exceptional set of American stainless steel cookware that responds a bit better to heat changes, then the D3 is your best bet.
Both lines are made with the same made-in-USA steel, have limited lifetime warranties, and are known for their quality. So, regardless of your choice, you won't be disappointed with what you get.
Because it's only a slight cost difference between All-Clad D3 and D5, and the D5 offers just that slightly better durability and heat distribution, I've personally decided that the All-Clad D5 stainless steel 10-piece cookware set is the one for me.
It not only has amazing features and professional quality, but it's a complete set and a great value for the money. I'm sure this American set of classic stainless steel and aluminum cookware from All-Clad will last for years to come.
Thoughts? Questions? Leave them below!

Talya Davis
Talya, like all members of the HomeDesignX team, is enamored by all things related to cooking and eating. She's written cookware articles for numerous publications before working with her lifelong friend Jessica to create their very own website on cookware.
She's currently writing a book on induction cooktops, and enjoys making clean, vegan meals for her family.