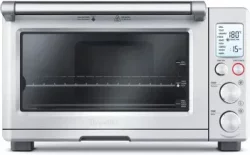 Breville has been a rising brand for several years and has earned a large and loyal clientele. It provides high quality in terms of performance and services. This brand avails beautiful and efficient kitchen appliances, which will help provide convenient usage for you. Breville started on a note of making electronics that would bring luxury into their lives. It began with products like radios, mine detectors for the war period. Soon, the company transitioned into regular household appliances like television.
After revolutionizing and engineering ingenious kitchen appliances, Breville has become a top brand for your daily kitchen needs – going further the expectation and giving you more than what you require. Now, Breville offers various products ranging from coffee maker to the highlight of our guide – the Smart Toaster Oven. This brand has proved repeatedly that the services and products that it provides possess optimal efficiency and high quality.
In the below sections, we shall review this Breville BOV800XL Smart Toaster Oven in detail, and we will cover its various aspects such as features, usability, compatibility, and more. Let's read further.
Quick Facts
100% Function
95% Design
100 Reliability
More reviews of:
Breville Smart Oven Air BOV900BSS
Breville BOV845BSS Smart Oven Pro
Breville BOV800XL Smart Toaster Oven: Full Review
The Breville BOV800XL Smart Toaster Oven comes in a resourceful and elegant built which goes beyond your expectations. Every feature is engineered into the appliance to make your cooking or baking experience more convenient and allow you an efficient time in the kitchen. From a simple crispy toast to mouth-watering delicious cookies, this Smart Toaster oven allows you to indulge in almost all cooking styles possible and lets you make everything on your cookbook.
There are five quartz elements in Breville BOV800XL, which help smartly distribute heat – as the name suggests – to cater to your needs. If you want the glazed top, grilled, or cooked through and through, or bake something – the heating elements accommodate ingeniously to whichever mode you require. The superfast 1800W power allows quick preheating.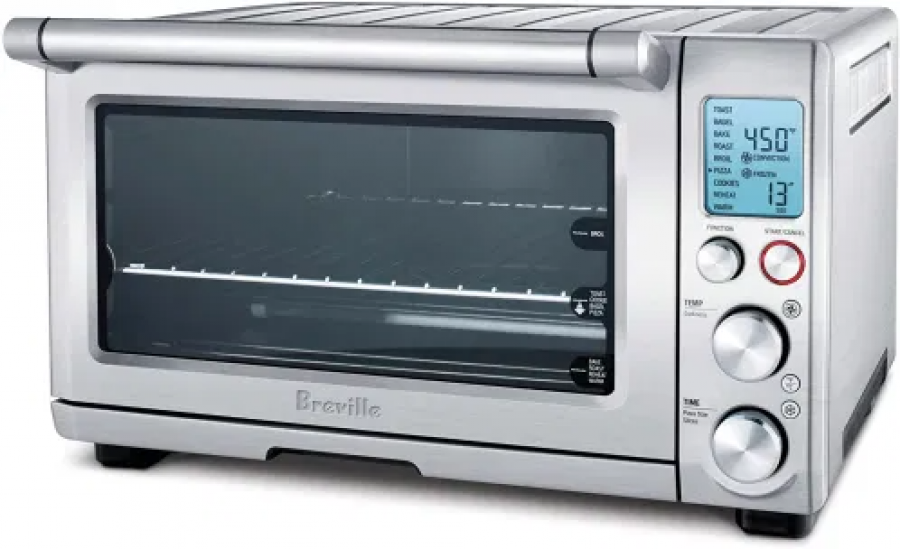 Features of Breville BOV800XL Smart Toaster Oven
10 Cooking Functions: There are ten pre-set options to help ease your guesswork and prevent the need to set your oven manually every time you use it. The ten options are Warm, Slow cook, Bagel, Grill, Toast 6 slices, Bake, Pizza, Roast, Reheat, and Cookies. They may have one specific name, but every setting can be used individually to delve into many cooking styles
LCD Display: An LCD Display feature gives leeway to much more accessible and user-friendly settings options. This LCD Display has clear fonts and easy-to-use; it also shows you the cooking time and temperature
Interior Light: Light inside the oven helps you see what is going on inside, especially when you are cooking food – and not just reheating meals or toasting bread. In the case of baking, especially, an interior light helps immensely. This clear light allows you to see the rise of the dough and know just when to take your caked goods out if the timing hasn't been set right
Smart Element: The Smart Element IQ System comes with five quartz heating elements that distribute heat evenly across the oven without leaving hot spots that ruin your food's overall texture. 1800W superfast preheating availed with the Smart Element IQ System
Slow Cook: Some food items only taste best under slow cooking, while some days, you may need to keep a meal to prepare in the oven while doing your work and relax. This feature works perfectly into that situation and favors you to slow cook for up to 10 hours, after which it immediately turns off and switches to the keep warm mode
Convection Powered: One of the best and most important features is an inbuilt fan in any appliance that can heat up. The fan in this Smart Toaster Oven helps circulate the hot air that forms within the oven. Conclusively, it helps in letting the hot air rise and cool air sink. The lesser dense air help is faster heating – and also retaining the warmth
Pros of Breville BOV800XL Smart Toaster Oven
Smart Element IQ System helps in faster preheating, and even distribution of heat across the oven
Ten cooking settings allow you to be prepared for any situation and cook all types of cuisine without any fuss
The fan inside of the Breville BOV800XL Smart Toaster Oven helps circulate the air properly, making heat rise and cool air settle – while keeping the air less dense for heat to retain
Easy to clean, stainless steel body – easy to maintain as well
The backlit LCD screen is easy to read and extremely user-friendly for your convenience
Tempered Glass shatters resistance and scratch resistance – which makes it easy to clean grease off of
The temperatures can be manually changed with the dial, which is convenient to navigate with
The LCD shows temperature and cooking time
Time dial and temperature avail auto shut-off with sound alert feature
The crumb tray is easy to remove and clean without any fuss
A non-stick interior that lets you use less grease to prepare food
The Breville BOV800XL Smart Toaster Oven can fit a 13" pizza, and up to 6 toasts
The rack can come off easily with the magnetic auto-eject feature
Cons of Breville BOV800XL Smart Toaster Oven
The non-stick coating in the interior can come off with vigorous scrubbing
Please make sure not to use too much water while cleaning the Smart Oven, or there will be repercussions as it is an electric appliance
Should You Buy The Breville BOV800XL Smart Toaster Oven?
Yes, of course!!!
The Breville BOV800XL Smart Toaster Oven is an excellent smart option to go with when looking for a combination of budget-friendly, feature-rich option; thereby, we believe that it is worth the investment and a complete value for the money toaster oven.
Our Verdict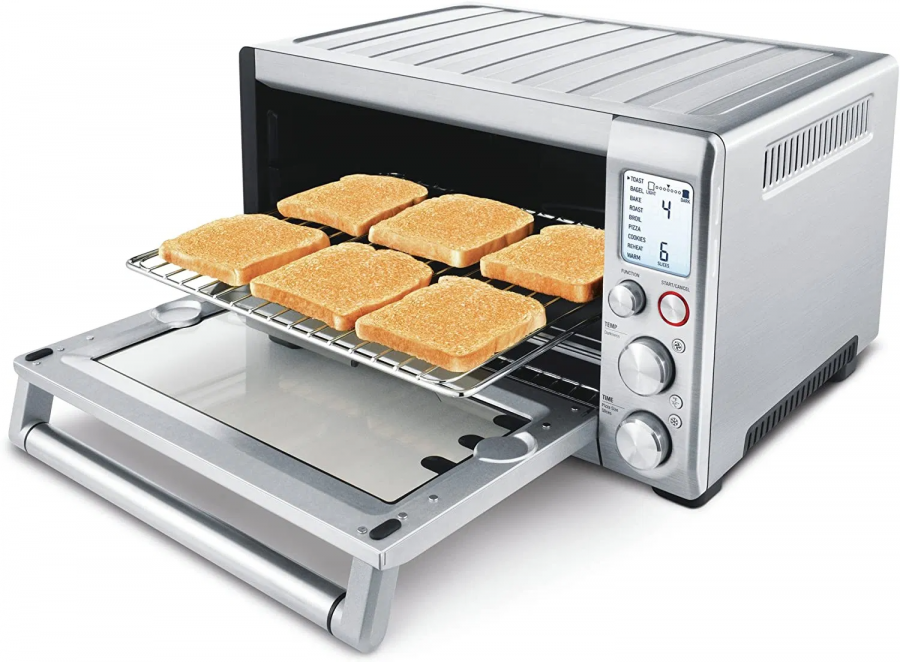 The Breville BOV800XL Smart Toaster Oven has proved to be helpful for several people worldwide, with its ingenious features and smart engineering. Investing in this product will bring you a lot of convenience in the kitchen and offer you efficient cooking. This Breville BOV800XL's features take out most of the guesswork that comes with trying to understand how to cook a food item. It makes sure to distribute heat evenly, with the five quartz elements and convection-powered fan.

Talya Davis
Talya, like all members of the HomeDesignX team, is enamored by all things related to cooking and eating. She's written cookware articles for numerous publications before working with her lifelong friend Jessica to create their very own website on cookware.
She's currently writing a book on induction cooktops, and enjoys making clean, vegan meals for her family.