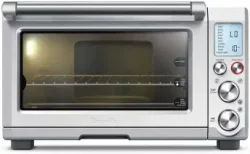 Are you looking for a high-quality smart oven? Here's our full review of Breville BOV845BSS Smart Oven Pro and why you should buy this Breville oven.
About Breville
For over 88 years, Breville has been inspiring chefs and homemakers with their innovative kitchen products. Established in Sydney, 1932, Breville has now spread its domain around the globe. It provides the kitchen essentials in more than 70 countries. This kitchen appliances brand appreciates and welcomes consumer feedbacks and insights; therefore, it delivers the product that you need in your kitchen. From espresso, food processors to innovative appliances, Breville empowers people's creativity and potential to do more with their food.
Quick Facts
100% Function
98% Design
100% Reliability
99% Overall
More reviews of:
Breville BOV845BSS Smart Oven Pro: Full Review
Breville BOV845BSS Smart Oven Pro is the first oven that introduces element IQ. The body is constructed from brushed stainless steel. The design is simple yet sleek, and the oven itself is very compact. It comes with a convection setting that makes transforms it into a countertop convection oven. The convection can reduce the cooking time by 30% while making sure that your food is evenly cooked. It also comes with ten preset cooking functions.
Along with the Breville BOV845BSS, you get a 12 x12 inches enamel baking pan, 12 x12 inches enamel broiling rack, and a 13 inches pizza pan for a small pizza party. The interior area is 0.8 cubic feet. That can hold a 13-inch pizza (as mentioned earlier), six slice toast, 9 cup muffin, and a whole chicken. The energy consumed by the product calculates about 110 to 120 Volts or 1800 Watts.
Features of Breville BOV845BSS Smart Oven Pro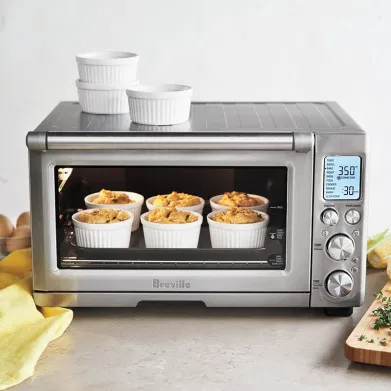 Smart Element IQ: Smart element IQ manages the heat across all five quartz heating elements that balance desired and required heat. This helps ensure that no spot gets more heat, and no spot is left deprived of it. It will deliver you a perfect cooking experience. Also, the 1800 Watt preheat will speed up the cooking process.
Convection Fan: The Breville BOV845BSS Smart Oven Pro comes with an inbuilt fan that circulates air inside the oven. The air in direct contact with the heating elements gets heated up quickly, while the rest takes more time. The fan keeps shuffling the air inside; hence, more air comes in contact with the heating elements quickly. This speeds up the oven's heating and cooking process while circulating the heat (hot air) evenly in every corner of it.
Interior Oven Light: The oven comes with an integrated light that helps you take a peek at the cooking process. But that's not all. The light itself has an auto shut off feature and an independent control button. The light is replaceable, the same as a regular oven. So if you are worried about your food, go ahead and take a peek.
LCD Display: Tired of old, analog setting, and display? Breville BOV845BSS Smart Oven Pro has an LCD that helps you pick from 10 preset settings, temperatures, and cooking time. The integrated light of the oven is turned on when the countdown has finished.
10 Preset Settings: This Breville BOV845BSS Smart Oven offers you a list of 10 cooking setting function. This preset setting assists you in attaining the perfect setting for the dish you want to cook. This also saves you from the hassle of manually setting it according to your cooking needs. You will still have to do that if you don't find your desired setting on the list. These settings include Toast, Bagel, Bake, Roast, Broil, Pizza, Cookies, Reheat, Warm, and Slow Cook.
Slow Cook Function: Want to play with flavors and want to cook for longer hours? Well, this oven is equipped with that feature as well. With this function, you can slow cook your dishes at 'HI' temperature for 2 to 8 hours or cook at 'LO' temperature at 4 to 10 hours, according to your need. So you can let your meat simmer inside the oven and let the juices do their job.
Auto-Off and Alert: Like most of the ovens, the power cuts once the timer runs out and alerts the user.
Temperature Conversion: You can switch between Celsius or Fahrenheit unit of temperature, whatever suits you the best.
Frozen Food Function: There is also an additional function for frozen foods.
Color Changing LCD: The LCD changes color according to your chosen settings.
Magnetic Auto Eject Rack: The rack pops out as soon as you open the door so that you can keep your delicate hands safe from the hot atmosphere of the oven.
Pros of Breville BOV845BSS Smart Oven Pro
The Breville BOV845BSS Smart Oven is compact and can be easily placed on the countertop without hassles.
The Convection feature allows you to multi-task like a pro. It supports multiple cooking methods with its 10 preset cooking functions.
It allows the heat to evenly distribute and cooks food perfectly; the slow cook function is an add-on.
Interior oven light and the LCD screen equipped in this oven allows you to keep a check on your cooking allowing you to present chef-like meals for your family and friends.
Cons of Breville BOV845BSS Smart Oven Pro
No insulation
May cause fire hazard
Not suitable for larger quantities
A fan can be loud
Fragile buttons
Thermal Fuse has a short life
Should You Buy The Breville BOV845BSS Smart Oven Pro?
Yes, of course!!!
In the first look, the Breville BOV845BSS Smart Oven may not look anything special; however, it provides a classic look along with the power of innovation. This oven is packed with an array of features. Whatever may be your cooking need; this oven will deliver it seamlessly. But, be sure to read the instruction manual and take all necessary precautions whenever you use it. Do this and you will be satisfied with the results.
Our Verdict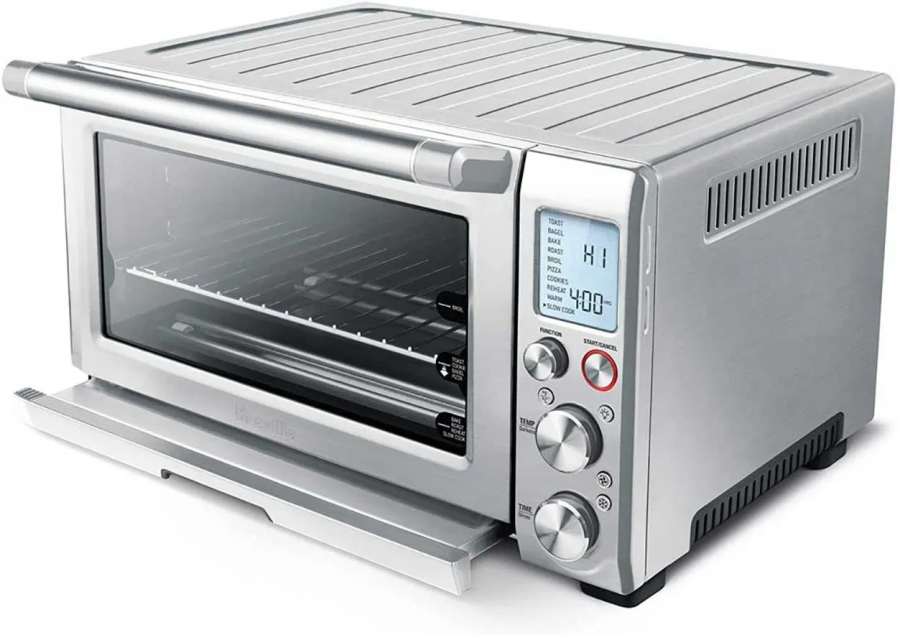 If you do not need to cook in large portions or perhaps you are someone who likes to cook but dislike the after-cooking hassles associated with it, this Breville BOV845BSS Smart Oven is perfect for you. Not only is it compact, but it also has the convection feature. It does have its downsides too, but it has a lot more to offer. For me, this is the pick… What about you?

Talya Davis
Talya, like all members of the HomeDesignX team, is enamored by all things related to cooking and eating. She's written cookware articles for numerous publications before working with her lifelong friend Jessica to create their very own website on cookware.
She's currently writing a book on induction cooktops, and enjoys making clean, vegan meals for her family.