5 Things To Consider When Choosing Cookware For Gas Stoves
Are you planning to buy a new cookware set for your gas stove?
Does the sheer quantity of cookware brands leave you feeling overwhelmed about choosing the right cookware set? Today, there are so many different cookware sets available on the market.
So, if you're looking to make the ideal investment for your gas stove cookware, this guide is here to help you.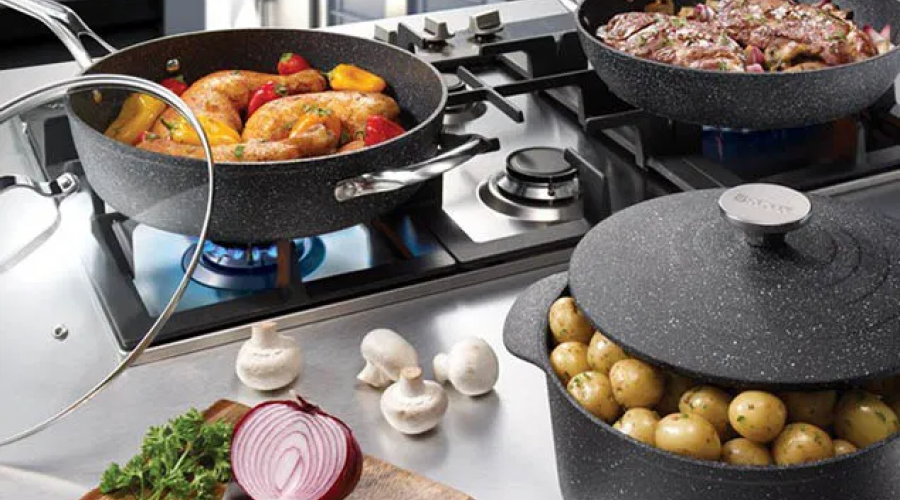 1. Even Heat Distribution
The first thing to look for is whether the cookware set can evenly heat up. This means the product must have good heat conductivity. When you cook food on low or medium flame, the pot or pan must react to the heat immediately and consistently.
Hot spots can lead to overcooking or undercooking your food. so we obviously don't want this happening.
2. Construction Material
Stainless steel is highly resistant to dents and scratches, but tends not to be nonstick. A stainless pan is more suitable if you wish to cook food with oil.
Hard anodized cookware is made of anodized aluminum. This allows it to distribute heat evenly and is known for being very durable.
Just about any cookware built with layers of stainless steel, aluminum and/or copper work great for gas stoves as they distribute heat evenly.
3. Types of pots/pans
Saucepans come in many sizes, from small egg pans to large, deep frying pans. Your best bet is to find one with long handles (bonus points if they're stay-cool).
Sauté pans are shallow, large pans with a flat bottom that can be used for sautéing or searing meat.
Stockpots are straight, narrow pots that make liquids evaporate more slowly. This makes them ideal for cooking broths and soups. They're also great for boiling pasta or potatoes.
4. Durability
Using a gas stove with high heat demands the best durability from cookware.
The metal is going to get extremely hot, and if you want to move the cookware from one stovetop to another, then it'll need to be able to take a beating.
Therefore, you need to be sure your cookware is tough; you must check the expected lifetime on the warranty. You should also check the integral areas like the handle and see how sturdy they are and what kind of material they're made of.
The handles should be cool to the touch or just need a rag to hold them. They should never be burning hot. Also, check if the handle is tightly riveted or loosely attached to the body.
Small details can say a lot about the life expectancy of your cookware.
5. Budget
Who doesn't like to buy fancy cookware?
Realistically, though, we can't all afford them. The best option would be to buy a set of cookware rather than individual items. This is the best option for your wallet and gives you a good base for everyday cooking.
Once you've taken the above factors into consideration, your purchase will be easy, budget-friendly, and smooth.
The Best Material For Gas Stove Cookware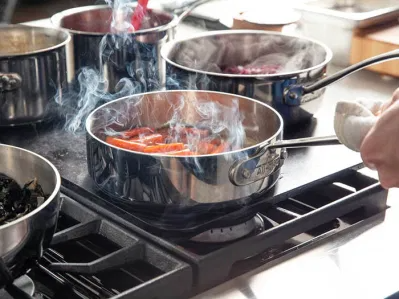 Gas stoves are common and highly reliable. They're often built with durable material like cast-iron grates that make them durable kitchen equipment.
Cooking on electric stoves is significantly different compared to using a gas stove. Gas stoves heat up much faster, and need regular cleaning to work properly. It's important to have the right cookware for gas stoves.
While almost every type of cookware can work on a gas stove, certain materials perform more effectively.
For a perfectly cooked, delicious meal, it's essential to have the right cookware. Below is a list of the best material for gas stove cookware and why they're better than others.
Anodized Aluminum
Aluminum is great for conducting and distributing heat evenly, which makes it perfect for gas stove cooking.
But the pure form of aluminum is lightweight, softer, and has a risk of deforming because of heat. It can also react with acidic food. That's why hard-anodized aluminum is better. Hard-anodized cookware is more durable than even stainless steel.
Anodized aluminum cookware will need to be hand-washed with a soft sponge and mild, soapy water.
Copper
Copper is similar to aluminum, but is generally more expensive. Similarly to aluminum, it is a great conductor and distributor of heat, which makes it perfect for gas stove cooking.
Also like aluminum, copper can react with acidic foods, but only if you chip it and expose the copper layer to your food. One additional benefit is that copper is antimicrobial by nature.
Besides the cooking benefits, copper cookware is just a head-turner; copper pots and pans look pretty, plain and simple.
Stainless Steel
Stainless steel is a durable and non-reactive metal, which means it won't change the taste of food.
It's also resilient to a lot of rough handling. However, it is not a great conductor of heat. If you want stainless steel with good heat conduction, you'll need to find multi-ply or fully-clad cookware.
Some metals are not recommended to be used on gas stoves, like cast iron, carbon steel, and ceramic cookware.
The best pots and pans for gas stoves are made stainless steel, aluminum, and copper, or a combination of any three.
How To Clean A Black Gas Top Stove?
Cleaning gas stovetops is easy and convenient and can be done in five easy steps. Simply follow the guidelines as listed below:
Step 1: Remove the gas grates and soak them in warm water (either in a tub or in the sink).
Step 2: Now, generously sprinkle baking soda on the stovetop. Make sure that you cover the entire surface.
Step 3: Scrub away at the stains and unwanted marks. Be careful not to scratch your stovetop.
Step 4: Spray a mixture of equal parts vinegar and water onto the scrubbed surface and leave it for a few minutes. Let it work its magic.
Step 5: Wipe your cooktop thoroughly using a microfiber towel or soft sponge.
Now, look at your gas stove and admire its sparkling, clean cooktop!
See the below video for details about how to clean a black gas top stove:
Frequently Asked Questions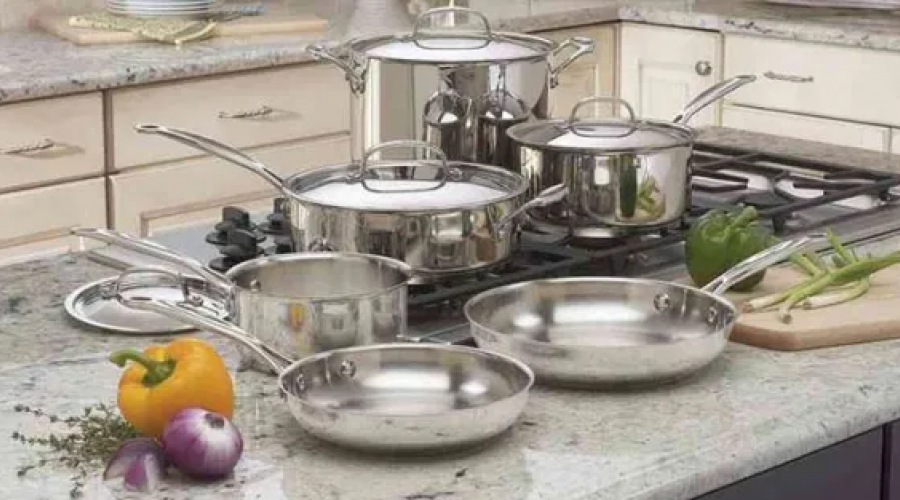 Should you use colored cookware on gas stoves?
Cookware with color doesn't last as long as other cookware on gas stoves.
This happens since tinted cookware gradually loses its color from the direct heating of the gas flame. Once they lose their paint, they look dirty. Hence, it's better to avoid colored cookware if you're looking for an aesthetic kitchen.
What's the different between cooking on a gas stove and electric stove?
There are two major differences between a gas stove and an electric stove.
Gas stoves will heat the cookware a lot sooner than electric stoves.
Gas stoves produce immediate heat and cool down very quickly, while electrical stoves need more time for both.
What to look for when buying cookware for gas stoves?
You need to look for four factors in the best cookware for gas stoves.
Firstly, ideal cookware will distribute heat evenly along the surface.
Secondly, it should quickly react to changes in temperature.
Thirdly, they should be durable and tough.
Finally, they need to be easy to clean.
Can induction cookware be used on a gas stove?
For the most part, any cookware made of metal or enameled material can be used on a gas stove. However, it's important to check your specific cookware's manual to be sure.
Is Titanium cookware a good choice for gas stoves?
Yes, titanium-coated cookware is a great choice for your gas stove. Titanium coating is very durable and heats well on all gas stoves.
This cookware can cost a little extra than an ordinary stainless steel cookware set.
Is aluminum cookware good for gas stoves?
Anodized aluminum cookware offers great heat conductivity and distribution.
Pure aluminum cookware is light in weight and tends to bend after being heated too high. It may also react with acidic dishes. Anodized aluminum, however, is non-stick, durable, and won't bend.
Hard anodized cookware is a great choice for gas top stoves.
Don't wash this cookware in the dishwasher or with cold water while they're hot.
Is cast iron frying pan compatible for gas stove cooking?
Cast iron cookware isn't great for gas stoves. It doesn't respond quickly to changes in heat and it tends to be pretty heavy to move around the kitchen while cooking.
What Is the Best Cookware For Gas Stoves?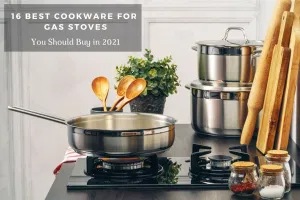 In this article, we've looked over the best cookware for gas stoves in a full, unbiased review. Looking at the facts objectively, we believe we have a clear winner of the 15 listed here. The best cookware for gas stoves is the Home Hero 23 Piece Copper Pots and Pans Set
We have reasons to back it up – firstly, the brand speaks for itself. It's a well-known brand with a solid reputation. This set is a great of copper cookware with everything you'll ever need in the kitchen.
It works exceptionally well for gas stoves, but it's great for all other cooktops as well. Last but not least, the great customer service provides peace of mind in case anything goes wrong.
Questions? Comments? Leave them below!
Editor's Choice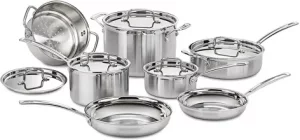 Cuisinart MCP-12N Multiclad Pro Stainless Steel 12-Piece Set
The triple-ply stainless steel cookware allows for even heating, which means you don't need to deal with unwanted hot spots anymore.
Now, you don't have to worry about messy cooktops and kitchen tables; the drip-free rims are a nice plus.
Oven safe up to 550F
The high-quality, stainless steel lids fit tightly over the cookware, allowing the moisture to stay in the food and keeping the flavors intact.
Pieces included:
1,1/2, and 3-quart saucepan with lid
8 and 10 inch skillets
3- and 1/2-quart saute pan with lids
8-quart stockpot with lid
Steamer insert with lid.

Talya Davis
Talya, like all members of the HomeDesignX team, is enamored by all things related to cooking and eating. She's written cookware articles for numerous publications before working with her lifelong friend Jessica to create their very own website on cookware.
She's currently writing a book on induction cooktops, and enjoys making clean, vegan meals for her family.