2nd Best Choice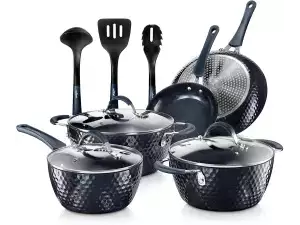 Nutrichef 11-Piece Non-Stick Induction Cookware Set
Check Latest Price
Editor's Choice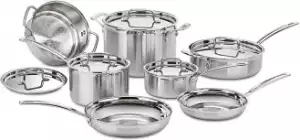 Cuisinart Multi-Clad Pro 12-Piece Stainless Steel Cookware Set
Check Latest Price
3rd Best Choice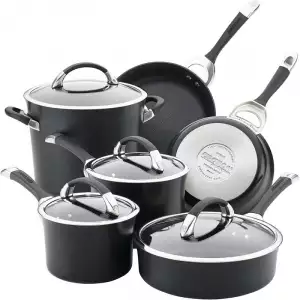 Circulon Symmetry Hard Anodized Aluminum Cookware Set
Check Latest Price
Are you looking for the best cookware for an induction cooktop?
Here are the 10 best induction cookware sets of 2022, as reviewed by our team, and why you should choose them.
The best induction cookware will allow you to fully enjoy the benefits that induction cooking offers. The magnetic heat that the appliance emits should be spread evenly and efficiently across the surface.
While induction cookers are convenient and sleek, knowing how to clean an induction cooktop and what kind of cookware to use is key to getting the best results.
10 Best Pots and Pans for Induction Cooktops
In order to find the best sets of pots and pans for induction stovetops, we've reviewed many important factors, including price, brand reputation, design, durability, compatibility, and more.
Let's get to the reviews, shall we?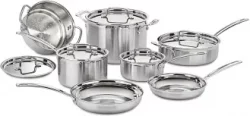 The pieces in this set have polished stainless steel exteriors and aluminum cores. This is clad stainless steel, meaning you have the combined strength and durability of magnetic stainless steel, along with the heat conductivity of aluminum.
This form of stainless steel clad construction was invented by the brand All-Clad way back in 1971. Since then, other brands have followed suite and started their own lines of clad stainless steel cookware.
So, if you're looking for a multi-clad stainless steel cookware set for induction, you can't get much better than this.
These clad stainless steel pots and pans have cool-grip handles, drip-free rims for clean pouring, and great performance thanks to their aluminum and clad stainless steel construction.
The pieces are all oven-safe up to 550 degrees Fahrenheit. The cooking process is easy and predictable thanks to its great temperature control and retention.
This set is also one of the best cookware for glass top stoves.
Quick Facts
We liked the Cuisinart MCP-12N Multiclad Pro stainless steel cookware set because it's a complete set for induction. The fact that it's multi-clad is a huge plus.
Additionally, it has cool-grip handles, tight-fitting lids, 3-ply construction, and even heating with great conductivity. You can get professional results with this polished induction set, as it allows you to keep all the natural flavors of your meal intact.
No. of Pieces: 12
Material: Clad stainless steel with aluminum base
Dishwasher Safe: Yes, though hand-washing is recommended
Oven Safe: Up to 550F
Pros
Drip-free rims
Tight lids for maximum flavor retention
Heats up quickly and evenly
Great heat retention
Multi-clad for the best results
Slick surface for easy cleanup
Durable and will last a lifetime with the proper care
Also oven-safe
Cons
Can get water stains if washed in the dishwasher.
The frying pans might get hot faster than you're used to, so there can be a learning curve.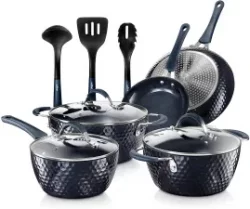 Are you searching for budget-friendly set for your induction cooktop? Nutrichef nonstick cookware is a great budget-friendly option to go with.
This set is good for everyday cooking jobs. It comes with everything you'll need, including pots, pans, a Dutch oven with a lid, a saucepan with a lid, and kitchen tools.
The pans have a nonstick coating made without the use of PFOA, PTFE, or PFOS. It's a solid set of non-toxic cookware.
The pots and pans in this set can go in the oven at up to 500°F. The vented glass lids allow you to keep an eye on your food while it cooks and release the excess steam.
This set is oven safe and comes with a 10-year manufacturer's limited warranty for added confidence.
Quick Facts
No. of Pieces: 11
Material: Aluminum with ceramic coating
Dishwasher Safe: Not recommended
Oven Safe: Up to 500° F
Pros
The nonstick pan surface makes cleaning easy.
Backed with a 10-year warranty.
Sturdy set that will last a while with proper care
Cooks evenly
Beautiful vivid colors to bring more life into your kitchen
Cons
Doesn't tolerate high heat very well. To preserve the coating, cook only on low to medium heat.
The handles may get hot, so use a mitt or rag to move the pots/pans from the stove.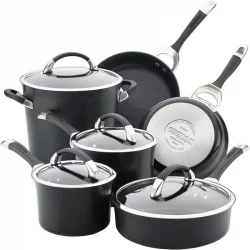 We may have found the best non-stick induction cookware on the market.
This Circulon heavy-duty nonstick cookware set is an ideal induction cooktop option. It has a non-stick surface with raised circles and triple layer coating.
Even the exterior body of each frying pan is nonstick to make cleanup easier!
The pots and pans in this set are made of hard-anodized aluminum, which is twice as durable as stainless steel, and conducts heat better also. They're also safe to use with metal utensils.
The lids are glass for transparent cooking, and are made heavy-duty, so you never have to worry about them breaking. We found them to be very shatter proof when they were dropped from a decent height.
This is a great cookware set for long-term use. Circulon is also a good cookware brand for gas stoves.
Quick Facts
This is a complete cookware set that will last you for years to come. It's definitely a worthy investment and you can't go wrong.
No. of Pieces: 10
Material: Hard Adonized Aluminum
Dishwasher Safe: Yes
Oven Safe: Up to 400°F
Pros
Dishwasher-safe. Washing them in the dishwasher won't void the warranty, unlike with most cookware.
Safe to use with metal utensils
Anodized aluminum is long-lasting and reliable
Toxin-free, made without Teflon, PFOA, etc.
Silicon grips for stay-cool handles
Cons
The lids are heavy-duty and shatter-resistant, but have no vents for excess steam.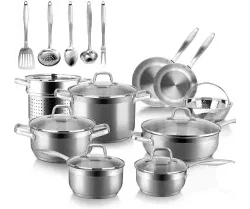 Duxtop offers a great stainless steel cookware set which not only suits every kitchen, but also allows you to cook all kinds of delicious recipes.
This 19-piece cookware set is all you'll need to cook. Made of 18/10 stainless steel with an impact-bonded base, this set combines the durabilty of stainless steel with the heat conductivity of aluminum.
This stainless steel cookware is designed to last a lifetime. Its aluminum base allows the cookware to warm up quickly, so you really don't need to cook on anything more than low-medium heat. This makes cooking more energy-efficient for you.
Not to mention, this set comes with a huge number of items. After investing in this, you won't have to buy cookware for a long, long time (a lifetime, if you care for them properly).
Quick Facts
There are a few reasons why this set made our list. Firstly, you can't turn away from its beautiful stainless steel shine.
Secondly, and most importantly, the performance: This cookware combines aluminum and stainless steel for a durable set with great heat-up, making the process convenient, quick, and energy-efficient.
No. of Pieces: 19
Material: Stainless Steel with aluminum disc base
Dishwasher Safe: Yes, hand-washing recommended
Oven Safe: Up to 550°F (400°F for the glass lids)
Pros
Solid construction, built to last a lifetime
Glass lids for easier cooking
Rapid heat-up for energy efficiency
Elegant silver shine
Impact-bonded bottom
Cons
While the handles will stay cool, the handles of the glass lids may get hot, so take caution.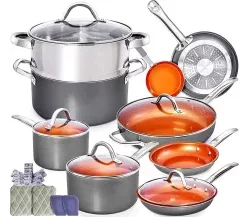 Home Hero offers the best copper cookware set for an induction cooktop. It has everything you'll need to set up your new (or revamped) kitchen.
This 13-piece Copper induction cookware set includes pots and pans, of course, but also pan protectors, pan scrapers, and cleaning sponges. These pieces are built without toxins such as PFOAs, PTFAs, lead, cadmium, and so on.
The pieces in this set are really something else. They have great heat-up times, a very effective nonstick coating, and all of the pots and pans are built with 2.8mm thickness so they'll never warp.
Its ultra nonstick ceramic interior also lasts longer and is more durable than more traditional coatings. It won't peel or flake as easily as something like a Teflon coating.
Quick Facts
We were honestly quite impressed with this set. It offers a wide range of items, which is great if you need a whole new induction set for your kitchen.
The copper coating is a great non-toxic alternative to other nonstick options. It works well and seems like it'll last a long time. Not to mention, the customer service is great; if you have any problems, just contact the seller through Amazon, and they'll make it right.
No. of Pieces: 13
Material: Copper with an aluminum base
Dishwasher Safe: No
Oven Safe: Up to 500°F (390°F for the glass lids)
Pros
Great customer service
Ultra nonstick interior heats up quickly and lasts longer than other coatings
A great investment set, as it has all the pieces you'll need
Includes bonus items like pan protectors, cleaning sponges and pan scrapers
Beautiful copper finish
Cons
Some have complained that the handles get hot. While we don't think it's anything dangerous, they do get warm after a while. To be sure, use mitts or a dishcloth while handling them.
Hand-wash only.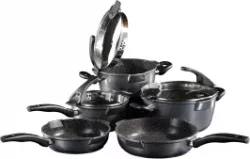 This 10-piece set of pots and pans is built using high-grade stainless steel, which comes with a 25-year material guarantee. It is designed to have a thick, 3-layer base to keep heat distribution even for a longer time.
The performance of this set is quite remarkable thanks to its unique aluminum construction; it has 2 layers of impact-bonded aluminum for the base, helping it to absorb heat and retain it for much longer.
Beyond the impressive performance, this induction-compatible cookware set is also pretty nice to look at. Its stainless steel exterior finish will complement just about any kitchen.
These pots and pans are perfect for induction cookers. In fact, they actually perform much better on induction cookers than traditional stoves, and they distribute heat very evenly across the entire surface.
There are also convenient fill lines on the interior walls of the pots, and spouts for easy pouring. It's also a budget-friendly option, so you really can't go wrong with this set.
Quick Facts
We choose this product to be on our list thanks to its price and performance. Not to mention the smaller details like the fill lines and pouring lips.
Thanks to its even heating, it also decreases the cooking time. It's dishwasher safe, but also very easy to clean by hand if you want to extend its lifespan. It's not oven-safe.
No. of Pieces: 12
Material: Aluminum and stainless steel
Dishwasher Safe: Yes
Oven Safe: No
Pros
Drip-free pouring rims on the pots
2-layer aluminum base for quick, even heating
25-year guarantee on the stainless steel body
Stylish steel exterior
Measuring lines inside the pots
Easy to clean
Budget-friendly
Cons
Not oven-safe. If you want to use this on an induction cooktop and in the oven, you're out of luck; this is really just a set of cookware for induction.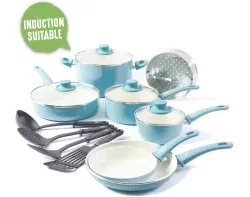 You'll never have to deal with burnt food, toxic fumes, overheated frying pans or scalding hot handles again with this ceramic GreenLife set.
The ceramic nonstick coating is derived from sand, making it 100% toxin-free. It contains no PFOA, PFAS, lead, or cadmium.
The cleaning process couldn't be easier with these frying pans. Thanks to the ceramic nonstick coating, most messes can be cleaned with the swipe of a rag.
The construction and design are something to admire, also. The brand offers this cookware set in various pretty, vivid colors, so you can pick the one that best suits your kitchen.
In terms of performance, the pots and pans are made with an reinforced aluminum body, which promotes minimal energy consumption, even heating, and long-lasting durability for all the pots and pans. Cleaning and storage are also convenient.
This brand is known for being earth-friendly; they make their cookware with recycled materials and create 60% less CO2 emissions during the manufacturing process than traditional coated cookware.
Quick Facts
This set was a no-brainer to include on our list of the best induction cookware. Not only is it better for the environment, it also has no toxins, it saves energy (meaning time and money), and makes cleaning and cooking much more convenient.
No. of Pieces: 15
Material: Ceramic and aluminum
Dishwasher Safe: Not recommended
Oven Safe: Up to 350°F
Pros
This set is made from recycled aluminum and ceramic, making it eco-friendly
The pots and pans have wobble-free bases for even cooking
Reinforced with aluminum for durability and quick heat-up
Non-toxic ceramic nonstick coating
Cons
Dishwasher-safe, but we recommend against doing this
They will take quite a bit of care to make them last as long as possible. This includes using oils instead of spray, cook on low to medium heat, using only soft utensils, and cleaning with a gentle sponge.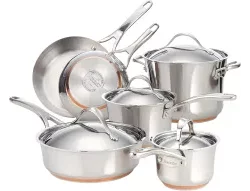 Anolon is a reputable brand in the world of stainless steel cookware. The name alone warrants this cookware a spot on our list, as this is chef-quality cookware.
These pans have a beautiful appearance right out of the box, with a nice metal glimmer and great shape. These pots and pans will look great on your induction cooktop or counter.
This set is made of stainless steel with a copper layer sandwiched between the steel. This extra copper layer helps to create optimal heat control and an overall better performance.
Because these stainless steel pots and pans have very flat bottoms and a copper plate, they're perfect for induction stovetops.
The handles on the cookware are great, and probably among the best we've used (really). They're heavy and sturdy, and making it easy to handle the pots and pans. They won't heat up enough to burn you, from what we've seen.
Quick Facts
This is a great stainless steel set to invest in. It really is an investment, since it's more expensive than other brands, but you're paying for the quality and reputation of the Anolon name.
This set is ideal for professional use. It's made of high-quality stainless steel and can last a lifetime with the right care. You won't be dissapointed with this set.
No. of Pieces: 10
Material: Stainless steel and a copper layer
Dishwasher Safe: Yes
Oven Safe: Up to 500°F
Pros
Made to last; these are high-quality pots and pans
Great brand reputation
Beautiful cookware set that will suit any kitchen
Specifically great for induction
Cons
They can lose their gloss and get stained after lots of use, so you'll have to use a cleaning product like Bar Keeper's Friend to get rid of any spots.
Because of the brand value, they're more costly than other sets with the same number of pieces.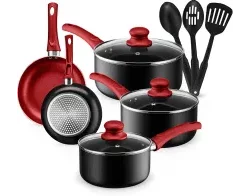 Chef's Star provides some great budget-friendly, nonstick cookware for induction tops.
This set is built with a high-quality aluminum alloy and nonstick coating that's made to last.
The ergonomic handles have comfortable grips for a better, safer grip. They also stay cool while you cook. The tempered glass lids allow you to keep an eye on your meal, and are vented for steam release.
This set is compatible with all heat sources, but it works best on induction cookers. It's also safe in both the dishwasher and oven.
For the price you pay, this is a great deal. You get pots, pans, and soft silicone utensils in this cookware set (although it is metal-utensil safe).
Quick Facts
The best way to describe this Chef's Star set is that it's a professional cookware set for beginners. Thanks to its low cost and surprising quality, this is a good set for relatively new cooks or those who just don't need a huge, fancy set.
No. of Pieces: 11
Material: Aluminum
Dishwasher Safe: Yes, but we don't recommend using a dishwasher to wash nonstick cookware
Oven Safe: Up to 550°F (350°F for the glass lids)
Pros
Pretty, vibrant colors (comes in either green or blue)
Nonstick surface
Perfect for cooking with induction
Includes a good number of pots and pans for the price
Cons
Some have complained that the pots and pans are too small for their needs.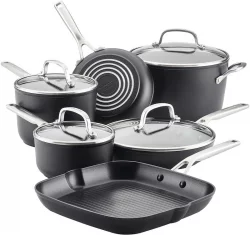 KitchenAid is a premium brand known for their high-quality cookware accessories.
This hard-anodized nonstick set has induction bases designed for consistent he
ating across the entire surface. This allows you to control the heat much more precisely, which is perfect for carefully browning meats.
Built with hard-anodized nonstick aluminum, which is one of the best materials for induction, these pieces are durable and strong. The PFOA-free, triple-layer coating also lets food slide off easily with little oil or grease required.
The construction on this one is really what makes it shine. It has a thick, durable base, which makes it perfect for use on an induction cooktop.
Along with the pots and frying pans, this cookware set comes also comes with tempered glass lids. Additionally, the handles are extra wide for a sturdy grip.
Another cool factor is that you can buy the individual pieces instead of the whole set, if you're only looking for an induction pot or frying pan.
Quick Facts
No. of Pieces: 10
Material: Hard-anodized nonstick aluminum
Dishwasher Safe: Yes, but cleaning by hand is easier and safer for the cookware
Oven Safe: Up to 500°F, or 350°F with the lids
Pros
Great nonstick skillets - nothing will stick to the surface. They work even better with a touch of oil.
Made of hard-anodized aluminum, which is stronger than stainless steel
Easy to clean
These pans and pots are non-toxic and free of PFOAs, lead, cadmium, and BPAs
Cons
People have complained that the lids don't fit as tightly as they should.
5 Things To Consider for the Best Induction Cookware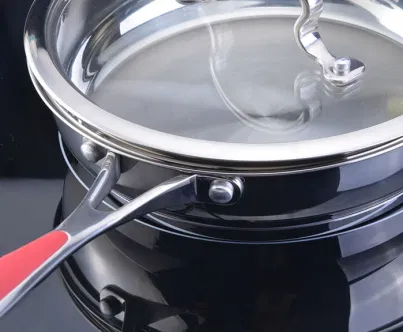 Going through the process of buying an induction-compatible cookware set can be challenging. That's why we're here to simplify your job with some key things to look out for.
Let's have a look at the factors which will directly or indirectly affect your purchase process at some point in time:
1. Compatibility
It may seem obvious, but it's important to make sure the set you're considering is actually induction-ready.
Read the label and check that it says Induction-compatible, or at least has the induction-compatible sign.
2. Flatness of the Bottom
If the base of your pot or frying pan isn't even, you'll have unevenly cooked food.
Having a uniform, flat bottom allows the cookware to come entirely in contact with the heating surface. This makes sure no hot or cold spots form in your meal.
Moreover, uneven bottoms can also make an annoying noise due to vibrations during the heating process.
3. Quality of the Lids
The lids of your pots and pans should not be too heavy nor too light, and they should create a tight seal around the edge.
You can pick either stainless steel lids or tempered glass lids. If you go with the latter, be sure that the lids have vents for releasing excess steam.
The weight and fit of the lid determines how much it will move with the pressure of the steam.
4. Sturdiness of the Handles
There's a lot to consider when it comes to handles, even though they may seem like an afterthought.
First, you need to consider which material you want them made out of: stainless steel, aluminum, or silicone-covered? The latter is normally more comfortable to handle and stays cooler while you cook. Aluminum handles tend to get hot.
Also, you need to make sure that the handles are sturdy and well-attached. You don't want your entire frying pan being launched into the air when you flip your eggs!
5. Overall Construction
First, you have to choose what kind of material you want your cookware to be made of. Stainless steel, cast iron, and carbon steel are all good options.
You also need to know the difference between the different 'ply' options. Most induction-compatible cookware you'll see is either 3-ply, 5-ply, or 7-ply.
This essentially indicates how many layers are used in the construction. The more layers, the thicker and more durable the cookware.
5-ply is the best choice for most people, as it has more bend- and warp-resistance than 3-ply, but isn't as expensive as 7-ply.
You can also opt for multi-clad stainless steel. When cookware is cladded, this basically means it's made of bonded layers of steel and a core made of aluminum or copper.
This combines the durabilty thanks to the steel exterior, and increases heat conductivity thanks to the aluminum/copper. This form of multi-clad design was invented by the company All-Clad. You can also find multi-clad cookware by companies such as Cuisinart.
6. Your Budget
There's a large variety of induction cookware sets available. The price range is also vast.
Everyone has a budget they're willing to stay within. This is probably the biggest consideration for most people, actually. Try to find a set that hits all these criteria and falls witin a reasonable price range.
7. Your Cooking Style
If you're making food for several people or like to make diverse meals, then buying a whole set of induction-compatible cookware makes sense for you. However, if you're only planning to cook for yourself, then buying a small set of a couple pots and/or pans may be more wise.
8. Nonstick or Untreated Pots and Pans?
Many people prefer buying nonstick-coated pots and pans because they make cleaning easier. Additionally, they allow you to cook without using a lot of oil or butter.
However, cookware without a nonstick coating (such as stainless steel) is better for browning foods. Not to mention, there's no risk of the coating chipping off, and you don't have to worry about potentially dangerous chemicals like Teflon.
Ultimately, this comes down to personal preference.
The Science Behind Induction Cooking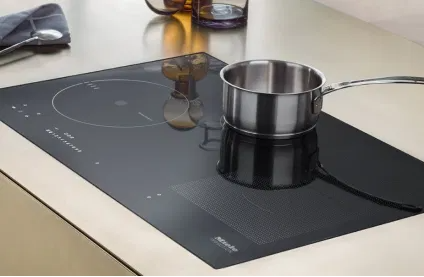 Induction technology has been around for a good amount of time, but has only really started to gain popularity in the last decade or two.
It can also be referred to as electromagnetic induction, because – as the name implies – it uses electromagnetic energy to create heat. This means there's no flame involved with induction cooking.
All you need is induction-compatible cookware that's made of magnetic metal.
Beginning with an element, a magnetic frequency is produced with electronic power that gets transported through a coil. The pan is heated by the frequency and creates an electric current that travels through the metal and heats it up.
Food prepared on an induction cooktop is evenly cooked because heat is distributed equally across the surface. Therefore, using magnetic induction results in evenly-heated food (assuming you have the right cookware for it).
Explained in simpler words, induction cooking works with heat created by magnets. This is why it's safer to use this appliance than something like a gas stove, especially if you have kids; induction stovetops don't produce a flame and are cool to the touch.
What Cookware Works with Induction?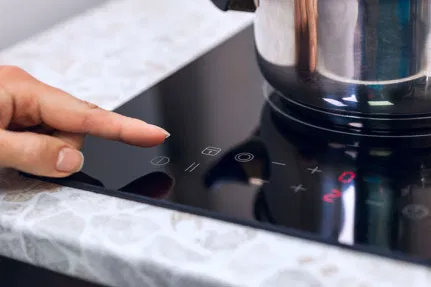 Beyond simply making sure the construction is solid and the bottom is flat, it's also essential that the cookware is magnetic. Not just magnetic, either, but very magnetic.
You should be able to stick a magnet to the bottom, and require a bit of effort to get it off. This indicates a strong magnetic pull that will deliver great results.
Essentially, any frying pan that's heavy, highly magnetic, and has a flat bottom will work well on an induction cooktop. But to be sure, let's look at the best materials for induction pots and pans.
Best Cookware Material for Induction Cooktops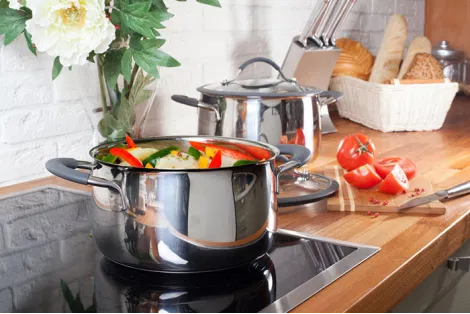 Here's our list of the best materials for induction cooking:
Stainless Steel
This is the chosen favourite material for professional cooks.
Still, the quality differs from company to company, and not all stainless steel is induction-compatible. Only 18/0 nickel-free stainless steel cookware is induction-compatible.
Also, most new, clad stainless steel pans are induction-ready. Be sure to conduct the magnet test to be sure (all the stainless steel products we listed on this page are induction-compatible).
Aluminum with a Magnetic Disk
Aluminum usually doesn't have magnetic properties, so most aluminum cookware won't work on induction.
However, some cookware brands have started lines of aluminum cookware that include magnetic steel disks on the base. This makes certain aluminum cookware sets compatible with induction cookers.
Carbon Steel
Carbon steel pans and woks also work on induction; carbon steel is a metal with magnetic properties.
Cast Iron
Cast iron is a good choice for induction. Cast iron cookware is magnetic, and conducts heat very well. Whether it's enameled or bare, it'll work.
Just be careful with the fragile surface of your induction cooker, as cast iron can be heavy and rough, so it may cause scratches.
Can I Use Nonstick Cookware on an Induction Cooktop?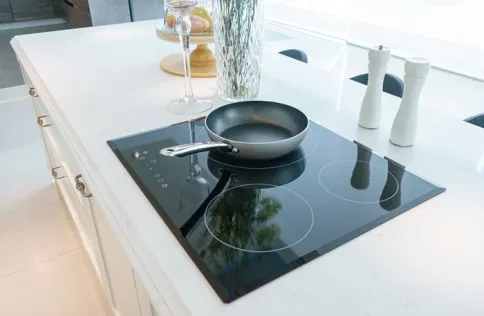 We've already covered the basic elements that make a piece of cookware work with induction cookers. So, if the nonstick cookware you have (or are looking to buy) has a magnetic base, then yes, it will work on induction cooktops.
However, there are pros and cons to using nonstick cookware on induction. They generally don't last as long as stainless steel or cast iron pans, and it's harder to get a good browning on meat items.
Frequently Asked Questions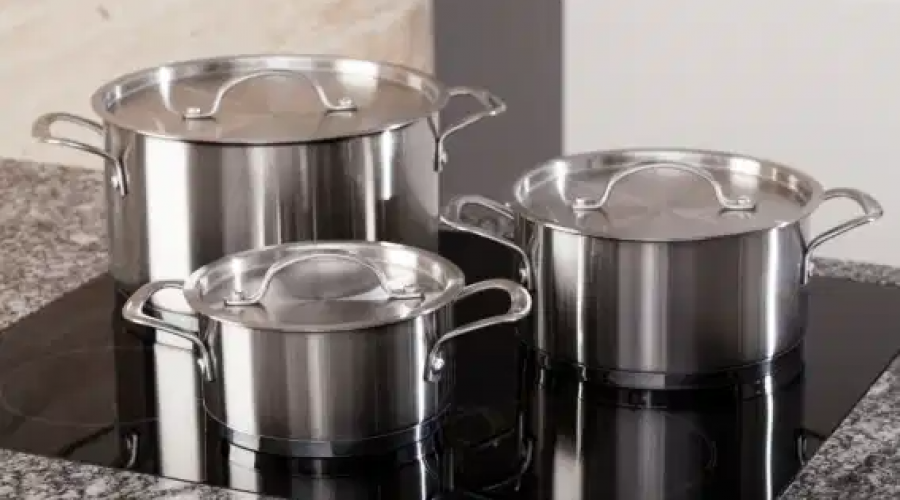 Are induction cooktops safe?
Assuming you've chosen cookware compatible with induction cooktops, this appliance is very safe to use.
It's safer than gas stoves if you have young children thanks to the lack of a real flame, and the fact that it doesn't produce raw heat.
What happens if you use a normal pan on an induction cooktop?
Cookware that is not compatible will simply not respond to the magnetic force of the induction cooktop and fail to produce heat. Basically, a whole lot of nothing will happen, and your frying pan (and food) will stay cold.
How do you know if cookware is induction-compatible?
The easiest way to test the compatibility of your cookware is to stick a magnet to the bottom. If the magnet sticks properly and requires a bit of effort to get off, then the metal is compatible.
Which cookware doesn't work on induction stovetops?
Copper cookware, ceramic, and aluminum cookware (that doesn't have a magnetic disk) will not respond to the magnetic field. This means they're not going to work on induction stovetops.
What are the advantages and disadvantages of induction cooking?
Induction cookware is safe to use – it will not produce heat unless it comes in contact with a material that has a magnetic field. Thus, even if you touch the cooktop with your hand, the surface will be cold.
Beyond this, induction cooking allows for greater temperature control. There's much lower heat loss, as almost all of the energy produced goes directly to the cookware. This means you save on energy costs as well!
The safety aspect can't be overlooked either, as most induction cookers have an auto-off feature, which significantly decreases the risk of fire compared to traditional stoves.
As for disadvantages, low-quality induction cookware might make an annoying noise during cooking; if it's lightweight, it can vibrate on the cooking surface. Choose a high-quality set, like the ones listed in this article, and you won't have to deal with this.
Is induction cooking healthy?
Food cooked with induction cookware is healthy and delicious. Everything heats evenly, which means no cold or raw spots.
Moreover, it doesn't have any contact with gas or coal. Food made with induction cooking is safe to consume.
Is induction cooking energy efficient?
Yes, induction cooking is very energy efficient. It uses far less energy than gas or electric cooktops.
The energy consumption from an induction cooktop is minimal, and 85-90% of the heat produced goes right into the induction cookware. There's less energy waste, and therefore, induction cooking is energy-efficient.
What Is The Best Cookware Set for Induction Cooktops?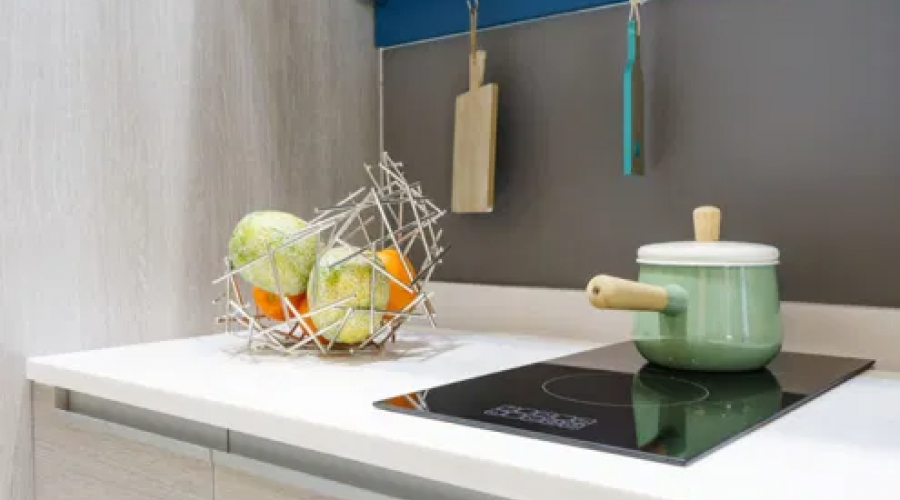 After a careful review of each product listed here, we've come to a clear winner: The CUISINART MCP-12N MULTI-CLAD PRO.
This clad cookware looks good, heats evenly, is surprisingly nonstick, and is 100% toxin-free thanks to its stainless steel clad construction. This multi-clad set will last you for years to come if treated properly.
We hope you've found this article useful! If you have questions or comments, leave them below!
Editor's Choice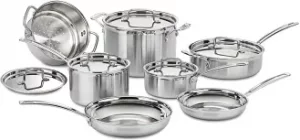 Cuisinart Multi-Clad Pro 12-Piece Stainless Steel Cookware Set
We liked the Cuisinart MCP-12N Multiclad Pro stainless steel cookware set because it's a complete set for induction. The fact that it's multi-clad is a huge plus.
Additionally, it has cool-grip handles, tight-fitting lids, 3-ply construction, and even heating with great conductivity. You can get professional results with this polished induction set, as it allows you to keep all the natural flavors of your meal intact.
No. of Pieces: 12
Material: Clad stainless steel with aluminum base
Dishwasher Safe: Yes, though hand-washing is recommended
Oven Safe: Up to 550F

Anne Gardner
Anne is the most recent addition to the HomeDesignX team, having joined in 2020. She's excited to be aboard and we're just as excited to have her. She helps with content writing (particularly for cookware review articles) and assists with editing when needed.
While HomeDesignX occasionally employs the work of freelance writers for our articles, Anne is our main content writer.