2nd Best Choice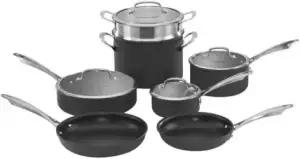 Cuisinart Hard Anodized Cookware set
Check Latest Price
Editor's Choice

All-Clad Essentials Nonstick Cookware Set
Check Latest Price
3rd Best Choice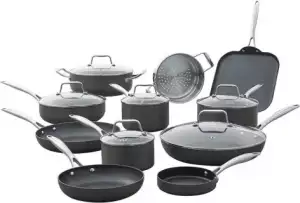 Stone & Beam Kitchen Cookware Set, Hard-Anodized Non-Stick Aluminum
Check Latest Price
In modern times, cooking is not only it essential, but also deemed as an art form. For a smooth cooking process, a variety of cookware has been introduced that minimizes tiring work, saves time, and delivers excellent results.
This is where hard-anodized cookware comes in, as it protects the metal from damage caused by acidic foods, while also keeping the surface smooth and long-lasting. Having a non-stick surface also means that it will not mess up your food and make it unpresentable.
Aluminum is known for being a great heat conductor and is generally cheaper than cookware of other metals. When subjected to an electrolytic process, it hardens and becomes corrosion-resistant, which makes anodized cookware one of the best choices for chefs and cooking enthusiasts everywhere.
The Best Hard-Anodized Aluminum Cookware Sets
For a painless and enjoyable cooking experience, we've made a list of the best hard-anodized, nonstick cookware on the market. Take a look!

This set is built from anodized aluminum that's also heavy-gauge. It's enfolded with three layers of nonstick material, which are durable and free from any PFOA or other toxic materials. This cookware doesn't let food stick at all.
All pieces are intelligently designed to minimize the amount of storage space needed, as the cookware are stackable. They're scratch-resistant, too, which indeed makes it one of the best hard-anodized cookware sets on the market.
The set supports electric and gas stoves, and can be used on ceramic cooktops as well. It's also safe to use in both an oven and a broiler.
This All-Clad Essentials cookware set is dishwasher-safe, but hand washing is suggested to ensure the durability of the nonstick.
Quick Facts
Material: Hard-anodized Aluminum
Oven-safe: 500°F
Induction Compatible? No
Dishwasher Safe? Yes, hand washing recommended
Pros
Minimal cleanup
PFOA-Free
No flake-off
Made in the USA
Cons
The handles may get hot while cooking, so be sure to use mitts or a rag when handling.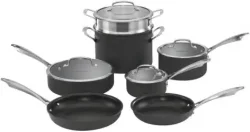 This cookware set comes with an advanced non-stick surface which allows smooth cooking and effortless cleaning. The cookware is very easy and safe to use, and can be cleaned with just water and a soft cloth.
It is equipped with ergonomic handles which remain cool while cooking and ensure a strong grip.
What makes it truly remarkable is that it eliminates hot spots, distributing heat evenly across the cooking surface. The tempered glass lids lock-in moisture and also make it easier for you to monitor your dish, giving way to delicious results.
There are many factors that will make you proud of your purchase if you choose this set, not least of which is its sleek design.
Quick Facts
Material: Hard-anodized Aluminum
Oven-safe: Pots and pans up to 500 °F and glass lids up to 350 °F
Induction Compatible? No
Dishwasher Safe? Yes
Pros
Interior made of raised circles and triple layers of nonstick
Not very heavy
Metal-utensil safe, scratch-resistant interior
Rubber-infused handles for comfortable grip
Cons
Not oven-safe to a very high temperature.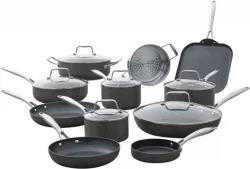 Stone & Beam's set of 17 cookware pieces are made of 60% Aluminum, 20% Stainless Steel, and 20% Glass. The cookware pieces have a PTFE non-stick coating, which equates to a flawless and fun cooking experience. The hard-anodized exteriors make the set durable.
The tempered glass lids let you monitor your food easily and also enable venting.
The cookware can be hand-washed with soap and a soft sponge. Furthermore, this set looks appealing and will add to the overall aesthetic of your kitchen. Use this hard anodized cookware set to cook mouthwatering dishes that will impress whoever gets a bite!
Quick Facts
Material: Hard-anodized Aluminum, stainless steel and glass
Oven-safe: 425 °F
Induction Compatible? No
Dishwasher Safe? No
Pros
Very durable nonstick interior
Even heat distribution
Ergonomic, stay-cool handles
Lightweight for easy handling
Metal-utensil safe
Cons
Pans might be too small for some people, especially if cooking for a large family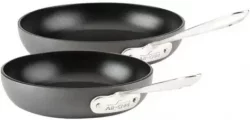 These hard-anodized pans are made for even heat distribution and effortless cleaning. They are stainless-steel bonded with anti-warp technology and are compatible with ceramic, electric, gas, and induction stovetops.
These All-Clad anodized pans' minimalist design helps you cook your favorite dishes in style!
The pair of high-quality pans is made with PFOA-free, nonstick, scratch-resistant coating for flawless and healthy cooking. You can easily clean away residue by mixing water and a touch of baking soda.
The cookware is dishwasher safe, but we highly recommend handwashing with mild detergents and non-abrasive pads or sponges.
Note: The pans work best and last longer if you use medium heat or lower. Cooking on high heat can cause the pans to lose their coatings over a long period of time.
Quick Facts
Material: Hard-anodized Aluminum and Stainless Steel
Oven-safe: 500°F (without lids)
Induction Compatible? Yes
Dishwasher Safe? Yes, hand-washing recommended
Pros
Ergonomic, double-riveted handles ensure comfort
Handles stay cool when cooking
The cookware is dishwasher safe
Free of lead, PFOA, cadmium, and lead
Compatible with electric, glass, ceramic, and induction cooktops
Metal-utensil safe
Lifetime guarantee
Cons
Costlier than other items on this list
This set is made from durable, hard-anodized aluminum that is twice as hard as stainless steel. It provides fast and even heating for a smooth cooking experience.
Safety in the kitchen is a must, so the handles are designed to be easily grasped; they're wrapped in silicone and will not overheat. This way, you can take your hot cookware right off the stove without worrying about burning your hands.
This cookware set is dishwasher-friendly and cleans up quickly thanks to its nonstick surface. It also performs well on all stovetops and cooking surfaces. The standard, minimalist black and silver design will compliment any kitchen setting.
Impress your family and friends by creating delicious meals with this durable, convenient set!
Quick Facts
Material: Hard-anodized Aluminum
Oven-safe: 400 °F
Induction Compatible? Yes
Dishwasher Safe? Yes
Pros
Sturdy and durable
Easy to clean
PFOA-Free nonstick coating
Works on induction, gas, electric, ceramic, and halogen cooktops
Base built of stainless steel for warp resistance
Cons
Heavy pans, which may be an issue for some
Some have complained that the handles are uncomfortable; we've found that this can be fixed with a simple grip adjustment.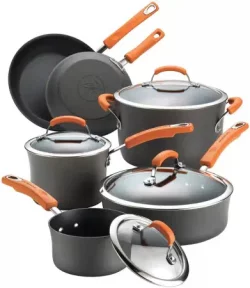 This high-quality cookware set by Rachael Ray is made with deluxe nonstick coating for you to enjoy smooth cooking and delicious results. Thanks to its hard-anodized manufacturing, it heats up quickly and evenly.
Its handles are easy to grip and cool to touch, and the shatter-resistant glass lids enable you to monitor your food while cooking.
The cookware set is dishwasher safe for mess-free, easy cleaning. It's also known as the best hard anodized cookware for beginners so it makes for a great gift for cooking enthusiasts who are yet to experiment with many different cookware.
Quick Facts
Material: Hard-anodized Aluminum
Oven-safe: Up to 350°F
Induction Compatible? Yes
Dishwasher Safe? Yes
Pros
Attractive minimalist design
Shatter-resistant glass lids
Incredibly easy to wash as they are true nonstick
Fast and even heating
Cons
Not oven-safe to a very high temperature.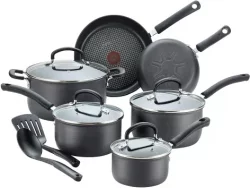 This T-Fal hard anodized cookware set is corrosion- and stain-resistant and does not react to acidic ingredients. It retains heat well and is fully nonstick and anti-warp.
With its thermal spot indicator, you can easily know when the anodized aluminum pan is preheated, as the ring in the middle will turn red.
The cookware is equipped with riveted silicone handles made for your comfort and protection. Its vented, tempered glass lids allow visibility, and retain heat and moisture for you to have a great meal every single time.
This set works just as well and lasts as long as premium sets that would otherwise cost you thousands of dollars. If you're on a budget and still looking for a great set of hard-anodized cookware, this is the one for you.
Quick Facts
Material: Hard-anodized Aluminum
Oven-safe: Pots up to 400°F and lids up to 350°F
Induction Compatible? No
Dishwasher Safe? Yes, hand-washing recommended
Pros
Comes with a lifetime limited warranty
Unique Thermo-Spot indicator
Riveted silicone handles
PFOA, lead, and cadmium free
Nothing sticks - the nonstick coating performs amazingly
Tight-fitting lids
Cons
The limited lifetime warranty will be void if you cook on high heat.
No lid for the large-size pan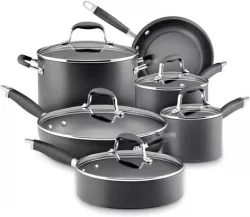 Anolon hard-anodized cookware is built to evenly distribute heat, and its top-quality nonstick coating allows smooth food release and easy cleanup.
The cookware's lids and handles are dual-riveted for ultimate grip and comfort, and the shatter-resistant glass locks in heat and moisture while cooking. Make your favorite dishes with comfort and in less time (and for a great price!)
Quick Facts
Material: Hard-anodized Aluminum
Oven-safe: 400°F
Induction Compatible? No
Dishwasher Safe? Yes, hand-washing recommended
Pros
Heat up fast and retain heat longer as well
Good value for money
Anolon SureGrip ensure a tight, comfortable grasp
Metal-utensil safe coating
Triple-Layer of PFOA-free nonstick coating
Cons
May start flaking if not properly cared for
Low and medium heat cooking are recommended
What Is Anodized Cookware?
The Aluminum in this type of cookware is anodized, which means that it went through an electrolytic process where natural oxidation had to be controlled. Then, the Aluminum was given a chemical bath and an electric current, which produces oxide from the rusting Aluminum.
This oxide layer makes the Aluminum corrosion-resistant, thus allowing you to enjoy smooth cooking and easy cleaning. Hard-Anodized cookware are known for their robustness and smoothness, which is the reason why you can find them being used in many restaurants.
You can use this cookware for any kind of cooking. It does not peel over time because its surface is not cheap like typical aluminum. All kinds of spoons, especially wooden or silicone, are compatible with them,, except metal.
Due to their non stick coatings, you can cook food with your desired taste and color without oil. This is a convenient way to reduce your fat intake.
Should I Buy Hard Anodized Cookware?
Definitely!
Hard anodized cookware allows you to cook without any troubles. They don't let food stick to the cooking surface, and they can endure acidity. Many professional chefs own hard-anodized cookware in their restaurants or cafes, and it is usually the first choice of kitchenware for households.
They are specially-made to let food slide easily off of them so you do not damage its look and texture.
The fact that they heat up and cool down rapidly and are super easy to clean and maintain is proof that they save time and energy. Thus, they're worth investing in.
Aluminum is one of the least costly metals available, so the price of the cookware would not be much of an issue. Plus, they come in various stunning colors and designs, so you can always mix and match them with the look of your kitchen!
FAQ
Is anodized aluminum safe?
Yes. It is non-toxic in the sense that high heat will not damage the anodized finish, as anodized surfaces can resist heat to the melting point of aluminum which is 1,221°F. However, some of them are not induction-safe.
Additionally, if they have nonstick coatings, then these coatings have their own safe levels of heat that you'll have to make sure you don't pass.
Nowadays, the best hard anodized cookware sets come with silicone lids and handles which help you hold your pots and pans safely without burning your hands. They are also lightweight so you can easily carry them from one place to another. Most hard anodized cookware sets can also be kept in the oven for baking your desired dish.
Is hard anodized cookware made in USA?
Yes, some hard-anodized cookware are. Some of the best hard anodized cookware manufacturers in the USA are:
Eagleware
All-Clad
Made In
Lifetime
Tramontina
Lodge
Calphalon
Viking
Are there any hard anodized cookware disadvantages?
Disadvantages of hard anodized cookware include:
They can be pricier than usual nonstick pans.
The problem with hard anodized Aluminum cookware is that if have a cheaper set, gradual use will eventually weaken the nonstick layers of the cookware. To avoid this, you may want to invest in high-end brands with better technology.
Also, cheaper brands may sell cookware sets with lids that may not fit their pans or may warp after a while.
Hard anodized cookware absorbs heat really fast.
This may sound like a good thing (and it is), but it means most hard-anodized cookware sets are compatible with medium to medium-high temperature only. Preheating them empty is also not a good idea as it damages the surface and nonstick properties.
Over the course of 4 to 5 years, the nonstick coating will likely wear off. For them to last this long or more, you have to take extra care of them regarding their storage, usage, and cleaning.
Most hard adonized cookware is incompatible with induction stovetops.
However, metal discs are available to make the pans induction-friendly.
Cleaning needs to be done carefully.
Using abrasive cleaning items like steel wool sponges or harsh chemicals can sabotage their non-stick coating over time. Cleaning has to be done very carefully as hard anodized cookware is not always dishwasher safe.
Lastly, using cooking sprays (such as PAM) can damage the nonstick coating.
Oil is not the only ingredient in cooking sprays; ingredients like lecithin, dimethyl silicone, propane, and butane form buildup on nonstick surfaces over time, which will become almost impossible to get rid of.
Cooking sprays heat up at lower temperatures which will ultimately damage your cookware's nonstick coating and waste all your money.
Is hard-anodized aluminum durable?
Yes. It is more durable than conventional nonstick cookware thanks to the hard-anodized coating. They can last for years on end if used carefully.
There are certain things you need to keep in mind, however, such as keeping your cookware separate so they do not get scratched, and to avoid keeping them one on top of another.
What utensils are safe to use on hard-anodized cookware?
Silicone or wooden utensils are safe to use on hard-anodized cookware.
Using metal utensils or cutting and chopping on hard anodized Aluminum surfaces can strip them of their nonstick qualities and cause scratches.
Hard anodized vs nonstick cookware sets: What's the difference?
Compared to conventional nonstick cookware sets, hard-anodized aluminum sets have gone through a natural chemical process. This oxidizes the surface of the cooking pans which makes them more nonstick, durable, and prevents discoloration of food.
Hard-anodized cookware has plenty of nonstick coatings which conventional nonstick cookware may not have.
A highly nonstick cookware set assists you during your cooking time by minimizing effort and time, as well as adding beauty to your dishes thanks to minimal maneuvering and scratching.
This also ensures that the flavor of the dish is locked in and the texture is not destroyed because of constant probing.
Moreover, hard-anodized aluminum cookware heats swiftly and retains heat as well because it is a great heat conductor. We all know how crucial that is for your dish to come out perfectly! Controlling your dish's temperature is the foundation of a great meal.
Conclusion
Buying hard-anodized aluminum cookware is a great choice, as they are durable and make cooking easy, even for those who don't like cooking. All the features they come with make cooking an enjoyable process.
Usually, cooking can be seen as a chore for some, but a combination of the right cookware and recipes can make cooking very entertaining and a source of higher self esteem, motivation, and creativity.
However, traditional cookware made from non-anodized aluminum or other materials might react with acidic liquids like tomato sauce. With hard-anodized cookware, cooking is nontoxic and safer.
Proper storage and careful usage of hard anodized cookware will give you the best cooking results and make your time in the kitchen worthwhile. Store them away from spaces where they might get scratched or dented. Separate racks or cabinets are always a good idea.
Editor's Choice

All-Clad Essentials Nonstick Cookware Set
Material: Hard-anodized Aluminum
Oven-safe: 500°F
Induction Compatible? No
Dishwasher Safe? Yes, hand washing recommended

Talya Davis
Talya, like all members of the HomeDesignX team, is enamored by all things related to cooking and eating. She's written cookware articles for numerous publications before working with her lifelong friend Jessica to create their very own website on cookware.
She's currently writing a book on induction cooktops, and enjoys making clean, vegan meals for her family.