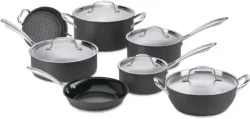 Cuisinart GreenGourmet hard-anodized 12-piece nonstick cookware set features a scratch-resistant surface with a long-lasting nonstick effect. This ceramic-based surface is PTFE and PFOA free and doesn't peel off.
What's Included in Cuisinart Greengourmet Cookware set?
8" skillet
10" fry pan with lid
1.5 qt. saucepan with lid
2.5 qt. saucepan with lid
Three qt. everyday pan with lid
Six qt. Dutch oven with lid
Steamer insert
Quick Facts
12-piece hard-anodized aluminum cookware set featuring scratch-resistant nonstick ceramic-based surface
Water-based Ceramica nonstick surface won't peel off, free of PTFE and PFOA
Superior heat conductivity resulting in less energy use; oven- and broiler-safe
8-inch skillet; 10-inch lidded deep fry; 1-1/2-, 2-1/2-quart lidded saucepans; 3-quart lidded everyday pan; 6-quart lidded Dutch Oven; steamer insert
Product Built to North American Electrical Standards. Versatile Performance- Oven and broiler safe
Are you looking for a high quality cookware? Check out our full review of Cuisinart Greengourmet cookware before you buy.
About Cuisinart Cookware
Cuisinart is a prestigious cookware brand that is primarily owned by its parent company, Conair Corporation. Conair is best known for hairdryers; however, Cuisinart has been performing to produce all kinds of kitchen cookware since 1971. Carl Sontheimer launched it in 1971 that was enthralled by semi-automated food preparation machines on his visit to France.
Carl reversed-engineered the machine and added a new accessory, the feeding tube. The invention resulted in huge success; however, Carl sold the company in 1989, which was later re-sold to Conair Corporation by the end of the same year. Since then, Cuisinart has been expanding to a wide variety of areas.
Today, Cuisinart has secured its place among one of the most popular choices of every kitchen.
Cuisinart Greengourmet Cookware: Full Review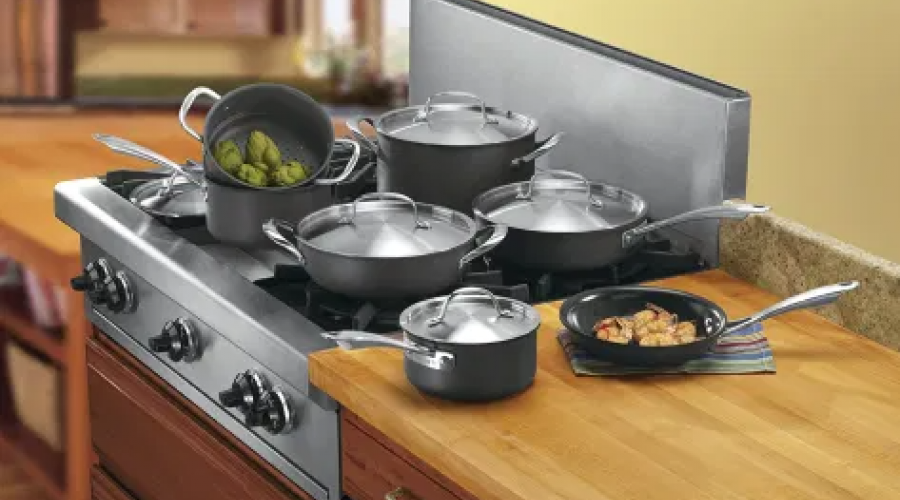 1. Product and Brand Value
The cookware is accompanied by a manual and a lifetime warranty. The customer service is very receptive and prompt in reply and action to the satisfaction of the user.
The brand is reputed. Over the years, it has established a good name for itself. The prospective buyers see the brand as equivalent to quality. I bought the cookware for its good looks and properties highlighted by the salesman. I have not repented to my decision. Would you join the league of users?
2. Design and Construction
Heat surround technology permits even heat distribution from the bottom up and along the sides. The triple-ply construction with aluminum core bond covering keeps away hot spots.
The steel interior does not give out toxic fumes even at high temperatures. It has a nonstick coating. The cookware is very functional, and I vouch for it. Purchase it with confidence for a good cooking experience.
3. Compatibility and Performance
The cookware is all stovetop such as gas stoves, electric, glass top stoves, including induction compatible. Its utility in the kitchen is multifarious. All types of cooking processes like boiling sauté, simmering, frying can be executed through it. The heat distribution is even, and there are no hotspots. The cookware is suitable for utensil use. There is no lining that would be scratched. The performance accomplishment is excellent, and food gets tender and tasty by the use of this cookware.
If liquid food is left without stirring, the chances of base settlement and scorching are possible. Food needs all attention when being cook through this cookware. I have used the cookware with good results and recommend it to others.
4. Cleaning and Maintenance
The food at times get stuck at the base, and then it requires vigorous cleaning with a scrubber. In the normal course, it can be put in the dishwasher, and they come out sparkling. There is special steel cleaning powder available in the market, and it can be manually cleaned with it with ease. The storage needs space, as they cannot be stacked. The handles and lids have no hole for hanging. The cookware occupies a place in the kitchen cabinet.
The maintenance of the cookware is easy. I owe them for quite some time now. Let cleaning not be a deterrent for you.
5. Pros of Cuisinart Greengourmet Cookware
I love the fact that the design is appealing; it can fit any kitchen setting – it works well even if you directly serve your meals in this cookware; it will complement your dining room too.
The aluminum core construction allows your food to cook evenly without leaving any hotspots; because the heat remains for a longer time, the food cooks faster than usual and remains warm for longer.
With this cookware, your food will not burn or stick on the surface; in case if it does, cleaning is easy with this cookware set. Soak the vessel in hot water and soap for a while; all the stuck food will come out like it was never stuck. You can then place it in the dishwasher for thorough cleaning. It saves you a lot of time and effort.
The tightfitting lids are an excellent addition; you will not have to eat tasteless meals anymore. This cookware lets you have rich meals and soups with full moisture, nutrients, and flavors intact.
Read more: Cuisinart cookware review
Our Verdict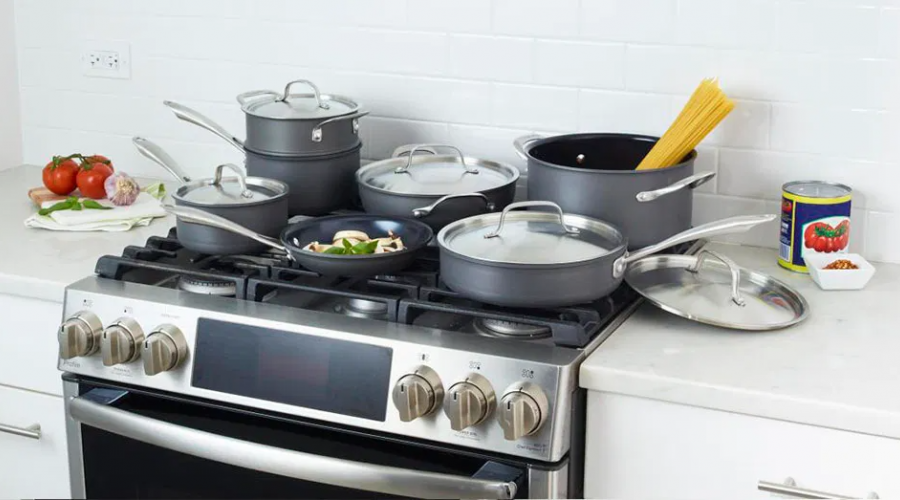 The Cuisinart Greengourmet cookware set is energy efficient and features superior heat conductivity, even heat circulation, and eliminates hot spots. It is dishwasher friendly and oven and broiler-safe. The set overall provides versatile performance at a reasonable price.

Talya Davis
Talya, like all members of the HomeDesignX team, is enamored by all things related to cooking and eating. She's written cookware articles for numerous publications before working with her lifelong friend Jessica to create their very own website on cookware.
She's currently writing a book on induction cooktops, and enjoys making clean, vegan meals for her family.