2nd Best Choice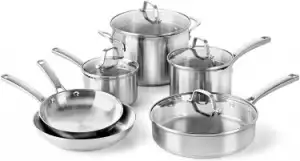 Stainless Steel Cookware: Calphalon Classic Stainless Steel 10-Piece Cookware Set
Check Latest Price
Editor's Choice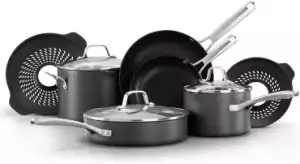 Nonstick Cookware: Calphalon Classic 10 Piece Cookware Set with No Boil-Over Inserts
Check Latest Price
3rd Best Choice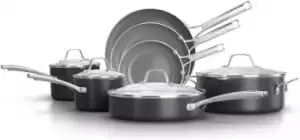 Ceramic Cookware: Calphalon Classic Oil-Infused Ceramic PTFE and PFOA Free Cookware
Check Latest Price
Are you looking for the superior-quality cookware? Looking no further, check out the Calphalon Classic reviews below before you buy.
In the world of cookware, Calphalon has pioneered its way due to the diversity in its products. In 1963, Calphalon was started as commercial aluminum cookware. They first used the hard-anodized cookware in their kitchens. The Calphalon Classic Cookware was released in 2016 for everyday home-use. They are designed for easy use and durability. Because this cookware has gained extreme popularity, I want to review these pots and pans in detail.
Let's get into an in-depth Calphalon Classic review to clear all your queries and doubts.
Top 3 Best Calphalon Classic Cookware Reviews
This Calphalon Classic cookware set is constructed with hard-anodized aluminum exterior and interior. Each cookware set includes ten pieces of pots, pans, and lids. The brand offers a 10-year manufacturer's warranty on this collection. This set of pots and pans comes in three variations: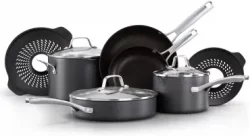 This cookware set is designed with a long-lasting nonstick coating to offer easy food release and convenient cleaning options; however, the brand doesn't promise toxin-free cooking here. With prolonged use, you may not be able to enjoy health-friendly food cooking with these pots and pans. It is compatible with most cooktops except induction. You must hand-wash this cookware set to ensure that the nonstick coating doesn't peel-off.
Features:
Hard-anodized aluminum construction
Sturdy nonstick coating for easy clean
Measuring marks with pouring spouts
Tempered glass lids with integrated strainers
Easy stirring with inserts
Cooking and heating flexibility
Oven-safe up to 450oF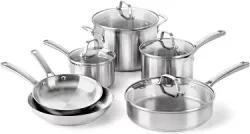 This cookware set is made of brushed stainless steel exterior and impact-bonded hard-anodized aluminum base. The pots and pans distribute heat evenly to provide perfectly cooked meals at all times. You can cook chef-style dishes using this cookware because it is designed with etched marks and pouring spouts. It is compatible with cooktops, including broiler, oven, gas, and electric; however, you may not use it on induction tops. The set is dishwasher safe, making it easy to clean.
Features:
Durable stainless steel construction
Impact-bonded aluminum base
Etched measuring marks for convenient cooking
Dual-riveted, stay-cool, ergonomic long handles
Tempered glass lids with straining holes
Compatible with most cooktops except induction
Oven-safe and broiler-safe up to 450oF
Dishwasher safe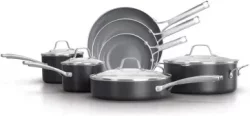 Again constructed with hard-anodized aluminum, it is designed with an oil-infused ceramic nonstick coating to provide three times more strength and performance than any other ordinary nonstick cookware. This set of pots and pans claims to be PTFE-free and PFOA-free, which means it promotes healthy cooking – 100% toxin-free. It is compatible with most cooktops except induction and broilers. It is oven-safe up to 450oF. You must hand-wash this cookware set to ensure its long-lasting endurance and durability.
Features:
Hard anodized aluminum construction
Olive oil infused ceramic nonstick coating
Compatible with most cooktops except induction
Tempered glass lids with pouring spouts
Riveted stainless steel 'stay-cool' handles
Oven-safe with tolerance up to 450oF
Hand-wash only
Calphalon Classic Review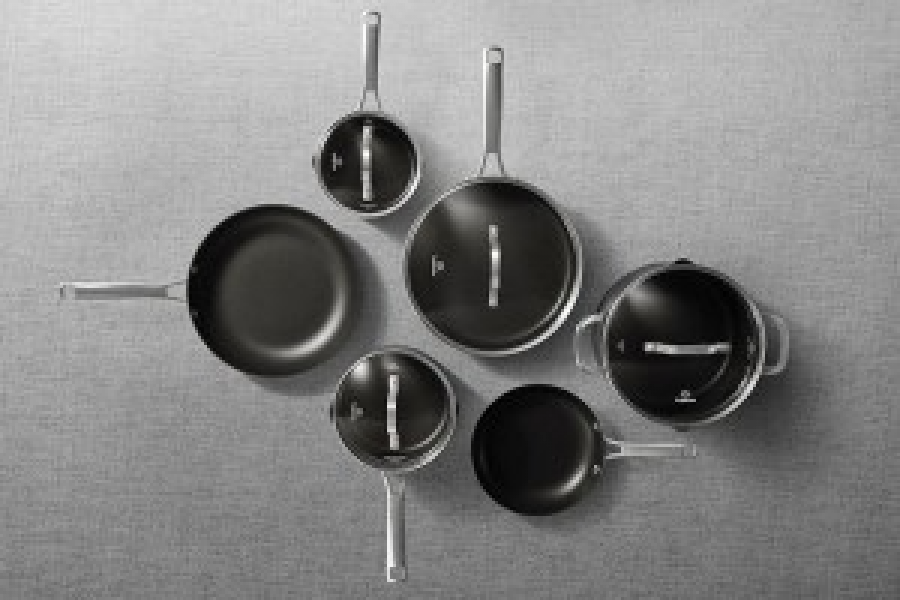 1. Product and Brand Value
The Class Nonstick cookware set of 14 pieces features pans and pots with straining covers pour spouts, and convenient fill lines help to save lots of time in the kitchen. They are made up of dual-layer non-stick, which helps to release and clean food easily. The cookware set includes fry pans, saucepans, sauté pans, and more.
The hard anodized cookware set is expensive but lends superior cooking performance. Its construction and non-stick coating are worthy enough for the value. I recommend you need to follow the handling instructions properly to avoid causing damages on the surface of the pans and pots.
2. Design and Construction
The best part of this collection in the making of them. Its straining lids eliminated a need for a colander. The holes can be kept open while cooking liquid. The design is harder compared to stainless steel so that it can be used in broiler or oven. Pans are made of dual layers of nonstick for easy cooking and cleanup.
The upgraded set of cookware is made of high-quality anodized aluminum and slick surface. This Classic cookware set is user-friendly to make comfortable to cook. Its stainless steel handles, pots with filled line marks, and glass lids with straining holes help no-messy pouring. Even though not as perfect as professional sets, I found they deliver pleasant results and nice features for beginners and cooks.
3. Compatibility and Performance
The Calphalon Classic nonstick cookware set is safe to use on gas stoves or an electric or electric coil, ceramic, glass top stoves and halogen cooktops. They are safe to use in the oven to a maximum temperature of 450 degrees F. It is not recommended for broiler use. But you should be careful with using it in the oven. Handles may get hot, so always use an oven mitt or potholder to prevent hands from getting burned while removing pans.
For better performance, preheat the pots and pans using the cooktop while cooking. Try not to rush out the preheating process using high heat. You should start with the medium and adjust accordingly. Then add oil or butter for cooking. Later, to boil the liquid, you can increase the heat. I found it is better is to use medium to low heat for delicious food.
4. Cleaning and Maintenance
The brand recommends hand wash only. You should never put nonstick cookware in a dishwasher or use harsh cleaning pads or cleansers. All these will damage the interior of the pan and void its warranty. You can clean the interior surface of the cookware set using light liquid dishwasher detergent. Rub it with any non-abrasive sponge or bristle brush. The hard-anodized exterior can be cleaned using the same liquid detergent and a soft brush.
The classic nonstick 14 piece cookware set is made of durable material. They are easy to maintain too. It is recommended to cook on medium to low only for reducing abrasion. To clean soft sponge should be used to avoid causing scratches. I found the cookware set easy to maintain in day to day life.
MORE ABOUT CALPHALON COOKWARE:
All-Clad vs Calphalon – Which Should You Buy?
Calphalon Stainless Steel Review: The Best Cookware?
Calphalon Cookware Review: Pros, Cons And Rating
Cuisinart vs Calphalon Cookware – Which Brand Is Better?
Circulon vs Calphalon Cookware – Which Cookware is Better?
Anolon vs Calphalon – Which Cookware is Better?
Calphalon Select Cookware Reviews: Worth Buying?
T Fal vs Calphalon Cookware – Which Cookware is Better?
5. Advantages of Calphalon Classic Cookware
This cookware set includes pans and pots with straining cover, convenient fill line, and pour spouts help saving time in your kitchen. These cookware sets are easy to use, clean, and maintain.
All the pots and pans of the Classic collection are made of heavy-duty hard-anodized aluminum, which promotes fast, even cooking to deliver chef-like, mouth-watering meals.
These sets are compatible with most cooktops, including gas, electric, glass, ceramic, and ovens. They can tolerate heat up to 450oF.
In any case, if you are not happy with the cookware, Calphalon offers a 10-year warranty on the cookware sets. Also, in case of damage, the brand offers a limited replacement offer.
6. Disadvantages of Calphalon Classic Cookware
Nonstick cookware cannot be handled easily. The coating can go off easily if not maintained properly.
Most of the cookware wouldn't last long if you put them in the dishwasher; thereby, I would recommend you to take out a few extra minutes hand-washing them.
Customer Reviews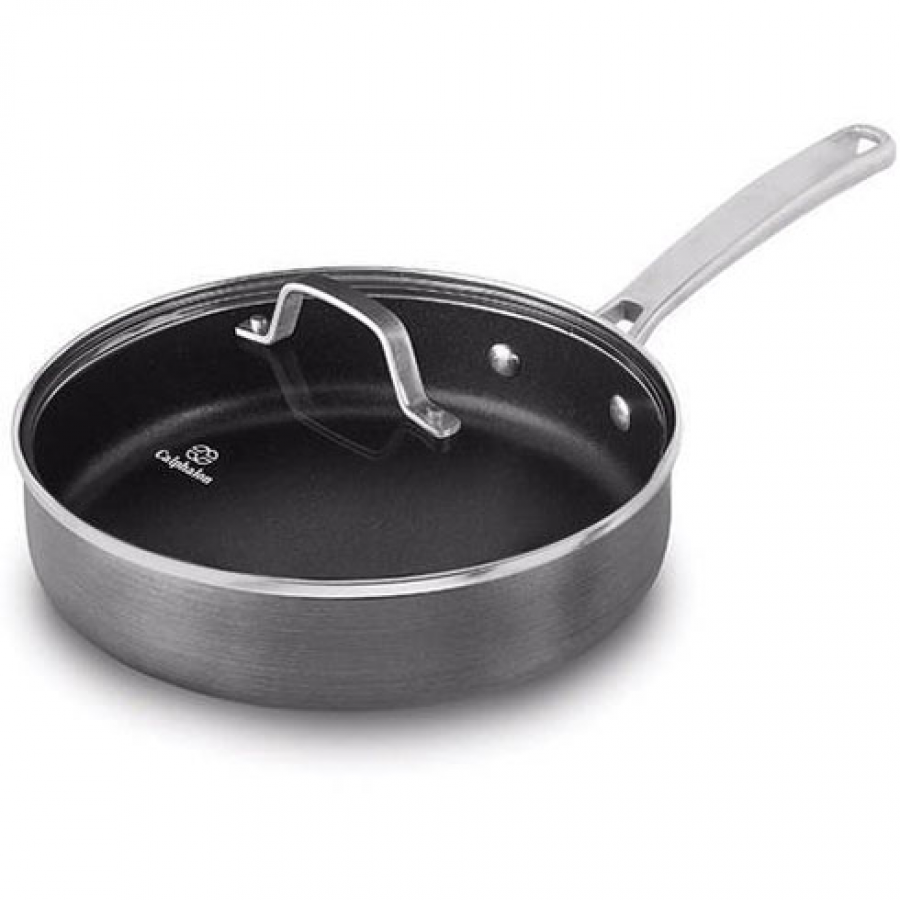 "I love to see the measuring marks featuring in the pots and pan. Even the straining covers and spouts to pour helps saving time in my kitchen. I thought Calphalon is a good product. I am new to cooking, so I do not have much experience with pots and pans. So I found them beneficial and offer a better cooking experience." – Cristina Mayors
"I like the look, style, and weight of the set. Those glass lids are extremely well built with strainers. But after two years of using the nonstick coating started flaking coming into the food I cook. I do not even use plastic or metal utensil, only use nylon and wooden spatulas. My earlier experience with other similar products was also similar. Calphalon is a bigger brand, and quality is not that disappointing for some years to use." – Nash L.
"I bought this classic cookware from Calphalon based on using some earlier. I thought this is also dishwasher compatible, but due to its bottom, they say hand-wash only. But it is not possible in my house. I wish I did not miss that. So I am using dishwasher and hope not to ruin it. Whatever it may be, I enjoy the weight and thickness of the pan and quick clean up. The sizes of the pans are great. Lifting handles are also good." – Mathew Peach
Frequently Asked Questions
1. How to cook with nonstick?
Always use the medium heat setting of your stovetop. You can preheat the pan before start cooking. Take some time to preheat a nonstick compared to aluminum or stainless steel cookware. For the best result, a proper temperature should be maintained before adding oil and food.
2. Does the handle remain cool while cooking?
Yes, the handles remain cool while cooking on the stove top if you are using oven then better to use a mitt.
3. Is Calphalon Classic dishwasher safe?
Calphalon does not recommend dishwashing. Hand wash is safer for the interior coating.
4. Does the heat distribute evenly?
Yes, the aluminum body allows heat to spread throughout the set evenly. While the pan will be cool and comfortable from the surface as stainless steel handles are riveted inside without taking much heat from far.
5. Is Calphalon Classic oven and broiler safe?
The design is harder enough to be used in an oven up to 450 degrees, but broiler not recommended. The handles may get hot in the oven, so use an oven mitt to take out from the oven.
Final Words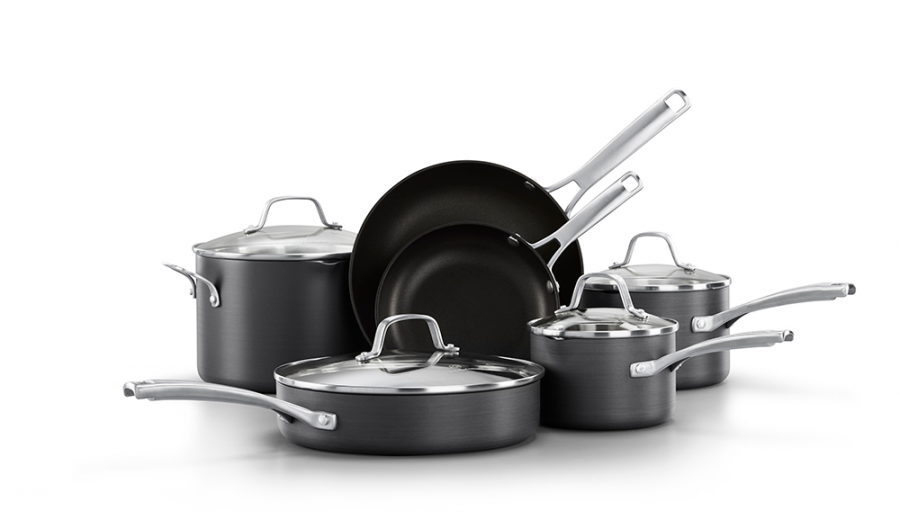 After a careful review, I would suggest the Calphalon Classic nonstick cookware set if you are looking for kitchenware in a fixed budget; however, if you can spend a little more than expected, then you should choose the Calphalon Classic oil-infused ceramic nonstick cookware set. It works perfectly for all cooking variations; it is rightly priced when compared to the features.
For me, the ceramic cookware works best and offers a complete value for money! What do you think?
Editor's Choice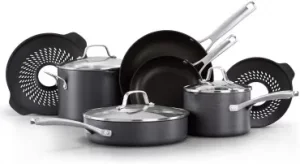 Nonstick Cookware: Calphalon Classic 10 Piece Cookware Set with No Boil-Over Inserts

Talya Davis
Talya, like all members of the HomeDesignX team, is enamored by all things related to cooking and eating. She's written cookware articles for numerous publications before working with her lifelong friend Jessica to create their very own website on cookware.
She's currently writing a book on induction cooktops, and enjoys making clean, vegan meals for her family.