Are you looking to switch to healthier cooking by replacing your old cookware set? If that's the case, then you should be considering the brands of your cookware first. You have, thereby, stumbled across to the right platform. When I am on the verge of switching to new cookware, the first thing that comes into my mind is brands, and the top brands that come into the picture for me are – T-Fal and Calphalon.
Both these brands have been producing high-quality and well-built cookware sets for decades. They have garnered a huge consumer base due to their long-lasting and healthy products. In this guide, I will compare the two brands for you in every possible aspect. We will look into various factors such as material, construction, design, compatibility, performance, and price. This guide shall help you in making your decision-process simpler.
T-Fal vs Calphalon cookware: Let's get started!
T-Fal Initiatives vs Calphalon Classic: Non Stick Cookware Set Reviews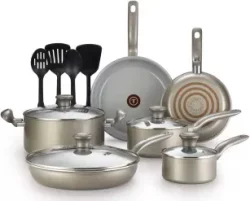 The T Fal Initiatives is a range of cookware, which encompasses 14 pieces of high-quality ceramic non-stick coating for both exteriors and interiors. These pots and pans are 100% toxin-free – no PFOA, no lead, no cadmium, and no Teflon. Its aluminum base promotes even heat distribution delivering optimum cooking results. The base of the pots and pans are scratch-free and corrosion-free; however, you must ensure not to use metal utensils on them.
This cookware is compatible with most cooktops, including ceramic, glass, gas, electric, and halogen; however, you should keep it away from induction stovetops. It is oven friendly too and can resist heat up to 350oF. This T Fal cookware set is dishwasher safe, which makes it easy to clean and maintain. T Fal offers a lifetime limited warranty on this range and is reasonably priced.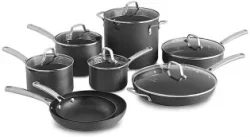 Elegance is what this Calphalon cookware set caters – this 14-piece cookware set offers an awe-inspiring look and feel. Made of hard-anodized aluminum exterior and a double-layer nonstick interior makes these pots and pans highly durable, long-lasting, scratch-free, corrosion-free, and non-sticky. The interiors are designed with measuring marks to ensure chef-like professional cooking results.
This cookware range is suitable for use with gas, halogen, electric, glass, and ceramic cooktops; do not use them with induction tops. Utensils aren't included in the package; however, you cannot use metal utensils on these pots and pans. Look for wooden and nylon utensils for this range. It is oven-safe with up to 450oF heat tolerance and dishwasher safe. The set includes riveted, stay-cool stainless steel handles, and tempered-glass lids with air vents. What more can you ask for?
At A Glance
Feature
T-Fal Initiatives Non-Toxic Ceramic Nonstick 14-Piece Cookware Set
Calphalon Classic Hard-Anodized Nonstick 14-Piece Cookware Set
Quantity
14-Piece
14-Piece
Materials
Aluminum
Hard anodized aluminum
Non-Stick
Yes (ceramic coating)
Yes
Compatibility
Yes (Gas, electric, glass, ceramic, halogen)
Yes (Gas, electric, glass, ceramic, halogen)
Non-Toxic
Yes (No lead, cadmium, PFOA, and PTFE)
Yes (No lead, cadmium, PFOA,)
Handles
Heat-resistant
Cast stay-cool stainless steel
Lids
Tempered-glass lids with vents
Tempered-glass lids with vents
T-Fal vs Calphalon Cookware: The Similarities and Differences
1. Design and Construction
T-Fal cookware has some very interesting designs with features that are not easily available in other brands. Its unique design includes a built-in bright shiny-red heat indicator in the middle of the pan that glows when the pan is preheated. This feature is a useful one if you are cooking many things at once and can't keep a close eye. The durable aluminum construction of this cookware makes it long-lasting and strong.
Calphalon cookware offers a classic design when compared to other brands, including T-Fal cookware. This brand offers hard black/grey outer layer with matte finish due to the presence of hard-anodized aluminum, which makes the complete range long-lasting, sturdy. Heat is evenly distributed because of its sturdy construction. Talking about its 2-layer nonstick coating, it works great for health-friendly cooking.
PS: Calphalon cookware brand offers superior construction and design; thereby, for me, the Calphalon wins this round.
2. Material and Durability
Both T-Fal and Calphalon cookware sets use high-quality materials that are rust-resistant and ensure that the polish remains intact. Calphalon classic collection has aluminum as its core layer, which is an excellent material to conduct heat. Stainless steel, which is a great exterior material, maintains the durability of the cookware and doesn't transfer heat.
Calphalon has the perfect blend of both the materials, which makes it an excellent choice; whereas, the T-Fal brand doesn't have an aluminum core but has excellent non-stick properties. The ceramic layer is also an added advantage, which ensures that the cookware is easy to clean, and the food doesn't stick to the pan. It also utilizes less oil as compared to other brands which make the food healthy and safe to eat.
PS: In terms of materials used and the durability of the cookware set, Calphalon sets a superior example for me to invest in it.
3. Performance
In terms of performance, the Calphalon company is made from hard-anodized aluminum, which is highly durable and resistant to scratches and other types of damages. The presence of this material ensures superior performance and high durability. It also has a multi-clad and multi-layers, which ensure that it has an even distribution of heat at high speed. It also features the presence of a glass lid as well as steel riveted handles, which enhances its performance.
T-Fal brand mostly has a steel core, which is considered to be a poor conductor of heat. It can leave some hot and cold spots, which can bring unevenness while cooking food. The presence of this material leads to less durability and low performance as compared to the Calphalon cookware brand.
PS: Calphalon brand performs extraordinarily when compared to other brands – T-Fal cookware is no exclusion. For me, again, the Calphalon company is the clear winner in the performance aspect.
MORE ABOUT T-FAL COOKWARE:
T-Fal Stainless Steel Cookware Review: Ratings & Brand Evaluation
T-Fal vs Farberware Cookware- What's the Difference?
4. Cleaning and Maintenance
When it comes to cooking and maintenance, Calphalon cookware is dishwasher safe, which makes cleaning an easy job. Along with cleaning, maintenance is also convenient. After repeated use, I have concluded that hand-washing increases the life of the cookware along with its durability. Both the stay-cool handles and glass lids with vents are a great add-on.
The presence of a nonstick ceramic layer on the T-Fal brand ensures that the food doesn't stick, making it easier to wash and clean. The handles of this set are ergonomically made to give comfort while cooking and durability. T-Fal's cookware is dishwasher safe, which makes cleaning a seamless task. The tempered glass lid in both of these brands is an added advantage.
PS: When it comes to cleaning and maintenance, the tables have turned here – T-Fal is easier clean, wash and maintain than Calphalon cookware. For me, this time, T-Fal takes away the show.
5. Cooktop Compatibility and Versatility
The compatibility and versatility of the cookware depend on its material. If you have a brand new glass cooktop, you would want flat-bottomed cookware that doesn't form scratches or damages the cooktop in any way. T-Fal cookware is suitable to work on all cooktops except induction; so is the Calphalon cookware.
Alike Calphalon, you cannot use metal utensils on T-Fal cookware – the nylon utensils are included in the set, which I recommend using at all times. With Calphalon, you can use wooden and nylon utensils – you have to look for them additionally. You can cook versatile meals on cookware of both brands; however, you may find T-Fal cookware set to be more versatile than others.
PS: Both brands are very similar in terms of both compatibility and versatility; however, there's a 19/20 game here, where T-Fal scores one-point high. T-Fal cookware is the one I would crown here.
6. Value for Money
Value for money is an unbiased comparison between the cookware's features and the amount it is priced at. T-Fal and Calphalon are power-packed with features and benefits. T-Fal is priced relatively low than Calphalon, but the latter's construction involves hard-anodized aluminum and dual-layer nonstick coating, which the former doesn't facilitate.
If you are looking only for a budget-friendly option, T-Fal is for you. But, if you are looking for a feature-rich, value for money option, then you should choose Calphalon cookware set. T-Fal cookware and Calphalon, both are durable; however, the final call in the price-range factor is yours.
PS: For me, Calphalon proves a complete value for money. The Calphalon is better than T-Fal in terms of all prospects, including design, construction, and durability.
MORE ABOUT CALPHALON COOKWARE:
All-Clad vs Calphalon – Which Should You Buy?
Calphalon Stainless Steel Review: The Best Cookware?
Calphalon Cookware Review: Pros, Cons And Rating
Cuisinart vs Calphalon Cookware – Which Brand Is Better?
Circulon vs Calphalon Cookware – Which Cookware is Better?
Calphalon Classic Review: Pros, Cons and Rating
Anolon vs Calphalon – Which Cookware is Better?
Calphalon Select Cookware Reviews: Worth Buying?
Which Cookware Brand Is Better: T Fal or Calphalon?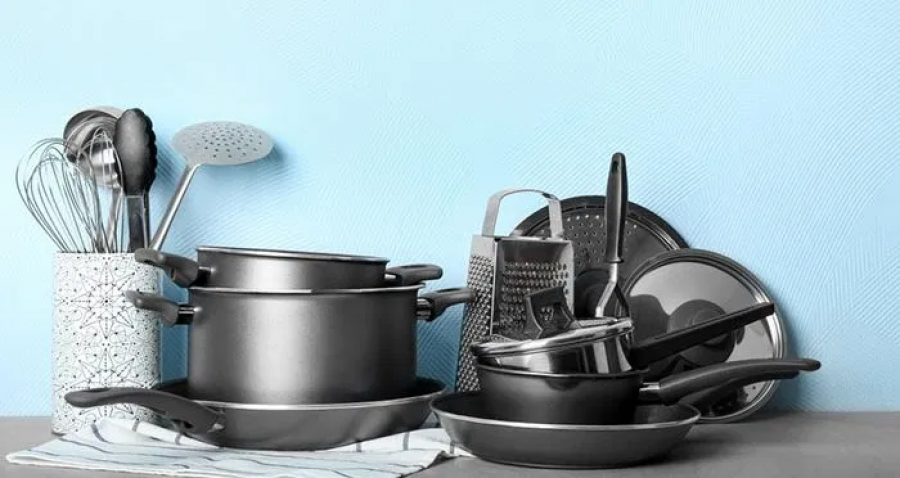 After comprehensive research on various cookware brands, especially T-Fal and Calphalon, I have made my choice – The Calphalon Brand is the one for me. It is durable, sturdy, long-lasting, great in design, and all-the-worth for the investment you make. I fall for durability and sturdy construction, as always, which makes me fall for this one.
What are you thinking? Have you made your choice yet?

Talya Davis
Talya, like all members of the HomeDesignX team, is enamored by all things related to cooking and eating. She's written cookware articles for numerous publications before working with her lifelong friend Jessica to create their very own website on cookware.
She's currently writing a book on induction cooktops, and enjoys making clean, vegan meals for her family.