Are you looking to invest in durable cookware that lasts longer than ordinary, cheaper ones? We've chosen the two premier cookware brands, All-Clad vs Calphalon, and picked one of their best non-stick cookware collections to review in a detailed comparison.
These two collections are trending in the cookware market this year, which is why we picked them to compare against one another.
Both brands promise long-lasting durability and high-quality performance. We're going to look into each set in detail to ensure we don't miss any key features during the review.
We'll touch upon various factors, including design, construction, material, performance, cleaning techniques, compatibility, versatility, and cost to compare the two cookware brands.
Which is better: All-Clad or Calphalon cookware? Let's get started and find out!
Overview of All-Clad Cookware
All-Clad started its cookware business in 1971 and manufactures stainless steel cookware at their factory in Canonsburg, Pennsylvania. All-Clad is a great investment because its cookware is made in the USA with the highest standard of craftmanship.
The ultimate result is a superior cooking experience and much greater durability. They are guaranteed to last you a long time, and come with a limited lifetime warranty.
All-Clad stainless steel cookware collections are made with a layer of impact-bonded aluminum sandwiched between two layers of American stainless steel. This makes the exteriors highly conductive to heat, as well as virtually indestructible.
Unlike many other stainless steel brands, All-Clad's cookware features a bonded construction of aluminum and steel that extends from the base of the pot/pan all the way to the rim. Most other cookware brands only have an aluminum core layer on the bottom of the cooking surface. This fully-clad construction is where All-Clad gets its name.
Meanwhile, their non-stick cookware is made with tough, hard-anodized aluminum.
Read more about the All-Clad 5-ply and All-Clad tri-ply stainless steel cookware sets: All Clad D3 vs D5 Cookware – Which One Will Suit Your Kitchen?
The Best All-Clad Cookware Sets:
Overview of Calphalon Cookware
Calphalon was found in 1963 by Ronald Kasperzak in Perrysburg, Ohio. Calphalon was the first company to make hard-anodized aluminum in 1968.
In 1998, Newell, a popular brand in the commercial industry, purchased Calphalon. Since then, Calphalon has launched several other products that include tri-ply stainless steel cookware, non-stick cookware and self-sharpening cutlery.
Calphalon pans are famous for their anodized aluminum construction. Anodized aluminum is much harder than normal aluminum.
As well, it's more responsive to heat changes, resistant to corrosion, less reactive to acidity, and easier to clean. It's also less expensive than metals like copper.
Calphalon stainless steel tri-ply cookware is also popular among chefs of all experience levels.
Read more: Calphalon Cookware Review: Pros, Cons And Rating
The Best Calphalon Cookware Sets:
At A Glance
Feature
All-Clad
Calphalon
Quantity
10-Piece
8-Piece
Materials
Hard-anodized heavy-gauge aluminum
Hard-anodized heavy-gauge aluminum
Non-Stick
Yes (Triple-layer non-stick coating)
Yes (3-layer non-stick coating)
Compatibility
All cooktops except induction, no metal utensils
All cooktops except induction cooktops
Non-Toxic
Yes (PFOA-free)
Yes (PFOA-free)
Oven-Safe
Yes (up to 500F)
Yes (up to 450F)
Dishwasher Safe
Yes (hand-wash recommended)
Yes (hand-wash recommended)
Handles
Riveted, ergonomic, stainless steel handle
Riveted, stay-cool long handle
Lids
Tempered glass lids
Tempered glass lids
Manufactured in
USA
USA and China
All-Clad Essentials vs Calphalon Premier: Review and Comparison Chart
All-Clad Essentials 10-Piece Nonstick Cookware Set

This All-Clad Essentials nonstick set is an excellent option that offers versatile features. The pots and pans are compatible with most cooktops, except induction; also, it's oven-safe and can tolerate heat up to 500 degrees Fahrenheit (lids are oven safe up to 350°F). This cookware is easy to use and store as the pieces fit snuggly into one another for easy storage. Also, thanks to their tough build, you don't have to worry about scratching their nonstick surface.
Constructed using heavy-gauge, hard-anodized aluminum, these clad pots and pans are very durable and provide even heat distribution across the cooking surface. Thanks to its sturdy construction, the cookware is warp-free.
Both the interior and exterior of these pots and pans are covered with 3-layers of nonstick coating, which is 100% non-toxic and it PFOA-free. The food releases effortlessly, saving you a lot of time and effort during cleanup.
The stainless steel handles are secured with stainless steel rivets and are ergonomic to remain cool even at high temperatures and offer a secure, comfortable grip. The set includes lids made of shatter-resistant, tempered glass.
It is dishwasher-safe; however, as with most cookware, we recommend you hand-wash these pieces for the best durability.
Calphalon Premier Hard-Anodized 8-Piece Nonstick Cookware Set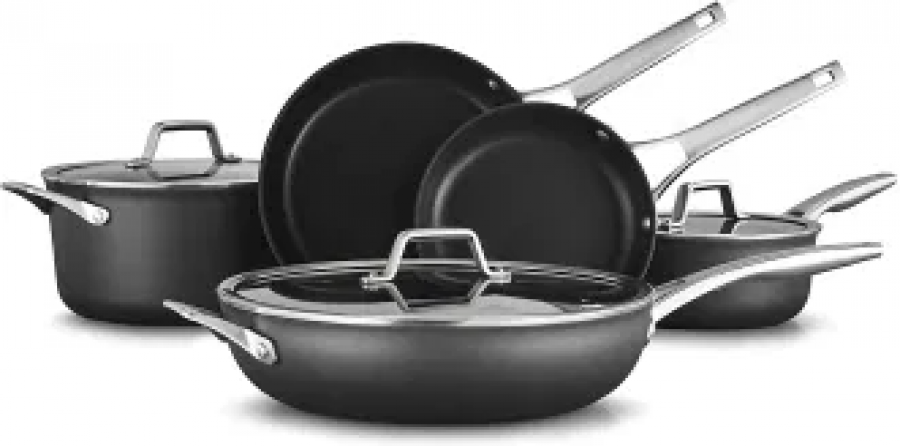 The Calphalon Premier Nonstick Cookware Set is built to last. Its nonstick coating is 40% more durable than that of the classic Calphalon set.
These pots and pans are constructed with hard-anodized aluminum to ensure quick, even heating and durability. The interiors are finished with a triple-layer nonstick coating, which is metal utensil-safe since the cooking surface is scratch-resistant.
Additionally, it allows for easy food release thanks to its nonstick properties.
This 8-piece cookware set is compatible for use with most cooktops except induction, and can tolerate heat up to 450 degrees Farhenheit. The handles are long enough and stay cool even when placed under high temperature. The lids are made of tempered glass with stainless steel rims. The pots and pans are easy to use and clean as they're dishwasher-safe, and come with a full lifetime warranty.
All-Clad vs Calphalon Cookware: Detailed Comparison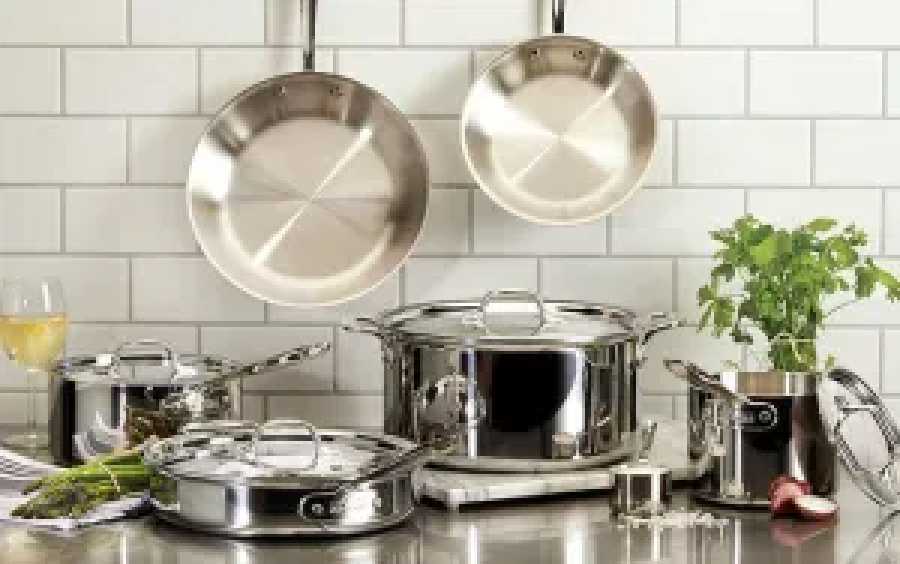 Both Calphalon and All-Clad are popular brands of cookware. They're professional-grade quality and just about the best you can get for your kitchen.
All-Clad's stainless steel cookware line offers a wide range of products, while Calphalon stainless steel cookware is also popular, but with more specialized, signature style hard-anodized cookware. Here are the various features of both brands and how they differ:
1. Design and Construction
All-Clad's range of cookware is a symbol of kitchen excellence. Their polished or brushed stainless steel finish will complement any kitchen décor.
Similarly, Calphalon's range of cookware looks pleasing too. As one of the leading brands for home cookware, it is a renowned choice for cookware collections that look great and perform well. The Premier Collection's black finish suits all kitchen and dining settings.
All-Clad's cookware sets are constructed using their heavy-gauge, hard-anodized aluminum and triple-layer non stick coating. All-Clad manufactures 100% of its fully-clad cookware in America.
Similarly, Calphalon cookware is made of hard-anodized aluminum and triple-layer, PFOA-free non stick coating. However, while Calphalon cookware produces the majority of its aluminum cookware in Ohio (depending on the line), Calphalon stainless steel products are made in China.
Both cookware sets we mentioned above have riveted, stainless steel handles for a comfortable grip, and tempered glass lids are also included.
Calphalon has a famous tri-ply stainless steel cookware set that actually looks the same as All-Clad Bi-Ply bonded oven-safe cookware. If you don't look at the different brand name on both, it would be extremely difficult to point out any difference between the two.
Still, there are some other major differences you may notice while you cook, which we'll talk more about in a moment.
Winner: While both brands have similarly tough construction and very similar designs, we chose All-Clad as the winner here, simply because All-Clad cookware is made in the USA (Calphalon produces most of its aluminum cookware in America, but Calphalon stainless steel pots and pans are made in China).
2. Material and Durability
All-Clad and Calphalon both promise long-lasting durability with the materials they use.
All-Clad's cookware set uses hard-anodized aluminum for its base and body, which is coated with three layers of high-quality, non stick material.
The latter option also uses hard-anodized aluminum for its exterior construction, while the interior is covered with triple-layer PFOA-free non stick coating. This non stick coating is 40% more durable than other non-stick coatings.
The aluminum material makes these cookware long-lasting, warp-free, and highly durable. If you take care of this set, they will last you a lifetime.
Winner: It's a tie. Both brands are known for their reliability and toughness of their cookware. Whichever one you choose will last you a long time to come, provided you care for it properly.
3. Performance
Let's compare the performance of both All-Clad and Calphalon.
You can cook anything and everything with the All-Clad Essentials cookware set. It's oven-safe, so you can cook meals on stovetops and in ovens alike without having to change cookware. You can prepare a variety of healthy meals in these pots and pans, and the food won't stick to the cooking surface.
On the other hand, the Calphalon Premier cookware set also allows you to make a wide range of meals for your family and guests. You always get to eat healthily with this cookware as it is 100% non-toxic cookware.
You will never experience toxic fumes coming out in the case of your cookware getting overheated, which can happen with some cheaper brands that use toxic nonstick coatings.
Additionally, the cookware is warp-resistant, scratch-free, and release food without sticking on the cookware surface.
Winner: Sorry to be anti-climactic, but it's another tie, here. In our tests with both cookware and from other users' reviews as well, we can confidently say that the cooking performance is very similar between both aluminum cookware sets. Neither set has a superior cooking performance over the other.
4. Heat Distribution
Many people face a common problem while they cook due to uneven heat distribution. Food can get stuck to the base of pans during preparation, and while cooking, hot and cold spots can form.
This is one of many problems that can occur with cheap non-stick products. All of All-Clad's products have an aluminum core that extends to the entire body of the cookware, hence the name of the company (their cookware is fully clad). This distribution means the pans spread heat much more evenly every time.
This particular cookware, the All-Clad Essentials, is no exception. Therefore, you won't have to worry about hot spots forming. It helps to prevent parts of the food from getting burnt or undercooked.
Calphalon cookware collections, on the other hand, sometimes have an aluminum disc around the base. This disc can lead to uneven heat distribution, contributing to the aforementioned problems while cooking. This drastic difference is one of the key factors that separates both brands.
Winner: Due to All-Clad cookware's reputation for great and even heat distribution and the fact that Calphalon seems to have a bigger problem in this regard, we're going with All-Clad for this category.
5. Heat Tolerance
When not specifically talking about any specific collections of cookware, All-Clad has a much higher heat tolerance. The majority of All-Clad stainless steel sets are oven-safe up to 600°F, while Calphalon stainless steel cookware is safe up to 500°F.
In terms of non-stick cookware, such as the Essentials and Premier sets listed above, All-Clad nonstick cookware is still the winner, being safe up to an additional 50°F over Calphalon.
Winner: It's not debatable this time. Objectively speaking, All-Clad is the better choice for cookware that can withstand high heat, no matter which line you choose.
6. Lids
Both the All-Clad and Calphalon cookware sets come with glass lids, which allow you to easily keep an eye on your food while you cook without removing the top and letting any moisture out.
Calphalon's lids are pretty heavy and definitely built to last. They fit perfectly, providing a tight seal to ensure no steam escapes. However, the lid handles are made of metal, which means they can get hot at very high temperatures. To prevent accidental burns, wear oven mitts or use a cloth to remove hot lids.
All-Clad's lids are also very sturdy, and are oven-safe up to 350°F. One benefit All-Clad has over Calphalon in this category is that the lids are interchangeable, meaning one lid can fit numerous pots and pans, so you'll need fewer lids for the whole set.
Winner: Since both brands have sturdy glass lids, the winner here is a pretty subjective choice. I'm going with Calphalon simply because of how weighty and solid their lids are; it's the type of sturdiness you'd expect from a much more expensive set.
7. Cleaning and Maintenance
Cleaning is easy and fast with this cookware. This is the same in the case of both Calphalon and All-Clad's sets. Both of the cookware sets are dishwasher-safe.
However, if you want to hand-wash these pots and pans, you'll only need warm water and a soft sponge, and your job will be done in just a few minutes. How convenient is that?
Note: We mentioned it earlier, but we'll stress it again: They're technically dishwasher safe, but hand-washing these sets will increase their lifespan significantly and prevent scratches. After all, handwashing them only takes a minute at most, so you're not losing any convenience by doing so.
Winner: Both sets are easy to clean and dishwasher-safe. However, with the All-Clad cookware set in particular, I've noticed that when washing the pans, any remnants of food just slide right off the non-stick surface.
8. Cooktop Compatibility and Versatility
All-Clad and Calphalon cookware are compatible on most cooktops, including gas stoves, electric, glass cooktops, ceramic, and halogen stoves. However, don't try using either of them on induction cooktops – they are not suitable for use on induction tops.
While both sets are oven-safe to varying degrees, only one, Calphalon, is compatible with metal utensils. This means you can use metal forks, knives, spatulas and more while cooking with the Premier set. However, we generally recommend using other materials regardless, just to be 100% certain that you don't scratch your new cookware.
Both are extremely versatile cookware sets that come with everything you need. You can cook various cuisines and try out new dishes by frying, sautéing, brewing and baking in these pans and pots.
Winner: The Calphalon cookware set exceeded my expectations. As well, it has one additional benefit over the All-Clad cookware set, which is that it can be used with metal utensils.
9. Quality
Both brands make their cookware to last. Of course, stainless steel cookware sets will outlast non stick cookware no matter the brand. This is because the coating on non stick cookware loses its strength over use, so they'll eventually need to be replaced.
All-Clad is renowned for its amazing quality and American craftsmanship. At the same time, Calphalon also uses high-quality anodized aluminum for their cookware set.
However, All-Clad non stick is still a bit more durable than Calphalon's non-stick set because of the additional stainless steel base. This adds added strength and sturdiness, while reducing the chance of warping.
While Calphalon nonstick cookware doesn't have these additional bonds, it's still much more reliable than other brands.
Winner: Because both All-Clad and Calphalon will outshine any other brands on the market of a similar price, it's tough to pick a winner; you won't be disappointed either way. Regardless, the extra durability means All-Clad cookware wins this one.
10. Cost / Price
When we talk about price, we need to discuss value for money, which means comparing the price of the cookware against the features and benefits it offers.
No matter what you buy, you want to get your money's worth; not to mention, if you choose an expensive option, it should actually go above and beyond your expectations in terms of durability, look, sturdiness, and lifespan.
The biggest difference in the All-Clad vs Calphalon debate is arguably their costs.
Both All-Clad and Calphalon have a solid reputation in the kitchenware industry. However, All-Clad is considered the ultimate premium cookware brand for professional and amateur chefs alike, and this reputation comes with a higher price tag.
Sure, All-Clad may be more expensive, but it's not for nothing; the fact is, you're paying for cookware made in the USA with the highest industry standards for a superior cooking experience.
However, the price difference mostly applies to the All-Clad and Calphalon stainless steel pots and pans sets. Because aluminum is a cheaper material to produce, both All-Clad and Calphalon nonstick sets are pretty comparable in price.
Winner: It depends. Because both brands offer very similar quality and performance for their aluminum collections, if you're buying a non-stick set, you may as well go with Calphalon since you'll save a few bucks and not sacrifice any quality.
However, if you're going with a stainless steel cookware set, then All-Clad stainless steel cookware is the better choice.
This is because unlike Calphalon stainless steel cookware, All Clad stainless steel cookware is manufactured here in the USA and is of clearly superior quality, which makes it worth the higher price.
(See the current price for Calphalon's Premier Set or All-Clad's Essentials Set.)
11. Warranty
Both brands offer a limited lifetime warranty on their products. Keep in mind, however, that these warranties only cover manufacturing defects and won't cover things such as accidental drops or a glass lid shattering because it was heated beyond its heat threshold.
In addition, All-Clad and Calphalon's warranties do not cover the non-stick coating on the pans, as they are expected to deteriorate over time and need replacing (generally after half a decade or so). Even though they're dishwasher safe, you can extend their lifespan by handwashing them only.
All-Clad's warranty will also be void if you scratch the cookware with metal utensils.
Winner: It's another tie. Both brands stand by their products and will replace or refund damaged cookware without a hassle.
All-Clad Vs Calphalon Cookware: Which Brand Is Better?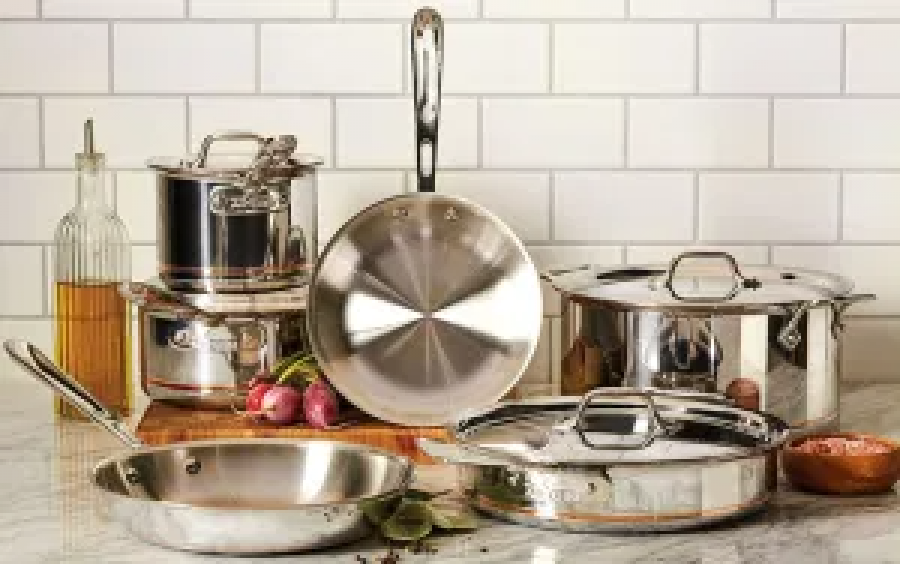 It's not exactly easy to choose between All-Clad vs Calphalon in regard to these two cookware collections, as they're very similar in many ways. However, looking at the two brands overall, I've personally made my decision on which is the better option.
I'm sure you've made your decision as well based on this article. However, let's summarize the final points in case you're still undecided. From a purely analytical point, the All-Clad set won in more categories overall, although there were more ties than anything else.
If you're looking for some steering in one particular direction, I can tell you that we personally prefer the All-Clad set and All-Clad as a brand over Calphalon. While both are great cookware brands with equally great reputations, All-Clad cookware just has unbeatable quality, performance, and materials.
However, at the end of the day, they are both perfect choices for any home kitchen. Therefore, the best choice is simply whichever cookware set would look best in your kitchen, and whichever one has a better price for you.
Thoughts? Opinions? Questions? Leave them below!

Talya Davis
Talya, like all members of the HomeDesignX team, is enamored by all things related to cooking and eating. She's written cookware articles for numerous publications before working with her lifelong friend Jessica to create their very own website on cookware.
She's currently writing a book on induction cooktops, and enjoys making clean, vegan meals for her family.