Are you thinking about switching to hard-anodized cookware? If yes, then you have come across the right place. Hard-anodized is on a trend now due to their extremely durable construction, unique design, and high quality, which doesn't let you scratch or damage them regardless of the fact of what you do with them.
When I was on the verge of switching to hard-anodized cookware, then Anolon and Calphalon are the brands that gathered my full attention. Both of these brands have been producing high-quality cookware for decades. I have compared these brands in all aspects possible, which are design. Material, performance, compatibility, and value for money for you to make an informative decision.
Anolon vs Calphalon cookware: Let's get started!
Anolon Advanced vs Calphalon Simply: Non Stick Cookware Set Review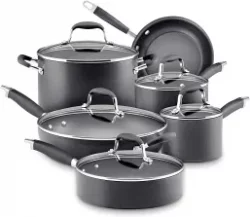 Anolon advanced encompasses an 11-piece nonstick cookware set, which is made from hard-anodized aluminum and is regarded twice as strong as stainless steel. These pots and pans are the ultimate definitions of durability, strength, and convenience. Its aluminum base promotes even heat distribution without any hot spots, which optimize the cooking process.
This nonstick cookware boasts of a timeless and classy design that is not flashy and has excellent cooking properties. It is incredibly versatile and has shatter-resistant glass lids, which aid in retaining the moisture of your food for a longer time. You may use metal, wood, and nylon utensils – the set offers a 100% scratch-free cooking surface. This set of pots and pans are oven safe and can withstand the temperature to 400oF. This cookware set comes with a limited lifetime warranty.
MORE ABOUT ANOLON COOKWARE:
Anolon vs All-Clad Cookware – Which Is Better?
Anolon vs Circulon Cookware – How Does Their Cookware Compare?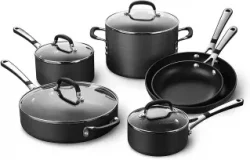 Calphalon Simply nonstick cookware set is the perfect blend of durability, value, and design. This 10-piece cookware set is made from 3mm hard-anodized aluminum (medium-gauge, sturdy construction,) which is highly durable and resists corrosion and warping. The presence of 2 layers of non-stick interiors prevents the food from sticking to the cookware, making the cleaning process effortless. This coating also improves the cookware's adherence and reinforces cookware's durability.
The long silicone handles are an added advantage that keeps it cool and easy to handle the pots and pans. The strong tempered glass lids allow you to see the food you are cooking. The cookware is oven-safe up to 450oF; however, you cannot use these pots and pans on induction cooktops and grills. They are compatible with most other cooktops, and you should not use metal utensils on them. This cookware set comes with a 10-year warranty. What more can you ask for?
MORE ABOUT CALPHALON COOKWARE:
All-Clad vs Calphalon – Which Should You Buy?
Calphalon Stainless Steel Review: The Best Cookware?
Calphalon Cookware Review: Pros, Cons And Rating
Cuisinart vs Calphalon Cookware – Which Brand Is Better?
Circulon vs Calphalon Cookware – Which Cookware is Better?
Calphalon Classic Review: Pros, Cons and Rating
Calphalon Select Cookware Reviews: Worth Buying?
At A Glance
Feature
Anolon Advanced Hard-Anodized 11-Piece Nonstick Cookware Set
Calphalon Simply 10-Piece Nonstick Cookware Set, Black
Quantity
11-Piece
10-Piece
Materials
Hard-anodized aluminum
Hard-anodized aluminum
Non-Stick
Yes (Triple-layer graphite)
Yes
Versatility
Yes (Metal safe)
No
Non-Toxic
Yes (PFOA-free)
Yes (PFOA-free)
Oven-Safe
Yes (up to 400oF)
Yes (up to 450oF)
Dishwasher Safe
No (Hand-wash only)
No (Hand-wash only)
No (Hand-wash only)
Dual-riveted comfortable SureGrip handles
Dual-riveted 'stay-cool' stainless steel long handles
Lids
Tempered glass lids
Tempered glass lids
Anolon vs Calphalon Cookware: The Similarities and Differences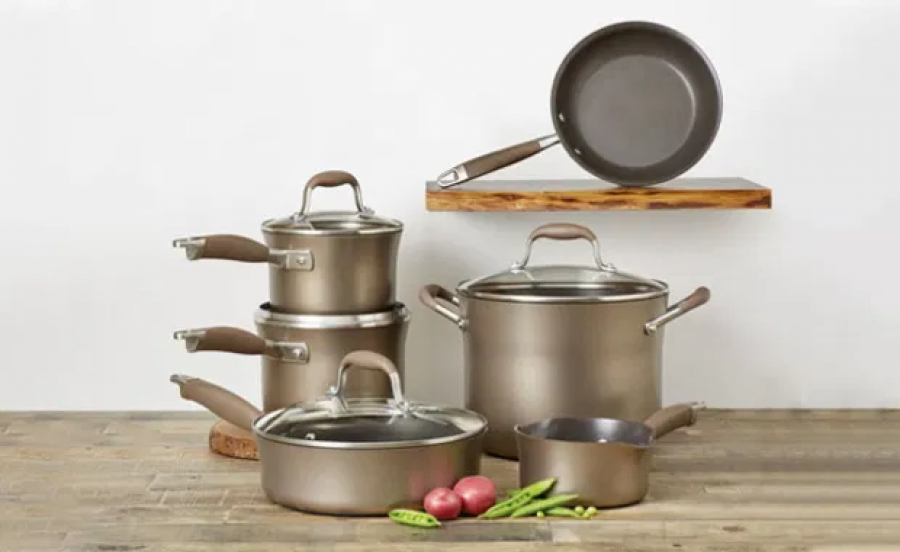 1. Design and Construction
Both of these brands have cookware designed with much articulation and attention to detail. Anolon cookware set gives a more trendy and modern look that draws consumers the most. Its sleek design and durable construction enhance its efficiency in the kitchen. It has SureGrip handles that are very comfortable and gives you a tight grip for easy handling.
If you are looking for a more practical and ergonomic design, then Calphalon is the one for you. Its black finish is very elegant and scratch-free, with string construction to last for a long period. The long silicone handles give a huge to the cook as it stays cook making it extremely user-friendly.
PS: Both Anolon and Calphalon have an attractive and trendy design, but there is something about the classic design that attracts me the most. For me, Calpahlon wins this round.
2. Material and Durability
In terms of material, both of these brand's cookware sets are made from hard-anodized aluminum, which gives a durable and sturdy construction. Anolon cookware has a premium nonstick coating inside out with no toxic materials such as PFOA, lead, cadmium, or Teflon, which enhances its durability and also makes the cleaning process very easy. Another advantage of the nonstick surface in Anolon cookware is that it doesn't absorb any aroma of the food you cook, giving you the chance to take in the fresh aroma of the delicious food being cooked.
Calphalon's cookware has a robust and durable construction with no use of toxic materials. The hard-anodized construction provides even and fasts heating with no spots increasing the efficiency of the cooking results.
PS: when it comes to material and durability, Anolon brand gives a more sturdy and durable construction as compared to Calphalon brand. Anolon Company sets a superior example for me to invest in it.
3. Performance
Both of these brands have garnered a huge consumer base due to their exceptional performance. Anolon's high performance is due to its thick bottoms and sides, which help to distribute heat evenly with no spots. The pots have tulip-shaped profiles that add the element of elegance and a gourmet feel. The glass lids help to have a clear view of the food cooking and are also shatter-proof, so you don't need to worry about any damages.
If you have an uncanny knack of burning food, don't worry, you aren't alone. This common cooking problem can disappear with the help of Calphalon cookware set's premium nonstick coating. The food doesn't stick or burn easily, for that matter.
PS: Anolon advanced cookware performs extraordinarily in all aspects, and Calphalon Simply cookware is no exception. For me, Anolon cookware is the clear winner in the performance aspect.
4. Cleaning and Maintenance
The cleaning and maintenance aspect is an important one before purchasing a cookware set as it shows the durability of the cookware. The presence of a high-quality non-stick layer in both of these brand's cookware sets makes the cleaning process a little simple as the food doesn't stick to the surface. However, Anolon cookware is not dishwasher safe and has to be washed by hand.
You don't need to worry about any accidental drips and dribbles in Anolon cookware as the nonstick exterior is very easy to clean. Calphalon kitchenware also not dishwasher safe and is recommended to be washed by hand. Don't worry; cleanup won't give you a lot of hassle as there is no need for excessive scrubbing, and all you need is soap and water, and you are good to go.
PS: Both of Anolon's kitchen accessories and Calphalon cookware is easy to clean and maintain, but I found Anolon cookware setting a superior example here. Anolon takes away the show here.
5. Cooktop Compatibility and Versatility
The cooktop compatibility and versatility of the cookware largely depends on the design and construction of the cookware as you don't want any scratches or damages to your cooktop in any way. Both of these brand's cookware is compatible with gas stoves, ceramic, and glass cooktops but cannot be used with induction cooktops. It is advised not to use metal utensils with this cookware as they tend to chip when metal utensils are used.
When it comes to versatility, both of these brands offer an ample variety of meals to be cooked on them. However, due to the innate design of the Calphalon cookware set, it makes it more versatile as compared to the Anolon advanced cookware set.
PS: Both of these brands are very similar in terms of cooktop compatibility and versatility. However, it is a game of 19/20 game here, and Calphalon cookware scores one point high as compared to Anolon. Calphalon cookware takes the crown here.
6. Value for Money
When we talk about value for money, we integrate the concepts of performance, material, and durability in one and decide which cookware stands out. Here the quality of the cookware plays a pivotal role to see if you get the return of the money spent on the cookware. Calphalon cookware options are priced relatively low as compared to Anolon's pots and pans, but the latter's construction and durability are better when compared.
If you are looking for a budget-friendly option, then Calphalon is right for you, but if you are looking for a power-packed, feature-rich, and high-performance cookware, then Anolon is the one for you. Both of these brands have shown optimum performance and durability, but the final call for the price range is yours.
PS: For me, the Anolon cookware gives the complete value for money. Anolon cookware has shown better performance, durability, and construction as compared to Calphalon cookware.
Which Cookware Brand Is Better: Anolon or Calphalon?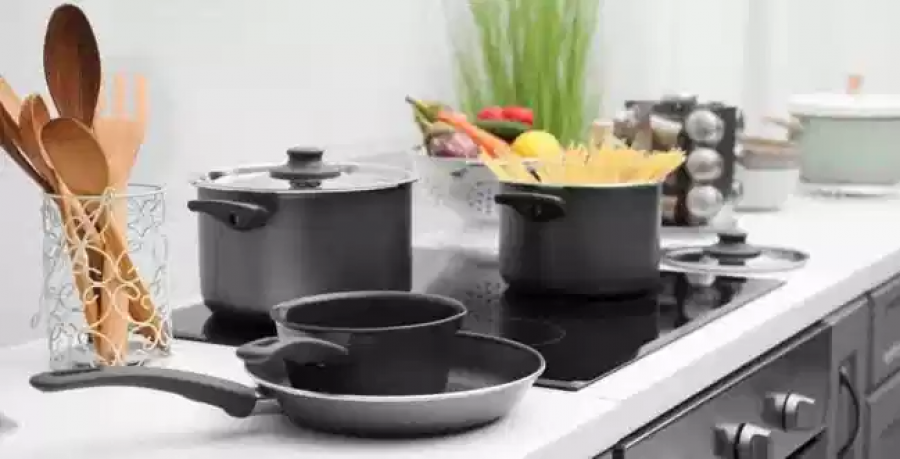 After comprehensive research on various cookware brands, including Anolon and Calphalon, I have found Anolon Brand's Pots and Pans to be a clear winner here. Its robust construction and unique designs have proved worthy to be your cooking partner for a long time. Its high performance and power-packed features have attracted me the most. What are you thinking? Have you made your choice yet?

Talya Davis
Talya, like all members of the HomeDesignX team, is enamored by all things related to cooking and eating. She's written cookware articles for numerous publications before working with her lifelong friend Jessica to create their very own website on cookware.
She's currently writing a book on induction cooktops, and enjoys making clean, vegan meals for her family.