This article will provide an in-depth comparison between the two most famous brands in cookware, Anolon and All-Clad. I will compare them in terms of materials, construction, design, cooking efficiency, ease of use, price, and much more.
Analon vs All-Clad: Let's get started!
Anolon Cookware: Introduction and Full Review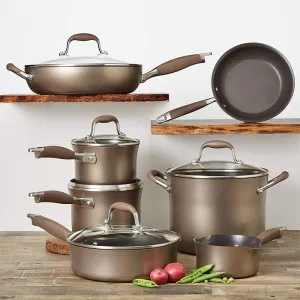 About Anolon Cookware
The company that owns Anolon, Meyer Corporation, has been in the manufacturing industry since the 1950s, while Anolon's hard-anodized cookware was first launched in the 1980s.
Nowadays, Meyer is the largest retailer of cookware in the United States. The company owns many cookware brands, including Circulon and Farberware, but Anolon is its flagship brand. Anolon is available in stainless steel and non-stick; their imaginative non-stick cookware made of hard-anodized aluminum is best known. Anolon pans are non-stick coated on the inside and outside, unlike other brands, making cleaning the entire pan a breeze.
Read more: Anolon cookware review
Pros of Anolon Cookware
It's made from high-quality materials, such as the non-stick coating of the Infinity Slide.
It is available in a variety of colors, including black, red, and bronze graphite.
The silicone handle coating of the SureGrip® provides extra grip, comfort and keeps the handles cool.
Anolon is of high quality but an affordable option for home cooking on a budget.
With over ten stainless steel and non-stick cookware sets, Anolon makes plenty of choices.
Cons of Anolon Cookware
Anolon has a limited selection of cookware entirely coated in stainless steel (only two collections).
Anolon has a stainless steel set featuring a copper core, but the copper layer is only attached to the base; the sides are not extended.
Up to 400 degrees Fahrenheit, many Anolon parts are only oven-safe. However, the baking range can accommodate up to 500.
The Best Anolon Cookware Sets

Best Overall

Anolon Advanced Nonstick Cookware Set
Check Latest Price

Best Budget

Anolon Advanced Hard Anodized Nonstick Cookware Pots and Pans Set
Check Latest Price

Best Non Stick

Anolon Nouvelle Stainless Steel Cookware Pots and Pans Set
Check Latest Price
All-Clad Cookware: Introduction and Full Review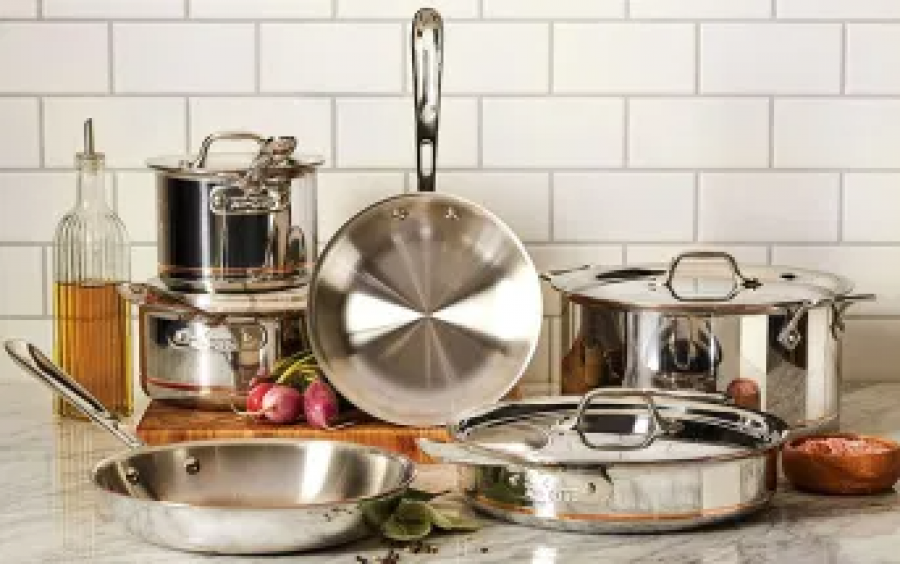 About All-Clad Cookware
All-Clad has established a reputation over the decades as one of the world's finest cookware brands. All-Clad is used by millions of home cooks and experienced chefs around the globe. Though All-Clad is best known for its stainless steel multi-clad collections, they also sell many non-stick hard-anodized aluminum options, including the HA1 and B1 collections.
Pros of All-Clad Cookware
Every stainless steel All-Clad pan is fully-clad, which means that the bonded layers extend throughout the piece.
The advantage of fully-clad construction is that not just the foundation, the entire pan heats easily and evenly.
All-Clad is made with metals of the highest quality, including stainless steel 18/10 (cooking surface), stainless steel 18/0 (exterior), and aluminum or copper (core).
All-Clad is known for its toughness, and a lifetime warranty comes with each product.
Cons of All-Clad Cookware
The biggest drawback of All-Clad cookware is the price. It is one of the market's most expensive brands. But if you think you're never going to need a replacement, it's a solid investment.
Some clients, especially on steamers and pots, complain about the design of the handles. It cannot be easy to keep and pour because of the U-shaped form and flat edges. There are upgraded handles in some of the newer sets, but it's something to consider.
All-Clad focuses mainly on fully-clad stainless steel cookware and has a small range of non-stick pots and pans of hard-anodized aluminum.
It can be not easy to clean All-Clad pans, especially the stainless steel ones. Food will stick if you do not heat and oil the pan the correct way. Offerings of Commodity.
The Best All-Clad Cookware Sets
At A Glance
Feature
All-Clad
All-Clad
Price
Expensive
Medium Priced
Color
Basic Stainless steel, Matte
Basic Stainless steel, Anodized bronze
Style
Old-School looks
Looks Elegant
Performance
Heavy Duty
Best fit for modern households
Heat Resistance
Up to 400°F
Up to 500°F
Features
Excellent quality materials, durable, yet light to handle.
Supergrip cool handle, Top-notch Nonstick surfaces
Anolon vs All-Clad Cookware: Detailed Comparison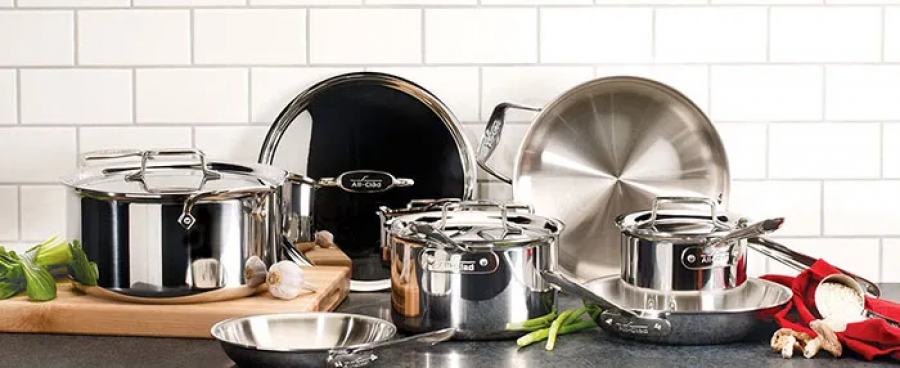 1. Design and Construction
Hard-anodized aluminum cookware from Anolon comes in a range of colors so that your decor will fit it. You will find pans with umber, bronze, red, indigo, moonstone, and onyx exteriors in their collections. Hard-anodized aluminum cookware from All-Clad comes in dark grey only. There is a polished steel exterior (like a mirror) in most All-Clad stainless steel sets. Still, the D5 collection has a brushed exterior, and the C4 Copper collection has a rustic copper exterior. Anolon Tri-Ply Clad, a polished stainless steel exterior, is the Anolon line that looks like All-Clad the most.
2. Handles
Most All-Clad collections have long straight handles of stainless steel connected with steel rivets to the middle. To rest your palm, the handles have a curved bottom and a U-shaped indentation on top. Not only is this style simple and classy, but it's practical as well. The U-shape distributes heat, keeping the end of the handle cold. To prevent your hand from slipping too close to the heat, the All-Clad D5 and Copper Core collections have a slight bump on the bottom of the handle. Handles of Anolon differ by collection. Some are straight, some are curved, and some are wrapped in Anolon's "SureGrip" handle in a grippy silicone sleeve. Anolon handles tend to be rounder and bulkier than All-Clad, allowing you to hold more.
Like All-Clad with steel rivets, Anolon handles are attached to the base, but the rivets on the pan's interior are smooth and coated with non-stick material, making it easier to clean. This feature was marketed by Anolon, calling it their "Unity Surface."
3. Lids
All-Clad stainless steel collections come with lids of stainless steel, and their collections of hard-anodized non-sticks come with lids of tempered glass. All-Clad lids have a steel handle with a trapezoid shape. Note: All-Clad lids aren't safe for ovens. Except for the Advanced Tri-Ply series, which comes with a tempered glass cover, Anolon's stainless steel collections come with stainless steel lids.
4. Material
Let's take a closer look at how both brands manufacture their cookware. Let's describe a few main words first: multi-clad, fully-clad, and clad. Multi-clad cookware is created by welding various layers together, typically aluminum and stainless steel. Together, bonding these metals results in a durable exterior and cooking surface of non-reactive steel and a thermally conductive aluminum core to disperse heat rapidly and evenly.
Not only because they invented the production process, All-Clad is the pioneer in multi-clad cookware, but because each pot and pan is fully clad, or all-clad.
Fully-clad ensures that the core material spreads along the cookware's bottom, sides, and rims. By just layering the base of the cookware, other brands, like Anolon, keep prices down. But that means the sides do not heat equally, and in the kitchen, you are left with inconsistent results.
Anolon vs All-Clad Cookware: The Winner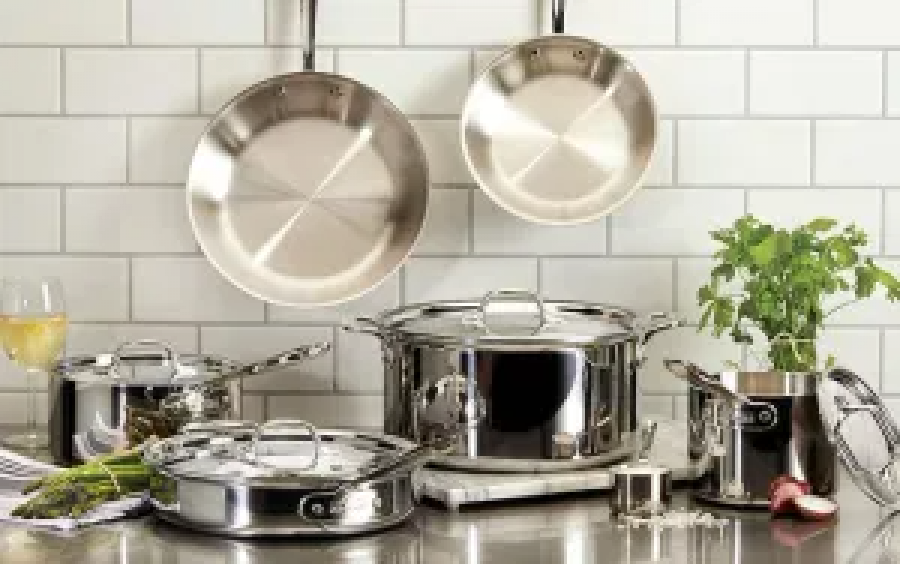 Anolon and All-clad are good brands, but I recommend All-Clad, especially if you are looking for cookware made of stainless steel. Although it is costly, it's guaranteed to last a lifetime. Plus, optimum heat distribution is given by the fully-clad construction, so you get consistent results every time. But Anolon is a quality choice if you are looking for an inexpensive range of cookware that comes with several choices and unique materials.

Talya Davis
Talya, like all members of the HomeDesignX team, is enamored by all things related to cooking and eating. She's written cookware articles for numerous publications before working with her lifelong friend Jessica to create their very own website on cookware.
She's currently writing a book on induction cooktops, and enjoys making clean, vegan meals for her family.