Today, nonstick cookware is in high demand because of its elegant look, easy to maintain, and less use of oil or butter. Therefore, a series of cookware materials have emerged concerning this. Ceramic and TEFLON cookware are two of the most famous nonstick cookware – but there are key differences in them that I will compare to extract a conclusion on which cookware material is the better one.
HOT PRODUCT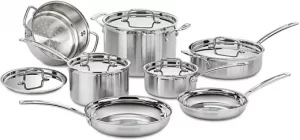 Cuisinart MCP-12N Multiclad Pro Stainless Steel Cookware Set
Ceramic vs Teflon cookware: Let's get started!
Ceramic vs Teflon Cookware: Full Reviews
Ceramic Cookware Review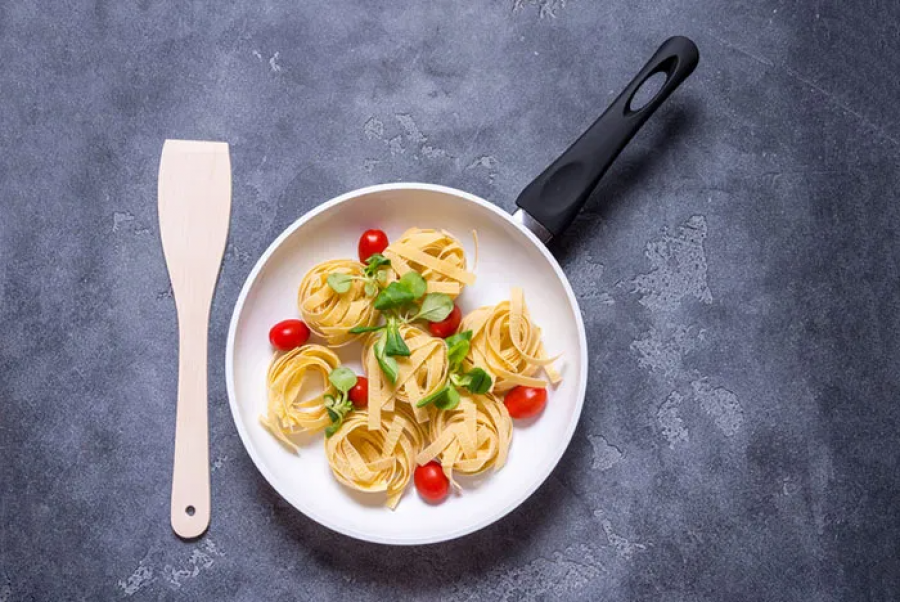 Ceramic is a recent introduction in the market of nonstick cookware– it is usually seen as a decorative material. But with ingenious engineering Ceramic cookware has emerged as an extremely efficient cookware material. It avails a nonstick surface due to the coating of silicon dioxide and the oleophobic and hydrophobic encompassed together.
This feature makes the uppermost layer of the ceramic surface resistant to water and oil; there is no requirement to use a lot of oil or butter while cooking food in ceramic cookware. If you do, then the oil gets stuck to the coating which becomes too stubborn to clean with ease.
Is Ceramic Cookware Safe?
Ceramic cookware surface is made of elements like Sulphur dioxide, oleophobic, and hydrophobic, which do not leach into the food. Therefore, ceramic is one of the safest cookware materials. It has a nonstick coating that is free of toxins, as it contains natural minerals.
The overall constituency of ceramic cookware is environmental-friendly and does not emit any toxic fumes when it is heated. Unlike major nonstick brands, ceramic is free from toxic elements like PFTE, or PFOA. Although, it is important to clean the surface properly if you use a lot of oil or butter to cook food in ceramic pots or pans.
Full article: Is Ceramic Cookware Safe?
Advantages of Ceramic Cookware
Ceramic is one of the safest and most environmental-friendly cookware materials available in the market. It is free of harmful materials like PFTE or PFOA and does not emit any toxic fumes because it is made from natural minerals.
This material is a good conductor of heat. It distributes heat evenly and retains it well.
Ceramic cookware is extremely easy to clean – you can wash it even with warm water. Maintenance of this material does not require any effort if you use less amount of oil or butter while cooking.
Ceramic is a relatively affordable material; moreover, it avails several colors and styles to suit your aesthetic.
For a full list of ceramic cookware pros and cons, click here.
Disadvantages of Ceramic Cookware
Ceramic material is not durable. The coating can chip away with regular vigorous cleaning.
This material cannot withstand high levels of temperature, and can only perform with low or medium heat.
It is not compatible with a lot of cooktops, like grills, induction, etc.
Ceramic cookware does not bode well metal utensils; therefore, you should avoid using metal spoons on it.
MORE ABOUT CERAMIC COOKWARE:
Hard Anodized vs Ceramic Cookware – Which Wins Your Kitchen's Race?
Ceramic vs Stainless Steel – Which Cookware Fits Your Kitchen?
Ceramic vs Nonstick Cookware: Which One Is Better?
Teflon Cookware Review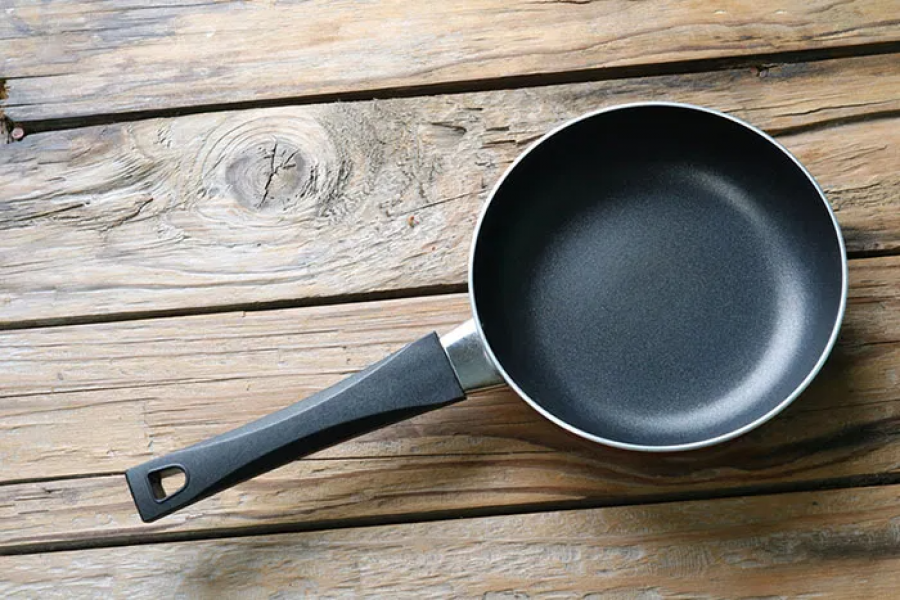 TEFLON is the brand name for cookware with PFTE or PFOA elements, which is used to make the coating of the surface. This material has been thoroughly researched; the conclusion is that it is toxic and has cancerous potential. With due critique and demand for improvements, TEFLON has gone through several changes to dispose of the toxicity of its material.
This material is great for people who do not use a lot of oil or butter in their food, and wish to contribute less time in cleaning and maintaining their cookware. TEFLON does not require specific maintenance techniques; it requires a very little amount of oil to cook.
Is Teflon Cookware Safe?
Today, TEFLON is available as an alloy with steel, and iron as well. Despite the alloy, PTFE can still be found in the uppermost layer of this nonstick cookware to retain its prime feature. This element is highly toxic, and therefore, a big concern for several nonstick cookware consumers.
TEFLON is not environmental-friendly cookware. But there are hard anodized TEFLON pots and pans, and steel alloys that emit much fewer toxins and do not release toxic fumes on heating up. Thus, it is important to read up on the constituency of the TEFLON cookware material.
Advantages of Teflon Cookware
TEFLON is one of the easiest cookware materials to clean because of its smooth and non-textured surface. The reduced use of oil and butter also allows the surface to be free from a stubborn sticky coating.
This material is affordable and comes in an elegant look to increase the aesthetic of your kitchen.
TEFLON has the most convenient nonstick functionality.
It can withstand 500 degrees Fahrenheit of the heat of an oven without succumbing to it and retains the heat well.
Disadvantages of Teflon Cookware
TEFLON is the brand that popularized the use of PFTE and PFOA for the nonstick surface of the cookware, which is a highly toxic material.
The uppermost layer of the cookware can chip away if you use a lot of oil or butter to cook food – resulting in deterioration of the nonstick surface.
TEFLON is not a durable material; it lasts for about two years without losing any of its functionalities.
This material cannot withstand high levels of temperature; it will release toxic fumes instead of it.
At A Glance
Cooktop Compatibility
Yes (On all cooktops, ovens, grills)
Yes (except induction, oven, grills)
Durability
Yes (Long-lasting)
No (Peels, scratches, wear-off on rough use)
Non-Toxic
Yes (Free of PFOA, PFAS, PTFE, Teflon, lead, and cadmium)
No (Teflon is toxic material)
Oven-Safe
Yes (up to 500F)
Yes (up to 400F)
Dishwasher Safe
Yes (Hand-wash recommended)
Yes (Hand-wash recommended)
Ceramic vs Teflon Cookware: The Similarities and Differences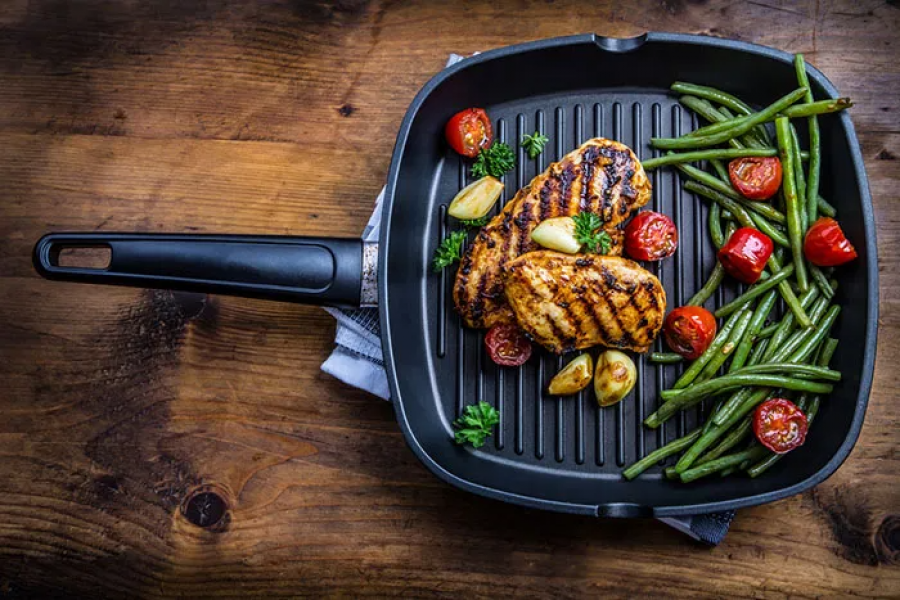 1. Compatibility and Versatility
Ceramic is compatible with cooktops like gas stoves; some ceramic cookware sets work with inductions and ovens, as well. Because of this, there are limited styles of cooking that you can try with ceramic cookware. You can sauté with it, cook broths, etc. This material is a good conductor of heat.
TEFLON is compatible with glass top stoves, ovens; different versions of TEFLON also work with induction. This material requires a low or medium level of heat to cook food without producing any hot spots. You can indulge in different styles of cooking with TEFLON because of its exceptional nonstick surface.
PS: Both materials are relatively the same in terms of compatibility, but TEFLON is easier to work with, and it provides better compatibility.
2. Durability and Sustainability
Ceramic cookware is a relatively durable material in terms of its nonstick functionality. Meaning, the surface of the ceramic cookware does not deteriorate so easily – given that you do not regularly use a lot of oil or butter to cook food in it. But overall, this material does not last long.
TEFLON lasts considerably longer than ceramic. But its main highlight does not sustain for long; that is, the nonstick surface starts to weaken with time and use. The surface is made from toxic material like PTFE and PFOA; it is a health risk for these elements to become debris and leach into the food.
PS: In my opinion, although TEFLON lasts longer – it's of no use if the cookware loses its main feature. Therefore, for me, Ceramic Cookware sustains better.
3. Performance
Ceramic cookware works great with less amount of oil or butter, and at a low or medium level of heat. It is a good conductor of heat; the ceramic pan or pot can distribute heat evenly and retain it well. Food may get stuck to the surface if you use too much oil. It can tolerate heat up to 500oF
TEFLON is prone to having hot spots, but it works well at a maximum of 450oF in an oven. A steel alloy with TEFLON is compatible with induction and spreads heat evenly then. Using the appropriate amount of oil or butter will allow you to cook food seamlessly with TEFLON.
PS: There have been mixed reviews of which cookware is better at the performance. TEFLON may have better nonstick functionality, but ceramic retains and distributes heat more evenly; thus, it wins this category.
4. Cleaning and Maintenance
Ceramic cookware is easy to clean and maintain, given that you do not use a lot of oil or butter while cooking food. If you do, then there will be a stubborn sticky layer on the coating of your cookware, which is not easy to remove. The result of trying to clean this is the coating chipping away.
TEFLON is extremely easy to maintain and clean. It is dishwasher safe and can be washed clean even with just the use of warm water. The nonstick coating does not chip away with vigorous rubbing – rather succumbs with use.
PS: Ceramic material has only recently become available in cookware sets that are dishwasher safe. So, TEFLON is the better option when it comes to cleaning and maintenance.
5. Value for Money
Ceramic cookware is environmental-friendly and free of toxins. It avails nonstick functionality, which is generally known to last longer than that of TEFLON. It does not release any toxic fumes into the food, ensuring a healthy and safe meal.
TEFLON is affordable and is extremely easy to clean. It lasts longer than ceramic and is also dishwasher safe. It is compatible with induction. TEFLON cookware can withstand 500 degrees Fahrenheit of heat in the oven.
PS: Both cookware materials are similarly affordable, but I think that Ceramic cookware offers better and healthier features at the price it is available at.
Which Cookware Material Is Better: Ceramic or Teflon?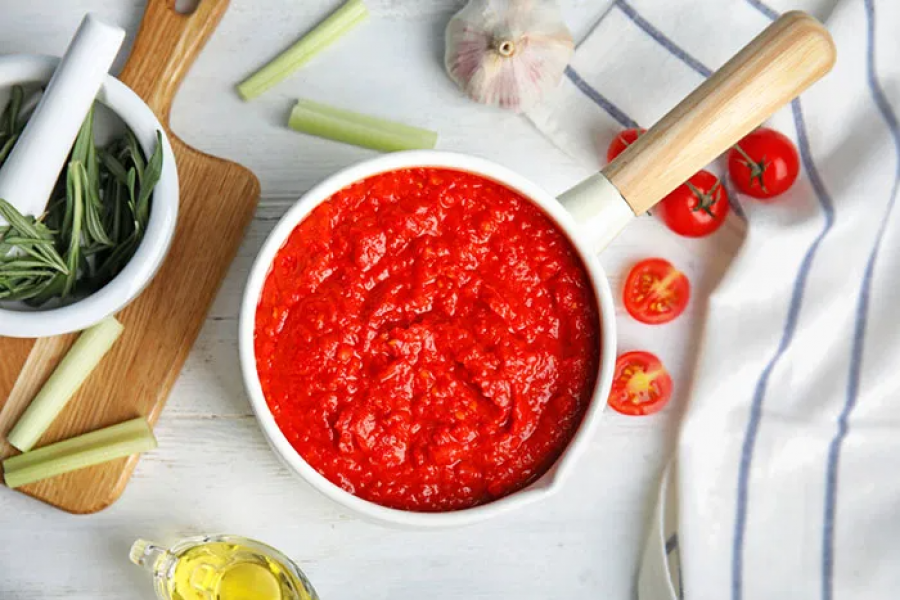 For me, Ceramic cookware is the winner of this comparison guide. It is environmental-friendly, and I put my priority on health. Ceramic is an affordable material; it is also available in several colors and styles. Fun fact: you can make an omelet in it without any oil or butter!

Talya Davis
Talya, like all members of the HomeDesignX team, is enamored by all things related to cooking and eating. She's written cookware articles for numerous publications before working with her lifelong friend Jessica to create their very own website on cookware.
She's currently writing a book on induction cooktops, and enjoys making clean, vegan meals for her family.