Circulon vs Calphalon: these two brands are well-known for their cooking performance and durability. In this guide, we will compare these two brands in terms of material, construction, design, price, and versatility.
Circulon vs Calphalon: Let's get started!
The Best Calphalon Cookware Sets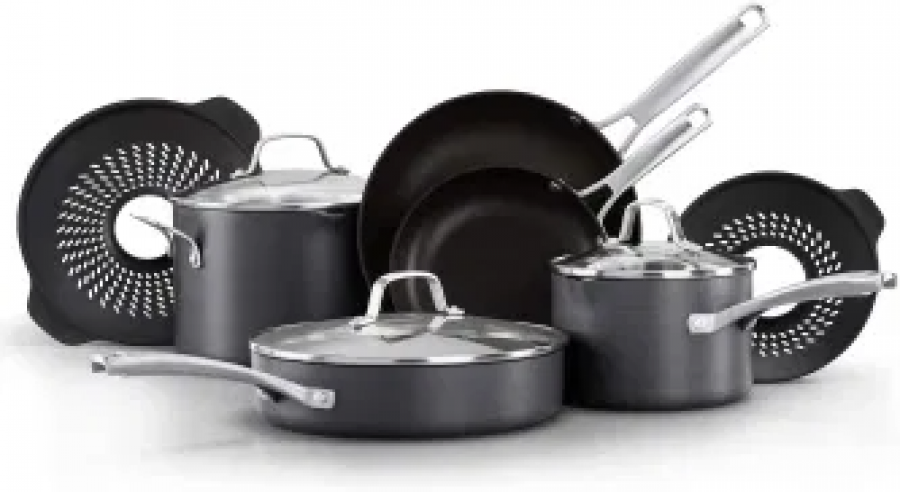 Calphalon Classic 10-Piece Nonstick Cookware Set
Calphalon classic cookware set is equivalent to the ultimate solution for convenient cooking. This 10-piece classic cookware set is an excellent fusion of classic and modern design. This non-stick cookware is made from hard-anodized aluminum and has all the convenient measuring marks, glass lids, pour spouts, and handles, which remain at a cool temperature while you cook.
You can experience perfect, chef-style cooking with no scratches, no corrosion, no food sticking and burning, and easy food release at all times. These pots and pans are highly durable and long-lasting. The special feature of this product, which makes it stand out from the rest, is that it has a no-boil over the insert, which ensures that there are no messy spills while you boil pasta, rice, beans, and potatoes. This cookware is compatible with most stovetops, including broilers and ovens. It can tolerate heat up to 450oF without chipping and cracking.
The Best Circulon Cookware Sets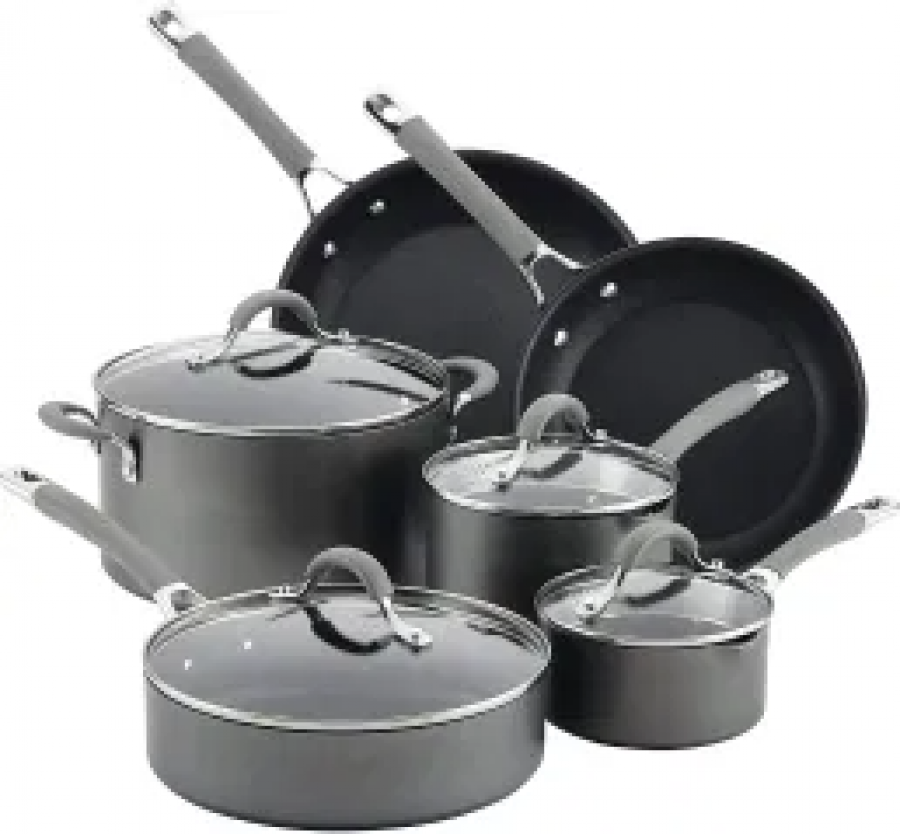 Circulon Elementum Hard-Anodized 10-Piece Nonstick Cookware Set, Oyster Gray
Circulon ensures that you are working smart in the kitchen rather than working hard with its 10-piece hard-anodized nonstick cookware set. These pots and pans are 100% toxin-free – no PFOA, no lead, no cadmium, and no Teflon. It is made from hard-anodized aluminum, which enhances extended durability and also ensures that the heat is distributed evenly. This allows you to cook your food perfectly with all the juices, flavors, and moisture intact in the meal.
This cookware set has a triple-layer nonstick coating on the surface, which is seldom found in other brands. Their pans have a ring of circles around them due to which they remain scratch-free all their life. With this cookware set, there's no more food sticking, unwanted burning, offering you professional cooking results. This set of pans and pots is suitable for cooking on all types of cooktops, including oven and grills. It can take heat up to 400oF. What more can you ask for?
At A Glance
Feature
Circulon
Calphalon
Non-Stick
Yes (with raised circles)
Yes
Versatility
Yes (suitable with all utensils)
No
Non-Toxic
Yes (100% chemical and toxin-free)
No
Oven-Safe
Yes (up to 400F)
Yes (up to 450F)
Dishwasher Safe
No (hand-wash only)
Yes (Hand-wash recommended)
Handles
Dual-riveted handles with silicone grip
Stainless steel (stay-cool) handles
Lids
Shatter-resistant, glass lids with vents
Tempered glass lids and no-boil over inserts
Circulon vs Calphalon Cookware: Detailed Comparison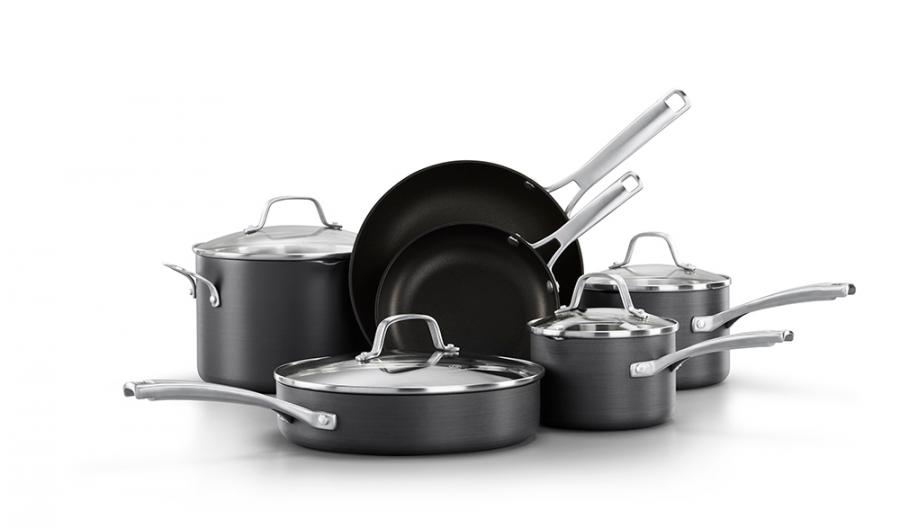 1. Design and Construction
Both of these brands are designed ergonomically so that they are user-friendly and convenient. If you are looking for an elegant look, then Calphalon is the one for you as it has a black coat finish while Circulon has a more tulip shape and comes in dark grey color, which can upgrade the look of your kitchen.
Both the brands are constructed from hard-anodized aluminum, which is highly durable and also gives even distribution of heat. Circulon's triple-layered nonstick coating which is based on PTFE and is also PFOA-free while Calphalon also has a triple-layered nonstick coating. The handles of Circulon are dual-riveted with silicone grip for added comfort; while, Calphalon offers simple 'stay-cool' stainless steel handles.
PS: in terms of design and construction, my choice is Circulon cookware company due to its unparalleled design and construction as compared to Calphalon. Circulon takes the crown here.
2. Material and Durability
Both of these brands have cookware sets made from hard-anodized aluminum and nonstick coating. The presence of this material ensures the high durability of the product, and you shouldn't worry about replacing them anytime soon. Circulon has a hardened exterior and sturdy construction with a stick-resistant surface. The metal exterior is non-reactive, so it won't leach on to the food, making it safe and healthier to eat.
The nonstick coating of Calphalon is highly durable and won't erode easily. It has a stainless steel handle, which is oven safe. It is recommended to cook at low to medium temperatures as the cookware can get very hot. Circulon also offers stainless steel handles with silicone covers that protect the user from excess heat.
PS: When it comes to the material and durability of the cookware set, Circulon company a superior example to invest in.
3. Performance
Circulon pots and pans can tolerate heat from 350oF to 400oF, which is slightly lower as compared to Calphalon, which has a heat resistance of 450oF. Higher heat than this makes the cookware susceptible to damage in the aluminum coating. Circulon offers scratch free products as it has raised surface in the form of circles while Calphalon cookware is more susceptible to scratches.
The no-boil over the feature of Calphalon cookware gives it an added advantage over Circulon brand in terms of performance. The presence of hard-anodized aluminum in both these brands ensures even distribution of heat even while cooking at high temperatures.
PS: Circulon cookware performs extraordinarily when compared to other brands – T-Fal classic cookware is no exclusion. For me, again, the Circulon company is the clear winner in the performance aspect.
4. Cleaning and Maintenance
Cleaning and maintenance is something to focus on while choosing a cookware brand as you don't want to spend hours in the kitchen scrubbing. Both of these brands have products that are dishwasher safe, but it is highly recommended to wash it by hand, which reduces the cleaning time significantly.
However, as Circulon has raised circles, it makes it a little harder to clean as compared to Calphalon. It is recommended to soak Circulon cookware in warm water first before popping it in the dishwasher to ensure that there isn't any oil or food sticking to it. Calphalon nonstick surface is very easy to clean and wash. As it is dishwasher safe, you can pop it in the dishwasher, and you are good to go.
PS: When it comes to cleaning and maintenance, the tables have turned, and Calphalon cookware is easier to clean and maintain as compared to Circulon. For me, Calphalon takes wins this round.
5. Cooktop Compatibility and Versatility
The compatibility and versatility of cookware largely depend on the material used for its construction. Flat-bottomed cookware is highly recommended to prevent any damages to the cooktops. Circulon cookware is suitable to work on all cooktops such as electric, gas stoves, and glass-ceramic stovetops except induction; so is the Calphalon cookware.
Both of these brands offer great versatility as you can cook different dishes with the utmost ease. Calphalon has a BPA-free silicone insert that recirculates the boiling water back into the pot and makes boiling rice, pasta, beans, and potatoes a hassle-free job. Circulon is also incredibly versatile, but when compared to Calphalon, it falls short on this aspect.
PS: Both of these brands are extremely similar in terms of cooktop compatibility and versatility, giving room for only a slight difference between the two. Calphalon is found to be more compatible and versatile here as compared to Circulon. So, I would crown Calphalon here.
6. Value for Money
Value for money is the amount of money a product is priced at, which is highly reliable on the material and performance of the cookware. Both of these brands have products with innovative designs and are feature-rich. Calphalon is priced slightly higher than the Circulon cookware set, but the former has some advanced features which the latter doesn't.
The innovative design and the high-quality material used in Circulon attracts me the most, which make it a better value for money option. Both of these brands are highly durable with sturdy construction, so the decision of the price range is ultimately yours.
PS: Circulon cookware is the winner here for me as it provides complete value for money. Circulon is power-packed with features, performance, and high durability.
MORE ABOUT CIRCULON COOKWARE:
Anolon vs Circulon Cookware – How Does Their Cookware Compare?
Circulon Cookware Review – Unbiased Product Review For You
Circulon Premier Professional Review: Should You Buy It
MORE ABOUT CALPHALON COOKWARE:
All-Clad vs Calphalon – Which Should You Buy?
Calphalon Stainless Steel Review: The Best Cookware?
Calphalon Cookware Review: Pros, Cons And Rating
Cuisinart vs Calphalon Cookware – Which Brand Is Better?
Calphalon Classic Review: Pros, Cons and Rating
Anolon vs Calphalon – Which Cookware is Better?
Calphalon Select Cookware Reviews: Worth Buying?
T Fal vs Calphalon Cookware – Which Cookware is Better?
Which Cookware Brand Is Better: Circulon or Calphalon?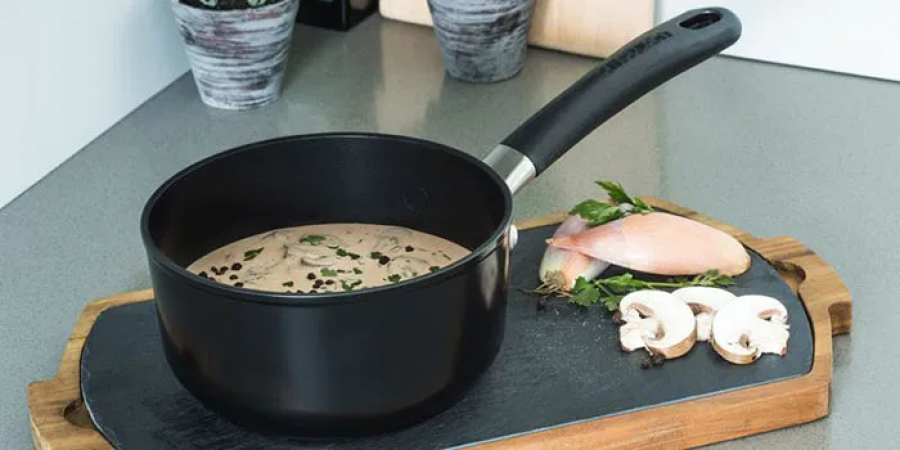 After comprehensive research on various cookware brands with my main focus on Circulon cookware and Calphalon cookware, I made my choice. I declare Circulon Elementum Hard-Anodized 10-Piece Nonstick Cookware Set as the ultimate winner here. Its durability, sturdy construction, and exceptional design made me fall for this one. Did you make your choice yet? What are you waiting for?

Talya Davis
Talya, like all members of the HomeDesignX team, is enamored by all things related to cooking and eating. She's written cookware articles for numerous publications before working with her lifelong friend Jessica to create their very own website on cookware.
She's currently writing a book on induction cooktops, and enjoys making clean, vegan meals for her family.