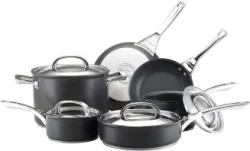 Why am I reviewing Circulon cookware? Depending on the features, design, performance, and customer ratings, it is probably the best hard-anodized cookware set available this year. And why, Circulon? The name speaks for itself – the circles work best! Circulon Infinite collection cookware has gained popularity for the brand like no other cookware has done. I always assumed it to be like the other cookware options, but no, it is different – difference for the betterment is what it portrays.
Let's get into an in-depth Circulon cookware review to clear all your queries and doubts.
This cookware is known for its durability; the hard-anodized aluminum construction shall provide you with durability twice as good as stainless steel. Aluminum (hard-anodized) is designed for extraordinary performance and long-lasting strength. It promotes nonstick system features circled design with premium-grade coating. The base is designed with high-grade stainless steel, which means you no longer have to worry about the scratches, stains, food release, and cleaning. Everything becomes smooth, and it is dishwasher-safe.
These pots and pans are designed to suit cooking on all kinds of cooktops, including gas stoves, electric, induction cooktops, ceramic, glass top stoves, halogen, and oven with heat tolerance of up to 500oF. The handles are dual-riveted, stainless steel for an extreme, comfortable grip. The set includes shatter-resistant glass lids.
Quick Facts
Hard-anodized aluminum construction
High-grade stainless steel base
Circular-designed nonstick coating
Dual-riveted, stainless steel handles
Tempered glass lids
Suitable for all cooktops
Corrosion-free and scratch-resistant
Oven-safe up to 500oF
Dishwasher safe (hand-wash recommended)
Lifetime warranty
Circulon Cookware Review

1. Product and Brand Value
Circulon cookware claims this collection of pots and pans to be of the professional-quality. The company also offers a lifetime warranty with the product, making the entire range highly reliable. The name and the features that this product accompanies with are more than enough to invest; therefore, it's a 'why not' – purchase for me. However, the cookware also speaks for itself.
This 10-piece cookware set is enough when you are redoing your kitchen interiors and investing in kitchenware that can last for years together. If you love cooking for your family and friends, this is a perfect option for you – it will deliver chef-like meal quality for your loved ones. The cookware is easy to store and highly affordable – when comparing the features and performance. It is 100% value for money cookware.
2. Design and Construction
This hard-anodized aluminum construction cookware is a revolutionary kitchen inclusion – just one of its kinds. The aluminum construction makes this set two times stronger than any other cookware made of stainless steel. The base of the product is designed with high-grade stainless steel.
The entire cookware is designed with high-quality, triple-layer nonstick coating, which is finished with raised circles – popular as 'total nonstick system.' This circular nonstick coating system prevents food from sticking to the base. The heat is well-retained and evenly distributed in the cookware allowing the food to cook perfectly without burning. The cookware set includes stainless steel lids, which also you to retain all the moisture intact within the food.
3. Compatibility and Performance
The Circulon Infinity pots and pans are known for their compatibility – they are suitable for all kinds of cooktops, including gas stoves, electric, glass top stoves, ceramic, halogen, induction cooktops, oven, grill, and broiler. What more can you ask for? Anyone without hesitation can invest in this cookware set. You don't have to invest additionally on special utensils to work with on this nonstick coating – metal, wooden, and nylon – all types of utensils are good to go with it.
This cookware is known for its professional-grade, 100% toxin-free performance – cook like a chef and serve as a chef – this is what you can expect out of this Circulon Infinite cookware collection. You will see no fumes coming out of the cookware, even if the food is mistakenly overcooked. I am mesmerized by the performance that this product delivers.
4. Cleaning and Maintenance
Unlike other nonstick cookware that wears out when put in the dishwasher, nothing is going to happen to these pans and pots. They are 100% dishwasher-safe. The cookware is 100% corrosion-free and scratch-resistant; therefore, it requires minimal to no maintenance, which lets you save a lot of time, money, and effort.
You can also wipe-off the cookware with light-soap and soft sponge, and you will get your shinning cookware in place to reuse it. Isn't this amazing?
5. Advantages of Circulon Cookware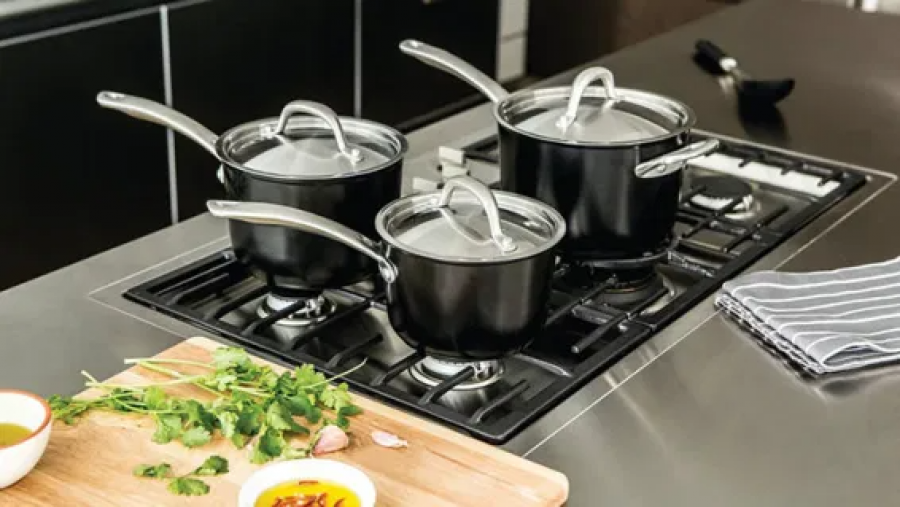 Don't worry if the cookware falls from your hand when cooking – there'll be no denting and breaking. The hard-anodized aluminum provides it a strong, sturdy construction; it makes the cookware long-lasting and highly durable.
The raised-circle nonstick coating design is one of its kind – it offers an excellent cooking experience, which allows faster food release, corrosion-free cooking, and scratch-free cookware at all times.
With this set of pots and pans, you don't have to spend hours in the kitchen cleaning and maintaining your kitchenware – just a few minutes of placing the used utensils in the dishwasher and the rest will be done by itself.
What more can you ask for when your cookware comes with a lifetime warranty? You can be rest assured that the set is going to accompany you for decades together.
This cookware set is power-packed with several features and delivers amazing performance in the kitchen. It is a complete value for money products, which I can recommend to anyone to buy.
6. Disadvantages of Circulon Cookware
The aluminum construction is bonded with stainless steel base to provide a sturdy finish, which makes the product heavy.
Customer Reviews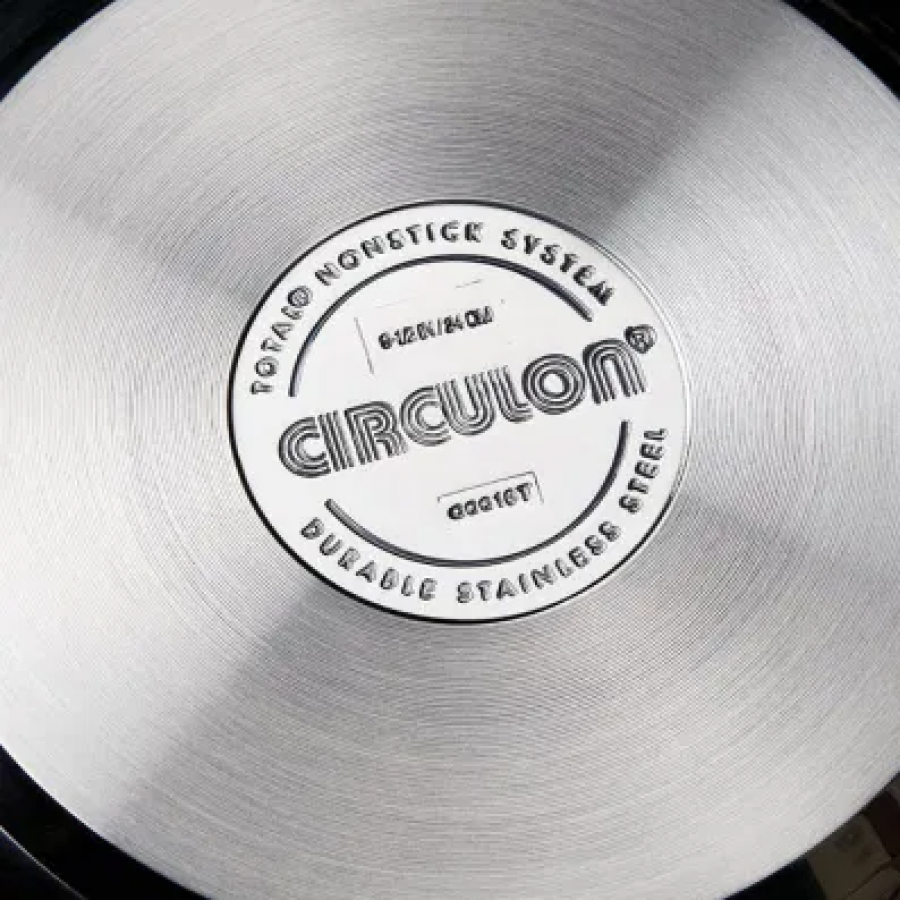 "I bought this set around a decade ago (2009) – I remember them the way they are right now. I am so happy with them – I just love them. They are still offering me the same kind of performance and cooking experience as they did when I newly bought them. The pan is amazing – it stays hot longer, keeping my cooked meal warm for around two hours. I don't have to re-heat the food before presenting it on the dining table for my family. It saves me a lot of time and effort. The next time I buy another set, it will surely be the same one." – Sarah Jones
"This nonstick works fantastic for me. I care for it as per the instructions in the user's manual. Although it says metal utensils are OK to use as long as they don't have sharp edges, I ensure to use silicone utensils only. They work great for me. It is almost eight years that I am using these pots for sautéing and frying, and I am very happy with them. I cannot imagine my kitchen without these pots and pans now." – Michelle Lawrence
"After nine years and three months of use, my pans lost its nonstick coating – the company offers a limited lifetime warranty. Now here's the catch, when you want to know the true value of your purchase. I did, and I am happy that I did. I called the customer care and reported my issue with a few pictures of my pans. Within four weeks of my claim, I received a replacement for 2 of my worn-out pans. This is an amazing gesture – I am a lifetime loyal customer for Circulon." – Laura Atkins
Frequently Asked Questions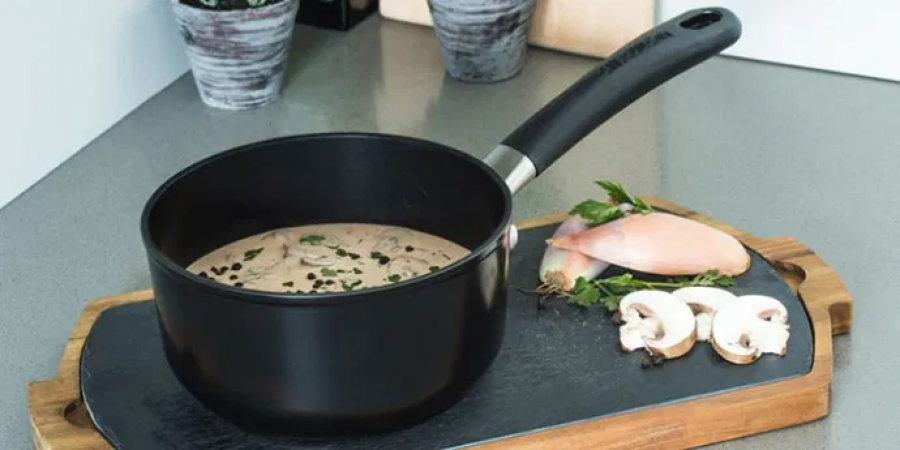 1. Which one is better: Circulon Infinite vs Circulon Elite?
Both the cookware offer the same non-stick coating. Both are high performing sets of pots and pans. The only difference is that Infinite collection is dishwasher safe, and Elite cookware is hand-wash only. Infinite cookware is the new revolutionary cookware offered by the brand – Circulon.
2. Is Circulon cookware compatible with induction cooktops?
Unlike other non-stick cookware, the base of this set of pots and pans are designed with flat, heavy-duty stainless steel, which makes it 100% induction-friendly. Along with induction cooktops, the cookware is a great product to invest in with commendable portability.
3. Do the ridges inside the pans affect your cooking?
The ridges inside the pans are designed very slightly; therefore, it shall never affect your cooking. In fact, it will let your cooking be smooth, non-smoky, and perfect.
4. Is the Circulon cookware non-stick easy to clean, because of the raised-circular design?
Absolutely not, the Infinite collection of Circulon cookware is the easiest to clean and maintain, as they are 100% dishwasher safe. In case, if you choose to hand-wash, you can simply wipe it off using a soft sponge and light soap.
5. Does the company offer a warranty on Circulon cookware set?
Yes, the Circulon Infinite cookware set comes with a limited lifetime warranty.
Final Words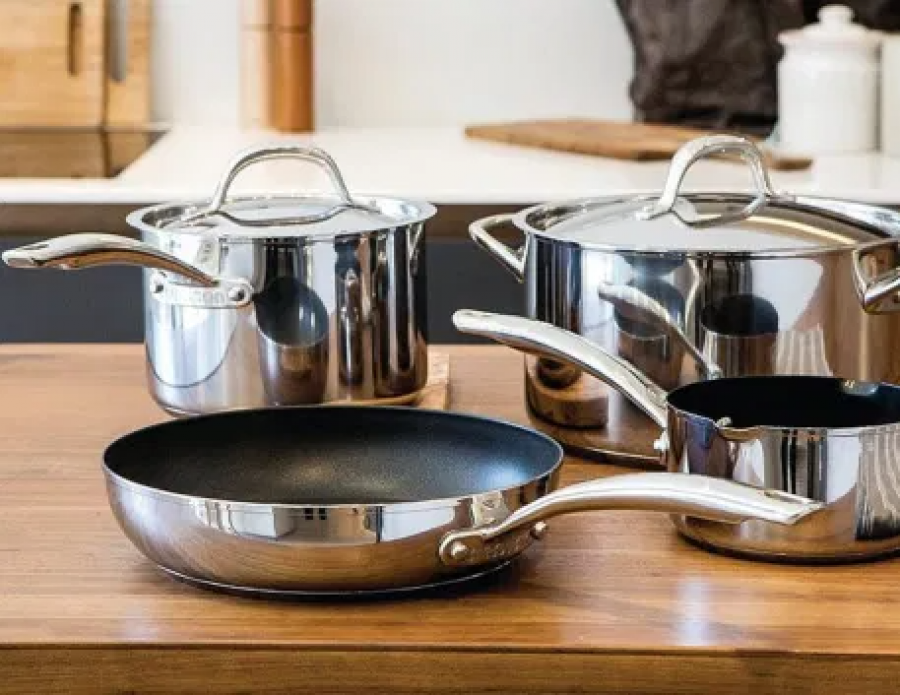 There's not much left for me to say here, yet as a part of my decision and a concluding statement to this product review, I say that this is the best cookware set that I have ever bought or reviewed. Although highly-priced, this Circulon Infinite hard-anodized cookware set is an amazing set of pots and pans to invest and offers complete value for money.
I am enjoying every bit of my cooking with this one. What about you?

Talya Davis
Talya, like all members of the HomeDesignX team, is enamored by all things related to cooking and eating. She's written cookware articles for numerous publications before working with her lifelong friend Jessica to create their very own website on cookware.
She's currently writing a book on induction cooktops, and enjoys making clean, vegan meals for her family.