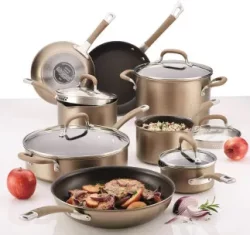 Circulon is considered one of the finest brands when you are out shopping for kitchenware, especially the cookware. It is a brand under Meyer Manufacturing Company stared by Stanley Cheng. Circulon has got a solid base in sophisticated technology. They offer a wide range of cookware products at a reasonable price. Circulon primarily focuses on hard-anodized aluminum with non-stick coating premier professional cookware. Let's have a look at one of its best cookware sets – the Circulon Premier Professional cookware set.
Let's get into an in-depth Circulon Premier Professional review to clear all your queries and doubts.
Are you looking for cookware to cook like a pro using durable pots and pan? Yes, then Circulon 13-piece premier professional cookware set is the one designed with high performance and convenience. They are constructed with heavy-duty hard-anodized aluminum, which is twice as harder as stainless steel. It is a versatile collection of pan and pots that can serve your kitchen's basics needs without having to invest in anything else. Let's have a look at its features:
Quick Facts
Hard-anodized aluminum construction
Heavy-duty stainless steel
Suitable for induction and other cooktops
Non-stick interior and exterior
100% toxin-free (PTFE free) design
10-time better than ordinary non-stick coating
Tempered glass lids include straining and pour spouts
Double-riveted stainless steel handles with silicone grip
Circulon Premier Professional Review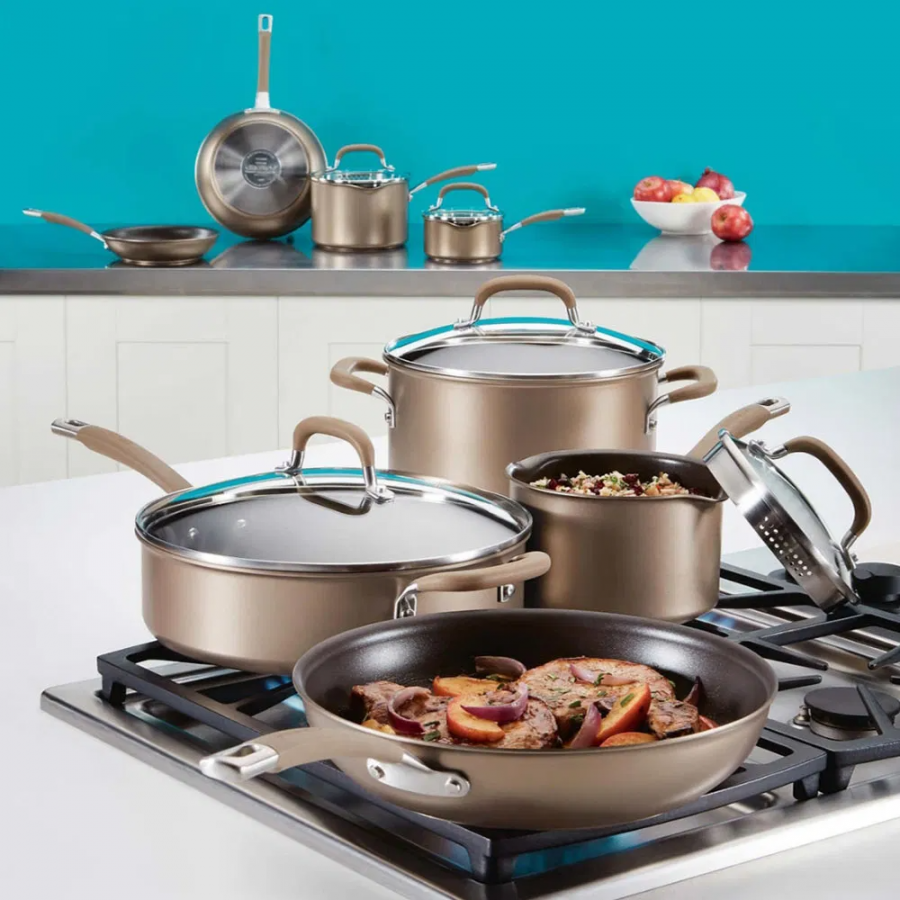 1. Product and Brand Value
Circulon is a perfect brand of cookware set offers a wide range of products. It is a great brand to choose from oven-safe, non-stick hard anodized cookware. This stainless steel cookware is a combination of shininess and durability, along with the convenience of its non-stick coating.
If you go price-wise, Circulon is pretty affordable. You get comprehensive cookware set with the price to buy these 13 pieces of the hard-anodized set. Circulon is offering the cookware set at a very good price. When you consider the number of pieces, you are getting without compromising the quality of the cookware. Therefore, I think this is a pretty cool combo of quality and value.
2. Design and Construction
Circulon Premier Professional 13-Piece cookware set comes in the bronze shade. Its TOTAL Food Release system offers PFOA free DuPont Autograph given on raised circles is for a great cooking experience. Its rubber stainless steel handles help to give maximum grip. The shatter-resistant lid made of tempered glass and stainless steel rims helps to lock heat and moisture inside the cookware while allowing you to monitor the food.
Anodization is said to be an electrolytic process to create oxide coating over the surface of the aluminum. This hardcore anodized surface is completely non-porous and prevents food from getting a stick or non-reactive too. I think the construction makes it the best cookware to look for.
3. Compatibility and Performance
The Circulon Premier Professional 13-Piece cookware set includes three saucepans, three frying pans, a sauté pan, and a stockpot. All come in a different size, usable for different purposes. The cookware is compatible with the oven, glass cooktops, gas stove, and induction cooktop. All the saucepans come with straining lid and have pour spout on its side. It helps you to deal with liquid.
The Total Food Release feature prevents the food from getting sticky. Its silicone lids are comfortable and heat-resistant. The tempered glass lid allows you to monitor the process of cooking food easily. I like the best part is you can use metal utensils with the cookware.
4. Cleaning and Maintenance
In the feature, it is mentioned that the cookware set is dishwasher safe cookware. Due to the highly durable non-stick coating applied inside and outside, it becomes dishwasher safe. The thing that makes it easier for you to maintain is you just need to pop them into the dishwasher.
If you are busy in your working life, then the Circulon Premier Professional cookware set are the best. Handles made of cast stainless steel riveted inside the pan is strong enough for any harsh use. Never use any oil spray on this cookware, its non-stick layer will burn into the surface when heated. I think if you can able to maintain them properly, then it may last for a longer period.
MORE ABOUT CIRCULON COOKWARE:
Anolon vs Circulon Cookware – How Does Their Cookware Compare?
Circulon vs Calphalon Cookware – Which Cookware is Better?
Circulon Cookware Review – Unbiased Product Review For You
5. Advantages of Circulon Premier Professional Cookware
Being oven safe as well as dishwasher safe is what makes this cookware set best. Its high-quality stainless steel and non-stick coating assure you to produce the most delicious food.
The high-quality hard-anodized composition is one of the great features that assures durability, and solid base work goes well with even induction cooktop too.
The shatter-resistant glass lids allow you to store the delicious aroma of your food. You can monitor the food, whether it is cooking smoothly or not.
Maintaining is hassle-free; therefore, you can wash this set in a dishwasher.
This cookware is oven-proof and can withstand maximum heat of 400oF.
6. Disadvantages of Circulon Premier Professional Cookware
Some may feel a brown color not that appealing, but color quality is good.
The cookware set is not so heavy but not light-weight too.
Circulon cookware can withstand a maximum of 400 degrees compared to other cookware.
The handles have holes to hand up the pots and pans. But if you leave them in water, it will seep into these handles and stuck in. It is fine if you can realize it, and no food particles get into it.
Customer Reviews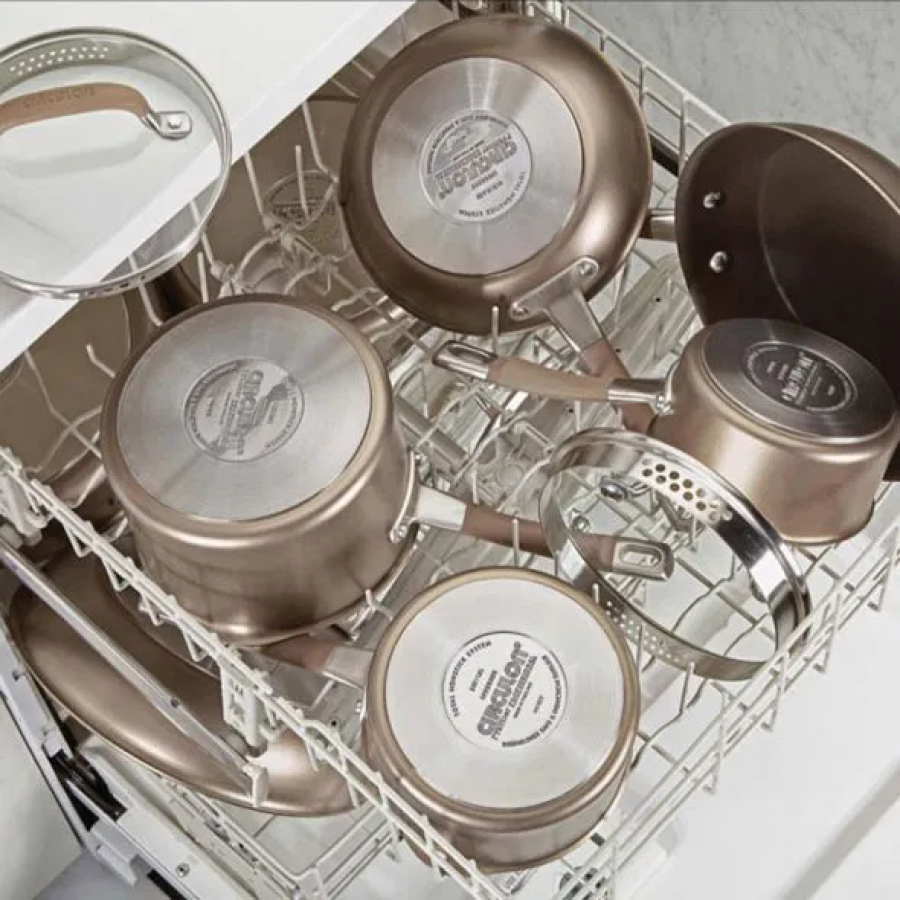 "This Circulon 13-piece premier professional cookware set is ideal for a regular kitchen. I thought the brown shade might not look that good; good, I overlooked it. The cookware looks elegant, nice, and the finishing is also good. Also, its non-sticky quality is very appreciating. Maintenance also does not seem to be an issue because it is very easy to wash; I don't wash it in the dishwasher – it keeps my cookware scratch-free." – Simon N.
"If you compare this cookware with other brands, then its non-stick and stainless steel surface make it stand out from others. I am happy. I bought this one. It helps me in minimizing the use of oil and cooking healthy food for years together. I liked the glass lid, especially while cooking; you do not need to open and check the water consistency every time without burning out the food." – Lawrence Cooks
"I already have a professional cookware set, so this is not probably much use for me. I was looking for a single piece. It is much suitable for those who are going to start a new kitchen or a married life. Because in this 13-piece Circulon set, all the necessary cookware are included for regular day to day life. I would have been happier if I were to receive a single piece instead of a cookware set." – Macy Richards
"Due to the unique feature of this cookware set, I find it difficult to pair it up with my other cookware. The best part is that it is not necessary to use all the set immediately; you can use a few pieces, and then keep the rest for maybe a few years later. I have done that and why so… It's because my use is smooth and long-lasting. Talking about the lids, the pour and straining facility allows me to have a clean cooktop every time I cook now – so no more messy kitchens." – Harry Patel
Frequently Asked Questions
How does Circulon Premier Professional cookware look like?
Circulon cookware is very stylish and looks contemporary, making it suitable for a modular kitchen. Its shiny brown finishing is attractive and durable. Good enough for a modern family to take straight from your stove to a dining table. The pans look expensive, but it comes at an affordable price.
What is Circulon Premier Professional made of?
You can enjoy the advantage of hard-anodized aluminum. Hard anodized means energy-efficient material because it heats up very fast. The cookware is durable than any other material today available in the market. It takes less time to cook.
Does Circulon Premier Professional non-stick coating durable?
Circulon has used a 3-layer of non-stick coating of DuPont, which usually cannot find in any other cookware set. It does not peel off very easily. All other brands use only one to two layers of coating only that also tear off after some use.
Is Circulon Premier Professional dishwasher safe?
Yes, the Circulon Premier Professional cookware set is dishwasher safe. Therefore maintenance is hassle-free.
Is the glass lids strong enough to handle harsh fall?
The glass lids are made of shattered proof tempered glass with stainless steel rims all around. So accidentally, if they fall, then you do not need to worry about it.
Is there any food release system?
The Circulon Premier Professional cookware set comes in a chocolate bronze color with raised total food release system circles. It completely ensures longevity and less surface abrasion.
Final Words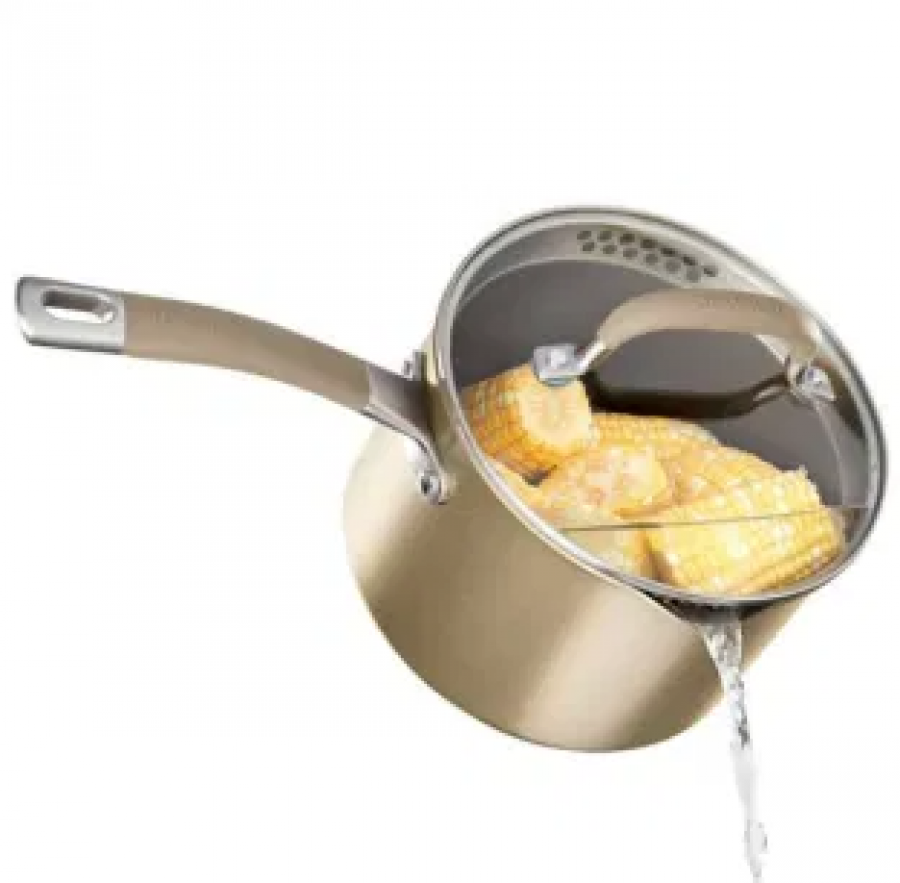 I feel this product is highly beneficial for those couples you are newly married. It is also beneficial for those who have made a new modular kitchen as you are getting a whole new set of stylish cookware set at a very affordable price. It is hard-anodized aluminum construction is the best feature you cannot miss. I haven't missed a bit of it; I have bought this kitchenware, and I am enjoying it too. What's your pick?

Talya Davis
Talya, like all members of the HomeDesignX team, is enamored by all things related to cooking and eating. She's written cookware articles for numerous publications before working with her lifelong friend Jessica to create their very own website on cookware.
She's currently writing a book on induction cooktops, and enjoys making clean, vegan meals for her family.