Cast Iron has prevailed in our home-kitchens over several centuries; they serve as good as nonstick cookware if they are maintained well. Even today, they haven't lost their popularity as they are versatile, compatible, durable, and long-lasting.
On the other hand, nonstick cookware has been serving in the cookware industry for around two decades; this material is light in weight and easy to clean. They are specially designed for food, which tends to stick to the bottom of the pot or pan.
Cast iron vs nonstick cookware: Let's get started!
Cast Iron vs Nonstick Cookware: Full Reviews
Cast Iron Cookware Review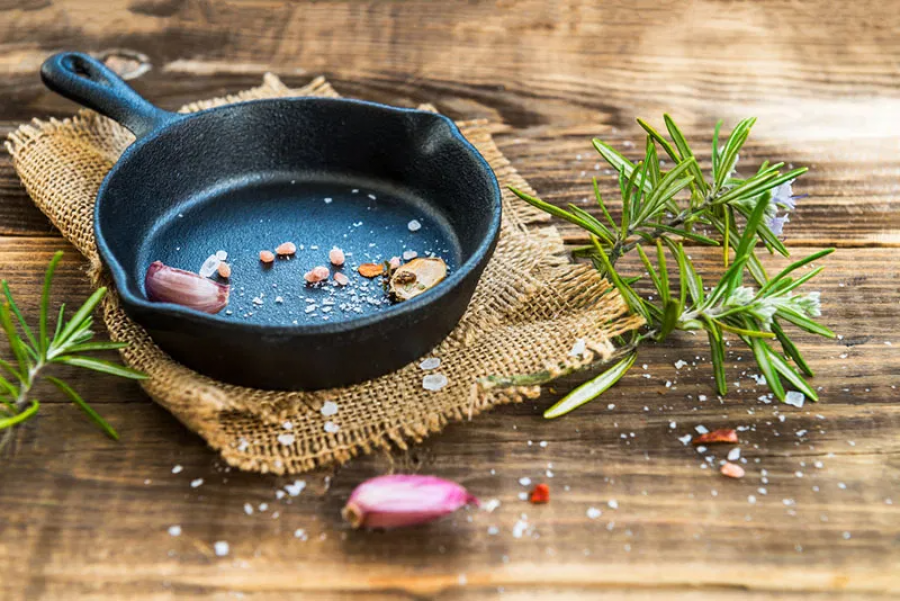 Cast iron is a heavy-duty material, which may not have the best thermal conductivity, but it can withstand high heat temperatures. It is ideal for cooking meals that require high temperatures such as baking, earth-oven cooking, and more. Cast Iron cookware improves with repeated uses; however, it requires occasional seasoning.
Cast iron cookware demands regular maintenance, which refers to heating oil in the cookware on high heat for polymerizing the cookware's surface. Cast iron, in this way, adapts to the conventional nonstick functionality with time. This material is a resourceful investment and can last for decades without wearing down. Cast iron cookware is safe for use when you ensure adequate maintenance; moreover, you can cook anything and everything on these pots and pans. If you are thinking of investing in a cast iron cookware set, then, believe me, you aren't on the wrong track. This will prove a great investment.
MORE ABOUT CAST IRON COOKWARE:
Best Cast Iron Cookware
Can I Use Cast Iron On A Glass Top Stove?
5 Best Cast-Iron Skillet For Glass Top Stoves
Enameled Cast Iron vs Cast Iron Cookware: Which One Shall You Choose?
Cast Iron vs Stainless Steel Cookware: Which One Should You Choose?
Advantages of using Cast Iron Cookware
Cookware made of cast iron is highly economical as it lasts for years together. You can hand it to the generations to come if you take adequate care of this material.
Unlike other materials that lose to give you optimum results, cast iron provides you with perfection when it comes to deep-frying and baking.
They are compatible with cooking on most kinds of cooktops and baking in the oven. Also, if you season the material adequately, they prove to be a great nonstick option upon repeated use.
Cast iron get hot soon and remains hot for long; this makes a great cookware inclusion for searing meat and soups.
When talking about healthy mineral contents, your every cooking process will bring with it little amounts of iron metal, which is healthy for your family and you.
Most cookware wear out after prolonged use; however, cast iron cookware gets smoother and better than before after every use.
Disadvantages of using Cast Iron Cookware
Cast iron cookware is heavyweight; however, it is all the worth, as they are sturdy and long-lasting. Seasoning and maintaining after every use are essential for cast iron cookware; if you don't take care of it, it wouldn't care for your investment.
They are compatible with cooking on most kinds of cooktops and baking in the oven. Also, if you season the material adequately, they prove to be a great nonstick option upon repeated use.
Nonstick Cookware Review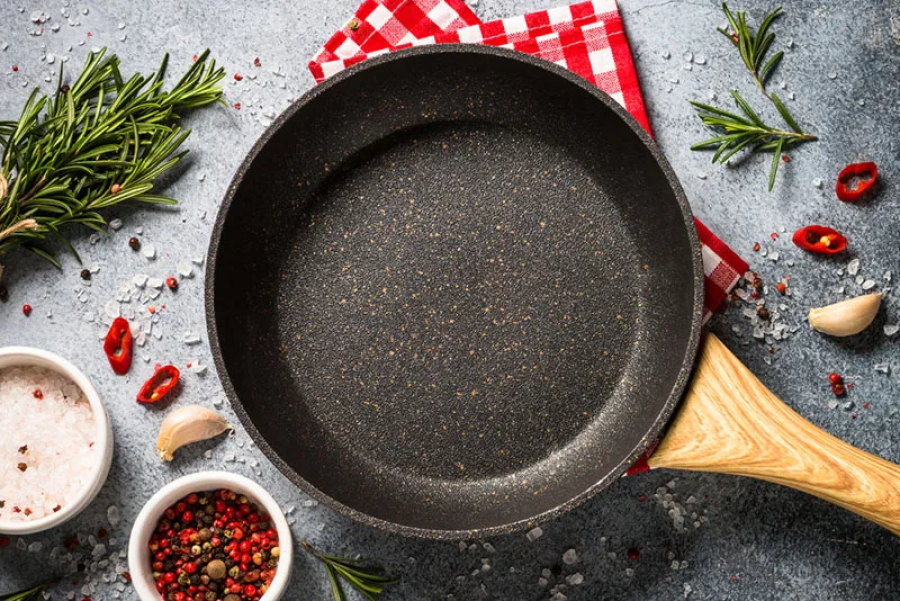 Most common nonstick cookware is made of TEFLON, and have been popularized in recent years. Further adding to this, the other materials found in nonstick cookware are PTFE and PFO. These materials contain high levels of toxins. If you consume food prepared in such nonstick cookware, then it can harm your health. Such nonstick cookware isn't safe enough for food-cooking and food consumption.
With years of research, the manufacturers have evolved with healthier options after understanding the toxicity of the nonstick materials. These days, nonstick cookware is gaining popularity, especially cookware of those companies who have succeeded in developing pots and pans from toxin-free, nonstick material. These may include regular ceramic, thermolon ceramic, graphite, earthy-stone material, and more. This cookware is a great investment and safe for use.
MORE ABOUT NONSTICK COOKWARE:
All Clad HA1 vs B1 Nonstick Cookware – What's the Difference?
Stainless Steel vs Nonstick: What Is The Best Cookware Material?
Ceramic vs Nonstick Cookware: Which One Is Better?
Advantages of using Nonstick Cookware
Nonstick cookware is reasonably priced when compared to cast iron cookware; therefore, if you are on a set budget, this can be a wonderful inclusion for your kitchen.
With nonstick cookware, there's no more food burning and sticking; you can cook your food in minimal oil or grease, turning it into a healthy, delicious meal option.
You will not require to keep a constant eye on food when cooking in nonstick pots and pans, allowing you to multitask. Your complete cooking experience will become easy and convenient.
If you are just a beginner at cooking or a busy working person, then you should be investing in nonstick cookware. It is easy to clean, maintain, and store.
Disadvantages of using Nonstick Cookware
Although easy to maintain, nonstick pots and pans may succumb to high heat; therefore, food should be cooked at only low or medium level in this cookware.
Some nonstick cookware is made of toxic materials and harmful chemicals such as Teflon, PFOA, PTFE, lead, nickel, and cadmium. This cookware isn't recommended for health-friendly cooking. Check a list of the best non-toxic cookware that you should buy!
After prolonged use, this material – coating tends to peel and flake off because of which the cookware becomes useless
At A Glance
Feature
CAST IRON
NONSTICK
Cooktop Compatibility
All stovetops
Gas, electric, ceramic, glass
Versatility
Yes (can be used with metal, wood, and nylon utensils)
Limited to wooden and nylon utensils only
Durability
Heavy-duty and long-lasting
Visible wear and tear on prolonged use
Non-Toxic
Yes
No (may contain toxic material)
Dishwasher Safe
No (Hand-wash only)
Yes (Hand-wash recommended)
Cast Iron vs Nonstick Cookware: The Similarities and Differences
1. Compatibility and Versatility
The cast iron material shows great performance even at extremely high temperatures; therefore, it displays compatibility with several cooktops such as oven, campfire grill, glass stovetop, and induction as well. The cast-iron cookware is ingeniously designed to avail versatility of cooking, baking, roasting, and grilling. You can use any type of steering utensils with cast iron pots and pans and Dutch ovens.
Nonstick cookware sets are compatible with stovetop, induction cooktops, and ovens – but all of them are not good with high-temperature heats, which is required for the grill. They are great for an indoor kitchen, at low or medium heats, and avail resourceful thermal conductivity. You may not be able to use metal utensils with nonstick cookware; you may have to invest additionally on nylon or wooden utensils.
PS: Cast Iron shows a wider range of compatibility and versatility because it can withstand high levels of heat. So, for me, it's the Cast Iron material here.
2. Durability and Sustainability
Cast Iron is a material that can last even for centuries. Due to recent changes in the cooktops and kitchens, they have been redesigned to adapt to technological development. If you season and maintain your cast iron cookware properly, then it can even outlive you and get better with prolonged use.
Nonstick cookware is easy to maintain; therefore, you may not require to care for it extensively. They may last for a reasonably good period, considering that you buy hard-anodized aluminum surface nonstick. Yet, this will still not outlive cast iron cookware.
PS: For long-lasting kitchenware, I prefer cast iron. You may need to maintain it occasionally, but it showcases longer durability and sustainability with due care and seasoning.
3. Performance
Cast Iron may withstand high temperatures of heat, but it does not provide satisfactory thermal conductivity. Surface heating in cast iron cookware is gradual and uneven, which makes it difficult to cook some type of foods evenly; thereby, it is great for baking, roasting, making pizza, and grilling.
Nonstick cookware has amazing thermal conductivity, but it cannot handle high temperatures of heat. This makes it difficult to make any type of food, which requires chaffering. Nevertheless, it is great for cooking, sautéing, frying, and browning.
PS: For indoors, I recommend nonstick cookware; it is easy-to-handle and convenient. For outdoors, cast iron cookware will be my prime choice because it is a great companion for roasting and grilling.
4. Cleaning and Maintenance
Cast Iron is known for its difficulty in maintaining. This material requires occasional seasoning and surface polymerizing. You have to make efforts to keep it away from rust and corrosion. If you choose to buy a pre-seasoned cast iron cookware set, then you may have to invest in a little more.
Nonstick cookware is dishwasher safe and extremely easy to clean; it does not require regular maintenance, and it does not even rust. Just a little soap and hot water will do all the cleaning job for you even if you choose the hand-washing option for your pots and pans.
PS: Cleaning time is a vital factor for me; therefore, in this case, it is the nonstick cookware that takes my point.
5. Value for Money
Cast Iron is compatible with most cooktops to avail versatile cooking styles. Now, you also get emerging cast iron brands that sell pre-seasoned cookware, which is easy to clean. They last for centuries; therefore, cast iron cookware is a complete value for money.
Nonstick cookware is dishwasher safe, easy to maintain, offers amazing thermal conductivity, and is available at cheaper prices than cast iron. It can last long, but not as long as cast iron. It is worth the purchase if you are looking for fine-designed items for your kitchen.
PS: I always prefer sturdy investment, which is 100% value for money; therefore, again, it is the cast iron cookware that gains my point.
Which Cookware Material Is Better: Cast Iron or Nonstick?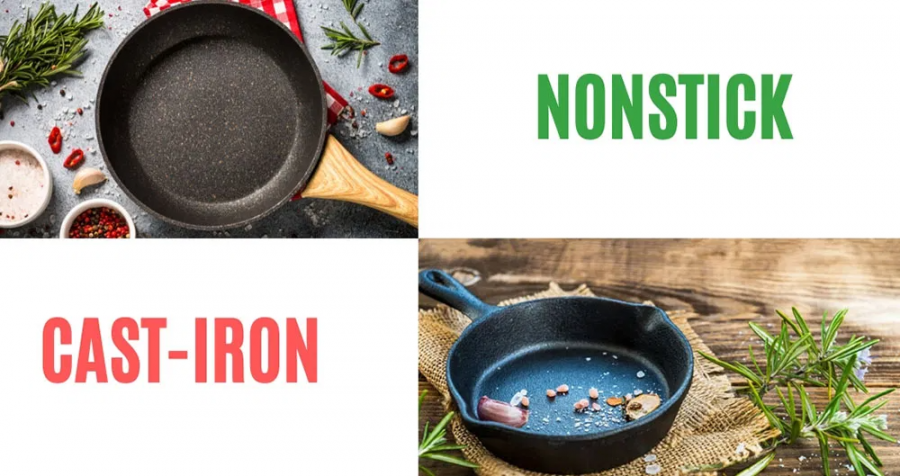 Cast iron, indeed, wins the race here – the reasons are obvious; it is long-lasting; it allows you to cook maximum food in minimum time; it is a complete value for money, and it is available in pre-seasoned option as well.
Overall, it outreaches the benefits and features when compared to nonstick cookware. Not to forget, cast iron cooking is healthy and versatile. You can use cast iron on all stovetops as it can resist heat evenly, providing perfection to your cooking adventures.
This is my choice! What about you?

Talya Davis
Talya, like all members of the HomeDesignX team, is enamored by all things related to cooking and eating. She's written cookware articles for numerous publications before working with her lifelong friend Jessica to create their very own website on cookware.
She's currently writing a book on induction cooktops, and enjoys making clean, vegan meals for her family.