Winter is arriving, and so is your preference for slow cooking, which can either be performed in a Dutch oven or a traditional crock-pot. Various other brands offer slow cookers, but there's nothing like the Original Crock-Pot; thereby, we shall be comparing these two only – Dutch oven and the Original Crock-pot.
So, what's all about dealing with this cookware? Both start in a similar manner, which may be browning your protein meals, sautéing vegetables, and cooking food with liquids. I understand how hard it is for you to differentiate the two; however, we are going in-depth to explain to you the variations between the two. Let's read further.
Dutch Oven vs Crock-Pot: Let's get started!
Dutch Oven vs Crock-Pot: Full Reviews
Dutch Oven Review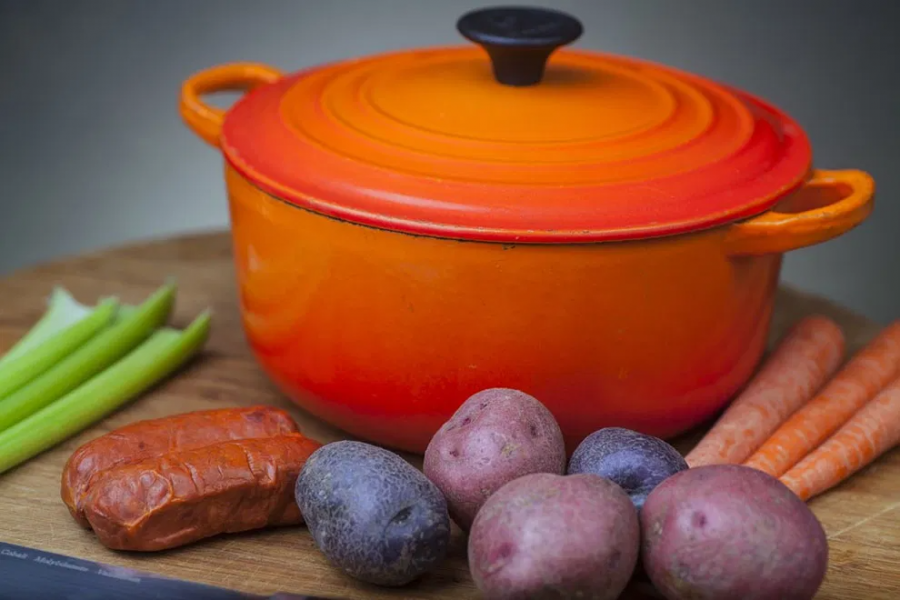 The Concept – Have you heard people talking about the original slow cookers? This is it. A Dutch oven is the original vessels, which are used for slow cooking. They are constructed using the cast-iron, which is enamel-coated. You can use this vessel on most cooktops ranging from stoves to ovens. The enamel coating prevents food from sticking and burning, which means you can cook all kinds of dishes in Dutch ovens. It is better than the so-called slow cookers that are available in the market these days.
And, which brands have pioneered in building Dutch ovens worldwide? Le Creuset and Staub are the most preferred Dutch oven brands to go for. The cookware is highly versatile and easy to make meals with – just use one pot for cooking from start to finish.
Is it Safe to Cook in Dutch Ovens?
Constructed using cast iron, Dutch ovens are 100% non-toxic cookware – it contains no PFOA, PFAS, lead, PTFE, cadmium, nickel, and Teflon. This means you will experience toxic fumes in case you overcook your dishes or if the base burns the food. Isn't this an amazing aspect of eco-friendly cooking, which most of us dream of in today's times? It is an all-in-one cooking solution, which means you can sear proteins and braise food – all in a single pot. Additionally, you can use it on the stove or put it in the oven – complete the cooking as per your will. It can tolerate heat up to 350F.
Advantages of using Dutch Oven
These slow cooking pots are built with the finest cast-iron; therefore, it is 100% toxin-free, which means it promotes healthy, environmental-friendly cooking.
When using Dutch ovens, you will not require different cookware for different processes; you can cook your dish in just one pot from start to finish.
Traditional Dutch ovens promise durability, compatibility, and versatility; you can use them on gas and electric cooktops, glass cooktops or ceramic stovetops, ovens, grills, and other cooking sources; also you can utilize metal, wood, nylon – all kind of utensils to stir and pour your meal on your plate.
You can use original Dutch ovens for generations – yes, it is highly durable and long-lasting. It is ideal cookware to gift, especially for house-warming and wedding receptions.
Disadvantages of using Dutch Oven
It is made of cast-iron; therefore, it's not 100% nonstick cookware; you will have to keep an eye on the food you are cooking. Frequent stirring is required to ensure that your meal does not stick to the base and burn out.
Crock-Pot Review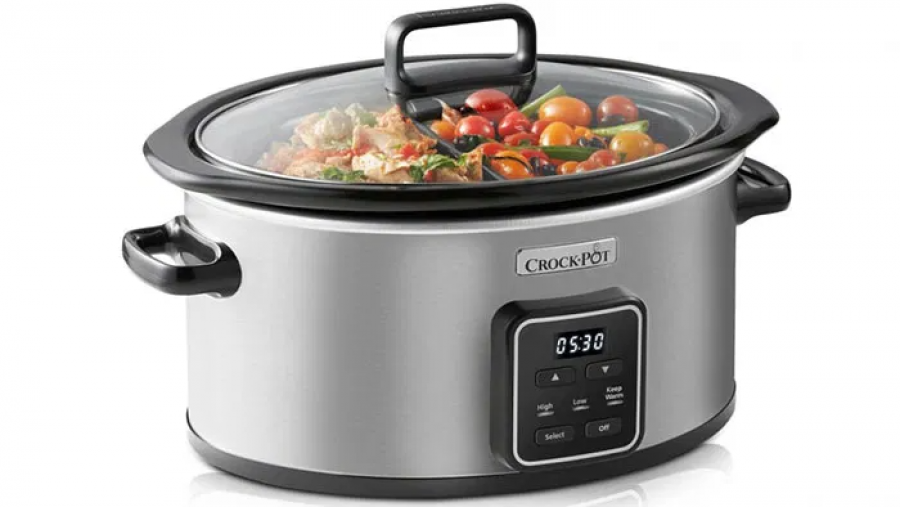 The Concept – "If it doesn't say Crock-Pot, it's not the Original." Yes, it's true. We are talking about the original crock-pot here. It is almost four decades old and is used in most kitchens across the globe. It is an affordable, user-friendly option for those busy mothers who wish to offer mouth-watering, tender meat meals to their families. It will help you cook meals with all the nutrients and aromas intact within the food. Crock-Pot® slow cookers are well-known to last for generations and provide high-end durability.
Is it Safe To Cook in Crock-Pots?
Crock-pots are made of high-quality ceramic, which also has a similar type of enamel coating to ensure that it is compatible enough for cooking on all kinds of cooktops. Again, this cookware is made of 100% non-toxic material, which does not include harmful chemicals – you can cook healthy even when you are super-busy.
Advantages of using Crock-Pot
If you are using poor cuts of meat, then crock-pot is your best option; it will cook them perfectly, and yes, soups turn out delicious too.
Are you finding it hard to cook meals for your family, especially when you are all-day out working? Crock-pot is ideal for you. You can put this crock-pot to work all night if you intend to do so.
Keep all the moisture intact, keep your meals hot and ready-to-serve all day with crock-pots – all the cooking controls like heat and duration are in your hands here.
Cleaning is easy and quick; unlike Dutch ovens, you can place this vessel in the dishwasher too; however, we suggest you read the guidelines before placing the crock-pot in the dishwasher.
Disadvantages of using Crock-Pot
You cannot brown part of your food in crock-pot; it is only possible when you are cooking in a Dutch oven.
At A Glance
Feature
DUTCH OVEN
CROCK-POT
Cooktop Compatibility
Yes
No
Durability
Yes (Up to generations)
Yes (Long-lasting)
Oven-Safe
Yes (up to 350F)
Yes (up to 400F)
Dishwasher Safe
Yes (hand-wash recommended)
No (Hand-wash only)
Dutch Oven vs Crock-Pot: The Similarities and Differences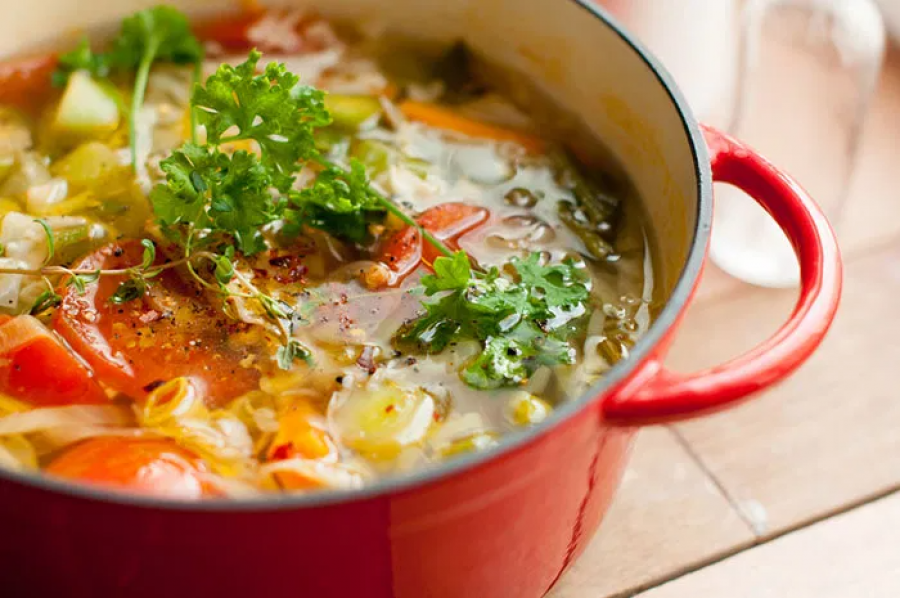 1. Compatibility and Versatility
Dutch ovens and crock-pot slow cooking vessels both possess great compatibility; they are highly versatile too. Dutch ovens are an all-in-one cooking solutions – you can cook anything and everything from start to finish in this cookware; while, crock-pots are ideal for slow cooking, and browning isn't possible. You can use all types of utensils – metal, wooden, and nylon with both cookware variations.
Talking about compatibility now, you can use Dutch ovens on various cooktops, including ovens, grills, and induction cooktops. Being a traditional cookware option, I don't need to mention gas, electricity, and other stovetops. Crock-pots are electric slow cookers and are not compatible with other cooktops; however, the inner containers can be placed in the oven. Dutch ovens can tolerate oven-heat up to 350oF; while, crock-pots can take heat up to 400oF.
PS: I am more inclined towards the traditional way of cooking than other technologies; therefore, my vote is for Dutch ovens here.
2. Durability and Sustainability
Dutch ovens are made of cast iron with enameled coating; cast iron material is popular to live for centuries if proper maintenance and care are given. Dutch ovens are known to remain for generations, and they become better upon prolonged use; therefore, they are born to sustain all types of wear and tear. The coating may peel-off, and the pot may require greasing and polishing, but you will still be able to use it.
Crock-pots are made of ceramic with enameled coating; also, ceramic is highly durable. I am sure it cannot beat cast-iron's durability. Additionally, if the enamel coating wears off with prolonged use, you may have to look for a new set after a few years. It is sustainable, but again it will wear-off after a decade or so.
PS: Dutch ovens are my choice; the answer is clear, I am ready to take care of the product wisely and use it for years and generations to come.
3. Performance
Dutch ovens were originally designed to perform – so do they even today. You can let them rust, though; the enamel coating does great work here. On prolonged use, the performance shall get better and better – you may be able to enjoy nonstick effects after years of regular use. You can enjoy one-pot cooking when using Dutch ovens; however, this will require frequent checks and stirs on the food.
Crock-pots are highly performing; you can cook delicious food without keeping an eye on it. It does have cooking limitations, though, which includes browning – yes, you cannot brown the parts of your food in a crock-pot. You may require an additional grill for it. If the coating wears off, you may have to look for a new pot here.
PS: Performance matters, so do its durability in an adequate combination; therefore, again, the Dutch oven is my pick here.
4. Cleaning and Maintenance
Cleaning and maintenance is an essential factor, especially when you are a busy person who works all day outdoors, and then come home cooks meals for the entire family. You want the process to be fast and easy. Crock-pot is dishwasher safe, unlike Dutch ovens. Although many brands in Dutch ovens say that you can use dishwashers to clean them, we recommend hand-wash only.
On the other hand, Crock-pots are easy to clean, store, and maintain. You can easily use the pot's inserts in the dishwasher. If you don't use a dishwasher, the base is scratch-resistant, corrosion-free, and easy to hand-wash; therefore, it will save more time and effort than Dutch ovens for sure.
PS: Crock-pots are time-effective when it comes to cleaning; it requires minimal maintenance; therefore, Crock-pot wins it here.
5. Value for Money
Dutch oven's price varies depending on the size, cast-iron quality, and the brand that overs it. You have to pick on the best option for yourself that features the right purpose of your cooking requirements. The same is the case with Crock-pots – the price varies depending on the looks, features, and size. Dutch ovens are more highly-priced than Crock-pots.
PS: As per the features, I believe that Dutch ovens, because you can cook everything in it, is all worth the purchase, even if it more expensive than Crock-pots.
Which Is Better: Dutch Oven or Crock-Pot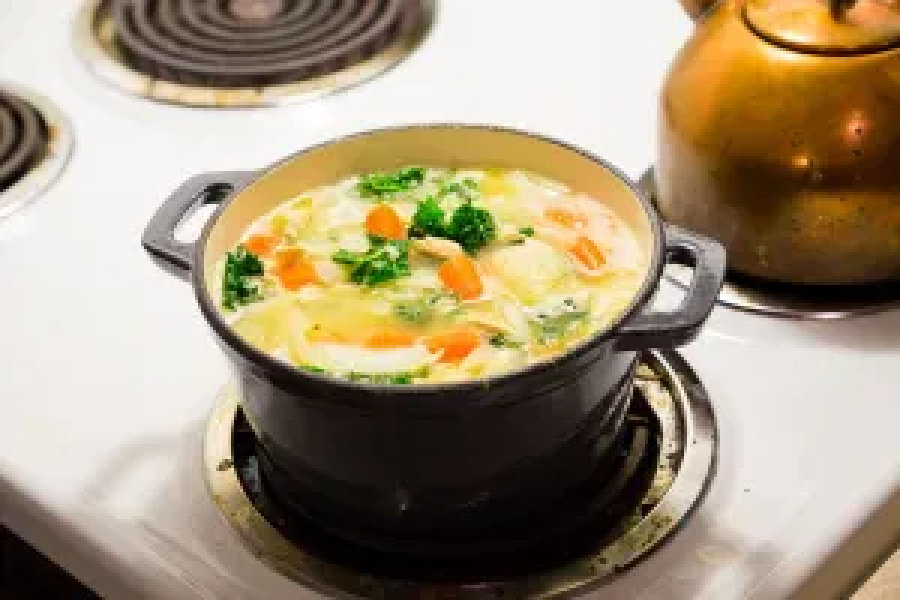 My choice is clear hereafter a careful and in-depth review, I have made my choice. I am ready to invest a little more on the cookware because I am choosing Dutch oven here out of the two options. It is reliable, long-lasting, durable, and multi-usable. What do you think?

Talya Davis
Talya, like all members of the HomeDesignX team, is enamored by all things related to cooking and eating. She's written cookware articles for numerous publications before working with her lifelong friend Jessica to create their very own website on cookware.
She's currently writing a book on induction cooktops, and enjoys making clean, vegan meals for her family.