Are you thinking about buying your first enameled Dutch oven made with cast iron? If that's the case, then only two brands make the cut, which is Staub and Le Creuset. There are a lot of alternatives available, but no other products come even close to these two in terms of features and performance. If you are having difficulty making up your mind when choosing one form these two brands, then don't worry, I've got you covered.
In this article, we have examined each brand keenly; our detailed examination will help you in choosing the best cookware out of the lot. We have picked up the best piece of each of the brands; also, we have covered every aspect of the cookware for you to consider. Let's have a look.
Staub vs Le Creuset: Let's get started!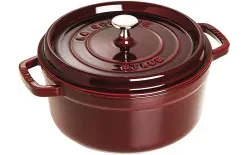 Staub Round Cocotte is your perfect match for gentle cooking and a healthy meal. This cookware is made from cast iron and has a nickel steel knob, which ensures hassle-free and easy handling. Its heavyweight is a contributing factor to keep the temperature even during hours of cooking.
It has a dark enameled interior that doesn't stain and is extremely effective in browning of food. It is oven safe and can withstand the temperature up to 482°C/900°F without lids and 500°F/260°C with lids. The most special feature of this product is that it has a tight-fitting lid that keeps the moisture in and brings out the flavor goodness to you.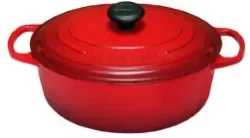 Le Creuset's products exude classic designs and unique features. This Signature enameled product is made from cast-iron and is lightweight as compared to its competitor brands. The large handles on the side give you a secured grip as well as an even weight distribution.
The light-colored interior enamel is scratch resistant, and it is also easier to see the food while it's cooking. The plastic knobs can withstand up to 500°F and are heat resistant in stovetop cooking. They are rust free and easy to clean as the food doesn't stick to it. They have tight lids that ensure that the moisture doesn't escape and are reasonably priced. What more can you ask for?
At A Glance
Feature
STAUB Round Cocotte
Le Creuset Signature Enameled Cast-Iron Oval Dutch Oven
Materials
Cast iron
Enameled cast iron
Size
6.25 Quart
6.75 Quart
Shape
Round
Oval (Dutch oven)
Non-Toxic
Yes (No toxins and harmful chemicals)
Yes (No toxins and harmful chemicals)
Oven-Safe
Yes (up to 500°F)
Yes (up to 500°F)
Dishwasher Safe
No (Hand-wash only)
No (Hand-wash only)
Lids
Yes (Tight-fitting)
Yes (Tight-fitting)
MORE ABOUT CAST IRON COOKWARE:
Can I Use Cast Iron On A Glass Top Stove?
5 Best Cast-Iron Skillet For Glass Top Stoves
Enameled Cast Iron vs Cast Iron Cookware: Which One Shall You Choose?
Cast Iron vs Stainless Steel Cookware: Which One Should You Choose?
Cast Iron vs Nonstick Cookware – Which One Shall You Choose?
Staub vs Le Creuset Cookware: The Similarities and Differences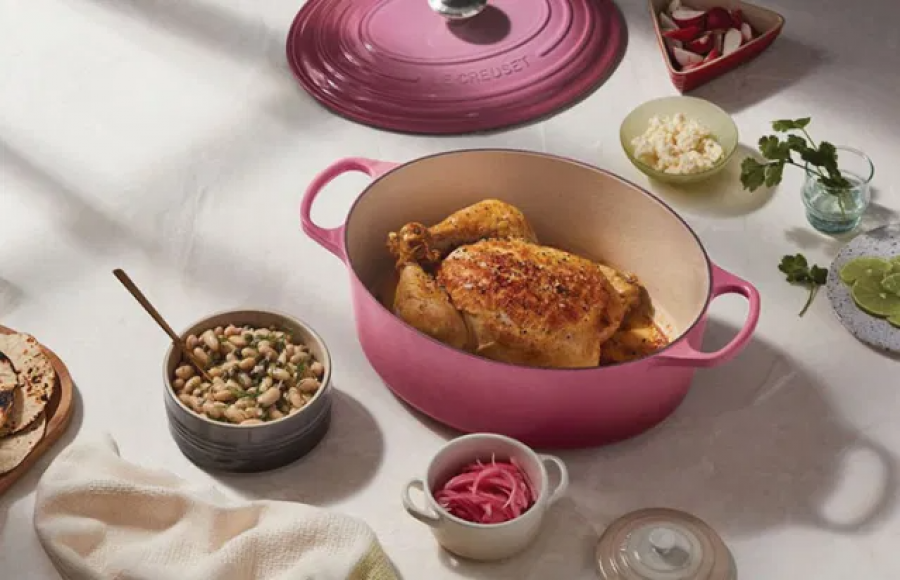 1. Design and Construction
Both of these brands have a top-notch basic design with intricate detailing. It is popularly known that Staub differentiates itself due to its unique design. It is designed in such a way that you can cook show-stopping food with its unique lid design, which promotes continuous basting of food. Don't worry, it is easier to clean, and the presence of cast iron ensures that the food is evenly heated with no spots.
When it comes to going for evergreen and classic designs, then there is nothing better than Le Creuset. This classic design amplifies the cooking process with its even heat distribution, and the tight lid ensures that the moisture stays in. The ergonomic handles have an interior enamel that resists chipping and is scratch-free.
PS: When it comes to design and construction, my money is always on the classic design with advanced features. Le Creuset wins this round for me.
2. Material and Durability
Both of these Dutch ovens are made from cast iron, which is an excellent material to intensify the flavor and aroma of the food being cooked. This material promises high durability and doesn't wear easily even after prolonged use. Now, to find out which one is better, I heated both the oven for 10 minutes. The browning in Staub was not visible due to its dark enameled interiors, whereas Le Creuset brand gave a clear view of the browning due to creamy white interiors.
MORE ABOUT CAST IRON COOKWARE:
Can I Use Cast Iron On A Glass Top Stove?
5 Best Cast-Iron Skillet For Glass Top Stoves
Enameled Cast Iron vs Cast Iron Cookware: Which One Shall You Choose?
Cast Iron vs Stainless Steel Cookware: Which One Should You Choose?
Cast Iron vs Nonstick Cookware – Which One Shall You Choose?
The benefit of the dark interior enameled coating of Staub is that no scratches or marks are visible, and it ages beautifully. There are ridges in the inside of the lid, which helps to lock in the moisture and also increases the age of the product.
PS: Both of these brand's products are made from the same material, but Staub brand shows high durability as compared to Le Creuset. Staub is the winner here.
3. Performance
When it comes to performance, both of the products show promise due to their even heat distribution and highly durable enameled interior. The difference here is in the lids and knobs. Staub has a Nickle coated steel knob that can withstand temperatures up to 500F. At the same time, Le Creuset has a plastic knob, which is great for short-time use but falls short in the long run.
The lids provided by these brands should be hefty to fit well and tight. Le Creuset has a more standard lid, which is great at locking in the moisture, but still, some of the moisture goes out of the lid. Here Staub shows better performance and retains 10% more moisture as compared to other brands.
PS: Both of these brands are performance-oriented, but Staub brand sets a superior example here and wins this round.
4. Cleaning and Maintenance
The next thing to consider here would be the cleaning job as each of us wants it to be less time consuming and hassle-free. Both of these brands have an enameled interior, which is easier to clean and maintain. Both of them are dishwasher safe cookware, so all you need to do is pop them in the dishwasher if you are not in the mood to scrub.
I would highly recommend you wash Staub product by hand as its interior enamel is porous, and the chemicals in the dishwasher can degrade the material. Staub has ridges inside of the lid, which makes it a little difficult to clean. Le Creuset can be washed in the dishwasher, but it is recommended to let it cool before washing to avoid damage to the interior.
PS: When it comes to cleaning, washing, and maintenance, the tables have turned here as Le Creuset is much easier to clean and maintain. Le Creuset wins the crown here.
5. Cooktop Compatibility and Versatility
Cooktop and versatility are some of the most important deciding factors when there is a comparison between two brands as they determine the actual usage of the product. Staub is incredibly versatile and can be used to cook stews, searing as well as slow-cooked dishes. You can use it for bread as well! Le Creuset fights for the crown here and is incredibly versatile as well. The shape of the Le Creuset offers its maximum efficiency and promises an optimal cooking experience.
Both of the cast iron cookware is compatible with all kinds of heat sources such as gas stoves, electric glass top stoves, vitro-ceramic glass as well as induction tops. In Le Creuset, it is important to contain the gas flames and keep it retrained to the base and not reach the sides of the product. Le Creuset is easier to use due to its large handles as compared to Staub.
PS: Le Creuset shows great versatility and cooktop compatibility as compared to Staub. For me this time, Le Creuset wins the show.
6. Value for Money
Both of these brands fall in a similar price range, which makes the decision-making process a bit difficult. Any discussion about the value of money falls on the durability and performance of the product. The extra durable enameled interior of Le Creuset is the show-stopping quality of this brand.
Staub brand gives an incredible performance due to its high-quality material and construction. Still, when it comes to the overall performance of the product keeping all the factors in mind, Le Creuset company shows better promise. If you are looking for a feature-rich, value for money cookware then Le Creuset company is the one for you.
PS: For me, Le Creuset brand gives the complete value for money, including all the aspects of design, durability, and construction.
Which Cookware Brand Is Better: Staub or Le Creuset?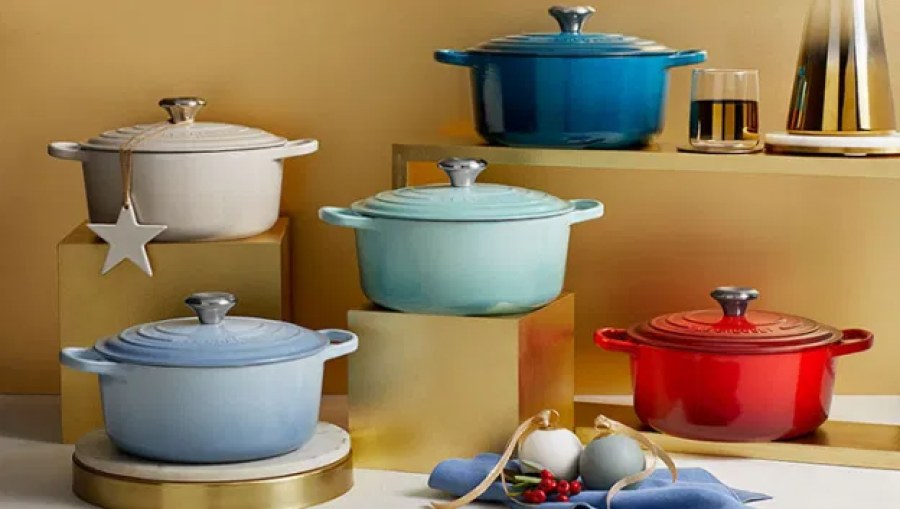 After comprehensive research and due consideration, on various brands of cookware, I have made my choice. Looking at the brand and its varieties, I chose to go for the Le Creuset Brand. It is highly durable, sturdy, innovative, and there's something about a classic design that makes it the most trustworthy of the lot.
So, I am done it with and happy with my purchase. Have you made your choice yet?

Talya Davis
Talya, like all members of the HomeDesignX team, is enamored by all things related to cooking and eating. She's written cookware articles for numerous publications before working with her lifelong friend Jessica to create their very own website on cookware.
She's currently writing a book on induction cooktops, and enjoys making clean, vegan meals for her family.