2nd Best Choice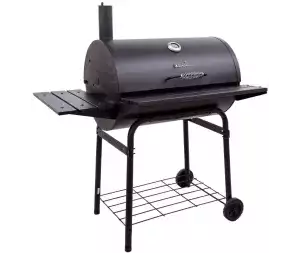 Char-Broil American Gourmet 800 Series Charcoal Grill
Check Latest Price
Editor's Choice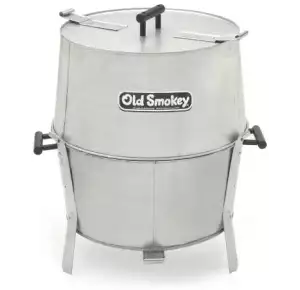 Old Smokey #22 Charcoal Grill
Check Latest Price
3rd Best Choice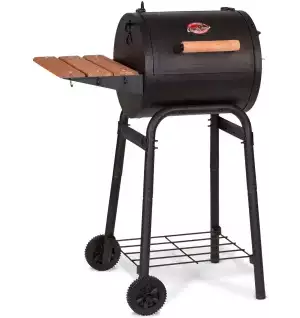 Char-Griller 1515 Patio Pro Charcoal Grill
Check Latest Price
There are few things as enjoyable as spending a summer afternoon in your backyard or campsite, surrounded by friends and family while enjoying delicious BBQ burgers and other meats you cooked yourself.
The smoky taste of meat grilled to perfection, a refreshing beer, and the voices and laughter of the people you hold dear.
Is there anything more idyllic?
Owning a charcoal grill opens the door to all kinds of opportunities and fun times. It's a way of bringing people closer together and getting to know new people.
Best of all?
What used to be an expensive, almost unaffordable luxury is now available to people of many budgets, giving you the chance to own a charcoal grill without paying an arm and a leg.
This guide is designed make things even easier.
In this article, we here at HomeDesignX will cover everything you need to keep in mind when looking for the best charcoal grill, as well as some tips and tricks keep your grill in top shape for as long as possible.
Not only that, but we'll also analyze some of the best charcoal grills on the market today.
Let's get started!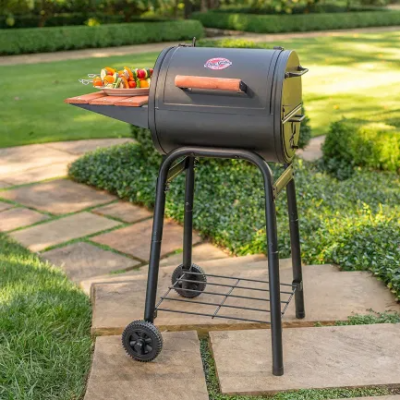 What Makes Charcoal Grills So Special?
You may be asking yourself this question. After all, aren't charcoal grills just one more way of producing heat?
Not quite!
Charcoal grills are different from gas or propane grills because they don't produce a constant flame.
A gas grill, for example, will keep a continuous flame running for a long time, or at least until there's no more gas available. The same goes for a propane grill.
A charcoal grill, on the other hand, slowly consumes its fuel. Charcoal grills burn slowly at first, stronger once things really get going, and slow once again once the charcoal is about to be completely consumed. Charcoal grills also get hotter than gas grills.
This can seem like a disadvantage, since there's less control involved, but you can just leave some spots without briquettes to control the heat. This way, you can sear your heat over the briquettes, then move them to the cooler spot on the grill to finish cooking.
Additionally, the smokey flavor from charcoal grills is something you won't get with a gas grill!
Things to Note When Buying a Charcoal Grill
First things first, it really helps to know what you'll be cooking most often in your charcoal grill. Some cuts of meat need more heat, others need more cooking space, others will need to be smoked with indirect heat, etc.
So, first things first, make a list of the kind of things you plan on cooking the most, and then continue reading:
Grilling or Smoking
If you're only planning on grilling meat, there's no need to worry about your grill being able to work as a smoker.
However, if you plan on smoking your meat, looks for charcoal grills that are large on the inside, both lengthwise and heightwise, which will give you plenty of room to smoke.
Finally, some charcoal grills actually have smoker functions, which will make smoking meat a lot easier!
Size
Size is important for more than just smoking. After all, the larger the grill, the bigger the cooking surface, which means you'll be able to cook a lot more meat.
However, larger charcoal grills aren't always the most portable; so if you plan on taking your grill with you, you may want to go for something smaller.
You should always keep in mind the height, as some particular meat cuts require a lot more space (volume-wise) than others.
Cooking Features
All charcoal grills use charcoal to heat up, which means the temperature is roughly the same between different ones. However, some charcoal grills come with air vents that let you control just how hot it gets.
Some charcoal grills also let you control the height of the cooking surface, which can help you achieve different cooking results.
There are many other features to keep in mind, so make sure to keeping reading about everything a grill has to offer before choosing the one that's right for you.
Accessories
While a grill may seem perfect at first, you'll find that you need items to go along with it. Make sure to check the reviews of the grill you like to see what people are purchasing to use with it, so you can be well-prepared.
Types of Charcoal Grills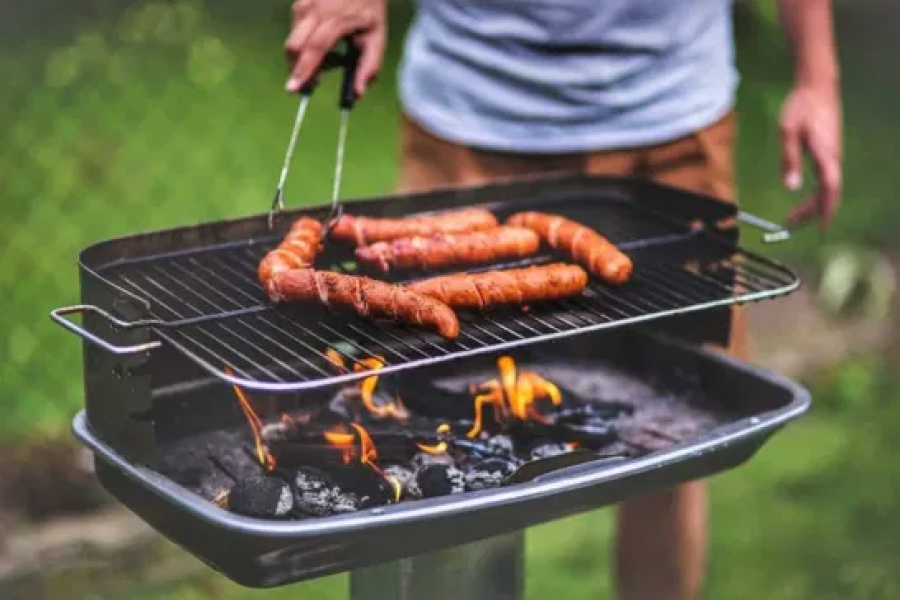 Not all grills are alike. As we mentioned earlier, there are propane grills, gas grills and charcoal grills, but did you know that even charcoal grills are split into different categories?
Here the most popular kinds of charcoal grills:
Portable: Small and easy to move around, these are usually square and have collapsible legs that allows them to be placed anywhere. They're usually the smallest kind, but they can be used just about everywhere, and are great for balconies.
Brazier: A very traditional and simple kind of grill, braziers are one of the most affordable as well as straightforward. Most portable grills will be braziers, but not all braziers are portable, as some can be pretty large.
This type of grill usually has no special features, just a tray for the charcoal and a cooking grate on top. As such, these charcoal grills are perfect for simple cooking and little else.
Kettle Grill: One of the most traditional types of charcoal grills out there, this is probably the image that pops in your mind when you think of a "charcoal grill".
With an egg-shaped body that includes a charcoal tray, a lid and a grill, these are perfect for cooking all kinds of food. Some even have vents, so they're perfect for smoking.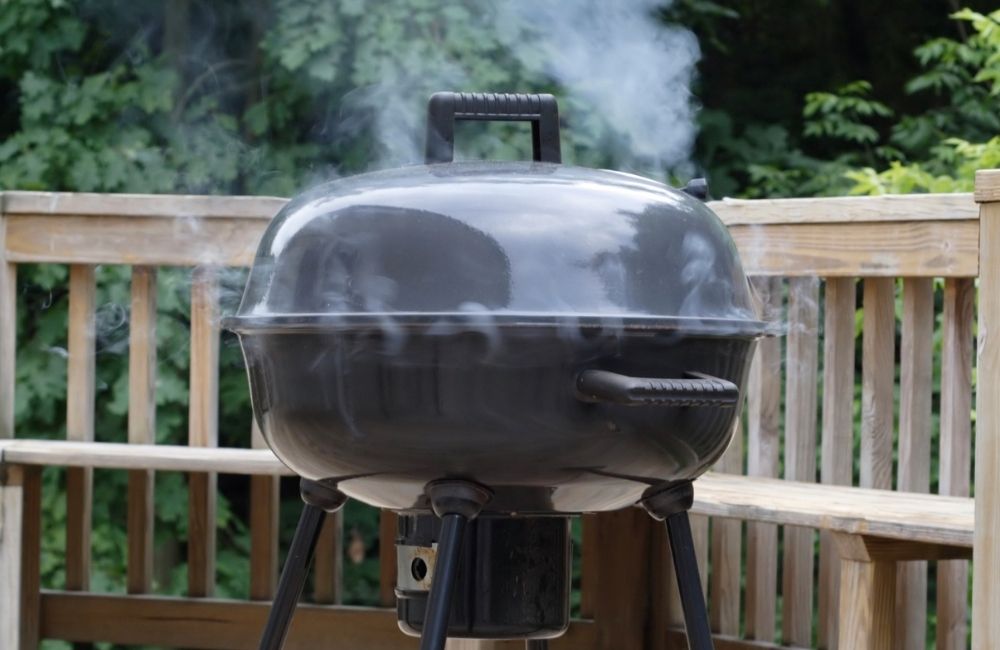 Cart Grill: Another popular model, these feature a rectangular design and wheels, which makes them easy to move around. They're usually too large to take with you, but they're perfect for backyards and the like.
Thanks to the rectangular shape, these grills also feature ash drawers, storage shelves, side trays and more.
Barrel Grill: While this type of grill made out of a 55 gallon barrel may not look like much, it works beautifully. This is one of the best kinds of charcoal grills out there if you plan on smoking your meat, and they offer a lot more cooking room than other charcoal grills.
Ceramic Cookers: Usually confused for kettle grills, these egg-shaped charcoal grills have a long history that can be tracked back all the way to Japan. The peculiar shape makes them perfect for smoking, grilling and barbecuing, and they're one of the most durable charcoal grills out there.
Top 5 Best Charcoal Grills - Our Review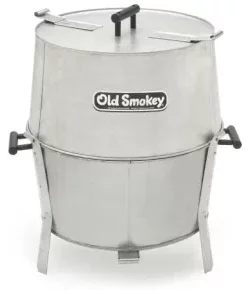 A single look at this grill will tell you what you need to know about its durability: The Old Smokey portable charcoal grill is as sturdy as it looks.
At only 20 pounds, this grill made out of aluminized steel, is fully portable, and its minimalistic design guarantees there's no paint that can peel off with time, unlike some other charcoal grills.
It's also very easy to clean.
The 'egg like' design is perfect for smoking. Unfortunately, though, the grill itself doesn't come with a temperature gauge, nor any place to install one.
In fact, the simple design means that there's not a single accessory or add-on you can simply attach to the grill, which is a big downside unless you like to keep things as minimalistic as possible.
The size makes it perfect if you plan to cook for a medium to large family, though it's not good for grilling small portions since it requires a lot of coal to get going. That said, if you're looking for a large cooking space, you've got it here!
It's important to keep in mind that, because of its weight, the grill may feel flimsy, but it can actually last for a long time and it works like a charm.
Another great characteristic of the Old Smokey is its price! This is the perfect choice for those of you who want a budget-friendly, high-quality charcoal grill you can take everywhere!
Pros
Affordable
Large cooking area
Sturdy
Perfect for smoking and barbecueing
Cons
No attachments or accessories
No temperature gauge
Not good for cooking small portions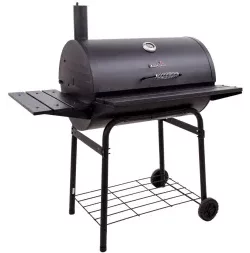 If you're looking for a great barrel charcoal grill that has plenty to offer while still being in a comfortable price range, the Char-Broil Gourmet 800 is for you.
With 840 sq. inches of grilling surface, two grates with adjustable height, a temperature gauge, hooks and shelves, this grill offers it all at a rather affordable price.
It has a cast iron grill space which needs to be seasoned before use, as this will help it become non-stick and reduce cleaning time. This is important, as cleaning this grill isn't exactly easy.
Luckily, that's about the only con when it comes to this grill, as it's easy to use and, even better, easy to assemble.
With enough room to cook 20 hamburger patties at the same time, this charcoal grill sure is a champ when it comes to getting the most bang for your buck!
Pros
Affordable
Very large
Adjustable cooking grates
Comes with a variety of accessories
Perfect if you plan to cook for a large group
Cons
Needs to be seasoned thoroughly before use
Hard to clean
Cast iron grates are a little loose and may need to be tightened every few uses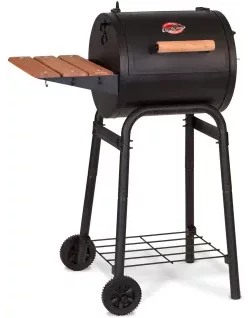 A small and portable grill that looks as good as it cooks, this Char-Griller Patio Pro charcoal grill is one of the smallest barrel charcoal grills, you'll find but also one of the most convenient when it comes to function and portability.
It's also one of the most affordable items in this list; so, if you're looking for the best portable charcoal grill for smaller budgets, this is a great choice.
There are a few complaints about this grill being difficult to assemble, and to be honest, the instructions are pretty confusing (but who needs 'em, anyway?).
But once you've gotten the frustration of setting it up out of the way, you'll be glad you chose this grill. You won't have any problems with it beyond the assembly.
Perfect for cooking two hearty-sized steaks, this is a wonderful grill for a single individuals or young couples who like camping or picnicking. It's also a great option for people living in apartments who still want to enjoy the grilling life.
Though simple, the grill works wonderfully with simple grilling, as you can't really use it to smoke meats, even if it does have an air vent.
It also comes with a side shelf, which is very useful to have on charcoal grills.
There seems to be a small issue with grease and ashes falling/leaking from the grill, but we're pretty sure that was an assembly problem more than anything else (perhaps we need the instructions after all). Just be sure to follow the instructions to a T to avoid any problems.
Pros
Simple, but useful for grilling simple meals
Made with high-quality materials
Compact and portable
Looks great
Cons
Difficult to assemble
Not good for a family
No grease hole or tray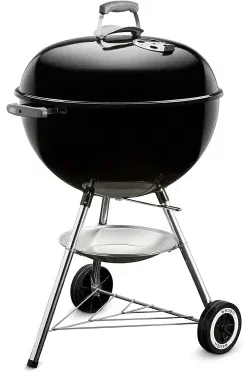 An all-time favorite, the Weber Kettle Charcoal Grill is one of the most popular models of charcoal grills wherever it's being sold, and it's easy to see why.
Affordable yet very useful, this kettle grill offers 363 square inches of cooking surface, and is as sturdy as they come.
Easy to assemble thanks to the simple instructions, easy to clean thanks to its "one touch cleaning system" that collects the ash efficiently, this grill is perfect for those who want to grill with as little hasstle as possible.
This may be the best charcoal grill on the market in terms of performance. It offers you a good level of control when it comes to temperature. It can also be used as both a smoker and a grill, making it a versatile charcoal grill.
Nothing is perfect, though, and that includes this grill; we've found that the lid handle can get really hot. Make sure to purchase a cover with the grill to prevent any accidents while you cook.
The biggest problem, however, is the dreaded rust, as this grill doesn't handle humidity well at all.
Pros
Easy to clean
Very practical
Works great
Looks great
Reliable brand for charcoal grills
High-quality materials
Cons
Handle can get hot
Rusts easily if not properly cared for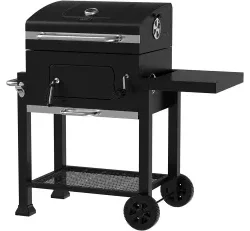 As the name implies, this is the grill you get when you're planning on grilling a lot and for a long time.
Sturdy but a little tough to assemble, the Expert Cast Iron Charcoal Grill just looks like it means business. And it sure does. It has an impressive 372 sq.in cooking surface and cast iron grates.
Not only that, but this grill comes with an sizeable charcoal pan that can be moved up and down to change the heat level, as well as a temperature gauge.
This is a rather heavy grill, particularly since it also comes with a foldable side table and storage shelves, but the wheels do make it easier to move.
Perhaps the most peculiar thing about this grill is the charcoal chamber, which looks like something out of the steam era, but works very well. That said, it doesn't make cleaning easy.
Another peculiar thing to note is that this grill comes with a built-in bottle opener, perfect to crack open a cold one with your friends!
Pros
Sturdy, heavy-duty
Reliable
Plenty of cooking space
Adjustable cooking grate
Moveable thanks to the wheels
Cons
No vents
Hard to clean
Heavy
So, there you have it: Our list of great charcoal grills on the market this year. There are many types of charcoal grills out there, all with different functions, so be sure to pick the right one for your needs.
Have questions or comments? Leave them below!
Editor's Choice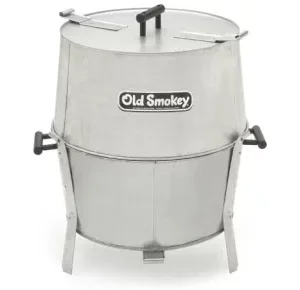 Old Smokey #22 Charcoal Grill

Talya Davis
Talya, like all members of the HomeDesignX team, is enamored by all things related to cooking and eating. She's written cookware articles for numerous publications before working with her lifelong friend Jessica to create their very own website on cookware.
She's currently writing a book on induction cooktops, and enjoys making clean, vegan meals for her family.