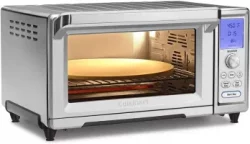 Are you looking for a high-quality toaster oven? Here's our full review of Cuisinart TOB-260N1 Chef's Convection Toaster Oven and why you should buy this Cuisinart oven.
About Cuisinart
Cuisinart was founded in 1973 by the late Carl Sontheimer. He introduced America to a new tool that was about to transform the food processors' culinary world. Food processors were hailed revolutionary as the kitchen appliance. They were immediately recognized as an essential tool for making fine food and healthy dishes. Now, this prestigious brand is not limited to food processors.
Unplugged or plugged, Cuisinart has got all your kitchen needs covered; thus, making a name for it globally by delivering quality products. But they are not known only for their products. They assist the home cooks with tips, recipes, techniques, etc. for utilizing their products to their optimal potential as culinary tools.
Cuisinart has won numerous awards thanks to their innovative and top quality products. Some of them (but not limited to) are The Gold Hermes Award, Good Design Awards, The Gold Summit International Award, etc. Their motto, "Savor the Good Life," is truly delivered with their quality and service.
Here, in this article, we are going to pick one of the finest creations of this brand – the Cuisinart TOB-260N1 Chef's Convection Toaster Oven. Let's read further to understand in detail of what this product has for us to serve.
Read more: Detailed Product Review: Cuisinart TOA-60 Toaster Oven Air Fryer
Quick Facts
100% Function
95% Design
100% Reliability
99% Overall
Cuisinart TOB-260N1 Chef's Convection Toaster Oven: Full Review
Cuisinart TOB-260N1 Chef's Convection Toaster Oven is a kind toaster oven with massive 15 cooking functions. Integrated with both classic and modern looks, the oven is made from brushed stainless steel. The special setting structure offers special settings for sandwiches, convection, and bagels. The Cuisinart TOB-260N1 doesn't need much of a time heating up, thanks to the 1800 Watt power. However, the 'Exact Heat' sensor doesn't let the food inside burn while keeping a precise required temperature at desired spots.
The 'Always Even' toast control makes sure that everyone gets the perfect shade on their toast, always. The oven dimensions are 20.87 x 16.93 x 11.42 (in inches) and weigh 32.4 pounds. The easy-clean non-stick interior area is 0.95 cubic feet. It can easily fit a 13 inches pizza, nine slices of toast, a 9 x 13 (in inches) baking pan, and a whole chicken. It includes two oven rack, 9 x 13 (in inches) enamel baking/drip pan, broiling pan, removable crumb tray, 13 inches pizza stone, and a recipe booklet.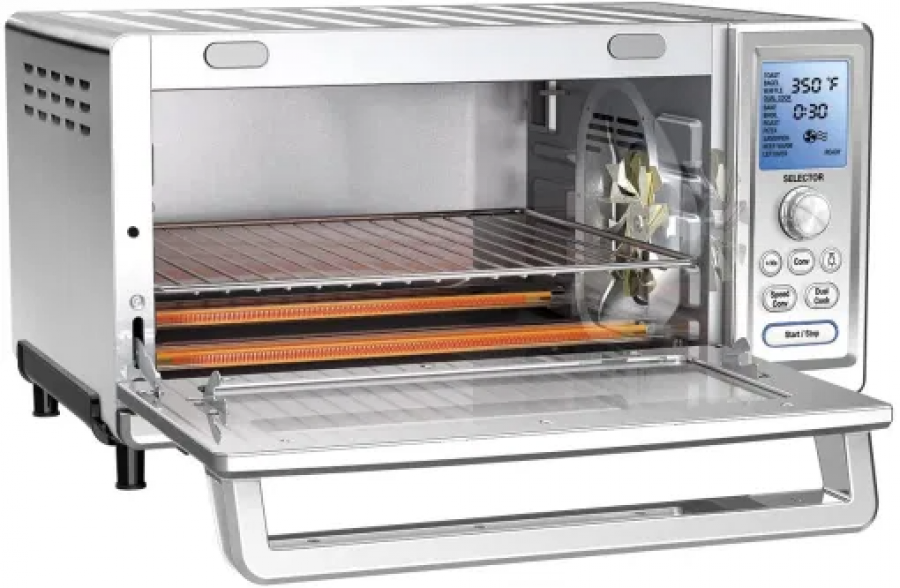 Features of Cuisinart TOB-260N1 Chef's Convection Toaster Oven
15 cooking functions
Powerful 1800-watt power
Spacious interior
Digital controls with interior light
Automated door control sensor
Exact Heat Sensor
Always Even Toast function
Nonstick coating interior
Automatic Slide-out Rack
Slow Cooking Function
BPA-Free accessories
2 Convection baking settings
Pizza-size heating function
4-Rack Positions
Pros of Cuisinart TOB-260N1 Chef's Convection Toaster Oven
The Cuisinart TOB-260N1 Convection Toaster Oven generates heat with 1800 Watts of power, and this oven has an interior area of 0.95 cubic feet.
The oven's preset settings include 15 different cooking functions. They include dual cook, sandwich, speed convection, toast, bagel, keep warm, roast, bake, pizza, defrost, waffle, broil leftover, etc.
It also comes with an interior light so that you can witness the cooking process yourself.
The oven features digital controls, powered by a blue-colored backlight.
The Cuisinart TOB-260N1 Convection Toaster Oven has a clock, which features a timer that goes up to 2 hours.
The timer has an additional feature that allows the user to add 30 seconds to any cooking function or setting.
The oven features a front pull-out crumb tray along with an automated door sensor, which ensures that your oven only turns on when the door is closed properly.
The 'Exact Heat Sensor' senses the oven's environment and maintains a stable temperature based on the settings.
The 'Always Even' toast shade control function ensures that you get consistent results with your required shade.
The oven's interior is made from a non-stick coating, thus making it easier to clean.
The racks would slide out automatically whenever you open the door after the cooking process. These keep your delicate hands away from the direct harsh environment inside the oven.
All materials of this Cuisinart TOB-260N1 are free from Bisphenol-A (BPA), commonly found in plastic products, and are very injurious to health.
The oven offers two convection settings. One is that convection can be turned on or off anytime, even between cooking if required. The second is speed convection, which does not require the oven to preheat. Both of these functions have separate command buttons allotted to them.
The oven adjusts the heat according to the size of the pizza. This saves both energy and time.
You can pick if you want a crispy crust or want to play with the flavors using the slow cook function. This function allows you to let your meal simmer for up to 4 hours.
This oven provides you four separate rack positions. You can use two racks simultaneously in this oven.
Cons of Cuisinart TOB-260N1 Chef's Convection Toaster Oven
The Cuisinart TOB-260N1 Convection Toaster Oven does not offer an insulation facility, and the buttons are fragile. The labels also come-off sooner than expected. The chances of fire-hazards are high.
Although the company claims the oven to be spacious, the interior space is limited and is not suitable for air frying.
Should You Buy Cuisinart TOB-260N1 Chef's Convection Toaster Oven?
Yes, of course!!!
The Cuisinart TOB-260N1 Convection Toaster Oven provides you an array of functions that are flexible to your cooking habits. If you don't like the hassles of analog settings, you can pick one from the preset cooking settings offered. If you do like the analog settings, you can do that too. The material is sturdy, and the cooking options are limitless. You are free to use it for simple heating the leftovers or experimenting with recipes.
Our Verdict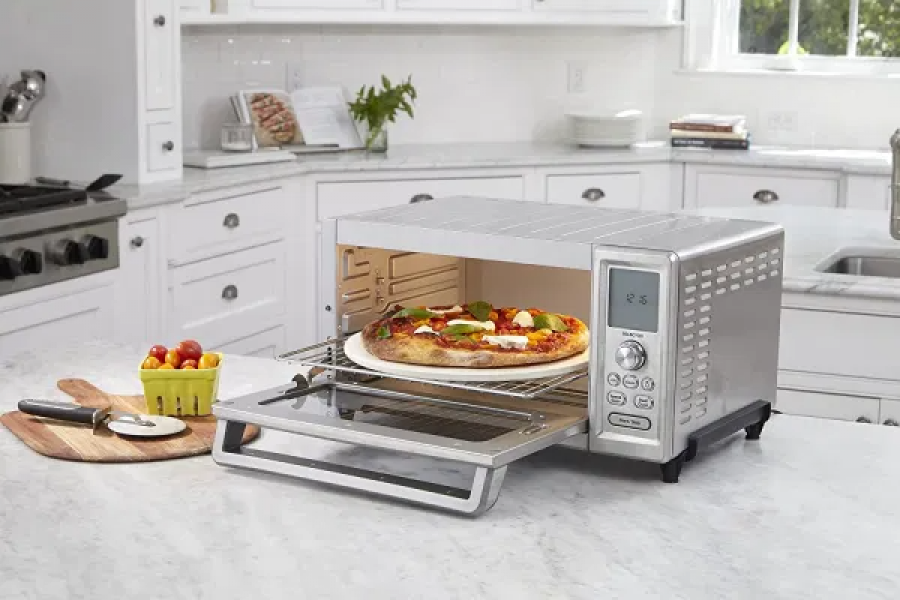 The Cuisinart TOB-260N1 Convection Toaster Oven is unmatched in the price range when it comes to the cooking possibilities. It's spacious, easy to clean, sturdy, consumes a fair amount of energy, and has varieties of functions offered. The exterior does have overheating issues, but that's not a huge drawback if you read the instruction manual and keep it away from all flammable objects. All in all, it is a good buy.

Talya Davis
Talya, like all members of the HomeDesignX team, is enamored by all things related to cooking and eating. She's written cookware articles for numerous publications before working with her lifelong friend Jessica to create their very own website on cookware.
She's currently writing a book on induction cooktops, and enjoys making clean, vegan meals for her family.