2nd Best Choice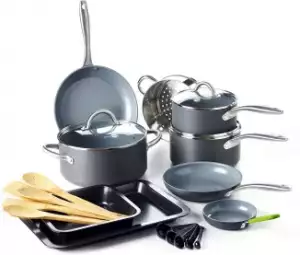 GreenPan Lima Ceramic Non-Stick Cookware Set
Check Latest Price
Editor's Choice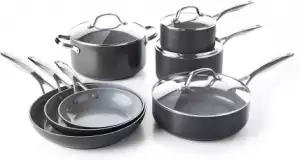 GreenPan Valencia Pro Healthy Ceramic Nonstick Cookware Set
Check Latest Price
3rd Best Choice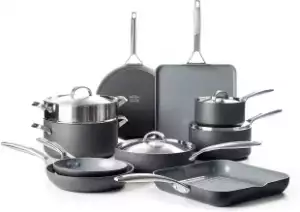 GreenPan Paris Pro Hard Anodized Healthy Ceramic Nonstick Cookware Set
Check Latest Price
Are you looking for the pros and cons of Green Pan cookware? Here is a full review of Green Pan and a list of the best Green Pan cookware sets you should buy.
Let's get into an in-depth Greenpan cookware review to clear all your questions and concerns, and break down the best Greenpan cookware sets.
5 Best Green Pan Cookware Sets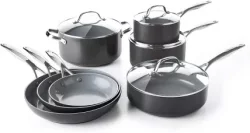 The Valencia line of cookware is made to be as scratch-resistant and durable as possible. This means it's safe to use metal utensils on it and it won't warp over time.
They are also dishwasher safe, although the brand recommends handwashing instead. This cookware comes with a limited lifetime warranty.
The nonstick power of the Greenpan Thermolon™ technology really shines through with the Valencia cookware. If you're someone who makes a lot of omelets, you'll love how easily eggs slide right out of the frying pan!
It's also worth noting that this cookware is easy to clean.
Quick Facts
No. of Pieces: 11
Material: Hard Anodized Aluminum
Dishwasher Safe: Yes
Oven Safe: Yes
Pros
Induction-compatible
Diamond-reinforced ceramic nonstick coating
Metal utensil-safe
Magneto™ Induction Base allows for even heat distribution on all cooking surfaces
Stay-cool stainless steel handles
Dishwasher safe but hand washing recommended
Safe up to 600°F and glass lids up to 425°F
Cons
Some models don't come with lids, so be sure to check.
Although I haven't experienced it with my cooking test, some have complained about discoloration, likely due to overheating.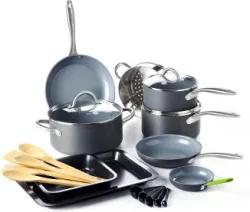 The Greenpan Lima Cookware Set is a good choice if you're looking for a solid ceramic cookware set without breaking the bank. We bought this cookware set to test it out (as with the others on this list) and can say that it does the job well.
Like other Green Pan cookware lines, the Lima set is made without PFAS, PFOA, lead, or cadmium.
There's a nice variety of cookware pieces here, and it even comes with earth-friendly bamboo utensils so you don't have to worry about scratching your new kitchenware!
Because this cookware is made with anodized aluminum, it's very responsive to changes in heat, meaning it'll heat up faster and cool down just as quickly. This cuts down cooking time significantly.
The only downsides we could find during out test were that the cookware is hand-wash only, not dishwasher compatible, and that the exterior seems to darken after many uses.
Quick Facts
No. of Pieces: 18
Material: Hard Anodized Aluminum
Dishwasher Safe: No
Oven Safe: Yes
Pros
Hard-anodized aluminum, which makes the cookware very responsive to heat changes
Ceramic Thermolon non-stick coating
Nice variety of cookware in this set
More affordable than other Greenpan lines
Easy-grip, stainless handles
Toxin-free
Can handle up to 600°F (425°F for the glass lids)
Cons
Exterior may darken with use
Hand-wash only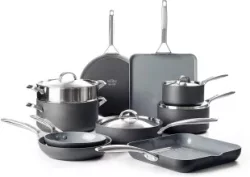 The Green Pan Paris Pro collection is a delightful combination of class and convenience. They are made of highly durable hard-anodized aluminum, which offers excellent heat conduction and distribution. This makes chef-like cooking easy.
The Thermolon nonstick coating makes this cookware hassle-free. No more sticking, scrubbing, and scratching. Cleaning is convenient as it is dishwasher-safe.
This 14-piece cookware set can satisfy the needs of any experienced cook. It is compatible with all types of cooking tops, including oven and grill. It can tolerate heat up to 600F, meaning you can cook delicious frying pan pizzas and cake.
The lids are made of heavy-duty stainless steel, and the handles are riveted to stay cool with ergonomic design.
You can even use this cookware on induction cooktops.
Quick Facts
No. of Pieces: 14
Material: Hard Anodized Aluminum
Dishwasher Safe: Yes
Oven Safe: Yes
Pros
Hard-anodized aluminum construction
Excellent thermal conductivity
Thermolon non-stick coating
Stainless steel lids for oven-safe cooking
Riveted, ergonomic-design handles
Thermolon minerals, matte ceramic interior
Scratch-free cooking surface and durable hard exterior
Cons
The anodized aluminum body may be slightly thinner than on other Greenpan lines.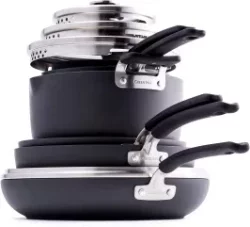 This stackable set of cookware from Greenpan has everything you'd expect from the brand: The same Thermolon nonstick coating, sturdy quality, and beautiful design.
What makes this set different from the others, though, is its stackability; when stacked, the cookware set stands only 9.75" tall, saving you 30% more space in your cabinet!
This cookware is more pricey than other sets on this list.
Quick Facts
No. of Pieces: 11
Material: Hard Anodized Aluminum
Dishwasher Safe: Yes
Oven Safe: Yes
Pros
Stack together, designed to save space in your kitchen
Thermolon Diamond Advanced nonstick coating
Safe for use with metal utensils
Grill pan with built-in ridges for grill marks
Dishwasher safe. though handwashing recommended
Lids come with built-in strainers
Cons
Only come in black, which may not suit everyone
Not induction-compatible
Can only handle up to 400°F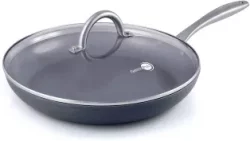 This 12" frying pan is priced very reasonably for what you get, and, like all cookware made by Greenpan, it's made without PFAS, PFOA, lead, or cadmium. That's why it's our top pick for the best frying pan.
Whether you're making eggs for breakfast, grilled cheese for lunch, or a steak for dinner, this frying pan with its smooth, stainless steel handle will get the job done perfectly. It's a great choice if you want a Teflon/PTFE-free ceramic pan with even heating.
Quick Facts
No. of Pieces: 10
Material: Hard Anodized Aluminum
Dishwasher Safe: No
Oven Safe: Yes
Pros
Oven and broiler safe to 600°F
Comes with a glass lid, safe up to 425°F in the oven
Made of hard-anodized aluminum
Drip-free rim
Stainless steel handles
Cons
Hand wash only
Not induction compatible
If you need a comparison between GreenLife and Green Pan, see the articles below :
Greenpan Cookware Review (Brand & Cookware)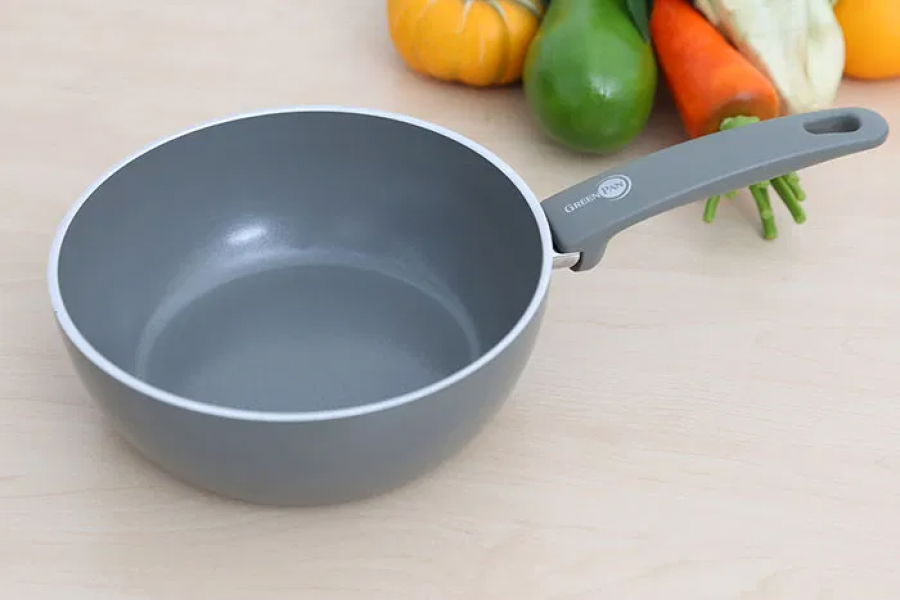 1. Product and Brand Value
We reviewed all the non-stick frying pans from Green Pan under multiple criteria, such as evenness of cooking, non-stick durability, and non-stick food release.
In terms of even cooking, Greenpan pans are thick enough to hold heat well and evenly distribute heat so there are no hot spots in the food. For this reason, we give Green Pan frying pans a recommendation in this field.
In addition, the non-stick worked well. Food that was only slightly oiled slid right off the frying pan after cooking.
The anti-scratch promised by the brand is another reason to go with Green Pan. It really is a good value for the money you spend, especially if you buy a set like the 14-piece non-stick cookware pots and frying pan set shown above.
In terms of quality and brand recognition, the product is becoming highly popular among households. The high-quality ceramic, nonstick Thermolon coating, and overall performance of the cookware make it appealing for any type of chef.
2. Design and Construction
GreenPan offers many different cookware sets, all with their own unique designs, so it's not easy to rate the design and construction based on a single product line.
Most of the pans by Green Pan are made of aluminum (anodized). Of course, they also all come in different colors. There are similarities between all Greenpan-made cookware, though: They have nice shapes, flat bottoms for even cooking, and ergonomic designs.
Our favorite cookware for its design is the Green Pan Paris Pro Series. It's got a shiny, modern look to it, while also being sturdy and convenient to use for cooking.
Everything about the Paris skillets and nonstick pans makes it a good choice. It has a nice amount of weight to it, and the size is perfect for most cooktops. The construction is hefty and solid. Its hard-anodized aluminum coating with Thermolon is what makes its body durable.
It has stainless steel, oven-safe handles. I like the overall construction of the cookware. It's also worth mentioning that the rims of the skillets are drip-free!
3. Compatibility and Performance
The Paris collection by Green Pan is compatible with most stovetops, like glass stove tops, gas stoves, ceramic and halogen ranges, and ovens.
The hard anodized aluminum cooking performance is great on all cooktops. You can get a better result with low-temperature cooking than most other brands. The ceramic Thermolon coating inside evenly spreads the heat and retains it effectively, which means it requires less energy.
The brand also claims its cookware does not release toxic fumes at any temperature, unlike cookware made with PFOA or PTFE. I suggest cooking at a high temperature to reduce the time it takes to heat the frying pan, but be aware that over time, cooking with only very high temperatures will reduce the lifespan of your cookware.
4. Cleaning and Maintenance
As mentioned above, the cookware set is made of hard-anodized aluminum and matte ceramic Thermolon coating. The way you should take care of them may slightly differ from what you're used to. You should only use utensils made of wood, silicone, or plastic while cooking.
After cooking, you should wait for the cookware to cool down completely to avoid thermal shock from washing. You can wash it with slightly warm, soapy water and a sponge to clean the interior before drying it.
You can store the cookware after drying it completely. And for proper maintenance, do not keep the pots or pans one directly inside another. You should instead keep a protective sheet in-between to minimize any wear and tear.
5. How Green is Green Pan Cookware?
If you're looking for pots and non stick pans that have a less damaging effect on our environment, GreenPan is the way to go. While most nonstick coatings are made of plastic, Greenpan uses ceramic from sand to make their trademark Thermolon nonstick surface.
In addition to being good for the environment, the fact that Greenpan doesn't contain plastics also means that there are no toxic fumes released during cooking, since they're free of PFOA, PTFE, lead, or cadmium.
Greenpan products are made with recycled materials, including recycled aluminum. According to their website, their cookware manufacturing process emits 60% less carbon dioxide than brands that use PTFE coatings.
The cookware itself is not the only aspect of GreenPan that is earth-friendly; the company itself has its own wastewater treatment plant, and runs on 30% solar energy.
This is why Greenpan is ideal if you're looking for environmentally-conscious cookware.
6. Pros of Green Pan Cookware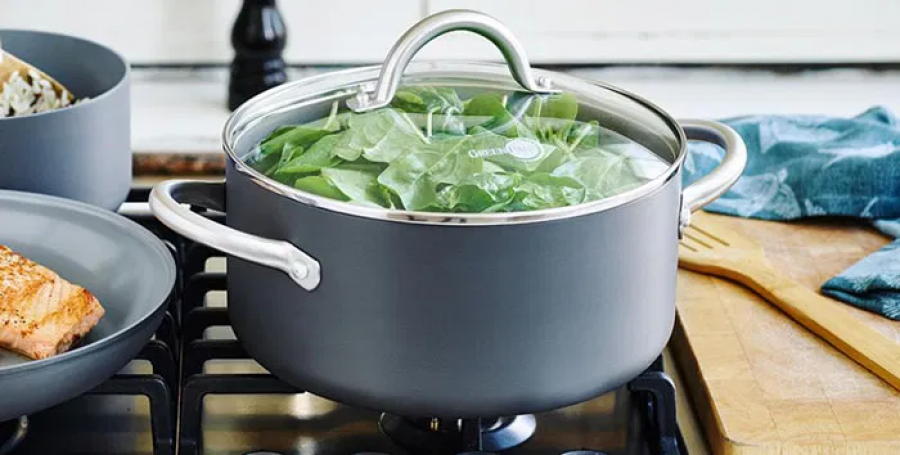 Thermolon surface without Teflon coating makes it free from toxins and all other harmful chemicals, including PTFE, PFOA, nickel, cadmium, and lead.
You can make healthy, low-calorie diet meals with these pots & pans. That's because you can cook delicious, mouth-watering dishes with minimal to no oil or butter.
Cleaning up the slick surface is a breeze! You can hand-wash these Green Pan pots and frying pans because of the non-stick coating. Also, it is dishwasher-safe.
The cookware pieces may look heavy, but they are not cumbersome. In addition to being easy to handle, this cookware is thick, durable, and sturdy enough to last for years to come.
The hard-anodized aluminum construction ensures fast heating and even cooking.
The Thermolon ceramic coating is a good heat conductor, which means it spreads heat more evenly for better cooking than any other products available.
The fact that the cookware isn't made with plastics means it's environmentally friendly, as well as healthier thanks to the lack of toxic substances that could otherwise leak into food at high temperatures.
7. Cons of Green Pan Cookware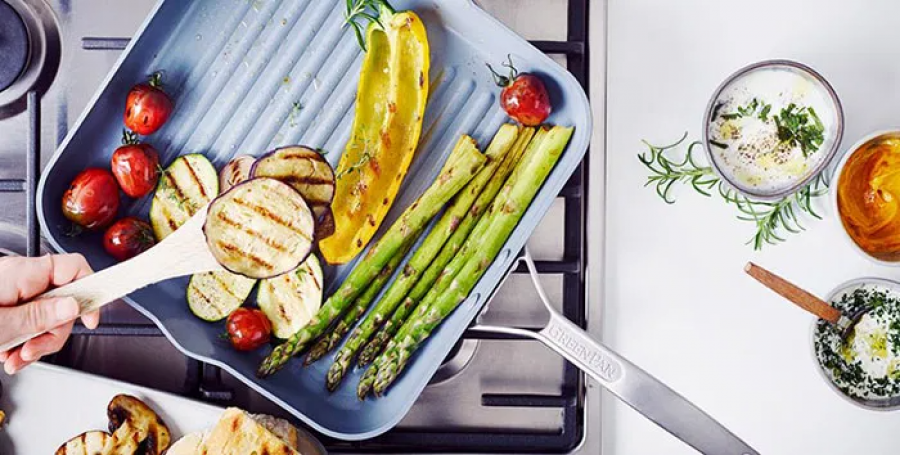 Induction Capability: While some cookware sets by Greenpan (such as the Paris Pro set) are induction-ready, many Greenpan products are not. If you're looking for induction-compatible cookware, make sure the Greenpan set you're looking at meets this criteria.
Price: Greenpan is slightly more expensive than traditional non stick cookware and Teflon coated cookware, but for good reason. The higher price tag is not unjustified.
Caring for Green Pan Cookware - Quick Guide
If you treat these pans well and follow the instructions outlined in the manual that comes with the sets, they can last you for years to come. Here are a few easy tips to make sure your nonstick pans maintain the best performance and keep working well, meal after meal.
Tip #1: Proper Storage
You must store the cookware properly without causing any wear and tear, as some pans and pots can get scratched rather easily. If you don't properly maintain the cookware, the durability will suffer.
Tip #2: Scratch Prevention
For a better and longer life, you should avoid using any metal utensils or cutting food inside the frying pan. Doing such things can create small scratches along the cooking surface where oil and food get stuck and carbonize.
Therefore, you should stick to using only wooden, silicone or plastic utensils for this cookware. As shown above, some sets (such as the Lima ceramic cookware set) come with bamboo utensils that are safer to use.
Tip #3: Use the Right Oil
These pans are non-stick, meaning you shouldn't need to use any type of oil, grease, or butter to lubricate them. Your food should slide right onto your plate after cooking.
However, as noted by the brand, it's not recommended to use extra virgin olive oil when cooking with these pans. This is because this oil has a low smoke point.
Therefore, to make sure your non stick pans last as long as possible, use an oil with a high smoke point, such as almond, avocado, vegetable, corn, canola, grapeseed, peanut, or sesame oil (butter is also okay!)
Tip #4: Avoid Overheating
Because the Thermolon coating of these pans allow for great heat distribution, heating more evenly and easily across the frying pan, it's best not to use high heat while cooking. You can use low to medium heat and it will still cook your food just as well, while also preserving the life of the pan.
Tip #5: Proper Cleaning Instructions
Many of these pans and pots are dishwasher-safe. However, if you happen to buy Greenpan cookware that isn't dishwasher safe (or you simply prefer to wash them by hand), here's a few tips on how to do so properly.
Firstly, make sure you're using a soft sponge.
Use warm, soapy water. Don't use abrasive detergents.
Avoid steel wool.
Don't wash your hot pans in cold water - this is a risk of thermal shock, which will warp cookware. This applies to all pans. Let them cool or use warm water instead.
If you want to be extra safe, get yourself a pan protector to avoid dinging cookware in the cabinets.
Customer Reviews
"I like the cookware set. It looks stylish and feels durable. I've used it for a long time now. I always used medium heat only and clean after cooling properly. I never find issues with sticking while cooking and only use a bit of butter to make most dishes." – Charles W.
"I was searching for cookware set for a long time. I found this product and read many reviews about it. The product is green and non-toxic which is great, and I've used it for more than five months now. I am very happy with the quality of the cookware. All the pots and fry pans' Thermolon non-stick coating is perfect. I would recommend buying this set." – Harish C.
"I am going to use these non stick pans and pots for a long time. I'm so much happier with Green Pan cookware. The non-stick ceramic coating inside is reinforced and clearly well made. The exterior is designed for hard anodized for maximum strength. It is scratch-resistant and has excellent heat conduction for great, even cooking." – Mary R.
"I received this as my wedding gift. I was reluctant to use them in my new kitchen until I opened the box - they looked awesome, both in color and design. Finally, I decided to use them for a few simple dishes. The cooking experience is great; the food tastes good – all the moisture and the flavors remain intact. The only issue I am facing is the overheating of the handles. When I cook on high heat, the handle gets hot. So you can use mitts if you have them. Or you can simply lift the lids. Overall, because my meals turnout was delicious, I am definitely happy with this set of pots and pans. I look forward to using them again and again in the coming years." – Melissa N.
Frequently Asked Questions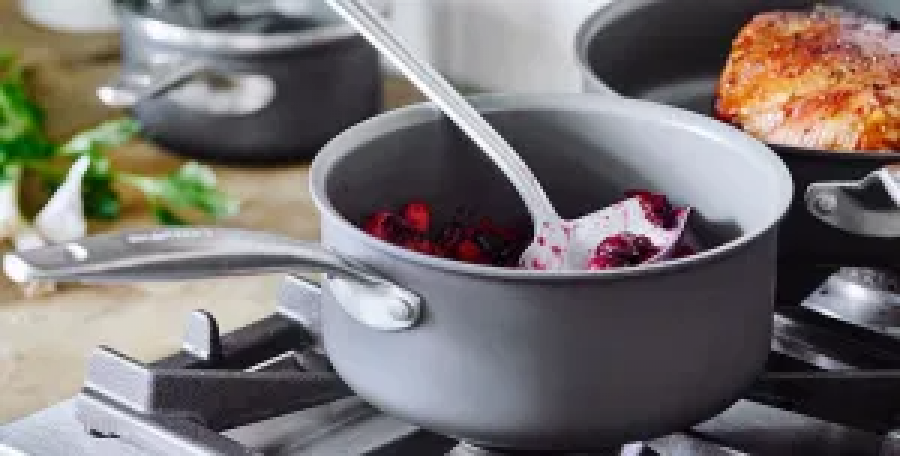 1. How should I clean Green Pan cookware?
First, allow the frying pan or pot to cool down completely so that you can avoid causing thermal shock or deforming. Then, wash the cookware using warm water and a soft sponge with liquid soap. Don't use abrasive wool pads to rub it. You can dry it out with any soft towel, and voila!
2. How can you clean burnt oil from a Green Pan?
This is a bit trickier. To get rid of burnt oil, add three teaspoons of baking soda, hot water and cook the mixture for around 15 minutes. This baking soda will dissolve the burnt remnants and remove them easily. For a better result, you can also add some vinegar to this mixture as well.
3. Is Green Pan a recommendable brand?
Yes, we highly recommend Green Pan cookware. It's well-constructed, earth-friendly, easy to clean, and easy to use.
While GreenPan sets may cost you a little more than other stainless steel or cast iron brands, I believe it's worth the investment thanks to its durability alone. It's also more lightweight than cast iron or stainless steel pans.
The cookware sets are made of high-quality, non stick coating, and aluminum bases for a perfect cooking experience.
4. Is Green Pan cookware non-toxic?
Green Pan is a well-known Belgian brand made of non-toxic Thermolon™, a ceramic coating derived from sand. It includes no PTFE, PFOA, lead, or cadmium, and is heat-resistant to a maximum of 450 degrees Fahrenheit. This means you won't have to worry about toxic fumes being released when cooking.
Final Words on Greenpan Cookware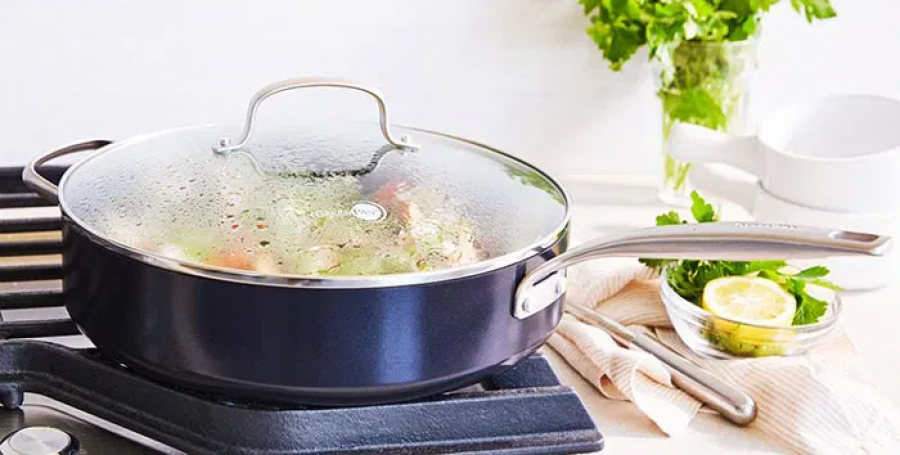 I would personally recommend purchasing the GreenPan Valencia Pro Cookware Set. It's solid, durable cookware that's also non-toxic and has a good brand reputation. I feel I made the right choice paying for these nonstick pans and pots and am happy with my decision.
For everyday folk and professional chefs alike who want cookware without Teflon, PTFE, PFOAs and so on, it does the job well!
Editor's Choice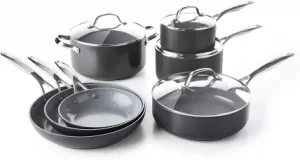 GreenPan Valencia Pro Healthy Ceramic Nonstick Cookware Set
No. of Pieces: 11
Material: Hard Anodized Aluminum
Dishwasher Safe: Yes
Oven Safe: Yes

Talya Davis
Talya, like all members of the HomeDesignX team, is enamored by all things related to cooking and eating. She's written cookware articles for numerous publications before working with her lifelong friend Jessica to create their very own website on cookware.
She's currently writing a book on induction cooktops, and enjoys making clean, vegan meals for her family.