If you are looking for a convenient cookware set and that provides hassle-free cleaning, then you've come to the right place as we have narrowed down the best options for you. Many people are confused between GreenPan vs GreenLife as they have several similarities; however, being different brands, they obviously pose several differences too.
This article is an in-depth comparison guide, which will help you in selecting the best cookware brand among these two. This guide will also help you in determining which best fits your kitchen. Despite their similarities, the major differences between the two include the heat resistance, the material used for building, and types of handles.
Check Full reviews of GreenPan and GreenLife cookware below:
GreenPan vs GreenLife: Let's get started!
#1: GreenPan Valencia Pro Ceramic Nonstick, Non-Toxic 11-Piece Cookware Set
Check Latest Price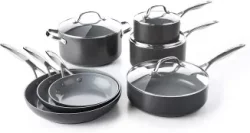 GreenPan is considered to be one of the renowned brands in kitchen and cookware sets. They are widely popular for their ceramic pots and pans and have built a huge consumer base due to their trusted products. The GreenPan cookware is made with thermolon technology, which includes a ceramic and non-stick surface.
It has aluminum construction, which ensures durability and great overall performance for a long period. It also has special features for temperature control, which gives a hassle-free cooking experience as well as reliability. Also, the exterior of the cookware set is made from such materials that it is easy to clean and use.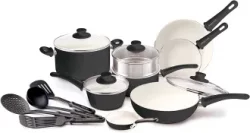 GreenLife cookware set is perfect for you if you are looking to switch to healthier cooking than ever before. If you an amateur at health-based cooking, then you will find that GreenLife is very lightweight and easy to use. Additionally, it does not contain toxic materials and chemicals such as PFOA, PTFE, lead, and cadmium; therefore, you can rest assured that this cookware set is made of 100% food-grade material.
This GreenLife cookware set is made from a ceramic aluminum body along with a solid base, which ensures a strong built with high durability of the materials. The added aluminum has the benefit that the heat distribution will be equal on the entire cookware giving you seamless cooking experience. It has a non-stick surface, which is extremely convenient and handy.
At A Glance
Feature
GreenPan Valencia Pro Ceramic Nonstick, Non-Toxic 11-Piece Cookware Set
GreenLife Soft Grip 16-Piece Ceramic, Non-Stick Cookware Set
Quantity
11 Pieces
16 Pieces
Materials
Hard-anodized aluminum
High-grade reinforced aluminum
Non-Stick
Diamond-reinforced ceramic nonstick
Thermolon ceramic nonstick
Thermolon Ceramic
Yes
Yes
Versatility
Compatible with Gas, Electric, Glass/Ceramic, Induction, Oven
Compatible with Glass/Ceramic, Gas, Electric, Oven)
Non-Toxic
Yes (PFAS, PFOA, lead and cadmium Free)
Yes
Oven-Safe
Yes (Heat-resistance up to 600°F)
Yes (Heat-resistance up to 350°F)
Handles
Stay-cool V-cut Handles
Stay-cool Soft-grip Handles
Lids
Tempered-glass lids, Oven-safe up to 425°F
Tempered-glass lids
GreenPan vs GreenLife: The Similarities and Differences

1. Design and Construction
GreenPan uses a non-stick technology called thermolon for its construction. It has a more sturdy and heavyweight construction, which ensures a great and long-lasting performance. It also provides a feature of temperature control, which makes it more reliable. It has a durable construction that ensures seamless cooking for a longer period and without the need to replace it anytime soon.
GreenLife has a more lightweight construction and is best for chefs who dislike using heavy cookware. It is made from a ceramic aluminum body. The non-stick property of GreenLife cookware is on point, which allows you to cook food with no worry of spending hours cleaning it. The presence of an aluminum layer in GreenLife cookware ensures that there is an even and stable heat distribution.
PS: In terms of design and construction, GreenPan offers a more sturdy construction than GreenLife cookware; therefore, I go with GreenPan cookware here.
2. Material and Durability
GreenPan is made from aluminum and other non-toxic materials that are non-stick and highly efficient. Due to this, they require minimal oil for cooking, which makes the food healthy as well as cleaning an easier job. As this cookware is made from thermolon coated ceramic, it is highly durable, so you wouldn't need to worry about replacing it any sooner than a decade. It is a brilliant conductor of heat and takes minimal time to cook food.
GreenLife, on the other hand, uses top-notch materials for its built and blends it with state-of-the-art technology. Home chefs highly use GreenLife cookware as this thermolon coated ceramic is highly durable and can be used for cooking safely at high temperatures as well. Its non-stick coating doesn't contain materials like lead or cadmium, which ensures healthy and safe cooking.
PS: GreenPan promises better built and durability than GreenLife cookware set; after all, I prefer something that is elegant and can last for years.
3. Performance
GreenPan cookware company offers pots and pans with an additional aluminum layer, which makes it highly strong and durable. This, in turn, allows the food to heat up quickly and ensures a better performance. It has hard-anodized aluminum, which gives it a strong exterior base and allows you to cook different types of food at a low setting. The food doesn't stick to the pan, which allows you to have a seamless cooking experience. It cooks fast, delicious meals for the entire family.
GreenLife cookware is widely popular for its use of high-quality materials along with modern technology. It also has ergonomic handles and a bakelite design, which helps to keep it cool and makes the handling of the cookware easier. The non-stick features of GreenLife accentuate its performance to a higher level.
PS: After comprehensive research, I believe that the GreenPan cookware sets offer better performance for home-use than GreenLife cookware. What's above quick cooking?
4. Cleaning and Maintenance
Both brands – GreenPan and GreenLife are oven safe and dishwasher safe; however, again, after reviewing them, I highly recommend hand-washing them. Soap water will help you in maintaining the pots and pans for its extended life. Cooling them before using soap water is also essential to ensure high durability and optimum maintenance.
GreenPan manufacturer ensures that the cookware sets are dishwasher safe and can be used in a dishwasher, but it is safe to wash them by hand. Washing them by hand ensures a longer life of the pots and pans. GreenLife cookware requires a little extra attention when it comes to cleaning. When you start the cleaning process, ensure that the cookware is cooled down before washing it with lukewarm soapy water, after washing use a dry towel or soft cloth.
PS: GreenPan cookware demands minimal maintenance when compared to GreenLife. For me, it just took a soft sponge to clean all the dirt off the former's saucepan.
5. Cooktop Compatibility and Versatility
The GreenPan cookware is suitable for cooking on all stovetops, including gas, electric, glass and ceramic, induction, halogen, oven, and grill. It is compatible for cooking at higher temperatures, which makes it highly versatile when compared to GreenLife cookware sets. I tried using metal, wooden, and nylon utensils on these pots and pans, and they worked fabulous, leaving no scratches behind. Considering the size, the GreenPan pots and pans are bigger than GreenLife.
Now, when I checked the GreenLife cooking set, it mentions that they are suitable for cooking on gas, electric, and glass cooktops. You can use them in the oven; however, you cannot use them on induction cooktops. You can only use wooden and nylon utensils only on this cookware. The pots and pans packed are designed for small homes.
PS: GreenPan wins it here in terms of compatibility and versatility. I love something handy and versatile, so you know my answer here.
6. Value for Money
What does complete value for money mean to you? For me, it is a purchase that is cost-efficient and feature-rich, both together. Both brands offer warranties. In terms of price, the GreenLife cookware set is almost one-third of the price of the GreenPan cookware. The classic pro set by GreenLife is more fragile than the Paris pro set by GreenPan, making the former more susceptible to wear and tear than the latter.
The GreenPan cookware set has an extra coating, which makes it extremely durable, ensuring top-notch construction quality. It can withstand higher temperatures with the utmost ease. If you are not planning to cook at significantly higher temperatures, then the classic pro sets are an affordable and convenient choice.
PS: I was looking for a lifetime investment for my newly developed kitchen. I wanted it to be durable and cost-effective, and at the same time, I wanted no stones unturned. I chose the GreenPan cookware set.
Which Cookware Brand Is Better: GreenPan or GreenLife?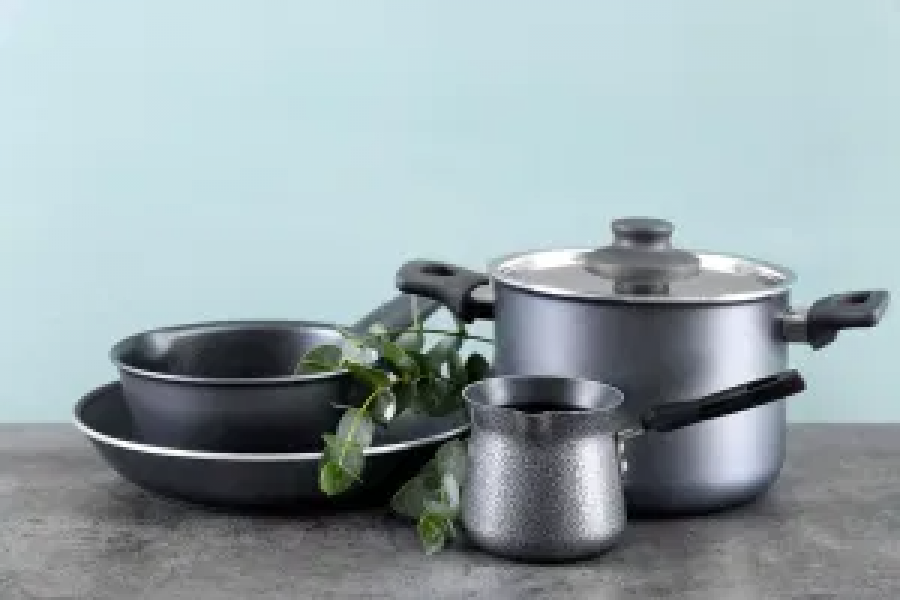 At first glance, both cookware options, along with their brand values, look great; they have similar features and specifications too. For me, it was impossible to choose between the two of them without wise research; therefore, after deep analysis, I found GreenPan cookware set promising.
The overwhelmed features of GreenPan cookware shadows the extra-ordinary 'look and feel' of GreenLife cookware. Although GreenLife cookware is power-packed with great features, it sets a point-of-doubt when it comes to long-lasting investment. Here, GreenPan cookware wins the race for me. What about you?

Talya Davis
Talya, like all members of the HomeDesignX team, is enamored by all things related to cooking and eating. She's written cookware articles for numerous publications before working with her lifelong friend Jessica to create their very own website on cookware.
She's currently writing a book on induction cooktops, and enjoys making clean, vegan meals for her family.