Are you thinking about switching to healthy and safe cooking? If that's the case, then selecting the right cookware plays a pivotal role in establishing this objective. Many cookware brands offer healthy and non toxic cookware, but Anolon and Circulon have pioneered this industry for over two decades now.
Both the brands have a huge, trusted customer base – and why is it so? They have been producing state-of-the-art cookware for decades now. If you are confused between the two, then don't worry, I've got you covered.
In this guide, I have picked the top-rated cookware set from each brand – the Anolon Advanced cookware set and the Circulon Symmetry cookware set. I am going to touch on the various factors of each, such as design, color, construction, performance, durability, versatility, compatibility, and costs. This analysis will help you understand the products, the differences, and the most suitable option for you. Let's have a look:
Anolon vs Circulon Cookware: Let's get started!
Anolon Advanced vs Circulon Symmetry: Reviews and Comparison Chart
#1: Anolon Advanced Hard-Anodized 11-Piece Nonstick Cookware Set, Graphite
Check Latest Price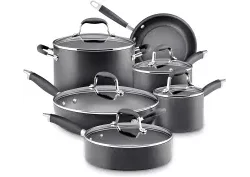 If exceptional kitchen creativity is on your mind, this Anolon Advanced cookware is perfect to start. This Anolon Advanced cookware set encompasses 11 pieces and is made from hard-anodized aluminum that reassures strength and durability to the highest amount. The presence of an aluminum base promotes heat distribution with no hot and cold spots.
Anolon Advanced cookware set has a timeless design that exudes class and excellent advanced features. The nonstick coating is made triple-layer to provide exceptional food release and cooking experience. It also features Anolon's signature SureGrip handles, which are extremely convenient and offer you a good grip while cooking. The shatterproof glass lids are an added advantage, and they are also oven safe up to 400oF. This is a hand-wash only cookware and comes with a lifetime limited warranty.
#2: Circulon Symmetry Hard-Anodized 10-Piece Nonstick Cookware Set, Chocolate
Check Latest Price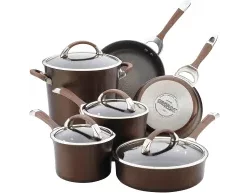 Circulon Symmetry cookware boasts exceptional cooking and culinary excellence to the highest amount. This ten pieces nonstick cookware set is made from hard-anodized aluminum and stainless steel base, which gives a strong, durable construction, even heating and a sturdy, peel-free surface. It has triple layers of premium quality nonstick material with raised circles for long-lasting food release. These pots and pans are induction safe, and you may use metal utensils when cooking on them. Cleaning is quick, convenient, and easy as the set is dishwasher-safe.
The presence of raised circles ensures that the nonstick feature lasts ten times longer and prevents the food from sticking to the pan. Circulon Symmetry uses the TOTAL nonstick system triple-layer coating to provide exceptional cooking performance. These chocolate pots and pans use minimal to no oil, which helps you to transition to healthy cooking faster. It has silicone wrapped stainless steel handles and is oven safe up to 400F.
At A Glance
Feature
Anolon Advanced Hard-Anodized 11-Piece Nonstick Cookware Set, Graphite
Circulon Symmetry Hard-Anodized 10-Piece Nonstick Cookware Set, Chocolate
Quantity
11-Piece
10-Piece
Materials
Hard-anodized aluminum
Hard-anodized aluminum with stainless steel base
Non-Stick
Yes (3-layer premium nonstick coating)
Yes (triple-layer total nonstick system)
Compatibility
Yes (except induction)
Yes (induction-safe)
Versatility
Yes (metal utensil safe)
Yes (metal utensil safe)
Non-Toxic
Yes (PFOA-free)
Yes (toxin-free)
Oven-Safe
Yes (up to 400F)
Yes (up to 400F)
Dishwasher Safe
No (hand-wash only)
Yes (hand-wash recommended)
Handles
Comfortable SureGrip Silicone Handles
Silicone-wrapped stainless steel handles
Lids
Tempered glass lids
Tempered glass lids
Anolon vs Circulon Cookware: The Similarities and Differences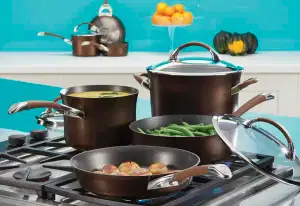 1. Design and Construction
Both of these brand's cookware is designed with much articulation and analysis into the modern needs required in the kitchen. Anolon cookware gives a classier and timeless look equipped with advanced features and modern technology. Its sleek design and durable construction are bound to give you optimum cooking results. Its premium nonstick layer, which is PFOA free, ensures healthy cooking.
Circulon brand's cookware is designed to keep versatility in mind. Its quality construction features tempered glass lids with stainless steel rims, which help in retaining the heat and flavor while you cook. The nonstick technology of Circulon is regarded as one of the best out there and lasts ten times longer than others.
PS: Both Anolon and Circulon have an attractive and trendy design. There is something about Circulon's contemporary design and durable construction, which attracts me the most. For me, Circulon wins this round.
2. Material and Durability
In terms of material and durability, both of these cookware sets are made from hard-anodized aluminum, which is a premium quality material and ensures high durability and sturdy construction. Anolon's outer surface is smooth and non-reactive, which makes it a perfect choice for healthy food. The aluminum base is a huge advantage and promotes even heat distribution and fast heating as well.
Circulon's interior feature an advanced system of nonstick layers which have raised circles for better cooking results and easy cleanup. It also has stainless steel handles that are covered with silicone giving a better grip and higher durability. The hard-anodized aluminum is a great conductor of heat and ensures that the food is heated quickly and the heat is distributed evenly.
PS: When it comes to material and durability, I prefer Circulon due to its premium material and durable construction as compared to Anolon. Circulon sets a superior example for me to invest in it.
3. Performance
Both of these brands have garnered a huge consumer base due to the exceptional performance of their products in decades. The presence of hard-anodized aluminum in these products enhances the performance of their cookware by a lot; the difference lies in the technology used. Anolon has SureGrip technology infused in its handles, which ensures that you can hold the pots and pans with the utmost ease. The tempered glass lids are shatterproof and allow you to see the food being cooked.
Circulon's silicone wrapped stainless steel handles are a big hit in the cooking industry as they offer a good grip and doesn't get too hot while cooking. Circulon's advanced nonstick technology amplifies its performance as it promotes healthier cooking.
PS: Both Anolon and Circulon are performance-oriented and give exceptional cooking results. Circulon wins this round for me in the performance aspect.
4. Cleaning and Maintenance
Cleaning and maintenance are regarded as one of the most important aspects while purchasing cookware as you would want one, which is easy to clean and doesn't take a lot of your time scrubbing. Anolon is made from triple-layered nonstick technology, which is easier to clean as the food doesn't stick to the surface. It cannot be cleaned in the dishwasher and can be washed by hand only.
Circulon is safe to be washed in the dishwasher and is easy to clean and maintain. However, it is well established that washing cookware by hand increases its life and durability by a lot. As Circulon requires less oil, it can be cleaned with utmost ease; however, the raised circles are a little difficult to clean thoroughly.
PS: Both Anolon and Circulon cookware are easy to clean and maintain, but I found Anolon setting a superior example here. The tables have turned, and Anolon brand takes the show.
5. Cooktop Compatibility and Versatility
The cooktop compatibility and versatility largely depends on the material used for construction. Both Anolon and Circulon are compatible with gas stoves, glass cooktops, ceramic, and electric stovetops. However, Anolon cannot be used on an induction stovetop, while Circulon can be used on an induction cooktop. It is highly advised not to use Anolon on the induction cooktop.
Both of these brands show versatility as an ample variety of food can be cooked on them due to their unique design and modern technology. However, Circulon shows more versatility as compared to Anolon as the former has the option of using metal utensils on them, which Anolon doesn't. This makes Circulon more versatile than Anolon.
PS: Anolon and Circulon, both show great versatility and cooktop computability. Circulon takes the crown here.
6. Value for Money
Value for money aspect is dependent on the performance, material, and durability of the cookware concerning the cost. Both of these brands have similar prices, which makes the decision-making process a bit difficult. Anolon gives exceptional performance and has a classy design. Its shatterproof lids and strong handles give convenience to the cook.
Circulon gives a good performance, and its unique design is the center of attention for many users. It is incredibly versatile and has proven to give exceptional cooking results to many users. When it comes to the overall performance and durability of the cookware, then Circulon gives you a better value for money than Anolon.
PS: For me, Circulon gives complete value for money. Circulon is better in terms of performance, durability, and construction aspects.
Which Cookware Brand Is Better: Anolon or Circulon?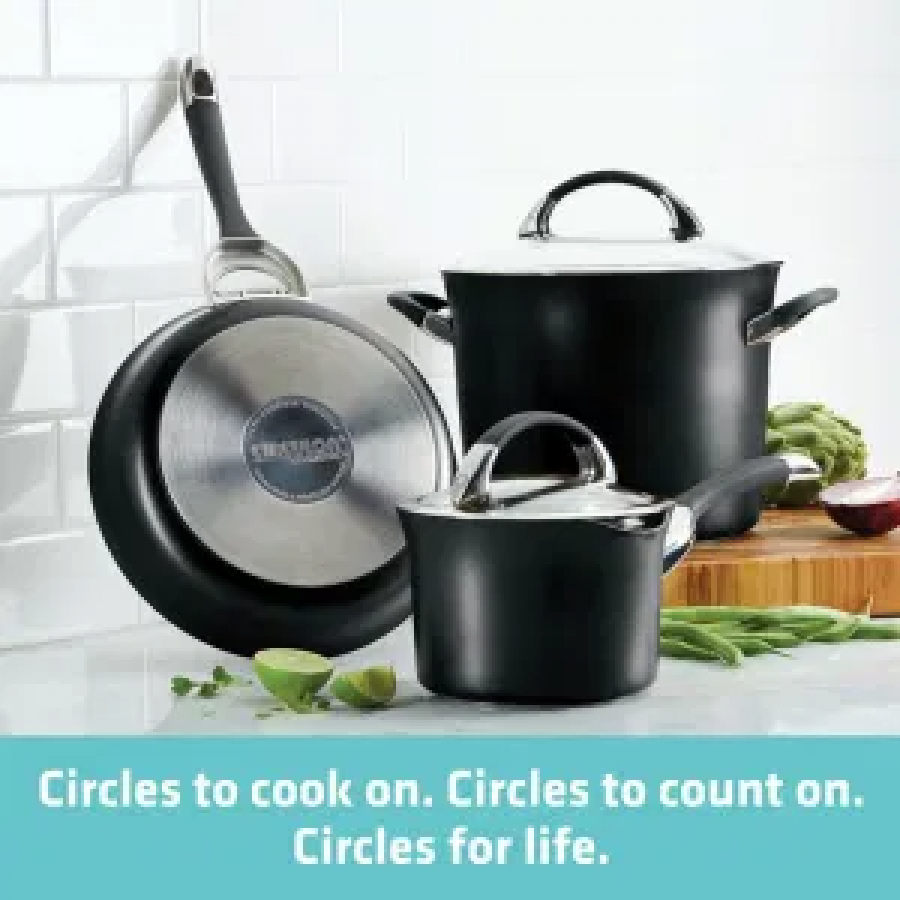 After comprehensive research on various cookware brands such as Anolon and Circulon, I have found Circulon Cookware Company to be a clear winner here. Its sturdy construction and unique design have proved worthy to be your cooking partner for a long time. Its advanced performance and high durability have attracted me the most. What are you thinking? Have you made your choice yet?

Talya Davis
Talya, like all members of the HomeDesignX team, is enamored by all things related to cooking and eating. She's written cookware articles for numerous publications before working with her lifelong friend Jessica to create their very own website on cookware.
She's currently writing a book on induction cooktops, and enjoys making clean, vegan meals for her family.