What makes you look around for a cookware set? It is the love for cooking or the urge to include an exclusive, long-lasting cookware set that meets all the end-requirements of your home kitchen. I have got it here for you. This is one reason why I am reviewing these two cookware collections too. We will look into both the cookware brands in detail, with an in-depth comparison of various features such as design, construction, materials, durability, performance, compatibility, versatility, and costs.
After this comparison, I will also share my views on these pots and pans to ensure that my views help you in making the right purchase. Let's start with understanding the cookware sets individually.
T-Fal vs Farberware cookware: Let's get started!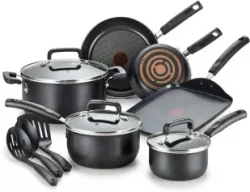 The T-Fal Signature cookware set is known for its thermo-spot technology and is uniquely-designed for home chefs with user-friendly features. It is constructed with heavy-gauge aluminum, which allows even heating across the pan's surface with long-lasting durability. This construction lets you cook food quickly with no hotspots behind. This cookware also features ProGlide durable nonstick coating that ensures that your food never sticks to the pans and pots, making food releasing and cleaning easy. This nonstick coating is recyclable and free of all toxins such as PFOA, cadmium, and lead.
This T-Fal set of pots and pans are compatible with most cooktops except induction. It is an oven-safe with a heat withstanding capacity of 350oF. It is dishwasher-safe; thereby, cleaning becomes quick, easy, and convenient. The 12-piece black cookware set includes ergonomic, stay-cool handles, scratch-free, tempered glass lids, and a spoon, ladle, and slotted spatula, which are made of nylon material. You should not use metal utensils with this cookware set. The lids are vented and allow all the food's flavors, juices, and moisture intact, whether you are searing or sautéing food. This set of pots and pans comes with a limited lifetime warranty.
MORE ABOUT T-FAL COOKWARE:
T-Fal Stainless Steel Cookware Review: Ratings & Brand Evaluation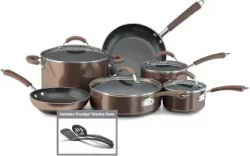 Farberware Millennium collection is an exclusive set of pots and pans to invest in. The cookware set is made of porcelain enamel exterior, which makes it extremely stain-resistant. It promises high durability, reliability, and exceptional performance. It is an ideal inclusion to make for home kitchens. This 12-piece cookware set also features the SmartGlide Pro nonstick technology with a unique dimpled surface. This makes even heat distribution and quick cooking possible for prolonged use. This top-quality nonstick system with a metal guard is born to last for years together.
The nonstick coating of this cookware set is safe for use with metal utensils and is long-lasting. It is compatible for use with most stoves except induction cooktops and being oven-safe, it can withstand heat up to 350oF. These pots and pans package include scratch-resistant tempered glass covers to monitor your cooking process for perfectly cooked food. You also get to enjoy flavorful, moisture-rich meals with this cookware set. Talking about the handles, they are dual-riveted with silicone padding for a strong, comfortable grip. It is dishwasher-safe and comes with a lifetime limited warranty.
At A Glance
Feature
T-fal Signature Nonstick 12-Piece Cookware Set
Farberware Millennium Nonstick 12-Piece Cookware Set
Major Features
T-Fal Cookware
Farberware Cookware
Quantity
12-Piece
12-Piece
Materials
Heavy-gauge aluminum
Enameled porcelain
Non-Stick
Yes (ProGlide nonstick coating)
Yes (SmartGlide Pro nonstick coating)
Compatibility
Yes (except induction)
Yes (except induction)
Versatility
No
Yes (metal utensils safe)
Non-Toxic
Yes (PFOA, lead and cadmium free)
No
Oven-Safe
Yes (up to 350F)
Yes (up to 350F)
Handles
Ergonomic, stay-cool handles
Dual-riveted, silicone-padded handles
Lids
Scratch-free glass lids
Tempered
T-Fal vs Farberware Cookware: The Similarities and Differences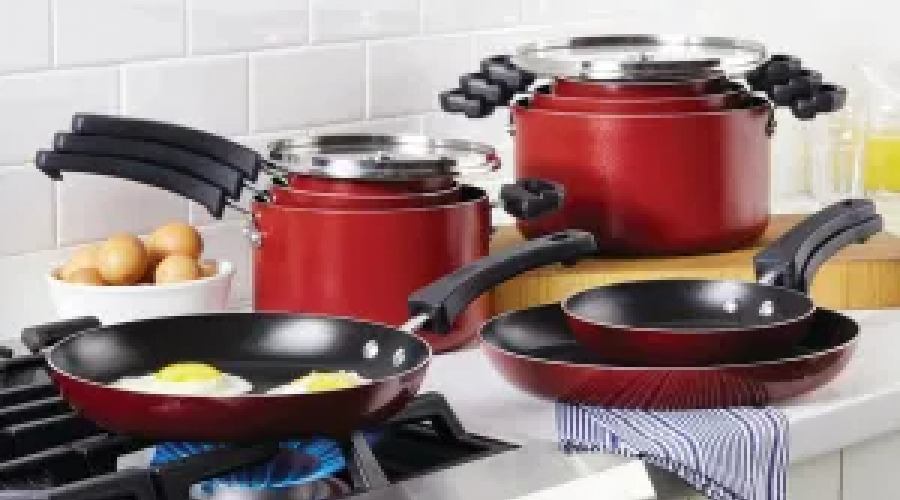 1. Design and Construction
The T-Fal Signature and Farberware Millennium cookware sets are a collection of pots and pans that are designed for home kitchen and home-chefs. This is the only similarity I see in the design, though. T-Fal is designed with Thermo-spot technology, heavy-gauge aluminum body, and nonstick coating, which encompasses top-notch quality; while, the Farberware is designed using the enameled porcelain and great quality nonstick coating.
The T-Fal and Farberware cookware both brands offer handles and lids with their cookware sets. T-Fal's handles are ergonomic, stay-cool; whereas, the latter's handles are dual-riveted, padded with silicone for an excellent grip. The lids are similar to tempered glass and vents. Both the brands offer variant cookware combinations including 10-piece collection set and 12-piece cookware set.
PS: Considering the design and construction, I'd like to pick the T-Fal brand here. The aluminum construction makes it distinct.
2. Material and Durability
The T-Fal's cookware is made of heavy-gauge aluminum and ProGlide nonstick; while the Farberware's cookware is made of enameled porcelain and SmartGlide Pro nonstick; both the materials promise to provide even heat distribution, quick-cooking results, easy cleaning solutions, and quick food releasing opportunities.
Both the brands are highly durable; they are constructed for long-lasting use. When reviewing the pots and pans of both the brands, I also noticed that the porcelain cookware tends to wear-off after prolonged use; it may break into pieces if they fall from your hands – you must take adequate care of them to keep them working for a long time.
PS: T-Fal cookware proves to be sturdier and long-lasting than the Farberware; thereby, the T-Fal pots and pans win my kitchen here.
3. Performance
The T-Fal pots and pans are mind-blowing when it comes to performance. The food will cook perfectly without ever sticking on its surface – the aluminum base allows the heat to distribute evenly, which makes the cooking quick; you will be able to get your meals easily and quickly on your plates, as hot as ever, in a hassle-free manner. All the juices and the nutrients of your food shall remain intact. T-Fal offers cookware, which is 100% toxin-free as it does not contain harmful materials such as lead, PFOA, PTFE, and cadmium. Even if you overcook the food, you will not be able to see toxic fumes coming out. Isn't this excellent?
The Farberware cookware provides even, and quick-cooking and the nonstick coating allows easy food release without the food sticking on its surface; however, there are no pieces of evidence that show that this cookware is toxin-free. This is where the urge to concerns arise.
PS: The T-Fal brand is better performing than the Farberware cookware; therefore, my pick is the T-Fal brand here.
4. Cleaning and Maintenance
The cookware sets of both brands T-Fal and Farberware are dishwasher-safe; therefore, cleaning and maintaining them are simple, quick, and easy. In case, if you choose to hand-wash them, you will only require liquid-soap and a soft sponge to clean the pots and pans quickly. It will take only a few minutes, and your job will be done.
The cookware that the Farberware brand offers requires adequate space for storage to ensure there's no breakage; however, the T-Fal cookware is easy to store, even in the smallest space in your kitchen.
PS: The T-Fal cookware all together is easy to use, clean, store, and maintain; therefore, my option here also is a T-Fal brand.
5. Cooktop Compatibility and Versatility
The T-Fal and Farberware cookware set are equally compatible with most cooktops, including gas, electric, ceramic, glass, and halogen stovetops. They are not designed for induction and broilers. They work perfectly with ovens too and can withstand heat up to 350oF.
These cookware sets are versatile, too; however, the Farberware cookware is metal-utensils safe too. You can also use wooden and nylon utensils, too, with this cookware set. Contrarily, the T-Fal Signature cookware set, being unsuitable with metal utensils, includes nylon ladle, spoon, and slotted spatula. If you are ready to invest in metal utensils, then Farberware is the option here for you, but if you are not ready to make an extra investment, then T-Fal is the best option for you.
PS: I want something that makes it up for my kitchen in one-go; therefore, T-Fal is the one for me.
6. Value for Money
What, according to you, is a value for money cookware? For me, value for money cookware is the one that provides me everything – all-in-one facility, which includes a great design that complements my kitchen interiors, sturdy construction with long-lasting materials that provides extreme durability. It should also include excellent performance and great compatibility options.
My kitchen's cookware should be versatile, which allows me to make food of all cuisines and tasty dishes for my family and guests. When I compare all these features with the T-Fal's cookware, everything falls in place for me, and vice-versa is the case with the Farberware's cookware.
Read more:
Which Cookware Brand Is Better: T-Fal or Farberware?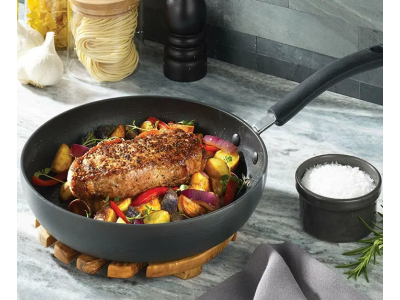 After careful analysis and a detailed comparison of both the cookware sets, I have come to a clear conclusion. The Brand – T-Fal wins the race out of the two suggested here. This nonstick cookware set offers awe-inspiring design with excellent performance.
It's a bliss cooking in these pots and pans, especially when I want to cook something quick and innovative for my guests and family. The food does not stick; it goes right in your plates with all the flavors and nutrients right into the dinner plates. And, not to forget, all the food is 100% healthy, toxin-free. I have made my choice, and I am happy with it – what about you?

Talya Davis
Talya, like all members of the HomeDesignX team, is enamored by all things related to cooking and eating. She's written cookware articles for numerous publications before working with her lifelong friend Jessica to create their very own website on cookware.
She's currently writing a book on induction cooktops, and enjoys making clean, vegan meals for her family.