2nd Best Choice

Blue Diamond Pans Cookware Set, 14-Piece
Check Latest Price
Editor's Choice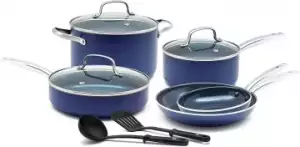 Blue Diamond Ceramic Nonstick Cookware Set
Check Latest Price
3rd Best Choice

Blue Diamond 12" Frypan
Check Latest Price
Are you looking for high quality cookware? Check out our full review of Blue Diamond pan cookware sets before you buy.
Let's get into an in-depth Blue Diamond cookware review to clear all your doubts and answer your questions!
Best Blue Diamond Cookware Set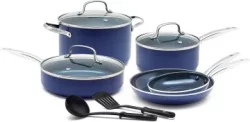 This 10-piece cookware is lightweight, making it easy to use, and its vibrant color compliments any kitchen. It's also 100% non-toxic, as it's free of lead, PFAS, cadmium, and PFOA.
The cookware is designed with a solid, warp-control base for added strength and durability. This construction is to prevent the cookware from wobbling or becoming misshapen over time.
It's made with a ceramic nonstick coating, making it easy to clean, release food, and maintain for prolonged use.
This pots and pans set also includes tight-fitting lids made of tempered glass, and two nylon utensils.
This Blue Diamond pan set can be used on all cooktops except induction. It's safe to use in the oven or broiler (up to 600°F), and dishwasher-safe.
Quick Facts
No. Of Pieces: 10
Material: Ceramic
Dishwasher Safe: Yes
Oven Safe: Yes
Pros
Warp-free base
Ceramic non-stick coating
Even heat distribution
Oven and broiler safe (up to 850F)
100% toxin-free coating
Scratch-free, corrosion-resistant
Dishwasher-safe cookware
Cons
Low to medium heat is recommended when using this cookware.
The pots and pans are equipped with metal handles, which we've found can get pretty hot while cooking. It's a good idea to use mitts or a dry cloth when taking these pots out of the oven.
Although the company says the pots and pans are metal utensil-safe, we recommend using plastic or rubber utensils only.

Quick Facts
No. Of Pieces: 14
Material: Ceramic
Dishwasher Safe: Yes
Oven Safe: Yes

Quick Facts
No. Of Pieces: One 12' Blue Diamond Pan
Material: Ceramic
Dishwasher Safe: Yes
Oven Safe: Yes

Quick Facts
No. Of Pieces: One 10" Blue Diamond Pan
Material: Ceramic
Dishwasher Safe: Yes
Oven Safe: Yes

Quick Facts
No. Of Pieces: 5QT
Material: Ceramic
Dishwasher Safe: Yes
Oven Safe: Yes
Blue Diamond Pan Review - Worth the Hype?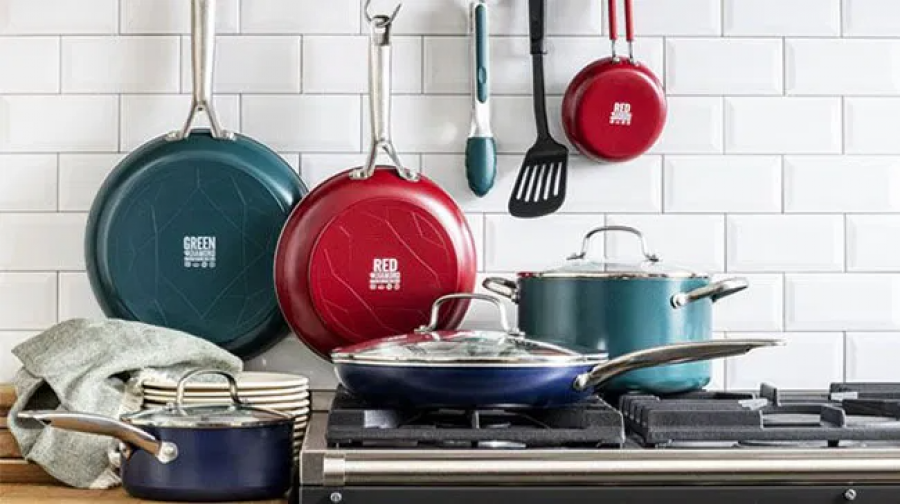 You've probably seen the ads on TV. These popular commercials make Blue Diamond seem like the cookware to end all cookware, with unparalleled durability, performance, and more.
But there's a big difference between a marketing spiel and results in the kitchen. That's why we'll be looking at some of the claims that the company has made, and compare them to actual results we've seen and read.
1. Design and Construction
The Blue Diamond pan and skillets are the most popular items from this company. While the company says that metal utensils can be used on the cookware, we recommend you only use the soft spatulas that come with it in order to avoid scratches.
The diamond-infused ceramic coating is its strength, giving the pots and pans a good heat conduction and durability.
However, being made with a diamond ceramic coating doesn't mean it's as durable as diamonds. The diamond finish is more a marketing thing than anything else, and these pans seem about as durable as any other nonstick pans.
For the price, however, it may be worth it. Even if you have to replace them after a year or two, you'll still be getting a good value.
It terms of aesthetics, while it is a personal opinion and yours may vary, we find the blue finish on these pots and pans to be really appealing, and they'll match any kitchen décor.
2. Compatibility and Performance
Because this product is relatively new on the market, there are many people who are ambivalent about buying it. This wariness is normal and key to preventing buyer's remorse.
In order to assuage some common worries and questions, we'll break down the performance of this cookware and how it compares to what the company advertises.
Blue Diamond Cookware Heat Distribution
The company claims that because diamond as a material heats up 4 times faster than copper, then their Blue Diamond pans with diamonds will heat up 4 times faster than copper cookware.
While it's true that diamonds are a better heat conductor than copper, this doesn't necessarily mean a Blue Diamond pan heats up four times faster. It's mostly a nice marketing line by the company.
Despite this, however, we (as well as many other customers whose reviews we have analyzed) have found that the Diamond Pan cookware heats up quickly compared to other brands, and faster than materials like stainless steel.
As well, because the base is made of aluminum, it heats up evenly across the cooking surface.
Blue Diamond cookware can be used on gas stoves, electric stoves, and glass top stoves. It's also oven safe and can be used in a broiler, but cannot be used with induction cookers.
Overall, while the marketing claims may be a bit exaggerated, these pots and pans do offer great heat distribution and heat-up times.
Nonstick Performance
Some users of Blue Diamond Pan cookware will complain that the non-stick pans properties worked very well to begin with, but lost their quality after a few months of use. While every individual experience is different, we don't feel that this is an accurate summary of the nonstick performance.
That's because we've found that the right care and diligence with this Blue Diamond cookware set leads to satisfactory, reliable nonstick cooking. Often, reviewers who complained that their Blue Diamond pan lost its nonstick qualities after a while also said they used abrasive sponges to clean them, which the company advises against.
If you regularly cook sticky foods, like fish and eggs, these pans probably won't last many years. However, if you're just cooking other normal meals and use a decent amount of oil, they'll do the job just fine.
Side note: If you are looking for a nonstick pan that's good for eggs, check out our article on the best pans for eggs.
It's best to clean these Blue Diamond pots and frying pans in hot, soapy water with a soft sponge in order to prevent microscopic food buildup.
3. Non-Toxic Properties
In general, 'nontoxic cookware' refers to pots and pans that have been produced without the use of PFAS and PFOA, which are substances that aren't allowed to be used in cookware in the United States.
Some cookware that don't use these chemicals will end up leaving traces of lead or cadmium, metals which can be harmful to health if digested.
Luckily, Blue Diamond pots and frying pans are produced without the use of PFAS, PFOA, nickel, lead or cadmium.
4. Cleaning
Blue Diamond claims that its pans are dishwasher-safe in all of their marketing materials. However, in the instruction booklet that comes with their cookware sets, it's written that the pots and pans should be hand-washed only. This conflict has led many to ruin their cookware with improper care methods.
We find that it's best to hand-wash your pans and pots, just to be on the safe side. A bit of hot water and soap is sufficient to give it a good clean, and hard scrubbing is not required.
Washing these cookware sets in the dishwasher can damage their non stick coating over time. Because of the easy food release, these Blue Diamond pans don't usually need much more than a swipe with a soft cloth to clean them.
Try to use a non-abrasive cleaner like Bar Keeper's Friend once per month to remove any microscopic food remnants from the cooking surface. If you take care and wash the cookware properly, it should last you for years to come.
5. Overall Product and Brand Value
This cookware brand is a few years old in the market. It has become famous and sought-after thanks to its heavy advertising campaign.
The highlight of the product is its ceramic coating, which is 'diamond-infused' for cooking ease. It has aroused the curiosity of the population thanks to a clever marketing campaign.
However, many people have complained that the advertising materials are misleading, and that certain claims made by Blue Diamond are exaggerated.
This is definitely possible, but you'll be hard-pressed to find a cookware company that doesn't sugar coat its results in order to make more sales, so this isn't unique.
Overall, while marketing for any product will always be more dramatic than actual results, we found that the cookware is a durable, respectable product when used according to the care instructions that come with it. Just treat it properly, and it'll work well and last.
Pros of Blue Diamond Cookware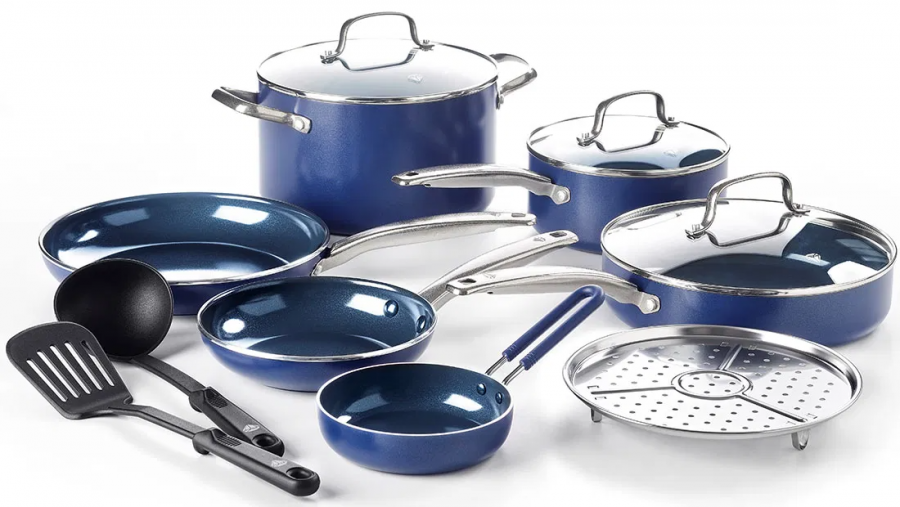 You can use a Blue Diamond pan on all types of cooktops such as gas, electric, glass, ceramic, and halogen. However, it doesn't work on induction cooktops.
It is oven safe and broiler safe with a temperature of to up to 600°F.
It is 100% non-toxic, which means it does not contain any harmful toxins or chemicals such as cadmium, lead, PFAS, and PFOA.
The nonstick pans offers more durability, better heat transfer speed, and better non-stick coating than other ordinary non stick cookware, such as stainless steel.
The size of the pots and pans is ideal for cooking for the entire family.
The cookware is easy to clean and maintain, saving you time and effort in the kitchen.
There are multiple options for sizes and shapes.
It's cheaper than most high-end nonstick pan brands.
Disadvantages of Blue Diamond Cookware
The handles of the pots and pans are made of stainless steel and tend to heat up during the cooking process – you must remain cautious so that you don't burn yourself.
Despite the marketing material, if you continually use a dishwasher to clean these pots and pans, the non stick coating may peel off.
You may also see scratches on this cookware with prolonged use of metal utensils. We recommend using only plastic or rubber spatulas.
You'll need to be careful when stacking these, as they can chip in the process. Buy pan protectors to keep them in good shape.
Customer Reviews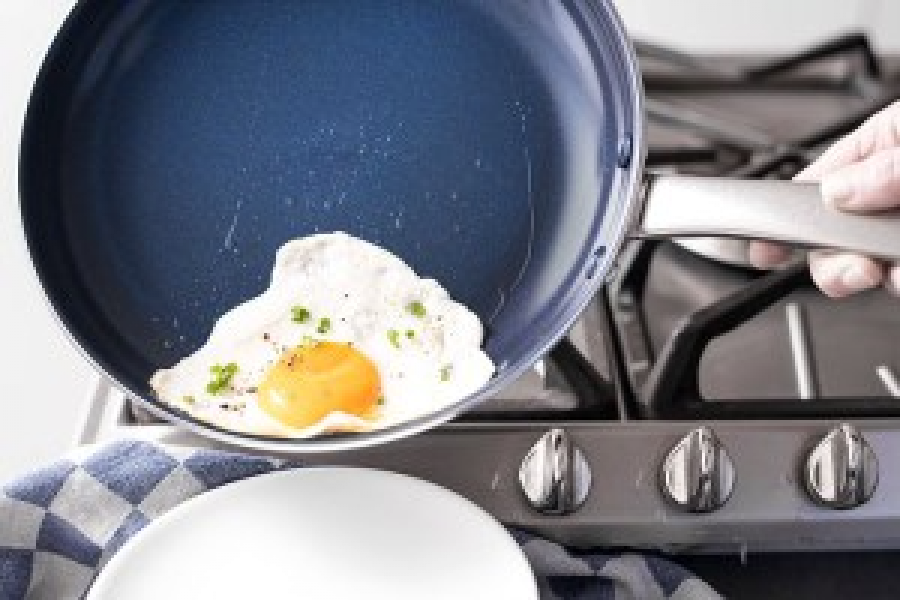 "Really nice. I purchased these after my Gotham steel pan had to be retired. I was a little reluctant after seeing people complain about the handles getting too hot, so I purchased handle covers too. Turns out, it wasn't necessary. I don't know how high those folks have the heat when they cook, but my handles have yet to get too hot." -Kindle Customer
"The pans really do have a super shiny appearance, and you can see the diamond dust on the surface. The first thing I did was scramble eggs, and they came out beautifully!! Seriously, I didn't even need to wash the pan after (of course I did anyway) but there was literally NOTHING left in the pan. Great performance. These are quality pans, really well made, good looking, and great cooking. I would HIGHLY recommend!" – Amazon Customer
"I just can't believe the quality you get for the price on these pans! This set comes with everything I need to cook for friends and family. It is great that you can put them in the oven too. The blue is so much more vibrant than I expected, and I love the little diamond finishes. The non-stick coating makes them so easy to clean, and it's reassuring to know that the coating is non-toxic. The handles get a little hot, but nothing an oven mitt can't fix. Really love these!" -Stephanie
"I really like how fast and even they distribute the heat. Also, they're very easy to clean, some of the pieces are a bit on the small side, but they work perfectly for me. They're a good value for the money. I would've given it five stars, but the reason I didn't is because of the handles: They can become very hot to touch and you can burn yourself if you're not careful. I wish they would've put some kind of silicone or plastic cover over the handle." -David R.
Note: These reviews were taken from Amazon and grammatically corrected for legibility.
Frequently Asked Questions
1. Where is Blue Diamond made?
The Blue Diamond pan is designed and engineered in the USA, but manufacturing is done in China.
2. Do the Blue Diamond frying pans come with a lid?
It depends on the model. However, the basic Blue Diamond frying pan does not come with a lid. So, if you want one, you'd have to purchase it elsewhere.
3. How long is the handle?
It is about 8 inches on most pieces. The size of the Blue Diamond pan determines the size of the handle.
4. How long does the nonstick coating last?
Blue Diamond claims that their nonstick coating lasts longer than other brands. However, we don't believe this is likely.
If the pan is cleaned properly and according to all care instructions listed above, the non stick pans' coating should last as long as any other nonstick kitchenware brand.
This would mean it can last a few years with proper care before needing to be replaced or needing to oil to cook food without sticking.
However, many people have complained that the coating isn't as durable as they'd hope. But, for the price, you'll most likely get enough nonstick uses out of it before needing to replace them.
5. Are their actually diamonds in the frying pans?
Diamond dust is indeed used in the manufacturing process for every Blue Diamond pan.
Of course, these are not the durable gems you'll find in wedding rings; it's more like an industrial diamond that's used to harden the pan's coating.
The diamond content is likely very low, so although it probably has some effect on the cooking process, it's more of a marketing technique than anything. Customers may feel led astray if they believe there's a high concentration of gem-grade diamonds in their Blue Diamond pan.
Final Words: Should you Buy a Blue Diamond Pan?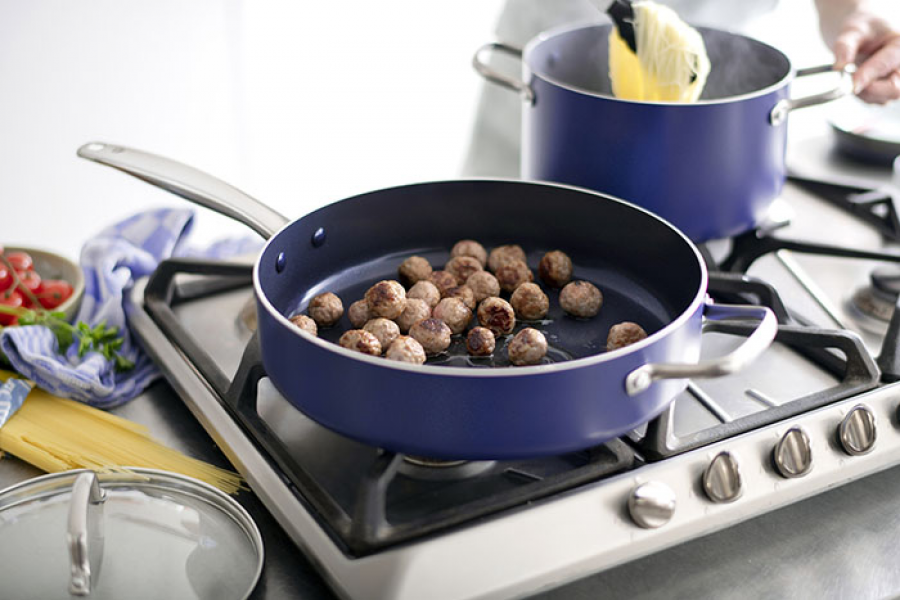 Blue Diamond is an innovative and unique player in the world of cookware. Its diamond-infused products with their trademark blue finish are instantly recognizable and look great in any kitchen.
While some of its marketing claims may be exaggerated (as should be expected), we don't want you to think it's all lies. In truth, these pans are decent for the price. They're just not any better than other pans simply because they have a diamond-infused ceramic coating.
Still, these cookware sets offer good durability and performance for a great price. It's versatile and great for beginner chefs and casual cooks, as well as those making meals for large families.
The ceramic pots and pans are nontoxic and safe, similar to stainless steel. This means you can cook meals for your family while not having to worry about any lead or other toxic metals leaking into your food, as you may have to worry about with other nonstick brands.
Some may have complaints regarding the wear and tear on their Blue Diamond pan. However, this is normally because of prolonged dishwasher use, which is not recommended (even if the company claims it is dishwasher safe). Hand-wash these items for the best durability and lifespan possible.
Overall, Blue Diamond pots and pans are a worthwhile investment thanks to their competitive price and versatility.
Editor's Choice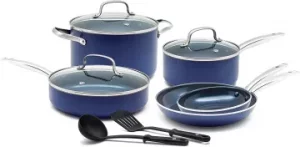 Blue Diamond Ceramic Nonstick Cookware Set
No. Of Pieces: 10
Material: Ceramic
Dishwasher Safe: Yes
Oven Safe: Yes

Talya Davis
Talya, like all members of the HomeDesignX team, is enamored by all things related to cooking and eating. She's written cookware articles for numerous publications before working with her lifelong friend Jessica to create their very own website on cookware.
She's currently writing a book on induction cooktops, and enjoys making clean, vegan meals for her family.