Here are detailed reviews and full comparison between Demeyere vs All-Clad cookware. Read below to know which one you should buy.
Are you keep about one-pot cooking? Are the several available Dutch ovens confusing you in your next purchase? I have a solution for you! I have picked two most-favored brands – All-Clad and Demeyere that offer the best Dutch ovens and other kitchenware. I also picked two most-suitable Dutch ovens – one from each brand to reduce your confusion.
After careful research, I am here ready to review both these products to come up with a crystal clear purchase-solution for you. We will review each product individually, and then we will compare their major features in detail. Now, without wasting time, let's get into the details.
HOT PRODUCT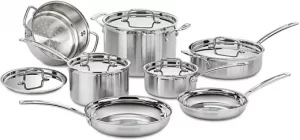 Cuisinart MCP-12N Multiclad Pro Stainless Steel Cookware Set
Demeyere vs All-Clad Cookware: Full Reviews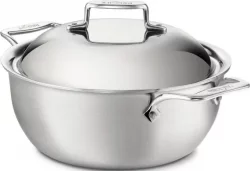 The All-Clad stainless steel Dutch oven is a great investment with a holding capacity of 5.5 quarts. This stainless steel Dutch oven is made of 5 sturdy layers of 18/10 stainless steel and conductive aluminum, which makes it long-lasting, strong, and wrap-free. The surface of the pot is polished with a starburst finish that allows the food to release faster than ever. The non-toxic makes keep the food healthy; also, if you are cooking any acidic food in this pot, then it wouldn't react or leave toxic fumes.
This D5 Dutch oven is packed with a domed-shaped stainless steel lid with flared pouring rims. The handles of the pot are riveted with stainless steel to ensure a secured hold. It is compatible with most cooktops, including gas, electric, glass, ceramic, halogen, induction, oven, and broiler – it can tolerate heat up to 600oF. The product is dishwasher-safe and is made in the USA. The pot is offered with a limited lifetime warranty.
MORE ABOUT ALL-CLAD COOKWARE:
All-Clad vs Tramontina Cookware: How Does Their Cookware Compare?
All-Clad vs Viking Cookware: Which Should You Buy?
All-Clad vs Calphalon – Which Should You Buy?
Cuisinart vs All-Clad Cookware: An Unbiased Brand Comparison
Anolon vs All-Clad Cookware – Which Is Better?
All Clad Non Stick Cookware Review
All-Clad Copper Core Review: Pros, Cons and Rating
All Clad D3 vs D5 Cookware – Which One Will Suit Your Kitchen?
All-Clad D5 vs Copper Core Cookware – Which Is The Best 5-Ply Cookware For Your Kitchen?
All Clad HA1 vs B1 Nonstick Cookware – What's the Difference?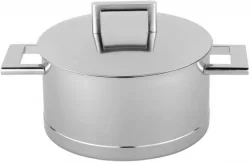 Have you heard an architect designing cookware? Yes, John Pawson did it; he designed the Demeyere stainless steel Dutch oven. It is made of 7 layers of 18/10 stainless steel alloy (72% iron, 18% chrome, and 10% nickel), making it 100% corrosion-free. This pot delivers high durability, strength, and health safety. The surface of the Dutch oven is given a patented Silvinox surface treatment along with flat base stability along with a silvery finish on the interiors and exteriors. It prevents fingerprints and other stains, and even upon high heat, the pot wouldn't wrap.
This Dutch oven is compatible with most stovetops, including induction, oven, and broiler, and can tolerate heat up to 500oF. It is manufactured in Belgium and comes with a limited lifetime warranty. You can use the dishwasher to clean this pot, making the cleaning and maintenance process quick and easy.
At A Glance
Feature
All-Clad D5 BD55500 Stainless Steel 5.5-Quart Dutch Oven with Lid
Demeyere John Pawson Stainless Steel 4.2-Quart Dutch Oven with Lid
Capacity
5.5 Quart
4.2 Quart
Materials
5-Ply bonded stainless steel and aluminum construction
7-Ply 18/10 stainless steel bonded construction
Surface Finish
Glossy starburst finish
Matte stainless steel finish
Shape
Dome-shaped
Round-shaped
Cleaning & Maintenance
Hand-wash only
Dishwasher-safe
Oven-Safe
Yes (up to 600F)
Yes (up to 500F)
Handles
Stainless steel riveted handles
Riveted stainless steel handles
Lids
Domed stainless steel lids
Flat stainless steel lids
Demeyere vs All-Clad Cookware: The Similarities and Differences
1. Design and Construction
All-Clad D5 Dutch oven is dome-shaped, and the capacity of liquid that it can hold is 5.5-qt. The pot weighs 7 pounds and offers a glossy starburst finish. The D5 Dutch oven is constructed with 5-ply stainless steel (high-grade) and aluminum (heat conductive). The sturdy construction does not let the cookware wrap, stain, or wear out. It offers long-lasting durability. Handles and lids are accompanied, which are also made of stainless steel, riveted for a comfortable grip.
The Demeyere Dutch oven is constructed with 7-ply 18/10 stainless steel with most of the composition made of iron. The matte finish in this cookware makes it fingerprint and stain proof. On the other hand, the Demeyere Dutch oven is round in shape, and the liquid holding capacity of this pot is 4.2-qt. It weighs 6 pounds and offers a matte stainless steel finish. It also has attached handles, which are stainless steel and riveted and stainless steel lids.
PS: I love the Demeyere flat-shaped design with its 7-ply sturdy construction. I am going to pick the Demeyere here.
Read more: Dutch Oven vs Crock-Pot: Which Should You Buy?
2. Material and Durability
The All-Clad D5 Dutch oven is made of an even contribution of stainless steel and aluminum. The stainless steel gives it a perfect look and an appealing feel, while the aluminum base allows even heating across the pot. You can let one-pot cooking happen with this slow-cooking pot. Stainless steel, in combination with conductive aluminum, provides this Dutch oven extreme sturdiness and long-lasting durability.
The Demeyere Dutch oven is constructed using an 18/10 stainless steel alloy, which has a major inclusion of iron metal. Iron is a great conductor of heat; also, it can last for generations to go. The cookware promises long-lasting durability and heavy-duty sturdiness. This pot promotes even heat distribution across the surface, and this heat remains within for a longer period, allowing your food to cook quickly.
PS: I have always believed that iron is long-lasting, traditional, and healthy cooking option. Also, the 7-ply construction delivers sturdiness and durability to its users. I pick the Demeyere stainless steel Dutch oven here.
3. Performance
The All-Clad D5 Dutch oven is a one-pot cooking solution, which means you can do everything in a single pot such as stewing, braising, slow cooking, and browning. It is an ideal option for one-pot meals. It accelerates the cooking of your food without sticking or burning. Stirring also becomes effortless for you. Food delivery is great because you will never get the metallic taste in your meals when the food is cooked in this pot.
The Demeyere stainless steel Dutch oven excels in browning and frying – it's a great option for home-kitchens. With this pot, you will get excellent results in retaining and distributing heat. Cooking becomes faster, even and chef-like; also, you can go for slow-cooking if you are choosing this pot.
PS: Both the brands have excelled in the performance factor; however, the All-Clad D5 presents perfect one-pot cooking solutions; therefore, it's my choice here.
4. Cleaning and Maintenance
Cleaning can be a little tedious with the All-Clad D5 cooking pot – the brand mentions hand-wash only, which means you can't make the mistake of putting it in an automatic dishwasher. It will get scratched out, and your spent-money will become a total waste. Hand-washing is simple as long as there's nothing stuck on the surface. If you have to remove stuck food, then you will require a mix of water, soap, and vinegar to scrub-off the surface.
Demeyere is a new-technology stainless steel Dutch oven that is safe to use even in a dishwasher. The sturdy construction provides even cooking experience with no hotspots on the surface. The cookware guarantees stick-free cooking experience; therefore, cleaning and maintaining this pot is going to be hassle-free.
PS: I believe that Demeyere excels in the race when it comes to cleaning and maintenance. I would choose Demeyere if my priority were the ease of cleaning.
5. Cooktop Compatibility and Versatility
Talking about compatibility, both Dutch ovens – All-Clad D5 and Demeyere are compatible with all cooktops, including gas, electric, halogen, glass cooktops, ceramic, induction, oven, and grill. The former can retain heat up to 600oF, while the latter can tolerate heat up to 500oF. The accompanied lids are also oven-safe and broiler-safe in both pots. You can also use metal utensils to stir food in both the cooking pots.
Talking about versatility, the former Dutch oven promotes one-pot cooking, which means you can cook all kinds of meals and dishes in it. The latter pot is good for frying and browning – you have to shift the food from one pot to the other when you want to make an unusual dish for your family.
PS: I believe that All-Clad D5 not only provides excellent performance, but it is also a great option when versatility and compatibility is concerned. It wins here too.
6. Value for Money
Both the slow-cooking pots are reasonably priced; there are different ways of comparing these pots – feature v/s. the price here. Let me explain. When we compare versatility with the price, the All-Clad D5 stands out simply because it is a one-pot cooking tool. If you are not bothered about one-pot cooking and want a pot that eases your complete cooking experience, then Demeyere Dutch oven is an ideal option.
If I have to compare the looks and design, Demeyere takes it over here too. I also feel that when considering every aspect in total, I think the Demeyere wins the big race here. It is a complete budget-friendly, complete value for a money Dutch oven.
Which Cookware Brand Is Better: Demeyere or All-Clad?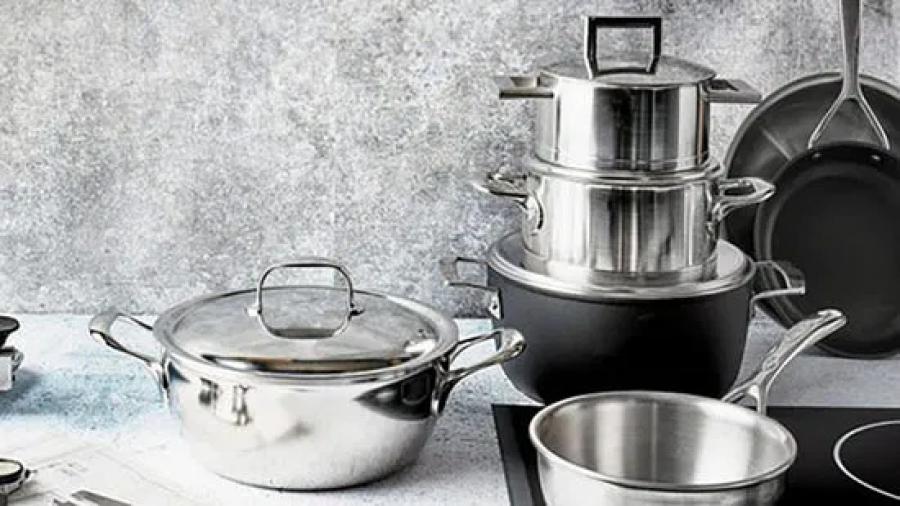 After detailed research and careful review, I have come to a clear conclusion. For me, the winner is Demeyere stainless steel John Pawson Dutch oven. It not only stands out in the design and construction category, but its performance is also excelling. This cook-pot is compatible with all cooktops and withstand the heat that is ideal for oven and broiler cooking. It is versatile enough for cooking variant meals and offers excellent, hassle-free cleaning convenience.
I have made my choice. What about you?

Talya Davis
Talya, like all members of the HomeDesignX team, is enamored by all things related to cooking and eating. She's written cookware articles for numerous publications before working with her lifelong friend Jessica to create their very own website on cookware.
She's currently writing a book on induction cooktops, and enjoys making clean, vegan meals for her family.