All-Clad SS Copper Core 5-Ply Bonded Dishwasher Safe Cookware Set, 10-Piece
Check Latest Price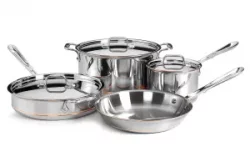 The All-Clad SS Copper Core SS 10-piece cookware set includes 10" and 8" fry pans, 3-Quart and 2-Quart saucepans with lids, 3-quart sauté pan with lid, and an 8-Quart stockpot with lid.
This set is specially designed for professional cooking solutions. The copper core line features 5-ply construction with copper that transfers heat precisely, quickly and evenly throughout the cookware.
This cookware set is signature-marked for its durability and long-lasting design.
The thick copper core extends throughout the frying pan, and the rim is copper-plated. This allows the heat to spread evenly and quickly to eliminate any hot spots that may cause sticking.
The fully clad stainless steel and aluminum body helps food retain its natural flavors so you can make delicious, healthy plates. Cleaning is easy, and the handles are riveted and contoured.
Quick Facts
Professional quality cookware
5-Ply bonded layers of stainless steel, aluminum, and copper core construction
High-grade, polished 18/10 All-Clad stainless steel
Flare-edged pots and pans design
Attractive, durable, long-lasting
Compatible with all cooktops and utensils
Riveted, ergonomic, stainless steel handles
Stainless steel lids
Oven and broiler safe up to 600 degrees F
Dishwasher safe, easy to clean
Limited lifetime warranty
Made in the USA
All-Clad from Canonsburg, Pennsylvania has used American artisans and metals to come up with a complete line of copper core cookware sets.
This American cookware brand is creating innovative and high-performance pots and pans. All-Clad cookware is famous for using steel made in the USA.
All-Clad Copper Core cookware is a set of standard pieces with lids. Let's get into an in-depth All- Clad Copper Core review to clear all your queries and doubts.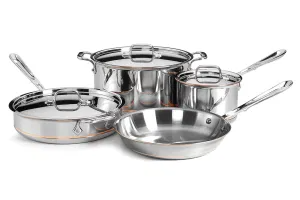 1. Copper Core Product and Brand Value
The All-Clad Copper-Core is a flagship line of All-Clad cookware. The 3-quart sauté pan is the common size for a sauté pan, and the same is the case with the saucepan.
All of the pieces in the set come as a common size. What really sets this cookware apart from other brands is the combination of a copper core and fully clad stainless steel and aluminum body.
This is a great set of All-Clad cookware, but it's also their most expensive set.
Still, it's cookware that lasts for a long time if you maintain the copper core and stainless steel finish properly. This durability and performance leads us to believe that it really is a good investment, despite the price tag being higher than cheaper brands.
2. Copper Core Design and Construction
There are four layers of stainless steel and aluminum sandwiched inside the cookware. This allows maximum heat conductivity without hot spots.
As you likely know, stainless steel is more durable than other materials and has great cooking performance. The added copper base and aluminum layers keep the whole frying pan evenly heated. The polished stainless look will compliment any kitchen.
Copper core's 18/10 fully clad stainless steel interior is the secret to its performance. The starburst finish offers stick resistance and easy maintenance, without reacting with food.
The stainless steel handles have rivets to reduce heat. They're also vented and contoured for a comfortable.
You can put them in a dishwasher, although we personally advise against this. Putting any cookware, even dishwasher-safe cookware, in a harsh rinse cycle will make it wear down faster. It's also overkill, as this copper cookware is easy to clean by hand.
We found the construction and material durable and perfect for professionals, or home chefs who love to cook.
3. Copper Core Compatibility and Performance
The All-Clad Copper Core set is a great investment because it's compatible with all ovens and and is even induction-compatible.
The set helps you realize the real dream of effortless cooking. All-Clad recommends a maximum of 600F to use these items in an oven or broiler.
All-clad Copper Core's 5-ply construction performs well and provides excellent cooking results. Stainless steel is slightly more durable than copper, and the combination of both offers the best of both worlds: great durability and heat retention.
Pre-heat the cookware before putting oil in, as this will reduce the chance of food sticking to the surface. This helps to heat the cookware evenly and hold the heat at a low temperature.
4. Copper Core Cleaning and Maintenance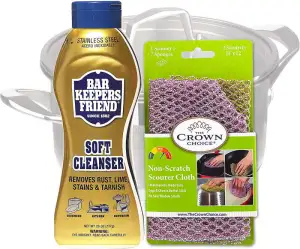 Once you're finished cooking, cleaning is simple. You can easily remove all food remnants and oil with a damp cloth, some gentle soap, and a soft, non-abrasive sponge.
If oil stains remain, you can boil some vinegar to remove them, or use any chemical cleaner that is not harmful to stainless steel. We recommend Bar Keeper's Friend for your All-Clad products that need stain removal.
This 10-piece steel and copper cookware set, while it performs amazingly, is a bit difficult to clean at times due to its riveted handles. However, these same rivets provide structural strength, so it's a fair tradeoff.
If you find that some food items or oil aren't coming off, leave the cookware to soak in warm water for about an hour. If you want to keep them shining like new, a quick 30-second clean with Bar Keeper's Friend every so often will do the trick.
MORE ABOUT ALL-CLAD COOKWARE:
All-Clad vs Tramontina Cookware: How Does Their Cookware Compare?
All-Clad vs Viking Cookware: Which Should You Buy?
All-Clad vs Calphalon – Which Should You Buy?
Cuisinart vs All-Clad Cookware: An Unbiased Brand Comparison
Anolon vs All-Clad Cookware – Which Is Better?
All Clad Non Stick Cookware Review
All Clad D3 vs D5 Cookware – Which One Will Suit Your Kitchen?
All-Clad D5 vs Copper Core Cookware – Which Is The Best 5-Ply Cookware For Your Kitchen?
All Clad HA1 vs B1 Nonstick Cookware – What's the Difference?
Demeyere vs All-Clad: A Complete Comparison Guide
5. Pros of All-Clad Copper Core Cookware
The frying pans are excellent for delicate cooking, such as browning meats and deglazing.
The 3-quart sauté pan has tall sides to keep the steam where you need it, and allow you to stir without any spillage.
All the lids fit perfectly for casserole-style cooking in an oven or broiler.
The handles are stay-cool and offer a comfortable grip.
The cookware set is a premium quality, five-ply copper set that works on all kinds of cooktops, including induction cooktops and other stoves such as gas stovetops, glass cooktops, ovens and grills.
All-Clad offers a limited lifetime warranty on their products.
Great heat distribution thanks to the copper core.
Heavy and sturdy steel/copper/aluminum cookware, and compatible with all utensils.
Made in the USA!
6. Cons of All-Clad Copper Core Cookware
If you're on a budget, this set isn't for you; it's a very pricey set, but it's worth remembering that it's a for-life purchase.
If you're expecting this stainless steel set to work like a nonstick frying pan, you'll be disappointed. It's not a nonstick set. However, the surface is smooth and less likely to cause food sticking than other stainless steel sets.
Although it's listed as being 'dishwasher-safe', we highly advise against putting this set in the dishwasher.
Customer Reviews of All-Clad Copper Core
"I don't like buying things twice. I didn't really have any stainless cookware, mostly just used cast iron skillets and Dutch ovens. I decided to just get awesome quality that I'll never need to upgrade. 100% happy with this decision. Easy to clean, super reliable heat distribution. Love the set." – Amazon Reviewer
"I simply did not know that pots and pans could perform in the manner that these items of cookware do. And, given the quality of the materials and construction, many years from now I should be able to go happily to the grave still enjoying the use of these things. I am very glad that I bought this set of cookware." - Amazon Reviewer
"It is not for lazy chefs; it requires a little maintenance for certain foods. We always use olive oil. We like to keep it looking new, so if a hard water stain shows up, we clean and polish it. In my opinion, it fries the perfect egg and pancake, and does not require polishing for these items, but for bacon, it does. We've had them for a couple of months and they look perfect." - Amazon Reviewer
"I got this set about 2 months ago. I LOVE it! No hot or cold spots. Everything cooks at the same rate. The handles are riveted. This is good, heavy-duty copper cookware. I'm coming from non-stick cookware, and wanted to get away from the chemical coating. This cookware cleans up with Dawn and a little sprinkle of BarKeeper's Friend on the inside to keep them sparkling. I wash and dry mine by hand, just as I do my knives, so it's no big deal to me. I would highly recommend this set if you're okay with spending a couple of extra minutes to take care of your investment. Take care of it, it will serve you well." - Amazon Reviewer
"These are very high-quality cooking utensils. If I have any complaint at all, it is that they are big and heavy. The length of the handles on the frying pans is perhaps needed because of the weight of the metal. but this length also makes storing the pans somewhat of a challenge. Nonetheless, I rate them as a very high quality item that provide a very even cooking surface." - Amazon Reviewer
Note that these reviews have been slightly edited for grammar and brevity.
Frequently Asked Questions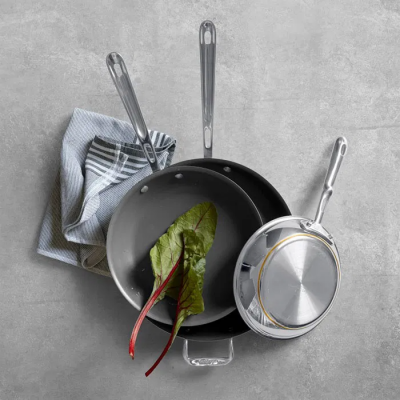 1. What is the All-Clad Copper Core?
All-Clad's Copper-Core is a premium pots and pans set of 10 pieces. It has a patented five-ply construction to provide the ultimate cooking performance.
The copper core helps spread heat evenly. The two layers of aluminum and two layers of 18/10 stainless steel exterior provide an solid and durable surface. The Copper Core is a revolution in cookware technology.
2. What if my food sticks to the cookware?
You can check whether the pan is clean and the heat is not set to high. Medium to low heat is recommended for optimal cooking results.
You can heat the pan at medium heat and add oil or butter to prevent sticking.
3. Should I rinse the cookware before using All-Clad Copper Core?
Yes, you can clean the pans and pots before using them for the first time. Wash them in warm water and add some soap, then rub with a soft sponge or cloth. Rinse the cookware gently, and dry it out by wiping it with a cloth.
4. Is All-Clad Copper Core dishwasher safe?
Although the brand says this set is safe for use in the dishwasher, we recommend you avoid using a dishwasher in order to increase its lifespan. Hand washing is easy and won't cause the same risk of damages as a dishwasher.
5. Is All-Clad Copper Core Cookware expensive?
Yes, it is more expensive than other steel or copper cookware sets because All-Clad is a popular name brand that uses high-quality American materials. However, it is a complete value for your money; it's an investment made to last for years.
Final Thoughts on All-Clad Copper Core Cookware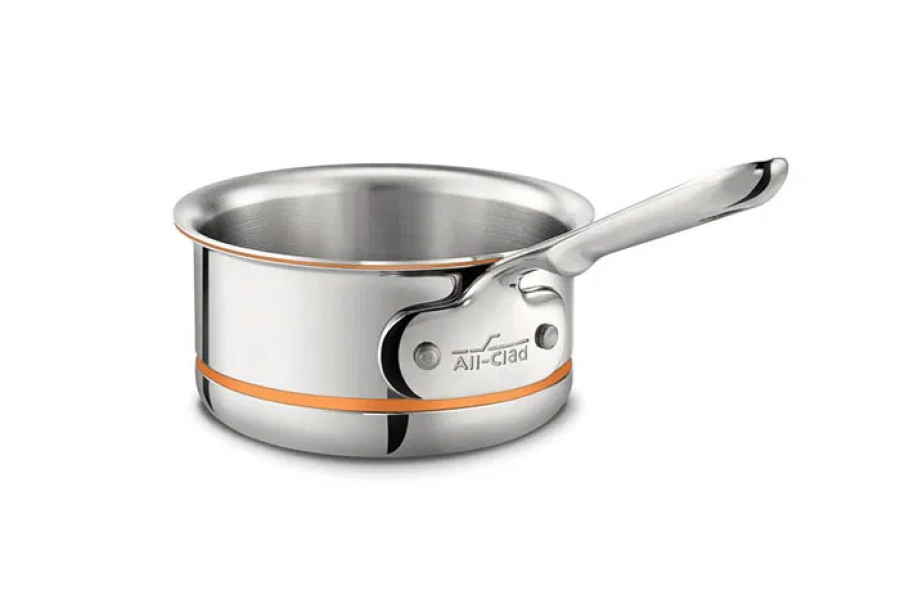 Overall, the All-Clad Copper Core Cookware is a great set of copper and stainless steel pots & pans. The price may be a turnoff for some, but this American-made stainless steel and copper cookware is among the best for the money you pay.
Thoughts? Comments? Leave them below!

Talya Davis
Talya, like all members of the HomeDesignX team, is enamored by all things related to cooking and eating. She's written cookware articles for numerous publications before working with her lifelong friend Jessica to create their very own website on cookware.
She's currently writing a book on induction cooktops, and enjoys making clean, vegan meals for her family.