Picking between one of the two best cookware collections is challenging; that's what we're about to do today. We're going to decide between two of the best collections that All-Clad offers.
This American company has a wide range of cookware sets, among which are the shining stars: The All-Clad D5 and the All-Clad Copper Core.
Both are great sets that promise fantastic results in the kitchen. So, choosing between them will require a full breakdown of their individual pros and cons.
All-Clad D5 vs Copper Core Cookware: Full Comparison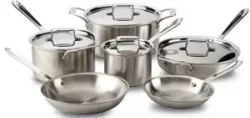 Are you an adventurous cook looking for timeless cookware that'll last you a lifetime?
All-Clad D5 is a set of cookware build with five-ply construction, meaning it has five alternating stainless steel layers and aluminum layers.
The strength and durability combined with the heat distribution of the aluminum layer makes for amazing results in the kitchen. This combination results in a warp-resistant, non-toxic, and evenly-heated cooking surface.
The stainless steel exterior of the cookware comes in two styles: polished (shiny) or brushed (matte). Either way, this cookware is beautiful and looks professional on any counter top. It's also surprisingly low-maintenance.
This 10-piece set is compatible with all kinds of cooktops, including induction cooktops, ovens, and grills, as it can tolerate heat up to 600F.
The stainless steel handles are riveted and ergonomic for a strong grip. It also has flared rims to make pouring easy and prevent spills.
All the cookware is dishwasher-safe, although we recommend hand-washing to preserve its lifespan. This set of pots and pans comes with a limited lifetime warranty.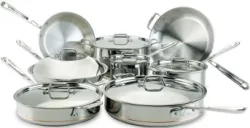 The All-Clad Copper Core line is a premium line of cookware. This is a top choice for professional chefs.
Constructed with a combination of aluminum, stainless steel, and a thick copper core, this 5-layered cookware excels in even heat distribution, warp-free strength, and lifetime reliability.
The added copper layer makes this cookware set great for those who want precise heat control.
These Copper Core pots and pans are designed with a high-quality, 18/10 stainless steel interior and exterior for a superior appeal and elegance.
This 14-piece set of pans and pots is 100% toxin-free and won't react to acidic food.
The handles are made of riveted stainless steel to ensure a comfortable grip. The set also includes stainless steel lids with rounded handles.
In addition to the shiny, stainless steel finish, the Copper Core collection is distinct because each piece comes with a unique copper-colored ring around the base.
All-Clad Copper Core cookware is also compatible with all stoves and cooktops mentioned above and is oven-safe up to 600F. The cookware comes with a limited lifetime warranty and is made in the USA.
At A Glance
Feature
All-Clad D5 Brushed 5-Ply Stainless Steel 10-Piece Cookware Set
All-Clad Copper Core 5-Ply 14-Piece Stainless Steel Cookware Set
Number of Pieces
10-Piece
14-Piece
Materials
5-Ply bonded stainless steel and aluminum
5-Ply bonded stainless steel, copper core, and aluminum
Induction Compatibility
Compatible
Compatible
Oven-Safe
Yes (up to 600F)
Yes (up to 600F)
Dishwasher Safe
Yes (hand-wash recommended)
Yes (hand-wash recommended)
Handles
Riveted stainless steel handles, square
Riveted stainless steel handles, rounded
Lids
Tempered glass lids
Tempered glass lids
Core
Stainless steel core
Copper core
MORE ARTICLES ABOUT ALL-CLAD COOKWARE:
All-Clad vs Tramontina Cookware: How Does Their Cookware Compare?
All-Clad vs Viking Cookware: Which Should You Buy?
All-Clad vs Calphalon – Which Should You Buy?
Cuisinart vs All-Clad Cookware: An Unbiased Brand Comparison
Anolon vs All-Clad Cookware – Which Is Better?
All Clad Non Stick Cookware Review
All-Clad Copper Core Review: Pros, Cons and Rating
All Clad D3 vs D5 Cookware – Which One Will Suit Your Kitchen?
All Clad HA1 vs B1 Nonstick Cookware – What's the Difference?
Demeyere vs All-Clad: A Complete Comparison Guide
All-Clad D5 vs Copper Core Cookware: The Similarities and Differences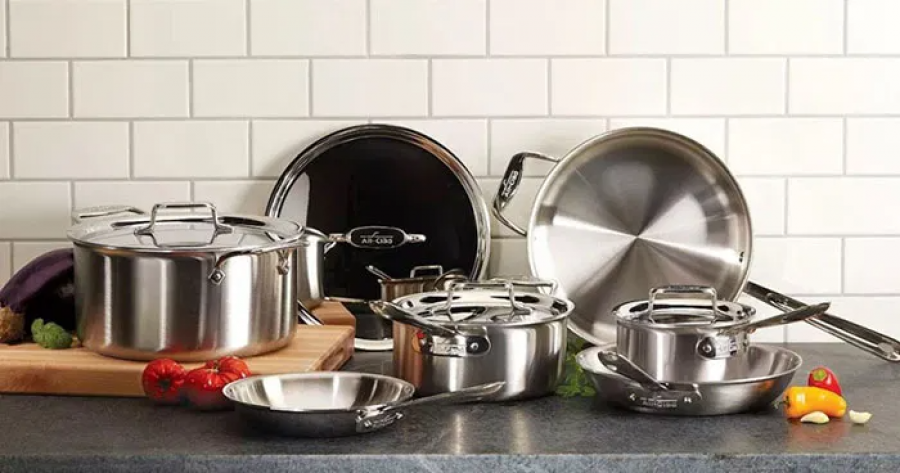 1. Overall Design and Construction
First of all, All-Clad D5 is a 10-piece cookware set, while All-Clad Copper Core is a 14-piece cookware set.
All-Clad Copper Core cookware is designed and constructed for professional cooking, while the D5 is a great investment for home-kitchens, especially those who have an affinity for stainless steel, contemporary-styled cookware.
The D5 set is a signature collection that combines elegant shine with great performance, while the Copper Core collection is designed for exceptional performance and convenience.
The D5 pots and pans are constructed with five alternating layers of stainless steel and highly-conductive aluminum.
On the other hand, the Copper Core set is constructed with five alternating stainless steel layers and aluminum layers, and a heavy-duty copper core. This copper layer make the cookware even more heat-conductive.
Winner Both sets are made with layers of metal, including aluminum and stainless steel. The only difference is the base, which is either aluminum or copper.
Since a copper core is even more conductive than an aluminum one, the cooking surface will quickly adjust to heat changes. So, the Copper Core set is the winner, here.
2. Material and Durability
Let's talk about the materials that are used in both cookware sets: stainless steel and aluminum.
This is one of the most important factors in the decision between the All-Clad D5 VS Copper Core set.
Stainless steel offers toxin-free cooking and durability, while aluminum provides even heat distribution across the cooking surface. Since stainless steel is very durable, these pots and pans will last you a lifetime if cared for properly.
Winner: Since both sets are made with a stainless steel exterior and include an aluminum layer, they're equally durable. Whether it's a copper core or stainless steel core doesn't affect the durability, so it's a tie.
3. Handles and Lids
The handles and lids are also made of stainless steel in both cookware sets. The handles are riveted and oven-safe; same goes for the handles on the lids. These handles provide a comfortable and sturdy grip for both sets.
Beyond that, the differences are very minor. The handles on the Copper Core lids are more round, whereas the handles on the lids of the D5 set are more square. This is a purely aesthetic difference.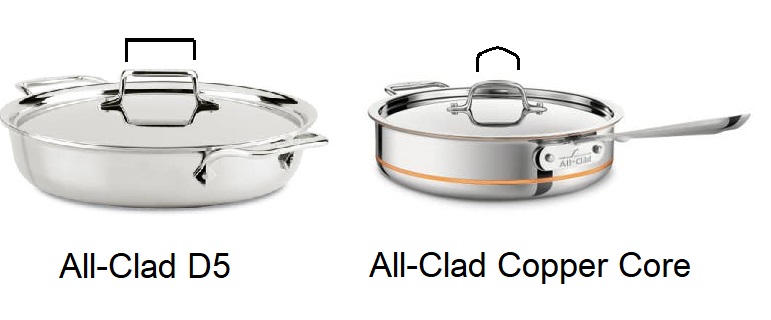 Image courtesy of All-Clad
Winner: Since the lids and handles are made of the same material on both the All-Clad Copper Core and D5, this is another tie.
4. Cooking Performance
All-Clad cookware is known for its great performance, and these two collections are no exception. These stainless steel cookware sets deliver high-end, chef-quality performance.
Both sets have flared rims on the pots and pans, which allows drip-free pouring.
Since both are made of similar materials, they also both hold heat well and have even heat distribution across the cooking surface thanks to the aluminum layer. This is perfect for eliminating hotspots and keeping food juicy and delicious.
Both sets are also non-toxic and non-reactive to acidic foods.
However, one key difference is Copper Core's inclusion of, well...a copper core! This copper layer is more heat-responsive than aluminum, meaning the cooking surface will react to changes in temperature much quicker.
So, if you increase the heat on your stovetop, the D5 pans will heat up gradually, while the Copper Core cooking surface will heat up almost immediately.
This is a good thing if you're a chef or just an observant cook. Skilled cooks normally prefer a faster heat response and accurate heat control. This is particularly good for browning meats.
However, for less experienced cooks or those who tend to multi-task while cooking, this sudden heat-up can be a problem and lead to overheated or burnt food.
Winner: For this category, it depends on you. If you're an avid cook who keeps a close eye on your pan and want precise, quick heat control, go for the Copper Core. If you're less experienced and tend to multi-task, however, go for the D5!
5. Cleaning and Maintenance
Both the Copper Core and D5 are dishwasher safe, but we (and All-Clad themselves) recommend against cleaning these pieces in a dishwasher.
These items aren't cheap, and so you want to keep them in the best shape possible so they last you a lifetime (which they most likely will - you can hand these down for generations).
So, avoid using the dishwasher, but if you really have to, just avoid using any acidic detergents, such as ones with citrus or chlorine.
Hand-washing will help preserve the durability of the cookware and increase its lifespan. If your cookware starts to tarnish or lose its shine, you'll need to use a product like Bar Keeper's Friend to polish it.
A few things to keep in mind for the best maintenance:
NEVER put a hot pan in cold water, as this will cause thermal shock;
Dry your cookware right after cleaning it to prevent water marks on the cooking surface;
Only cook in low to medium heat! Since the pan heats so quickly, any higher can cause stains.
Winner: Both are easy to clean and maintain, but will require hand-washing and occasional polishing to stay in the best shape. Since they function similarly in this domain, I'll give the budget-friendlier option a default win: the All-Clad D5 cookware set.
6. Cooktop Compatibility and Versatility
The pots and pans from both collections are compatible with all kinds of cooktops and stoves, including gas stoves, electric, glass top stoves, ceramic, halogen, induction cooktops, ovens, and broilers.
Both the D5 and Copper Core sets can withstand heat up to 600F. They're also both compatible with induction cooktops since they're made with a ferromagnetic steel exterior.
Both sets allow you to sear, braise, sauté, and simmer like a professional chef on any cooktop. The pots and pans let you create many different meals for your family, friends, or even customers. It's an ideal pick for professional use.
Winner: Since they both have similar compatibility with different cooktop types, this is another tie.
7. Appearance and Style
Both sets are made of a stainless steel exterior, but this doesn't mean they're exactly the same.
For one, the D5 set has the option of coming in either a brushed or a polished finish. Brushed means it's matte, whereas the polished finish is more shiny.
However, the Copper Core collection, on the other hand, only comes in a polished finish. It also has a visible copper ring around the exterior of each pot and pan (purely for appearance). It's a subtle but charming addition.


The Copper Core has a distinct ring around the bottom.
Winner: While the Copper Core does have a beautiful little ring that adds some class to its design, we're going to choose the D5 as the winner simply because it offers two finish options instead of only one.
8. Cost / Value for Your Money
Because these sets are made in America and built with premium-quality materials, you can expect a premium price tag for both.
You really do get what you pay for, though; these sets are built to last. They're a worthwhile investment for cooks of any level, as they'll last for generations.
There is a bit of variation in terms of the price depending on if you get a set or a single pan. However, in general, you should know that the Copper Core line will cost about 20% more than D5 cookware.
This is simply because a copper pan costs more than a steel pan. Still, it's worth buying; rather than paying for a new average set of cookware every few years, you can invest in one amazing set and keep using it for life.
Winner: Since the D5 is cheaper than the Copper Core, but still offers similarly great cooking results, sturdiness, and durability, the D5 wins this category.
All-Clad D5 Vs Copper Core: Which 5-Ply Cookware Is Better?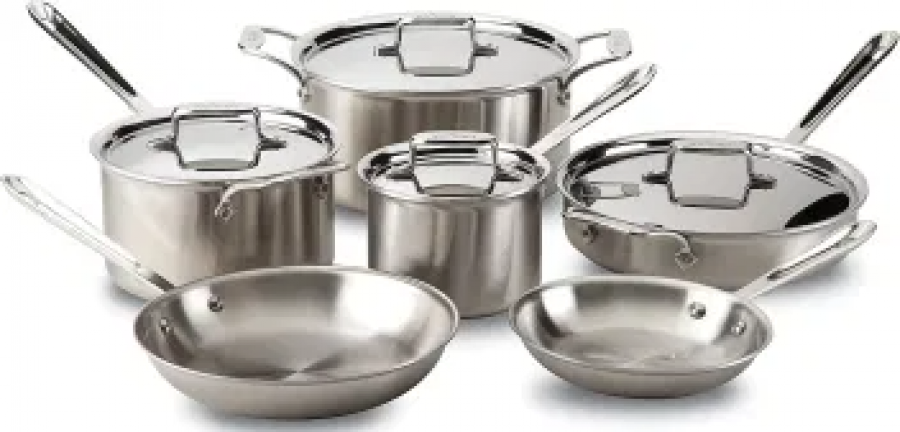 In the end, your choice will come down to your needs as a cook.
If you're a dedicated chef who spends hours in the kitchen crafting careful meals, and you want the best possible cookware with amazing heat control to precisely brown meats in a pan - then the Copper Core set is the right set for you.
If you're more of a home cook and just want cookware that lasts a lifetime, is low-maintenance, looks great, and performs amazingly, then the All-Clad D5 set is the winner for you.
We can continue the D5 Vs Copper Core debate all day, but in the end, they're both excellent sets of cookware and deliver better cooking results than just about any other stainless steel cookwon tare he market.
You can't go wrong with All-Clad; it's no wonder the top chefs in the world choose it for their kitchens.
What are your thoughts on the All-Clad D5 Vs Copper Core debate?

Talya Davis
Talya, like all members of the HomeDesignX team, is enamored by all things related to cooking and eating. She's written cookware articles for numerous publications before working with her lifelong friend Jessica to create their very own website on cookware.
She's currently writing a book on induction cooktops, and enjoys making clean, vegan meals for her family.