If you want to kill the recipe, you need the right tools to follow the book and experiment along the way. Cooking has evolved. From what used to be a simple act satisfying someone's hunger to a passionate activity, cooking has transformed even a profession. And so has transformed the cooking methods. To keep up with the constantly evolving needs and trends, the cookware has also been evolving.
Today in this review, we will be taking a look at the two renowned names in the field of cookware. They are All-Clad and Viking. It is worth noting that we are looking at the two brands based on their cookware range only. The Verdict we get from the following comparison may not apply to their products individually.
All-Clad vs Viking Cookware: let's get started.
About All-Clad Cookware
Among the booming metal works of western Pennsylvania, a new historic foundation was about to be set-up. John Ulam, a renowned metallurgist, was an accomplished man in metals with several patents. However, he was also a passionate home cook. And thus, he combined his knowledge of metals and his passion for flavors, laying the groundwork for All-Clad.
His first experiments were an instant success. The food wasn't soiled, was evenly cooked, and the pan was easier to clean. After a few more twitching with the build of the pans and cookware design, he officially founded and launched All-Clad in 1971 on the land of Canonsburg, Pennsylvania.
The Best All-Clad cookware sets:
About Viking Range Corporation
Just like any other company, Viking was also founded out of a need for something more. Specializing in a wide range of "professional" kitchen appliances, founder Fred Carl Jr. let Viking took its first steps in the market in 1987.
Viking originally specialized in the professional-grade of appliances such as ovens, cooktops, refrigerators, etc. It has recently stepped foot in the commercial market, influencing the lives of all "professional" home cooks. Headquarters located in Greenwood, Mississippi; Viking is delivering quality to everyone passionate about their cooking.
Here's full review of Viking cookware!
The Best Viking cookware sets:
All-Clad vs Viking Cookware: Detailed Comparison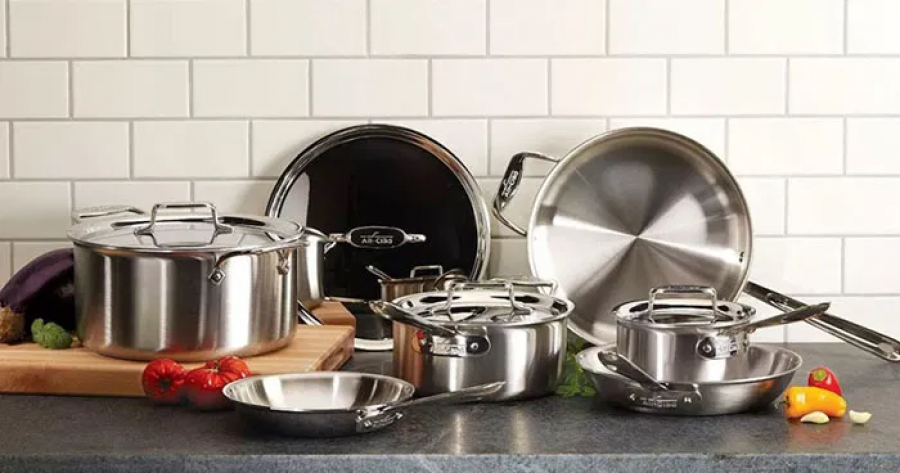 Both of these corporations deliver an array of products, mainly appliances and cookware. However, where one specializes in cookware, the other specializes in appliances. Comparing the two is no less a hassle. But thanks to Viking's recent commercial cookware range, our job has become a lot easier.
In the commercial market, All-Clad has been longer than Viking. And it's only natural that All-Clad will be more popular than Viking. All-Clad also invented the fully-cladded cookware, which has now become a standard for all cookware. Otherwise, the classic disk bottom left many heat spots, and no one likes charred food. However, the Viking slogan (on amazon) stating, "Professional performance for your kitchen," is very much justified when we look at their product quality.
Again we state that the comparison is based on the cookware range of the two brands. To be precise, we will be comparing the two brands based on their three-ply and five-ply constructed range of cookware.
1. 3 Ply Construction Cookware Sets
What is a 3-ply construction? Tri-ply or three-ply construction is where a conductive metal is sandwiched between 2 layers of stainless steel. They have aluminum as the central layer in both of these above cookware ranges, with stainless steel as the inner and outer layer.
All-Clad range of 3 ply cookware is durable. They have been tested by America Test Kitchen. The finishing and construction of this cookware are brilliant. The pouring of these pans has become easier, thanks to the rolled lips. However, this range's handle design is a bit on the disappointing side, consisting of the largest faction of complaints in the company feedback inbox.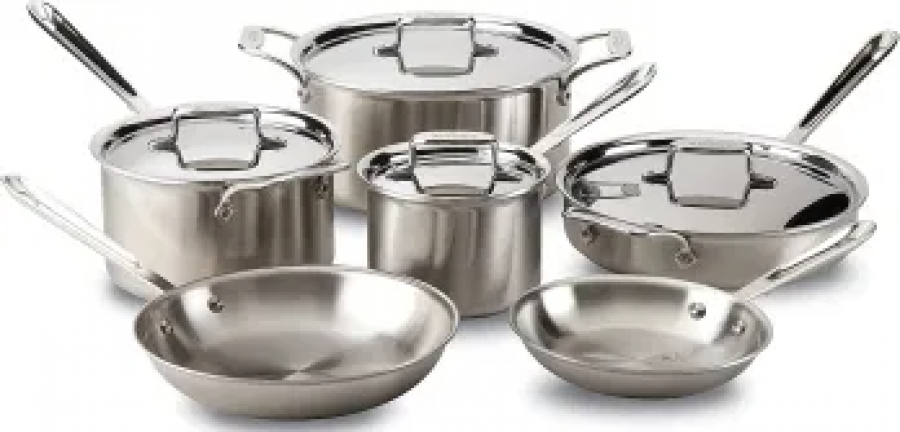 All-Clad D3 Tri-Ply Stainless Steel Cookware Set,10-Piece
TIMELESS PROFESSIONAL APPEAL: All-Clad D3 Stainless is the perfect choice for anyone who loves to cook. Beyond the classic stainless-steel style, you will find a well-constructed, high-performance, easy to use kitchenware set for all, from beginner to culinary artist.
VERSATILE FOR ALL YOUR COOKING NEEDS: This kitchenware set includes 8-inch and 10-inch fry pans, 2-quart and 3-quart sauce pans with lids, a 3-quart sauté pan with a lid, and an 8-quart stockpot with a lid. Each piece is crafted with quality materials to hold and distribute heat evenly throughout the pan, so only medium heat is needed for most searing, braising, sautéing and simmering.
MADE IN THE USA TO LAST A LIFETIME: The D3 Stainless collection features three alternating layers of American-made stainless-steel and aluminum, bonded together all the way to the rim. The classic stainless-steel handles stay cool on the stovetop and are permanently secured with stainless-steel rivets. Products are rigorously tested to ensure that every item with the All-Clad logo offers a lifetime of beauty and performance.
CONVENIENT AND LOW MAINTENANCE: All items included are dishwasher safe. For anything stuck on, use a mixture of white vinegar and water, or a stainless-steel powder cleanser, such as Bar Keepers Friend.
LIFETIME WARRANTY: D3 Stainless cookware pieces are crafted in our factory in Canonsburg, Pennsylvania. Each piece is compatible with all cooktops, including induction, is oven and broiler safe up to 600 degrees Fahrenheit, and is covered by our limited lifetime warranty.
Viking Contemporary 3 Ply is the introductory line of commercial cookware. Where the cladding is similar to that of All-Clad, the build is not at par with it. The design of the pans resembles the Windsor pan with a small base diameter. This was perhaps to save some metal during construction, which can amount to a large sum in the long run. The pans don't have rolled lips, so that is also a downside. They, however, don't have issues with the handle design. They also come with helper handles on the pot.

Viking Contemporary 3-Ply Stainless Steel Cookware Set, 10 Piece
3-Ply Construction delivers even heat distribution and retention for superior cooking results
10 piece set includes: 5.2 Qt. Dutch Oven with lid, 3.6 Qt. Sauté Pan with lid, 3.4 Qt. Sauce Pan, 2.4 Qt. Sauce Pan with lid and 10" and 8" fry pans
18/0 stainless steel exterior and flat cooking surface makes the fry pan induction ready
Windsor Pan-inspired, conical design provides more surface area for evaporation, resulting in faster cooking times
Surgical quality stainless steel cooking surface makes cookware non-reactive
2. 5-Ply Construction Cookware Sets
What is a 5-ply construction? Like the three-ply construction, five-ply construction means a cookware construction with five layers of metal. This lets the pan (or cookware) to store more heat and distribute the same effectively. And in this case, both brands' cookware range is constructed from alternating layers of stainless steel and aluminum. This adds durability, thickness, even heating, and some weight to both of them.
All-Clad range of 5-ply cookware is the absolute all-rounder. They are durable, with a brushed exterior and sleek finish. It has rolled lips to facilitate easy to pour off the liquid, and the helper handles to facilitate the same transportation. Extra layers make the searing of food a pleasant experience. Their main handles are still on the disappointing side. But other features make up for this one downside.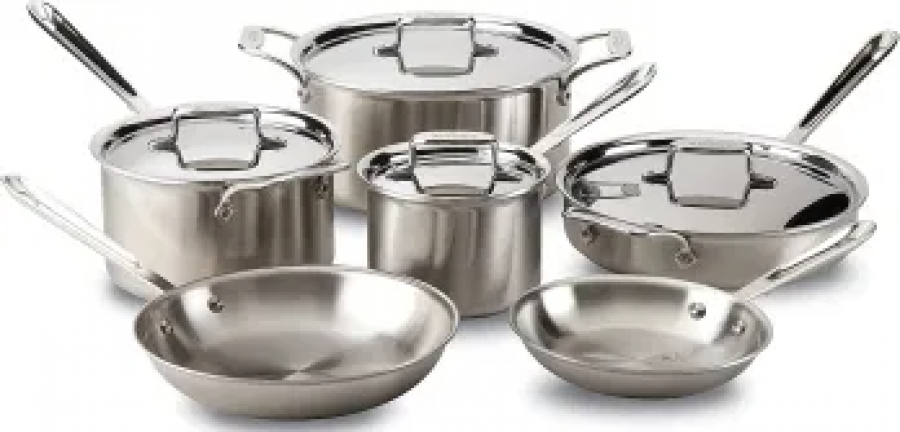 All-Clad Brushed D5 5-Ply Stainless Steel Cookware Set
10-piece cookware set includes 8" & 10" Fry Pans, 1.5 Qt. & 3 Qt. Sauce Pans with lids, 3 Qt. Saute Pan with lid, and an 8 Qt. Stockpot with lid
5-ply bonded construction with alternating layers of stainless steel and conductive aluminum for warp-free strength and even heating throughout
Highly polished stainless-steel cooking surface with starburst finish offers superior stick resistance and easy maintenance, plus won't react with food
Capacity etched on base; heat-resistant stainless-steel handles with large bolster and permanently secured with stainless-steel rivets; flat stainless-steel lids; flared pouring rims
Oven- and broiler-safe up to 600 degrees F; optimized for induction; dishwasher-safe; limited lifetime warranty
Viking's Professional 5 ply cookware range is a lot identical to the All-Clad's range. The pots are of the standard size, and the pot's exterior build is brushed and sleek. Naturally, they also have five layers that evenly distribute the heat at every corner of the pan and increase durability. However, this range does not have rolled lips, which is slightly disappointing, looking at the quality and performance.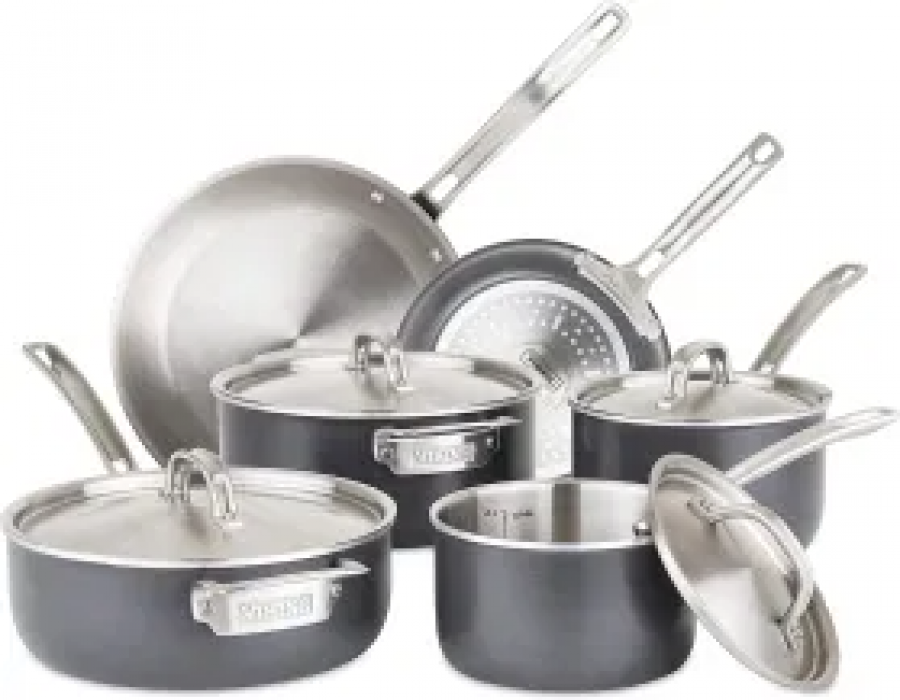 Viking 5-Ply Hard Stainless Cookware Set with Hard Anodized Exterior, 10 Piece
Set includes 5 quart Dutch oven with lid, 4 quart sauté pan with lid, 2 quart and 3 quart sauce pans with lids, 8 inch and 10 inch fry pans
Four outer layers of aluminum deliver optimal heat transfer for even cooking; Oven, broiler and grill safe up to 500°F/260°C and for use on all cooktops, including induction
18/8 stainless steel interior is non-reactive; Interior capacity markings for easy measuring (except fry pans)
Signature Viking stay-cool handle is ergonomically designed to ensure a secure grip, comfort, balance and control
Dishwasher safe; Manufacturer limited lifetime warranty
All-Clad vs Viking Cookware: Which is Better?
Viking and All-Clad are both amazing brands. It almost feels unfair to compare both of them this way. Both of the companies offer a lot, but we could only cover so much. However, keeping an open mind, let's walk into the result of the above comparison.
According to me, both of these brands (cookware range to be precise) are identical. They both provide good quality products and deliver identical performance. It is as if the same pot has different brand tags. The price tag is a different story. Viking's price range is far more than that of All-Clad. That means you may end up paying more (or less) for (almost) the same product.
Thus, if you want performance, which is light on your pocket, go with the All-Clad range of cookware. However, if your wallet allows it, Viking's professional cookware range will bring you no harm. Personally, All-Clad is the clear winner here.

Talya Davis
Talya, like all members of the HomeDesignX team, is enamored by all things related to cooking and eating. She's written cookware articles for numerous publications before working with her lifelong friend Jessica to create their very own website on cookware.
She's currently writing a book on induction cooktops, and enjoys making clean, vegan meals for her family.