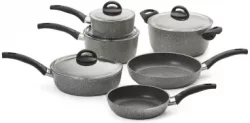 Are you looking for high quality cookware? Check out our full review of Ballarini and a list of the best Ballarini cookware sets before you buy.
In this guide, we will touch various sections of Ballarini cookware including features, pros and cons, cleaning and maintenance techniques, customer reviews, and common questions that people ask before buying this cookware set.
Let's get into an in-depth Ballarini cookware review to clear all your queries and doubts.
Ballarini's Pharma collection is a revolutionary speckled granite with a nonstick coating cookware set. It is constructed with forged-aluminum to provide high-end durability and sturdiness. It helps quick release of food for effortless cooking. The stylish looking ultra-durable Titanium coated cookware is fork-proof, scratch-resistant, and metal safe, which increases the lifespan of pans and pots. They are easy to clean surface to help you not waste time on cleaning.
Cooking with these 10-piece set of pots and pans is 100% safe as they are absolutely PFOA free, which means you get an all-time toxin-free cooking experience. The product is manufactured in Italy and comes with a limited warranty.
Quick Facts
Cold-forged aluminum construction
Titanium, Granitium nonstick coating
Thermo-point heat control technology
Even heat distribution surface
Scratch resistant and corrosion-free
Compatible with all utensils
Easy to clean and use
Ballarini Cookware Review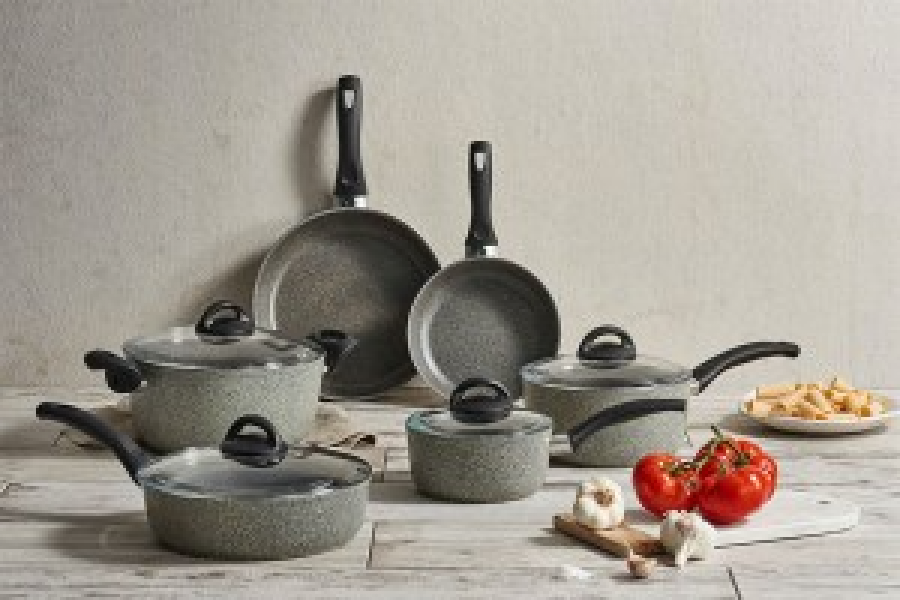 1. Product and Brand Value
Ballarini Parma is made in Italy infused Italian cuisine rich tradition to make every day cooking easy and convenient. Its revolutionary speckled granite coating of non-stick helps to release food effortlessly. Easy to clean, and Ballarini offers an excellent scratch resistant product.
Ballarini pans and pots are remarkable for great value. Ballarini professional Parma cook set offers better performance for its value. This 10-piece forged iron aluminum cookware set is a great combination of durability and performance. I find the product reasonable for the quality the brand is offering.
2. Design and Construction
Ballarini Pharma cookware is an innovative set of cookware. The pans and pots look stylish and attractive. Different colors are available to choose from. The ultra-durable coating attracts your eye. It is specially made for cooking Italian cuisine. The pans are heavier and thicker than usual non-stick pans with great temperature control. The metal clasp built-in heat gauge tells when it is optimal hot.
Nonstick coating is made of granite with ceramic particles. The revolutionary speckles claim to offer exceptional scratch resistance. Therefore it helps to use all kinds of utensils. PFOA triple-layer free non-stick coating helps the better cooking experience. Thermo-point technology is for précised temperature control, reduced overheating, or damages. I found the lid is made of basic glass and handle is made of plastic not that useful.
3. Compatibility and Performance
Granitium nonstick coating reinforced along with ceramic particles and speckles, increase the scratch resistance capacity of the cookware. This makes the pans and pots compatible with all types of utensils.
The cold-forged body helps to heat instantly and evenly throughout cooking. It helps to come up with more tasty food. The nonstick coating is free of PFOA means it is a real nonstick utensil. This helps to reduce burning food items and can save oil while preparing food. The handles are heat resistant that turn red while too hot and turns green after cooling. I found this as a great feature you usually won't find.
The cookware set can work great on gas stoves, glass cooktops and induction cooktops.
4. Cleaning and Maintenance
A non-stick pan and pot should not be cleaned when it is too hot. You must wait for the cookware to cool down completely. After that, with soft sponge and soap, you can wash in warm water. These 10-piece non-stick cookware set is dishwasher safe too. Therefore easy cleaning ensures no time wasted for washing and drying.
As said, the cookware is made of tougher coating, so it extends the lifespan of the Ballarini pans. The product is easy to maintain if taken care of properly. The hard nonstick surface is compatible with metal but not recommended. I find innovation is the main key production of the Ballarini cookware set.
5. Advantages of Ballarini Cookware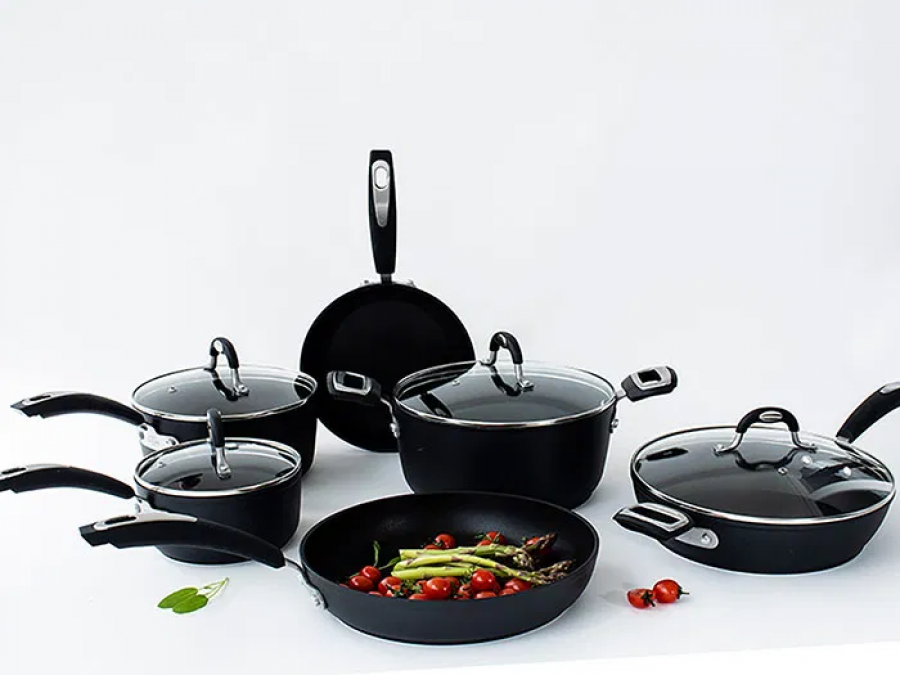 The Ballarini Parma range claims a variety of sets in different sizes and shapes. The 10-piece forged iron aluminum set is one such range with a lot of innovative features.
This set is coated with Granitium and Titanium nonstick coating rather than the ordinary ones. Even ceramic particles strengthen its speckled look. It is scratch-resistant, corrosion-free and long-lasting.
Thermo-point technology guarantee a precise temperature control reduces unnecessary heating and damage the cookware set.
The aluminum heats up evenly than steel, and the nonstick layer requires minimal to no oil or butter when cooking your delicious, healthy meals.
The handles of the pans and pots remain cool and comfortable to hold when cooking even on the high heat.
PFOA free triple layer coating is used to help unnecessary browning of food.
And, because the coating is of high quality, you get the opportunity to enjoy easy using, cleaning and maintenance features too.
An interesting fact of this cookware set is that all the lids of the pots and pans can be used interchangeably.
6. Disadvantages of Ballarini Cookware
The brand needs to work on its packaging, especially for customers ordering online; wrapping and breakage is a common issue here.
Read more:
Customer Reviews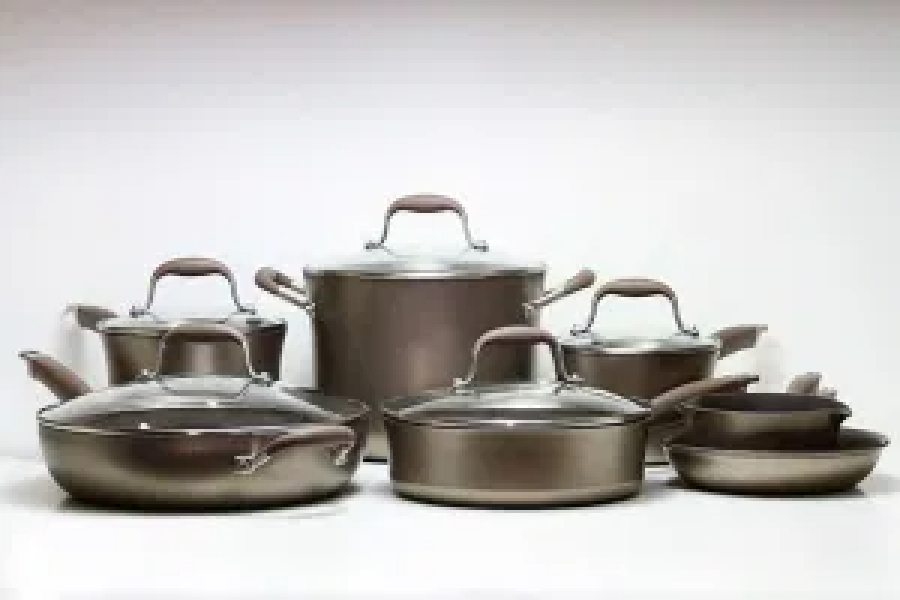 "This is a superior range of cookware sets. I found a huge bonus of cleaning after cooking because it is dishwasher safe. Its thermo-point indicator one of the other features I am amazed to see; again I am also happy with its durability, which means I can cook healthy, it looks good, and it's long-lasting… all at the same time!" – Nancy Ernest
"The construction of the pans and pots in the set is outstanding. Its glass lid fits quite nicely with all cookware. The handles are made of polymer that does not get hot while cooking. A speckled gray finish inside and outside of the pots is very complimenting, at least for me it is. Overall, if I look at all the pieces of this Ballarini Parma cookware set, it seems to be of higher quality cookware investment for me. I am happy." – Bob D.
"The product is awesome. Aluminum conducts equal heat. I know this is not a huge surprise to anyone who already has reviewed this cookware or has read other's reviews, but I still can't stop writing about it. It's because not all cookware prove to be this true. Aluminum is inexpensive and conducts heat five times more than steel. I am happy I made it my choice." – Jaishree Patel
"Ballarini is producing such amazing cookware for the first time. Last time I bought Ballarini cookware, I wanted to give it a second thought, but this time I know what I have bought. I am going to use this for years and years. In my opinion, this is the right blend of performance with convenience for every home kitchen. If you have decided to go with a nonstick cooking surface and reduce hassle in the kitchen, this one is useful. The only thing that turns me away from cooking in it on a daily basis is that it is very heavy to handle. But again, it's a great cookware." – Jane Hanks
Frequently Asked Questions
1. Is Ballarini Cookware safe to use?
Yes, the Ballarini cookware set is very much safe to use. You can make delicious food without using much oil. They are easy to clean also.
2. Is Ballarini cookware oven-safe?
It is safe to use in the oven up to a heat of 300o F. If you heat more than that, then its handle will start melting. But not that good, in my opinion.
3. How to clean Ballarini Parma 10 piece cookware set?
Cleaning is very simple due to the nonstick coating. You can wash with your hand using soap water and sponge. The debris falls off easily. You can also put them in your dishwasher.
This is like any other nonstick cookware set, but the difference you find is Garinitum. It is titanium supposedly reinforced with particles of ceramic. Honestly say, I saw some variation among other manufactures. Mostly look the same, but with a different texture. Ballarini looks like granite probably gives more durability than others.
4. What sizes pans and pots are they?
The set includes 8" fry pan, 1.5-qt saucepan with lid, 10" fry pan, 2.9-qt sauté pan with lid, 2.8-qt saucepan with a lid, and 4.8-qt Dutch oven with a lid.
5. Does the brand recommend dishwasher safe?
Yes, the company claims the product is dishwasher safe. But you should hand-wash it; it is highly recommended to preserve its nonstick coating. After several washes, there may occur some scratches, and it will affect your cooking. It will start sticking on the surface.
Final Words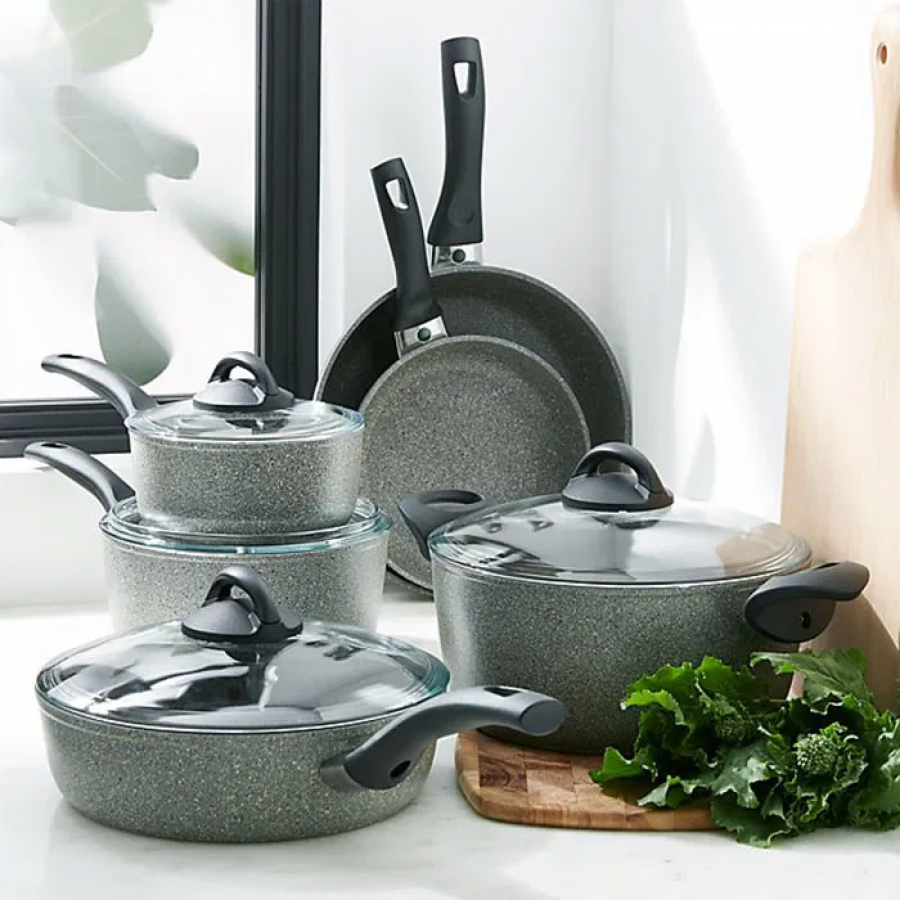 This is like any other nonstick cookware set, but the difference you find is Garinitum. It is titanium supposedly reinforced with particles of ceramic. Honestly say, I saw some variation among other manufactures. Mostly look the same, but with a different texture. Ballarini looks like granite probably gives more durability than others.

Talya Davis
Talya, like all members of the HomeDesignX team, is enamored by all things related to cooking and eating. She's written cookware articles for numerous publications before working with her lifelong friend Jessica to create their very own website on cookware.
She's currently writing a book on induction cooktops, and enjoys making clean, vegan meals for her family.