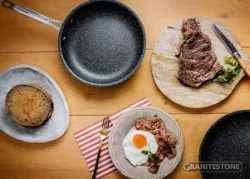 When it comes to GraniteStone and GraniteRock Pans, the population, in general, became aware of this cookware through convincing TV ads. The TV ads highlighted Granite Stone cookware as layers of granite and aluminum core mineral-enforced frying pans. The brand promises the best nonstick pans that have even been designed to date.
They say you wouldn't need any greasing when cooking eggs on these pans. They are right – they cook perfectly without creating a mess!
Let's get into an in-depth Granite Stone and Granite Cookware review to clear all your queries and doubts.
Note: GraniteStone and Graniterock pans are essentially the same thing, and they are both made by the same company. The prices are also about the same for both models, which is why they will be used interchangeably in this article.
GraniteStone pans are designed with a high-quality natural mineral coating. The combination of granite with aluminum makes it extraordinarily a great conductor of heat.
It provides 100% non-toxic, healthy cooking, which has no PFOA, PFAS, lead, or cadmium. You can use it on all cooktops except induction stovetops.
It is oven-safe and can tolerate heat up to 500F. The pan can withstand rough handling. You may fry, sauté, bake, or sear in this granite pan.
Cleaning and maintenance are easy as it is dishwasher-safe. This granite-surface nonstick pan is highly versatile; you can use all kinds of metal, nylon, and wooden utensils – spatulas, whisks, electric beaters, and spoons on this pan.
Its firmness gives it durability and prevents warping. The handles offer "stay-cool" technology.
Quick Facts
High-grade pressed aluminum construction
Tri-layer granite nonstick coating
Healthy and non-toxic
High performance with long-lasting durability
Even heat distribution for perfect cooking
Oven safe with up to 500F heat tolerance
Easy to clean, dishwasher-safe
Firm 'stay-cool' handle
Read more:
Blue Diamond Pan Review
Green Pan Review
GraniteStone Pan Review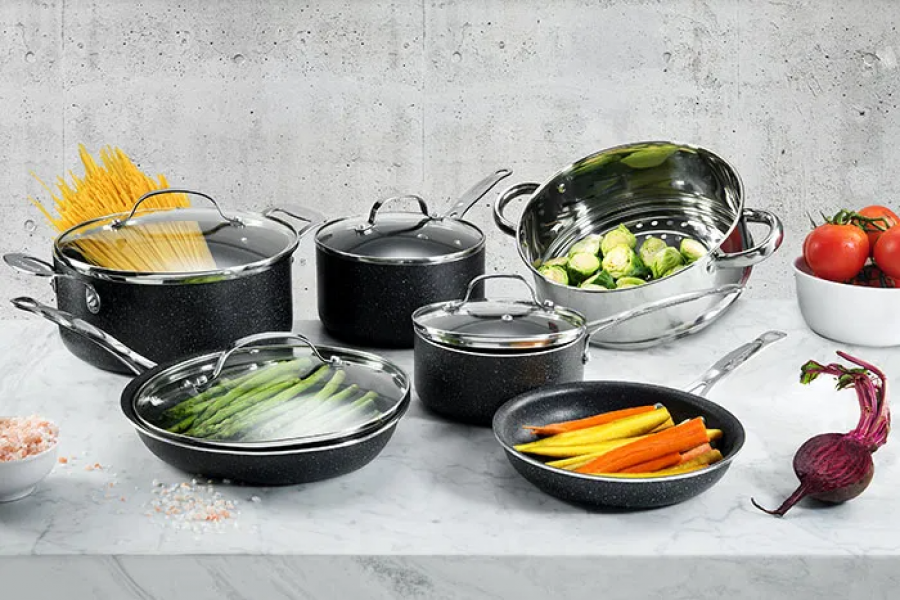 1. Product and Brand Value
The triple granite outer layer and superior pressed aluminum inside make it solid for the price. It comes with a limited warranty with material guarantees. The brand is yet to earn the confidence of the clientele, as it is comparatively new in the market.
The reviews for this product tend to call it reliable.
The vigorous advertisement campaign on media and TV has accelerated its sales. Graniterock and Granitestone products have become a familiar name for that reason.
It is easily affordable, and I have purchased and used it myself for the sake of this article. You can add it to your kitchen collection for a very reasonable price.
2. Design and Construction
The Graniterock/Granitestone pan has a rim on the edges.
The base is made of granite with an indented aluminum metal ring. It sits flat on the heat source, and the distribution of heat is even.
It is compatible with all cooking surfaces except induction. The construction of Granite Stone cookware is definitely strong and sturdy. Once purchased, it will last for about the same amount of time as another pan, depending on care. The non stick coating is PFOA-free.
The granite and aluminum are of good quality for the price, and give the cookware a rich look. They are heavy, but portability is still easy.
I was impressed by its quality and sleek design. Even though I did not need another pan, I was compelled to buy and keep it.
3. Compatibility and Performance
The non stick coating does not leak toxic fumes at high temperatures, as it can withstand up to 500f. It's recommended not to heat the cookware any hotter than this.
The nonstick cookware can be placed on different cooking sources (except for induction). The flat bottom sits very well on the heat source, radiating even heat. You can stir fry and sauté using metal utensils without fear of scratching the pan. Its resilience is dependable.
The cookware can be used on gas stoves or glass top stoves for cooking.
It is advisable to use low and medium heat for cooking with the best results. Cooking spray is not required, but a little bit of butter or oil can help with more sticky foods (and flavor!). Being non stick, the food generally slides into the plate with ease.
4. Cleaning and Maintenance
The cookware is compact, and the right size to occupy just enough space in the cabinet.
Granite Stone and Granite Rock pans are dishwasher-safe and come out gleaming. They are oven-safe, and food residues do not stick.
At times, using a tissue is sufficient to clean it. The outer surface should also be cleaned; otherwise, it becomes sticky.
The cookware can take rough handling, but still take good care of it regardless. If guidelines are followed, the nonstick cookware will last for a long time. Its easy maintenance and durability are a plus, and make me even more confident to recommend the product.
5. Advantages of Granite Rock Pan and Granite Stone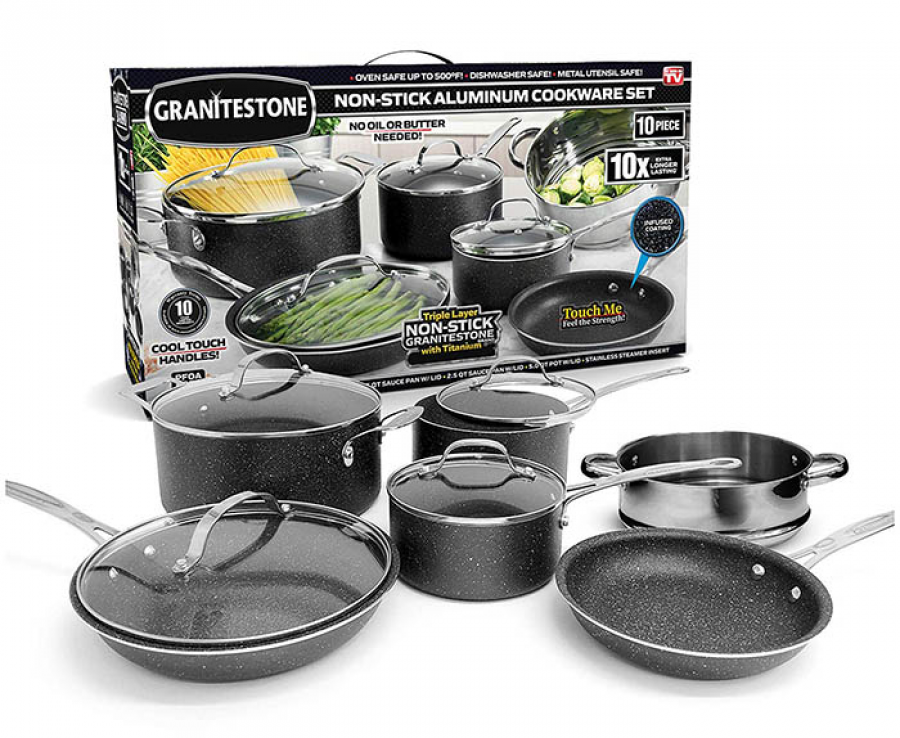 It has good heat retention and distribution power because of the layers of granite and aluminum core.
This pan is designed with 3-layer granite nonstick, which, even after constant use of heating and washing, does not warp the nonstick cookware.
They are oven safe up to 500°F without any ill effect. For reference, a pizza normally cooks at 475°F in the oven.
The nonstick coating is PFOA and PFAS free. It is also free of other toxins and harmful chemicals, so no toxic fumes come out at high temperatures.
You no longer have to time scrubbing and cleaning cookware once you have invested in this GraniteStone pan. It's easy to clean and can be cleaned in the dishwasher.
This pan is not only high-performing but is also a beautiful inclusion for your kitchen, and comes with a warranty.
Reasonably priced, this nonstick granite pan is a complete value for money..
6. Cons of Granite Stone / Granite Rock Pan
The advertisements on TV and online state that it comes with a free egg pan. However, some people have reported not receiving this bonus item.
The artistry is not excellent as the pan gets distorted a little after constant use, which results in uneven heat radiation, and portions of the food get burnt.
Because the pan construction includes aluminum and granite, this pan is heavy than other brands.
GraniteStone Pan Customer Reviews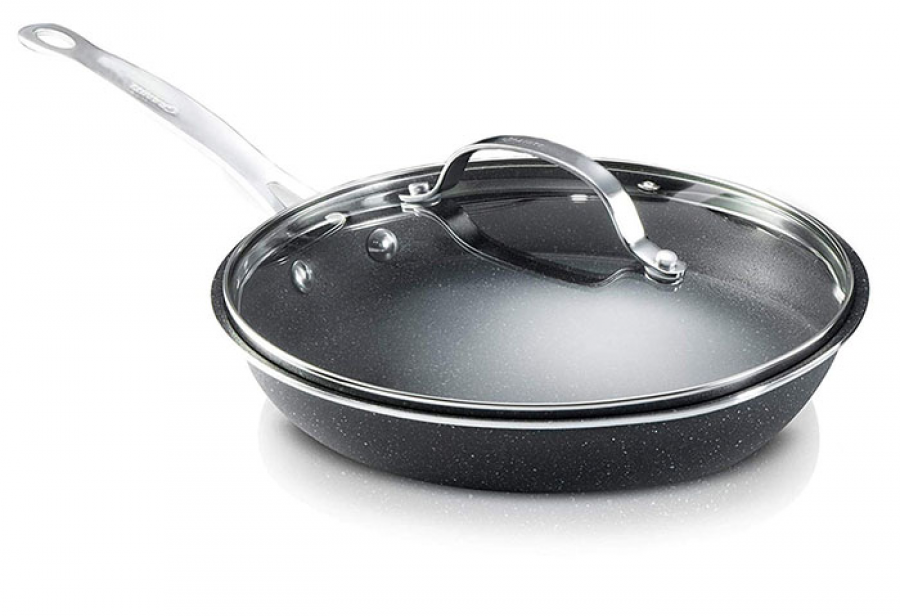 "I was encouraged by the advertisement that assures that it is the most durable nonstick pan ever manufactured. It does not require a greasy layer of oil or butter, and fried eggs simply slide out of the pan. I am happy. I bought the cookware. The claim on TV was correct. My cooking has been facilitated. The cookware is easy to use and maintain." – Steve Hall
"After a week's research on this advertisement, I couldn't stop myself from buying this pan. It looks awesome, and the performing base is excellent. It's been just a month, and I have used it almost 15 times, and it's still shinning. I am positive about this one, and I believe it's going to last for another few years – sturdy and shinning, in my little studio kitchen. I am overall, happy." – Kapil M.
"The best thing I appreciated about the cookware is even heating and no scratches. The use of metal utensils on the surface and mallet to smash small boulders in the pan left it intact. The claim of publicity was found to be true. For the first time, I made a purchase on the bases of advertisement and not reviews, and I don't repent it." – Lucy Stone
Eagerly I fried eggs on my new cookware following all the instructions. I made sure not to use fat. So I just cracked an egg on the pan. The egg was evenly cooked without any hotspots. The white got set, and the yolk was still fluid. I tilted the cookware towards the plate, and it did not slide off. I made use of a spatula, and it worked. The claims of the advertisements proved correct." – Sheila Brown
Frequently Asked Questions
1. Is the GraniteRock pan compatible with induction cooktops?
These pans are compatible with electric coil, gas smooth surface non-induction, and oven. It is not compatible with induction.
2. Does the GraniteStone pan come with a lid?
The cookware does not come with a lid. You have to buy one from the market with appropriate size dimensions.
3. Does this Granite Rock frying pan have diamonds?
Granite stone and Granite Rock do not have diamonds, but are still nonstick pans.
4. Does the package have a cookbook?
No, there is no cookbook accompanying the cookware.
5. What is the best way to cook fried eggs with Granite Cookware?
Warm up the pan to medium-low heat. When slightly hot, put a few drops of olive oil. Let the cookware smoke. Let it cool a little and break the eggs. The heat will evenly cook it, and it will slide out on the plate.
6. Is the Granite Rock frying pan flat at the bottom?
Yes, the cookware is flat at the bottom. It fits snugly to the cooking source, radiating even heat all around.
7. Does the granite leak out into the food?
Granite is a stone, and no residues get mixed with food. Even when the cookware has been constantly used, granite does not leak into food.
Final Review on Granite Rock/Granite Stone Pans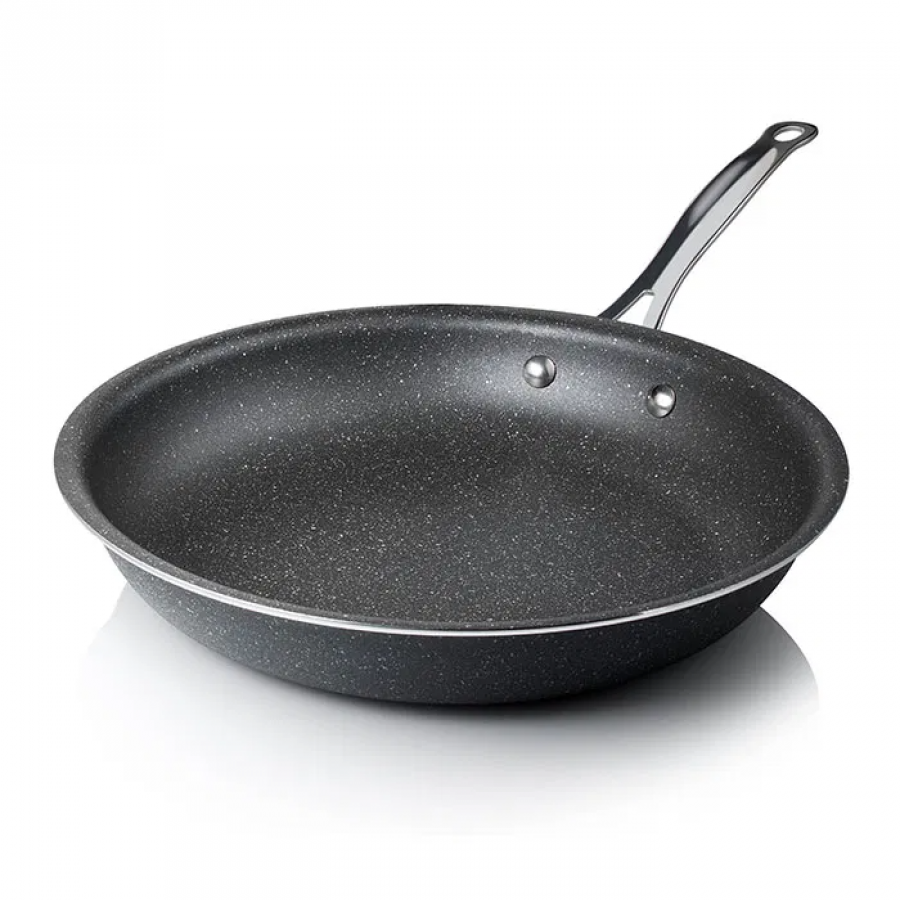 This cookware is durable and superior in quality for the price. It was introduced to the market after a lot TV exposure. It has beaten the more expensive competition and made a name for itself among buyers.
What are your thoughts on these pans? Let us know in the comments below!

Talya Davis
Talya, like all members of the HomeDesignX team, is enamored by all things related to cooking and eating. She's written cookware articles for numerous publications before working with her lifelong friend Jessica to create their very own website on cookware.
She's currently writing a book on induction cooktops, and enjoys making clean, vegan meals for her family.