2nd Best Choice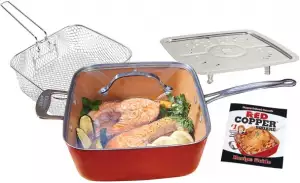 Red Copper Nonstick Square Ceramic Cookware Set
Check Latest Price
Editor's Choice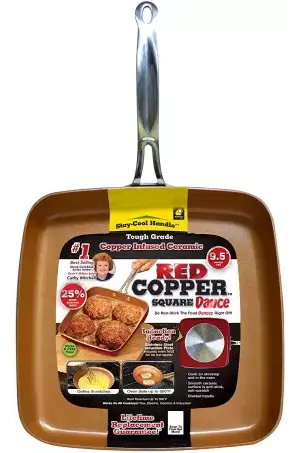 Red Copper Square Non-Stick Ceramic Cookware
Check Latest Price
3rd Best Choice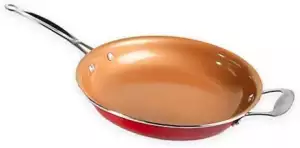 Red Copper Fry Pan Deluxe 12 Inch
Check Latest Price
If you're in the hunt for new cookware, be it for yourself or for someone else, chances are you've heard a thing or two about Red Copper.
There's plenty of information about how amazing Red Copper pans are but you may not know why.
Check out the full comparison of Red Copper - Gotham Steel and Copper Chef:
Copper Chef vs Red Copper: Which One Is Better?
Gotham Steel vs Red Copper: Which One Works Best?
We've compiled a short Red Copper Pan reviews to help you find the one that works for you. Let's get started!
The 5 Best Red Copper Pan Reviews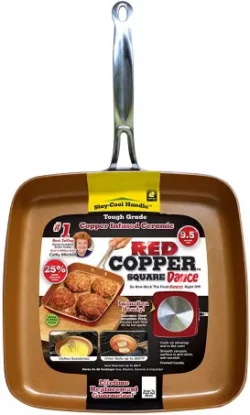 Made by Bulbhead, this square pan is one of the largest ones in this list, which makes it a perfect choice for people looking to cook for a large number of people.
Despite its large size, this pan gets hot quite fast, which means you're going to have to be careful when using it. As the cooking times tend to drop compared to other types of pans, which can result in burnt food the first couple of tries.
The cooking surface is plain, which we found a little disappointing since we prefer grilled pans, but it's large enough to cook up to 4 patties. Or, if you want to take advantage of the flat cooking surface, at least 4 eggs.
While this pan is advertised as non-stick, it requires to be seasoned regularly to truly maintain this property. However, it's free of chemicals such as PFOA and PFTE, so it's a fair trade, considering just how easy seasoning a pan can be.
The ceramic surface is, however, quite easy to scratch so you should avoid using metal utensils and stick only to silicon or wood.
As you can imagine just by looking at it, this pan can be quite heavy, so you should be careful when using it, particularly if you have any food in it.
Because it's made with ceramic, it doesn't resist falls very well, so make sure to always hold it as securely as possible both when cooking with it and storing it.
Pros
Non-stick
Easy to clean
Easy to season
Large cooking area
Cons
Heavy
Not completely dishwasher safe
Comes with no utensils or accessories whatsoever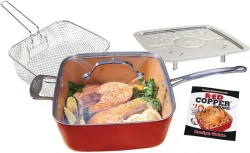 If you liked the idea of a square cooking pan with a large cooking area, then this cookware set is perfect for you.
One of the things we liked the most about this pan was the fact that the handles seem to be fused with the body, as opposed to simply bolted. This can give you extra security when handling it, but it makes the handle grow hot much faster.
While it may look relatively simple, what with it being only 3 pieces in total, rest assured that each part of this set works wonders, both in sturdiness and versatility.
This little cookware set can help you fry, steam, roast, bake, boil and even deep fry, making it an excellent option for adventurous cooks or people who just don't want to wash too many dishes.
Because of its ceramic surface, this pan can be very easy to clean, even after deep frying food. That said, you should be careful when washing it, as it scratches relatively easily.
This pan, as well as its pieces, are dishwasher safe cookware but you should consider washing it by hand as often as possible. This not only will keep it from being scratched, but will also prevent any accidents in the dishwasher, as it's quite big and heavy.
Measuring 20x10 inches and weighing a little over 5 lb., this is one of the largest, if not the largest, Red Copper cookware set, but it's not the easiest to use, as once loaded with food it can become even heavier, making I third to move singlehandedly.
Pros
Perfect for cooking a large quantity of meals
Versatile
Easy to clean
Has good non-stick properties
Cons
Heavy
Large and cumbersome
There are some fakes circulating the internet so careful with that.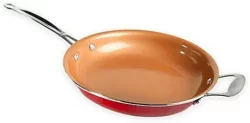 Perfectly described as "large and in charge" this frying pan is large enough to handle most types of food, though it's a little too shallow for others.
Thanks to its build, which uses reinforced ceramic for the cooking surface, you can use very little oil when cooking, making it an excellent choice for the health conscious out there.
Unlike Teflon and similar artificial non-stick pans, ceramic is chemical free, which makes it good for you and the environment.
Design wise, we're split about this pan.
Because the pan is missing a lid, we can't help off some points. However, this pan comes with an extra handle, which makes transportation easier and, because this pan is oven safe, it makes baking a possibility.
The handles also come useful when you consider this pan is large and heavy, even without food in it.
Despite being oven safe, the handles do get quite hot when cooking, so careful when handling them, and if you put this pan in the oven, careful when taking it out.
Another slight downside to this model is that it doesn't work well on induction cooktops, though you can always purchase accessories to make it work.
Pros
Non-reactive and chemical free
Two handles for easy transportation
High durability
Beautiful design
Cons
Doesn't come with a lid
The handles can get pretty hot
It's advertised as dishwasher safe, but it can be damaged if washed that way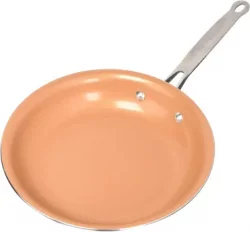 This is a rather simple, yet attractive red copper pan that gives you all the advantages of this type of cookware at a more affordable price.
Made with reinforced ceramic and copper, this pan is a great option for those of you trying to minimize their consumption of oils and fats without using non-stick pans that include Teflon or other chemicals.
The reinforced ceramic used in the cooking surface gives this pan some pretty impressive non-stick properties, but you need to season first to truly take advantage of them.
This reinforced ceramic surface is oven safe and can withstand high temperatures, turning this pan into a two-in-one sort of thing. However, the ceramic coating is sensitive to scratches and can be stripped off if you're not careful when using it, so you should only use wooden or silicone utensil with this.
Likewise, while Red Copper pans are often advertised as dishwasher safe, too harsh soaps (which are often present in dishwashers) can harm the non-stick coating.
As for the pan itself, you'll find it pretty useful. The build is sturdy and large enough to satisfy your family. It looks great in any kitchen and it heats up quite quickly, making it a good option whether you're in a rush or you're thinking about cooking something delicate.
That said, the pan is rather heavy, so you should keep that in mind when cooking with it.
The handles feel a little flimsy, though it may be the weight, and they get quite hot to the touch so we suggest caution when using this pan.
Pros
Non-stick and chemical free
Easy to clean if properly seasoned
Large and perfect for a small family
Great looks
Cons
Delicate and requires some special considerations
Heavy
The handle feels rather flimsy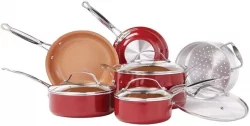 An excellent option for those of you who have already decided that yes, they want to use red copper pans. This set comes with frying pans, saucepans, a steaming insert and lids, making it a great addition to any kitchen and an even better "my first kitchen ever" cookware set.
Contrary to other Red Copper products, the ones in this set are actually surprisingly lightweight while still maintaining the same properties that only a copper and ceramic mix can give you. That said, the pieces are a little less sturdier than their heavier counterparts, so keep that in mind.
While the pieces are numerous, you'll be surprised to find out that this set is actually one of the most affordable items in this list, making it a great gift.
All of the pieces in this kit, save for the lids, are oven safe, which gives you more versatility when cooking.
The reason why this set is both more lightweight and affordable than other Red Copper models is because it also uses aluminum. In this case at the base, which makes it slower to react than other Red Copper products but makes it induction compatible, which is always a plus.
Pros
Very versatile
Well equipped
Oven safe
Lightweight
Easy to clean
Affordable
Cons
Less sturdy than other Red Copper products
The handles get very hot, both on the stove an in the oven
Lids are less heat resistant than the pans and saucepans
Red Copper Pan Reviews
What Are Red Copper Pans?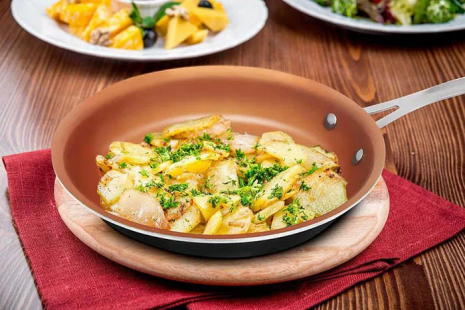 The fact that these pans are also dishwasher and oven safe certainly adds to the appeal.
Red copper pans are professional non-stick pans made with reinforced ceramic and copper.
The copper, which makes up the base and the outside body of the pans, allows Red Copper cookware to heat up quickly and evenly, reacting to temperature changes in a matter of seconds.
The reinforced ceramic, which the cooking surface is made of, is a non-stick surface free of chemicals that can withstand high heats and, once properly seasoned, can help you cook all kinds of meals with little to no use of oils or fats.
Thanks to the properties of both ceramic and copper, Red Copper pans are known for having excellent non-stick properties, being easy to clean and looking great in your kitchen.
Check out our instructions to season the Red Copper Pans.
Should You Buy Red Copper Pans?
Of course!
Red Copper pans may look like a sizeable investment at first, but if you treat them with care they'll be exactly that. An investment, that's going to cook you delicious and healthier food over and over again!
Now that you know what Red Copper pans are, what they're made of and what are their pros and cons, it's time to take a look at the best they have to offer.
Is It Safe to Use Red Copper?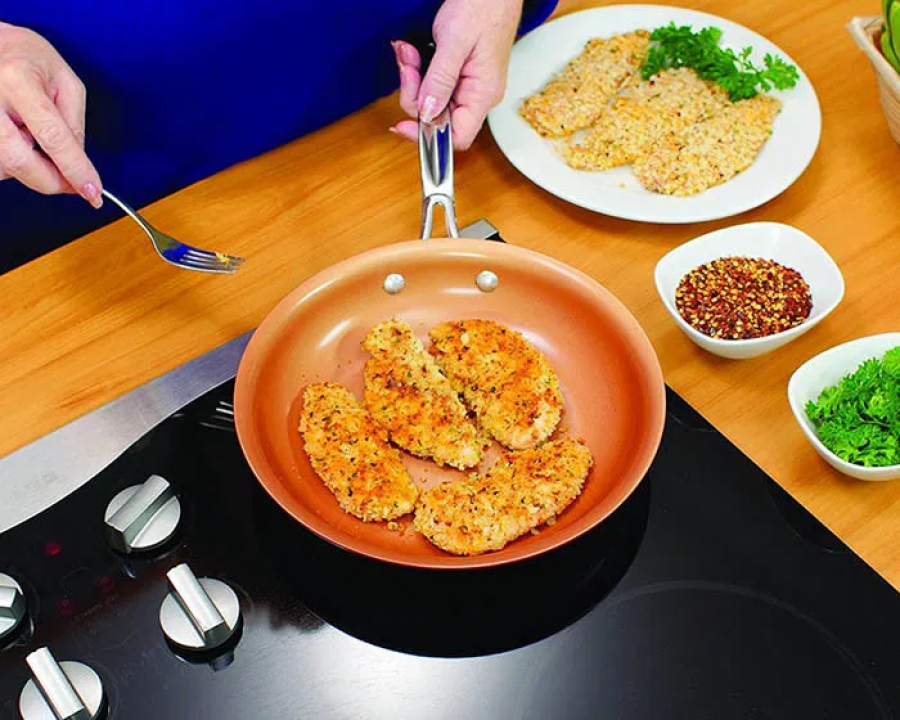 If you've done any research on cookware, chances are you've encountered articles talking about the danger of non-stick pans.
Well, you're in luck. Those articles often refer to Teflon pans and Red Copper has none of them.
Since the cooking surface is ceramic, it's free of all harmful chemicals other non-stick pans are known for, and since it can be seasoned with time to require less and less oil, it can be good for your health as well.
Perhaps you've read a bit about food reacting in unpleasant ways with copper, which is true, but it's something you won't have to worry about with Red Copper, as the fact that the cooking surface is made out of ceramic means your food won't touch copper at all.
Advantages of Red Copper Pans
Because of the combination of copper and reinforced ceramic used in their construction, Red Copper pans offer the following advantages, regardless of the model you choose:
They heat up fast and evenly
They react quickly to temperature changes
They cool down fast once you stop using them
They don't have harmful chemicals on their cooking surface
They can build a surprisingly effective non-stick surface once properly seasoned
They're dishwasher safe
They're easy to wash by hand
Because of the ceramic cooking surface, they're completely non-reactive, meaning you can cook anything on top of them without unwanted results.
Of course, there are a couple of disadvantages that are worth mentioning.
Disadvantages of Red Copper Pans
The disadvantages of these types of pans are few and far between, but they're there so we're going to cover them:
Red Copper pans can be rather weighty, which can be a problem with people with weak joints. Copper is lightweight, but the same can't be said about ceramic, which means the pans will be heavier than regular Teflon ones, but lighter than Cast Iron.
The ceramic cooking surface is also easy to scratch, so you should avoid using harsh soaps when washing it (either by hand or in the dishwasher) and should try to use only wooden or plastic utensils when cooking.
While the pans can be washed in the dishwasher, doing so often can result in scratches, so it's recommended to hand wash whenever possible.
Red Copper Pans: Video Review
Editor's Choice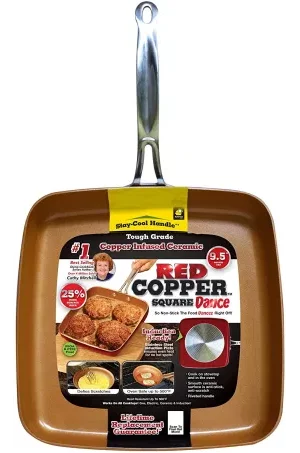 Red Copper Square Non-Stick Ceramic Cookware

Talya Davis
Talya, like all members of the HomeDesignX team, is enamored by all things related to cooking and eating. She's written cookware articles for numerous publications before working with her lifelong friend Jessica to create their very own website on cookware.
She's currently writing a book on induction cooktops, and enjoys making clean, vegan meals for her family.