These cookware brands are advertised as being good for your health when compared to other non-stick brands, completely non-stick, sturdy and versatile, which catches the interest of many.
You'll be happy to know all of this is true. Both Copper Chef and Red Copper offer high-quality cookware that will last for a long time and that can help you cook a variety of professional tasting meals from the comfort of your home.
So why, pray tell, are both brands often compared against each other when it comes to choosing the best cookware brands in the market?
The short answer? They're competitor brands, so it makes sense to compare them.
The long answer? While similar, there are some differences that make users prefer one brand over the other.
To guide you over these similarities and differences, we've written this short guide about Copper Chef vs Red Copper.
Reviews of Copper Chef and Red Copper
Copper Chef vs Red Copper: Detailed Comparison
Copper Chef vs Red Copper: The Similarities
Both Red Copper and Copper Chef pans are made with the same materials, ceramic and copper. They can work great on gas stoves. This alloy allows you to exploit the properties of two of the best materials in the cooking world while avoiding their disadvantages:
Copper
This is one of the best metals when it comes to cooking, as it heats up quickly and reacts well to temperature changes, making them an ideal choice for delicate recipes.
Unfortunately, copper is known for its reactiveness. Which makes it change the color or taste of certain foods, such as tomatoes, which turn incredibly acidic, or eggs, which turn a weird coppery color.
Ceramic
Ceramic isn't a great heat conductor, but they make for a fantastic cooking surface.
This material is non-stick and scratch resistant. It also tolerates high temperatures and is completely non-reactive, making it a good choice for any kind of food.
This combination makes both Copper Chef and Red Copper perfect candidates for the professional or the amateur cook, as they last for a long time and, once properly seasoned, can reduce the amount of oil and fats in your food tremendously.
They're also reactive enough to be able to cook both complicated and simple dishes, and they both look amazing in your kitchen, which is always a plus.
So, if they're made with the same materials. What makes Copper Chef and Red Copper so different?
Copper Chef vs Red Copper: The Differences
What makes Copper Chef pans and Red Copper pans different is their design.
Because they're made by different companies, they have different percentages of copper and ceramic and different overall design, which in turn results in things such as:
While both are oven safe, Copper Chef pans are better suited for high temperatures, as they can tolerate temperatures up to 850 degrees while Red Copper pans can only withstand temperatures up to 500 degrees.
While both brands are heavy, particularly when it comes to their larger pans and casseroles, it seems like Red Copper pans are lighter and easier to handle than Copper Chef.
This only applies to when the pans are empty. Once you add food to the mix, they'll both put a strain on your wrist.
There's a notable difference between the quality and feel of the handles of Copper Chef and Red Copper pans.
Red Copper products tend to have a sturdier handle altogether, but they also get very hot, since they're completely solid.
Copper Chef has handles that feel more lightweight and less sturdy, as they're actually hollow. This, however, keeps them from getting as hot as Red Copper's handles.
Both Copper Chef and Red Copper are sold in bundles or by unit. However, Red Copper tends to have more variety when it comes to complete cookware sets, making it a better choice if you're thinking about stocking an entire kitchen.
The prices between both brands are very similar, particularly when it comes to their bundles. However, Copper Chef tends to be a little more expensive when it comes to individual units. Which makes sense, considering they perform better in the oven.
That said, both brands can be a little pricey.
We're emphasizing the steep price because, when it comes to premium cookware such as Red Copper and Copper Chef, there are certain precautions you need to take to ensure the longevity and quality of your investments.
When looking through characteristics and reviews to give you the differences and similarities between both brands, we ran into a few complaints users of either brand seems to experience.
Complaints that can easily be avoided by taking proper care of your cookware.
Read more:
Blue Diamond Pan Review
Green Pan Review
2 Tips For Using Copper Chef Pan And Red Copper Pan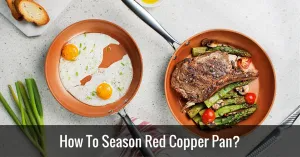 Remember, these instructions will help you take care of your cookware, whether it's Red Copper or Copper Chef.
1. How To Keep Food From Sticking
You'll need to season your Red Copper or Copper Chef pan right out of the box and after every few uses. This can be done by following these instructions:
Wash your pans before seasoning and let them air dry.
With the pan at room temperature, pour a tablespoon of vegetable oil (canola, peanut, walnut or anything with a high smoke point) and spread all over the cooking surface, including the interior sides.
Turn your stovetop to medium-low heat and let your oiled pans heat up.
Remove the pans as soon as you notice they start smoking.
Let your pans cool down completely.
Store, placing a soft cloth or paper towels on top if you plan on stacking them.
After using, wash with mild soap and avoid scrubbing.
Remember to re-season every few uses for better results.
After enough uses, your pan will start to build a patina that will make it truly non-stick. But after seasoning, even if it's the first time you use it, you should be able to cook with minimal oil without experiencing food sticking to the pan.
2. How To Keep From Scratching or Peeling Off the Ceramic Surface
You'll need to season your pots right out of the box and after every few uses. This can be done by following these instructions:
You should avoid using metal utensils altogether. These pans are scratch-resistant, but they're not invulnerable and if you want to take advantage of their properties you need to take care of them.
Use plastic, silicone or even wooden utensils and avoid cutting anything that's cooking on this surface.
You should also avoid using particularly abrasive soaps or materials, choosing instead to wash your pans with soft sponges and mild soaps.
For this purpose, you should avoid using your dishwasher to clean these pots and pans whenever possible. Though the occasional cycle won't harm them. Check this list of the best dishwasher safe cookware if you want to get one.
Copper Chef vs Red Copper: Which Is Better?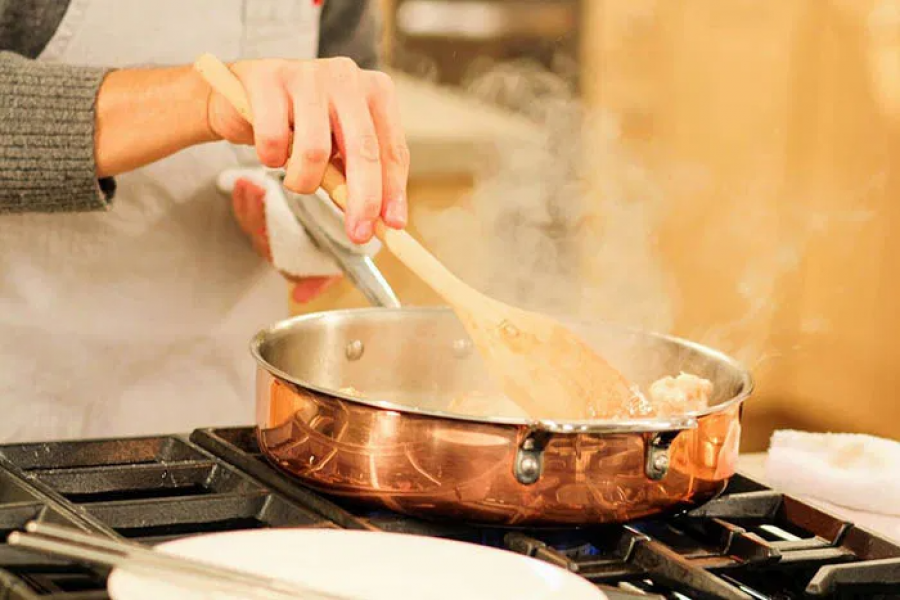 After analyzing and comparing both brands, it seems like the main differences are a matter of personal preference.
Both brands are remarkably similar and are a wonderful addition to anyone's kitchen.
However, Copper Chef pans are better suited for professional settings, such as restaurants and cafeterias, whereas Red Copper pans seem to be a more popular choice for the common household.
Still, we highly encourage you to check out both brands and the bundles they offer to find the one that will truly fit with your lifestyle and expectations.
If you still can't find the best pan for your stove, check below for detailed comparison between: Red Copper vs Gotham Steel vs Copper Chef:

Talya Davis
Talya, like all members of the HomeDesignX team, is enamored by all things related to cooking and eating. She's written cookware articles for numerous publications before working with her lifelong friend Jessica to create their very own website on cookware.
She's currently writing a book on induction cooktops, and enjoys making clean, vegan meals for her family.