Epicurious Cookware Collection, Nonstick Aluminum 11 Piece Red Cookware Set
Check Latest Price

In this crowded cookware market, Epicurious – a premium brand of pots and pans stand out because of its quality and superior quality metal. It is committed to providing the best cookware items with absolute customer satisfaction to acquire long-lasting customer loyalty.
Let's get into an in-depth Epicurious cookware reviews to clear all your queries and doubts.
This Epicurious cookware set is made from heavy-gauge aluminum that is belly-shaped. Aluminum is a good conductor of heat; therefore, heat distribution is even and quick, again, not only on the base but also across the entire vessel. The base is bonded with high-quality stainless steel, which fits onto all heat source and cooktops, including induction. These pots and pans are made of eclipse nonstick coating, which increases sturdiness and performance.
The pots and pans are equipped with silicone handles that follow the 'stay-cool' technology. The lids are also included in the set, which is made of tempered glass for extended durability. This cookware set is available in three color variants – blue, copper, and red; however, the sturdy, anodized aluminum construction is always coated black.
Quick Facts
Heavy-gauge aluminum construction
High-quality stainless steel base
Extensive compatibility including induction
Metal utensil safe
Tempered glass lids
Double-riveted, silicone handles
Oven safe up to 350oF
Dishwasher-safe
Limited lifetime warranty
Epicurious Cookware Review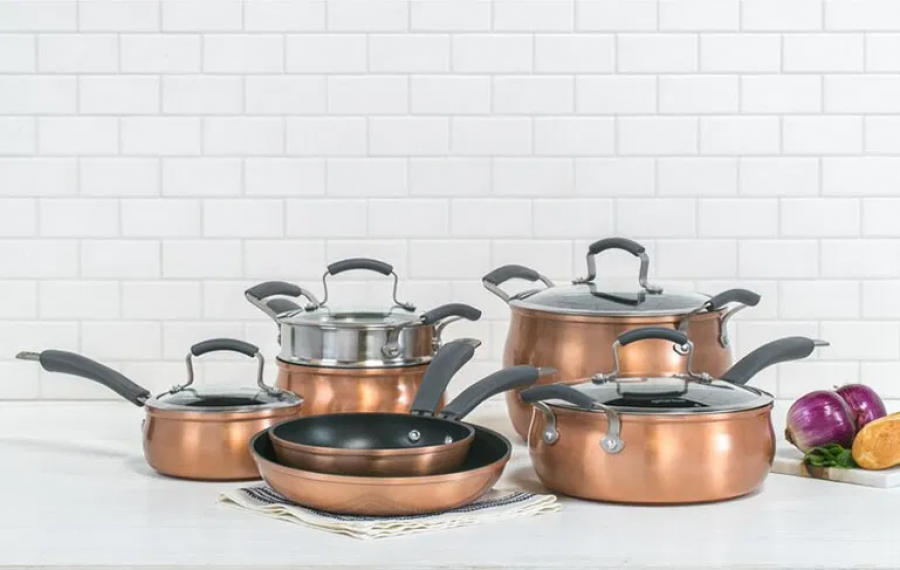 1. Product and Brand Value
The brand is priced at an affordable rate. It is within reach of the ordinary users. It offers a limited warranty. The steel, aluminum, and nonstick layer are of high quality. All included set pieces are not likely to get distorted. The brand is a trusted and reliable product. The company has a good reputation in the market.
If the cookware is found faulty, it can be returned and replaced in the stipulated time. The customer service department is prompt in reply and action. The cookware can be purchased online, and all company parameters apply. The aesthetic appeal of the product attracted me. Once I inquired about the company, my decision was made. I vouch for the product to other fence-sitting buyers.
2. Design and Construction
The pots and pans come with standard shapes and sizes. The curved sides can take vigorous stir while cooking. It is not likely to overflow. The base design, including diameter, fits well on the gas top flame cooking but not blackening the utensil. The different colors give a choice to the buyer to match it with the décor of the kitchen.
The material and its quality are rich and sturdy. Dents are unlikely to happen. The nonstick layer is firmly fixed lasts a long time. It does not chip in normal cooking. The toxicity of the nonstick layer is absent. For me, the cookware qualified for a purchase what about you?
3. Compatibility and Performance
The compatibility of the cookware to different gas tops is commendable. It can be used on the induction top as well. The cookware is thermally efficient. It delivers fast and even heats distribution. Buyers are happy to find clear glass lids with stainless steel rim. The moisture and heat get trapped for quick, tasty food. Cooking can also be monitored. The product's compatibility with an oven is high.
It's a one-time investment with good results. Tempered glass, stainless steel, and aluminum make it an excellent product. It cooks well on low medium and high heat. My survey of the cookware online and offline is not turbulent. We can all be prospective buyers!
4. Cleaning and Maintenance
It can be washed in the dishwasher. The company guarantees that no defect will develop like dent or distortion to the cookware. The inner surface is indeed easy to clean because it is a nonstick smooth surface. The bottom and outside needs extra attention. The bottom has to be cleaned with a scouring brush. Moreover, wash the cookware as soon as it has cooled down.
Follow the company guidelines for a happy long use of the cookware. The instructions given are simple and easy to follow. I am so relieved to know that it is dishwasher safe. Once in a while, I can wash it manually for a nice rub. More buyers will be encouraged to buy.
5. Advantages of Epicurious Cookware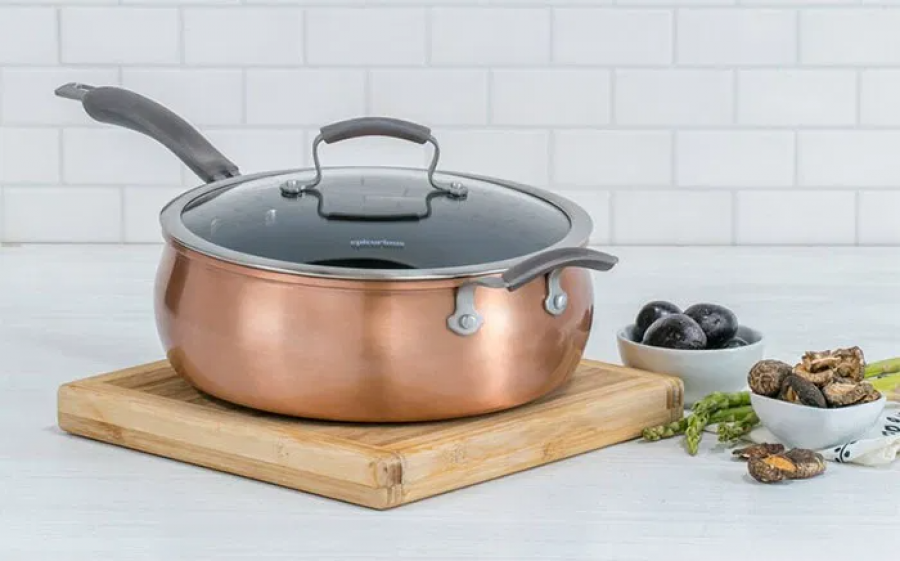 The cookware has an eclipse nonstick coating, which claims to be toxic-free; it promotes health-friendly cooking with minimal use of grease (oil or butter). Also, because of this nonstick coating, the food release results are exceptional.
Unlike other nonstick cookware, you can use all types of utensils to stir your food that is being cooked here – it is safe to use metal, wood, and nylon utensils with having any scratches on this cookware surface.
If you are looking for an exact match of cookware for your kitchen, then you may end up your search here – six color variants are available, namely charcoal, silver, matte, blue copper, and red for you to choose.
This cookware is compatible for use on all kinds of cooktops such as gas, electric, glass cooktops, ceramic, induction, oven, and grill. These pots and pans can tolerate heat up to 350oF.
The handles are double-riveted, which means the stainless steel handles are covered with silicone grip for added comfort; thereby, it follows the 'stay-cool' technology.
The lids do not shatter even on the high temperatures because they are made of high-quality tempered glass.
This set of pots and pans are light in weight, long-lasting, and highly durable.
6. Disadvantages of Epicurious Cookware
Color fades-the, the new cookware in different hues, is very attractive. With the passage of time and regular use, the paint chips and color fading happens to the dismay of the buyer. It spoils the beauty of the kitchen and does not look good on the dining table. In the end, it is discarded.
Lids do not fit perfectly over pots as the pot rim is not perfectly round in shape. So check this out before the purchase. The online orders should also be carefully surveyed and returned if the defect is located. Lid replacement is hard to get.
Read more:
Customer Reviews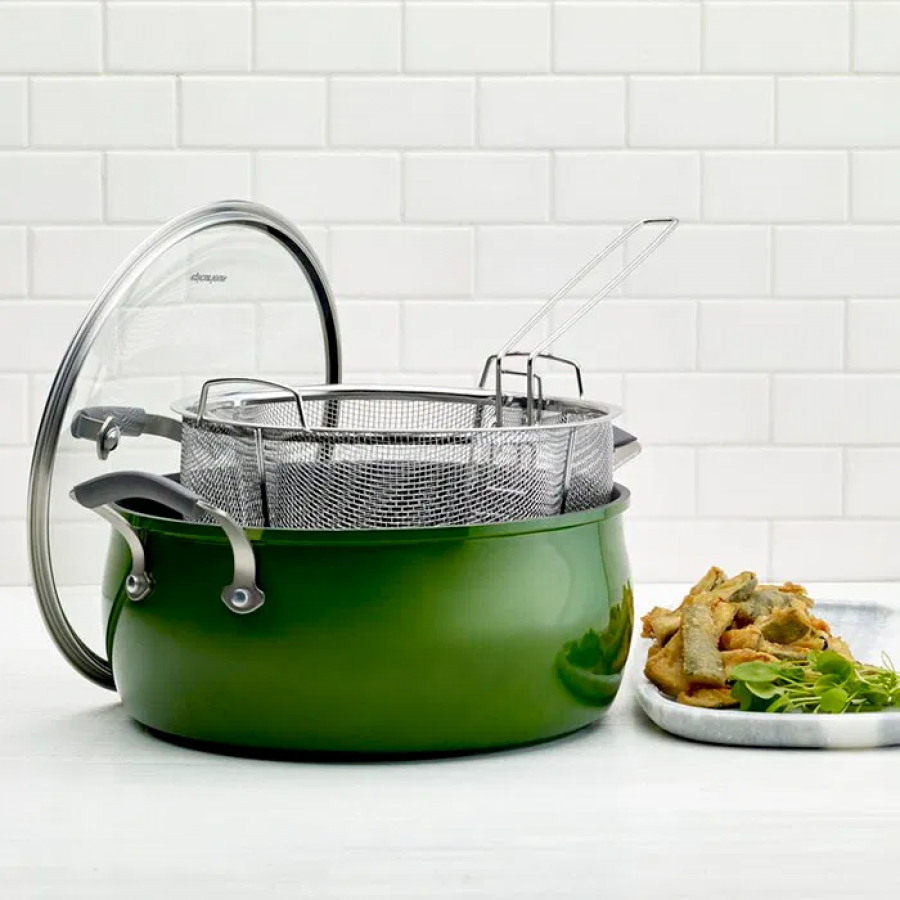 "I am worried to write that after three years of satisfactory use, my cookware chipped off, and I had an ugly product in my possession. My husband consoled me that it is not a lifelong possess and can be replaced. It has served its cost. This made me feel less agitated. The best part of the situation is the cookware gave regular service to me. I will buy the same company product again." – Rosy Brown
"My day started with an online survey because I wished to buy Epicurious nonstick set. I even went to the market to see the product. I forgot to see the lids. Once back home, I inquired online if the lids come with a steam release hole. I got a negative answer. It did not change my decision. I will buy the heat efficient kitchen-friendly Epicurious set." – Simone Cook
"I dread washing utensils. My friend purchased an Epicurious set and was all praise for it. She told me it is dishwasher safe. However, she prefers to hand wash it. The process is quick and easy. When I had a look at the cookware, I fell in love with it. Now I am a proud owner; the nonstick layer is easy to wash and is effective." – Stacey Boom
Frequently Asked Questions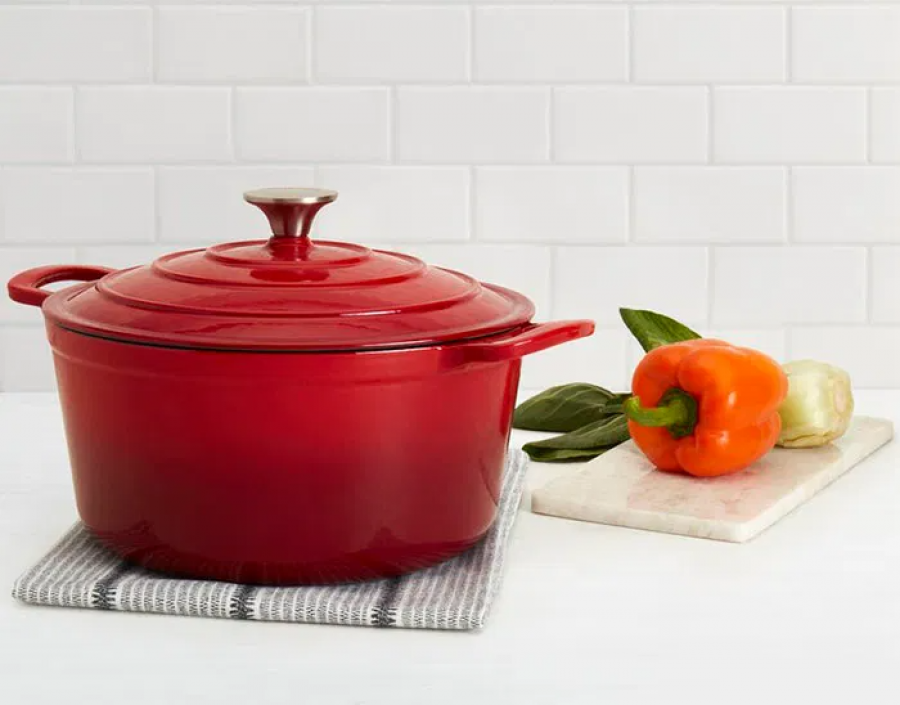 1. What quality of the Epicurious makes it stand out in the market?
This cookware is among the best in the market. All forms of cooking, like steaming, boiling, simmering, sautéing, and frying, can be done with ease. The sturdy energy-efficient aluminum, as well as stainless steel metals, give even heat distribution. There are no hotspots. The stainless steel-rimmed see-through lids aid the cooking process. It is oven and dishwasher friendly. The different color gives it enticing attraction.
2. Can the utensils be stacked?
The design of the cookware has an uneven shape, and they do not fit one into the other. You cannot stack them in a pile. Thus they require more space in the kitchen cabinet. Hanging holes are also lacking. So they cannot be hanged on the wall.
3. Is the interior of the cookware made from 18/0 stainless steel?
As the cookware can be used on an induction source of heat, the outside bottom is 18/0 stainless steel. The interior is to be used for cooking, so it is 18/10 stainless steel.
4. Does warping happen in this cookware?
The cookware is sturdy and made with a good metal sheet. It does not warp even after years of service.
5. Does the product come with any warranty?
Yes, this cookware is offered with a limited lifetime warranty; in case you have any problems with the cookware set, you must call the customer care of the brand and describe your problem. They will take the necessary steps to fulfill your query.
Final Words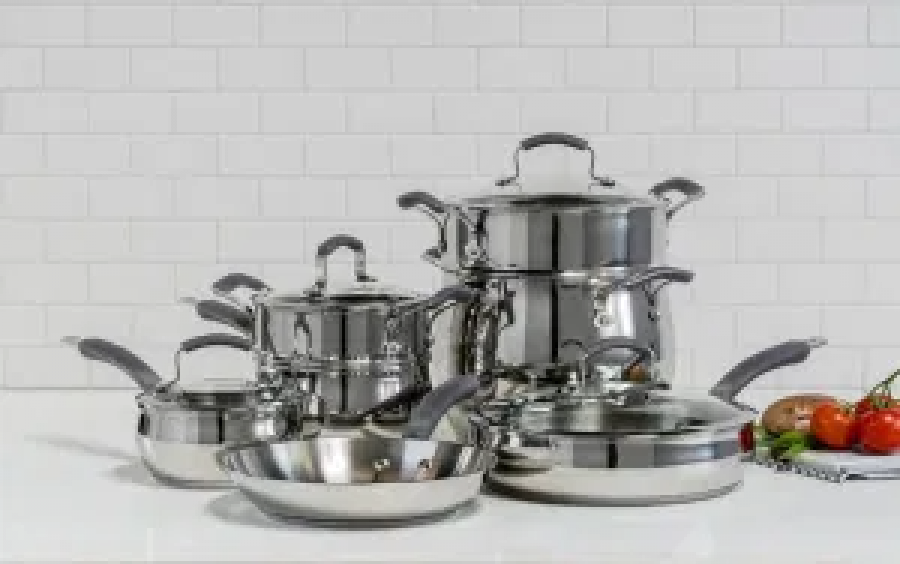 Victory sign is what Epicurious needs. The artistry, quality material, and excellent artistry have made it the best product in the market. This cookware will not clutter your kitchen. The color is appealing and adds to the style of your kitchen. I have made my research to make a perfect investment here.
I believe in this cookware set; what about you?

Talya Davis
Talya, like all members of the HomeDesignX team, is enamored by all things related to cooking and eating. She's written cookware articles for numerous publications before working with her lifelong friend Jessica to create their very own website on cookware.
She's currently writing a book on induction cooktops, and enjoys making clean, vegan meals for her family.