2nd Best Choice

Belgique 7.5 Qt. Nonstick Aluminum Dutch Oven
Check Latest Price
Editor's Choice

Belgique Stainless Steel 5-Qt. Sauté Pan with Lid
Check Latest Price
3rd Best Choice

Belgique Stainless Steel Sand Blasted 7.5 qt Dutch Oven
Check Latest Price
Belgique is a brand of cookware that can be difficult to find. It's a less-popular brand, mostly sold through Macy's. Although overlooked, it's a good investment for those who want to make delicious food for their family.
Belgique hard-anodized cookware is highly durable, easy to maintain, and non-reactive to foods.
Looking for in-depth Belgique cookware reviews to clear all your queries and doubts? Look no further.
The Best Belgique Cookware Sets
Belgique Cookware Reviews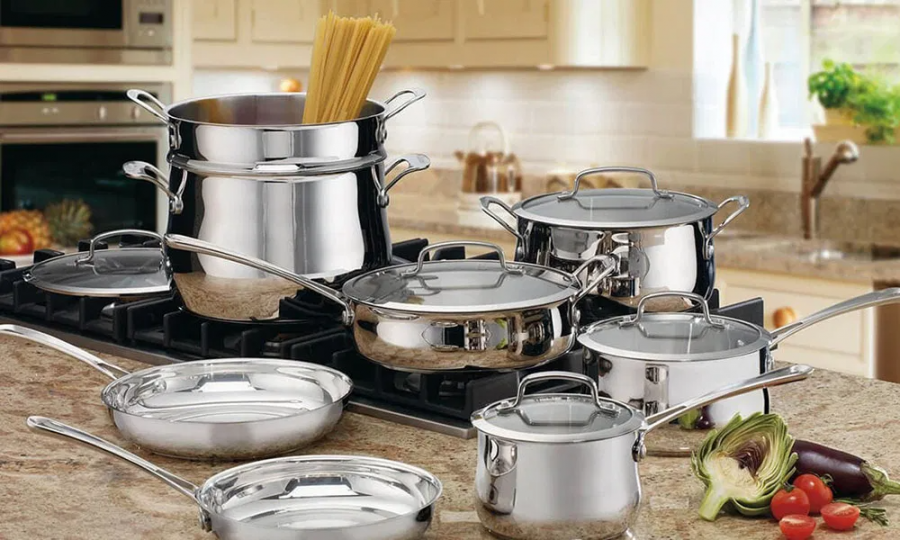 1. Product and Brand Value
Belgique cookware, while not as famous as other top cookware brands, has a good spot among the competition. That's because its cookware is affordable and offers good construction, heat conductivity, and style.
The Belgique brand is owned by Macy's, the American department store chain. It's designed to compete with big names in cookware like Anolon, All-Clad, and Cuisinart.
2. Design and Construction
Belgique cookware is used mostly for low-to-medium cooking on either a glass or gas stove. It's classically designed cookware made of stainless steel or hard-anodized aluminum.
Belgique products are durable and conduct heat evenly. They're also versatile, so you can use them for different cooking methods.
The glass lids are tempered for durability.
The premium fully-clad cookware set is made of 5 layers of steel squeezed together with an aluminum core. This combination is great for heat conduction without hot or cold spots.
The outer layer has magnetic stainless steel, making it compatible with induction cooktops. The brand uses high-quality stainless steel for its cookware, and their hard-anodized aluminum sets are of similar quality.
3. Compatibility and Performance
From what we've seen, Belgique cookware sets perform well. They're not amazing, and they don't necessarily offer chef-quality performance, but for the price, they do the job well. They actually perform a bit better than most other sets around the same price range.
These are mid-range sets for everyday cooking needs, not professional chefs. If you're looking for a set of cookware that performs well and won't cost you an arm and a leg, Belgique is a good choice. Many of the sets also come with a limited lifetime warranty, so you can be sure of your purchase.
4. Cleaning and Maintenance
Stainless steel cookware is easy to clean using a soft sponge and some soap. Using a soft cloth, you can dry it up and store it carefully.
Generally, stainless steel cookware sets are dishwasher safe, but we recommend hand-washing regardless. The sets on this list are made of 18/10 stainless steel, and it's better to wash them by hand.
Occasionally, you can clean them with vinegar or mild abrasive to restore the luster to stainless steel pots and pans.
I found the strong construction of the pots and pans made them easy to clean. Just make sure not to use any metal utensils while cooking, or you may end up scratching the surface (check your specific set to see if it's metal-utensil safe).
5. Advantages of Belgique Pots and Pans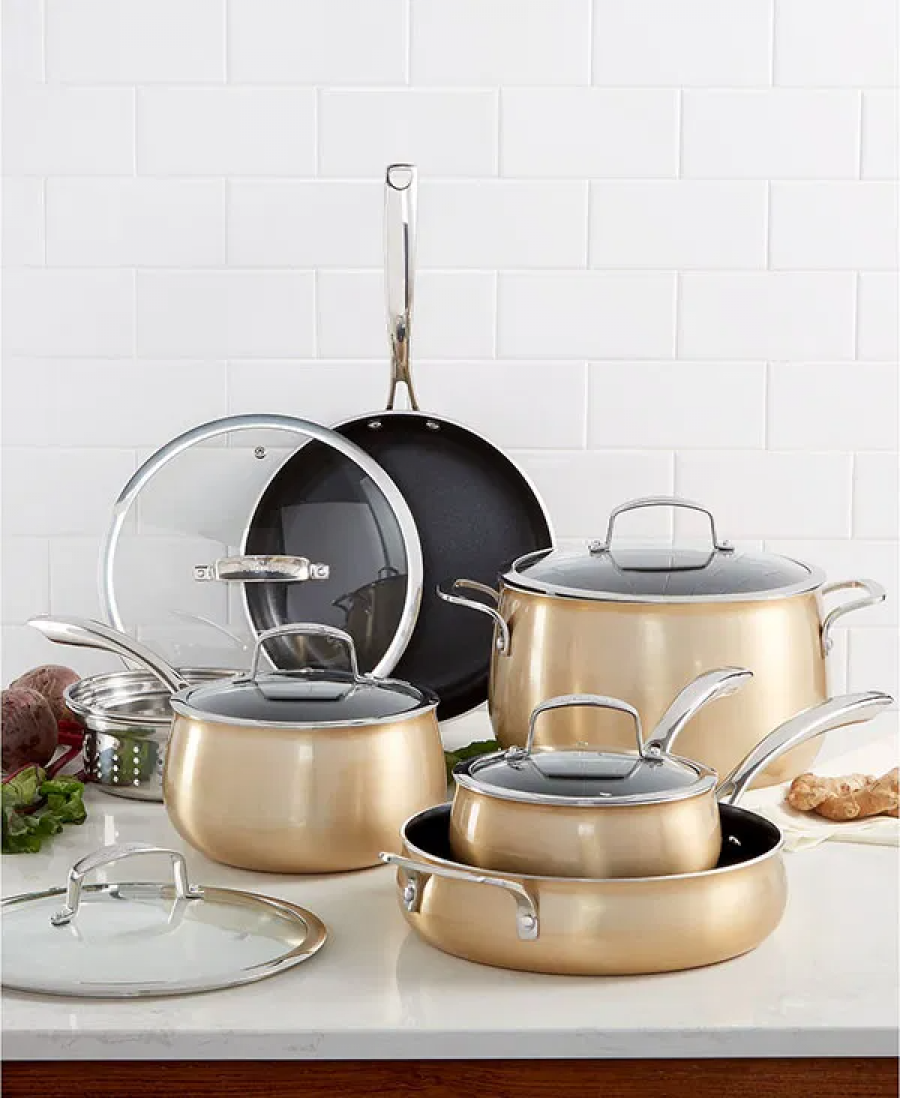 These stainless steel cookware sets are made of excellent materials. The stainless steel is a great conductor of heat and helps you cook food evenly and quickly without leaving any cold spots.
Some sets come with a glass lid to cover the food, and a steamer insert. The glass lid allows you to keep an eye on the food you're cooking without losing the moisture and keeping the flavors intact.
Each pan and pot included have different specific purposes. Each are different sizes and have different uses, and some are oven-friendly.
The handles are uniquely designed – they are long and high-angled to ensure a comfortable grip even at high temperatures.
Unlike other nonstick pots and pans, this stainless steel cookware will last longer; it has no coatign to wear off easily. Stainless steel is known for its durability.
6. Disadvantages of Belgique Pots and Pans
You may find the cookware set little heavy to use.
This cookware is not nonstick; you need to use oil or butter in an ample amount so food will not stick to the cooking surface.
Read more:
Review of Green Pan
_Review of Blue Diamond Pan__
Belgique Stainless Steel 11 Piece Cookware Set with Nonstick Saute Pan & Fry Pan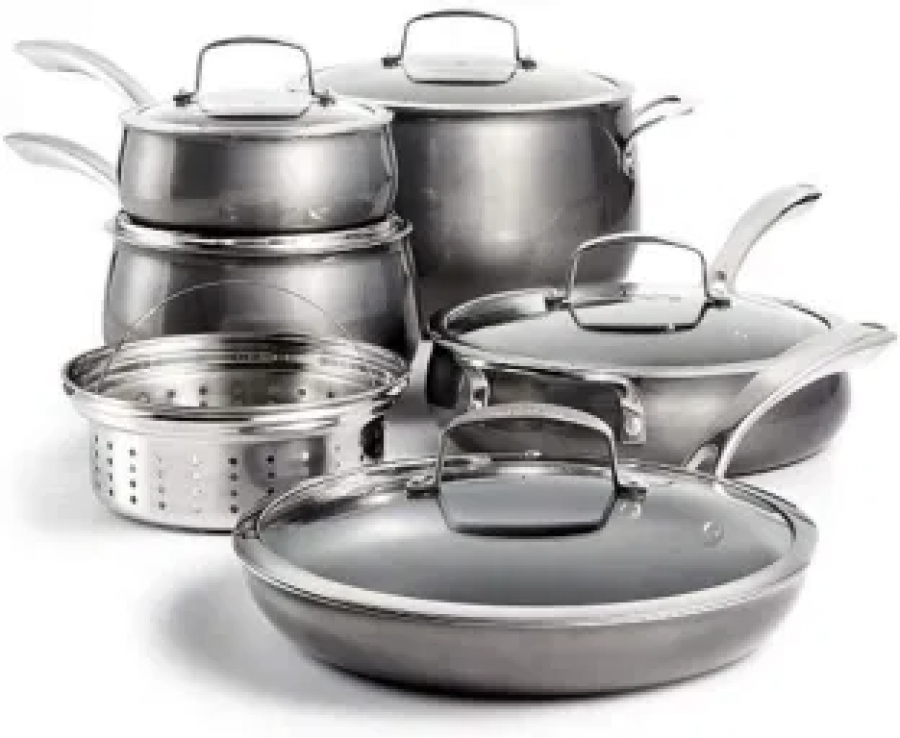 The Belgique stainless steel 11-piece cookware set by Macy's is a classic combination of style and authenticity for any kitchen.
It's constructed with a combination of heavy-duty aluminum and 18/10 stainless steel. It's encapsulated to make the bases of the pots and pans impact-bonded, which allows quick and even-heating so that your food cooks perfectly within minimal time. It also makes the cookware more durable and less likely to break if dropped.
The interiors of the sauté pan and the frying pan included have a nonstick coating to ensure that you can cook healthy food with minimal oil and grease.
This set of pots and pans is equipped with tight-fitting, tempered glass lids, as well as high-angled, stay-cool stainless steel handles with hang holes. The glass lid allows you to keep an eye on the process and keep all the moisture and flavors intact, while the handles offer a comfortable grip.
It also includes a steamer insert. This cookware set is compatible with all cooktops, including gas, electric, glass, ceramic, and induction, and can withstand heat up to 450F. Macy's offers a limited lifetime warranty on this cookware set.
Belgique Cookware Reviews from Customers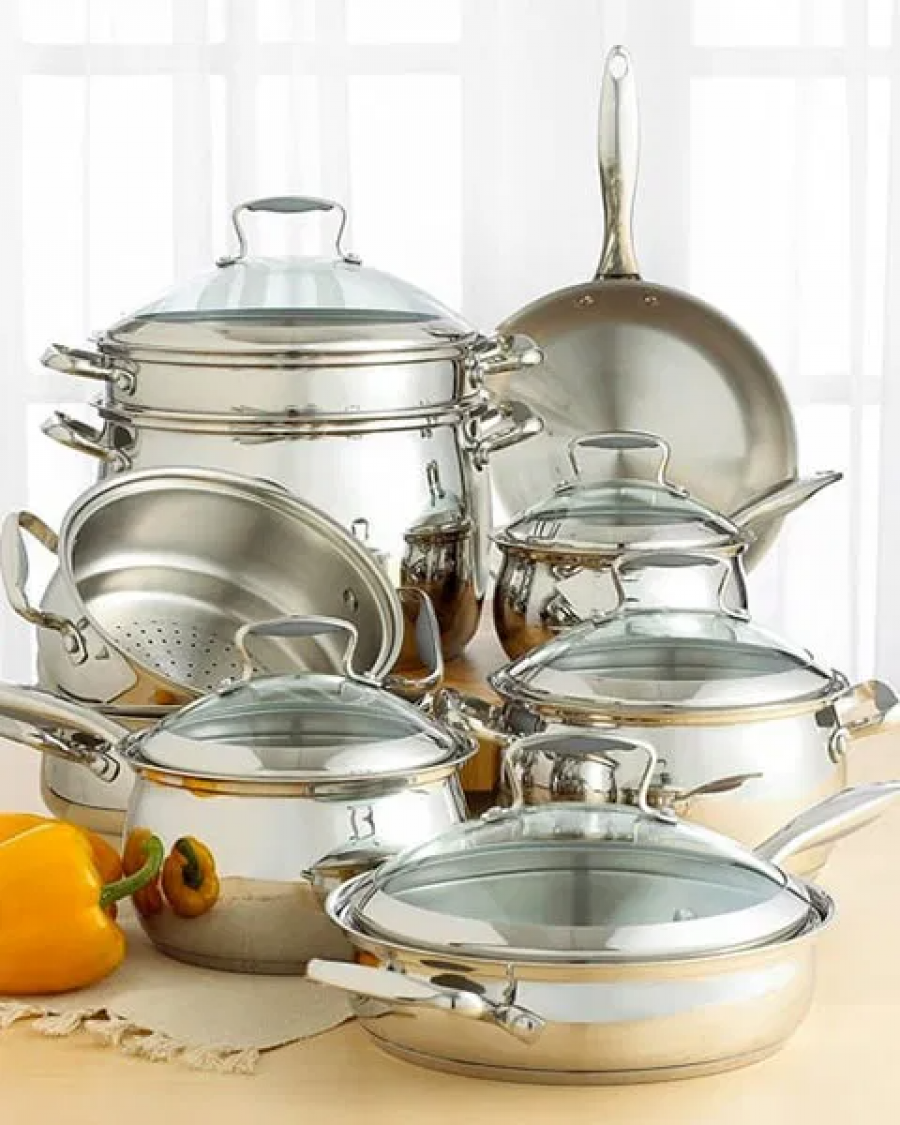 Below are some reviews from users who purchased a Belgique cookware set.
"I found the product amazing. It looks classic and works well on low heat cooking. The only problem you may face will be scratches, and spots may appear on the base. Still, the marks don't impact cooking." - Amazon Reviewer
"The stainless steel construction with aluminum make the pots and pans reliable. I love cooking in them. You can easily wipe and clean them after cooking. The quality of the product is impressive...they are made heavy, not with thin metal, and I like the curved handles. Large sausages were cooked evenly around. These are not like any cheap pans you find on the market." - Amazon Reviewer
"These are an excellent choice. I prepared spaghetti sauce in the pan, and barely had to stir. Nothing was burned or stuck on the surface. I also browned around 2 pounds of hamburger meat in this large frypan and cooked Italian sausages in the small one. All came out very well. I am impressed with this cookware set." – Amazon Reviewer
Frequently Asked Questions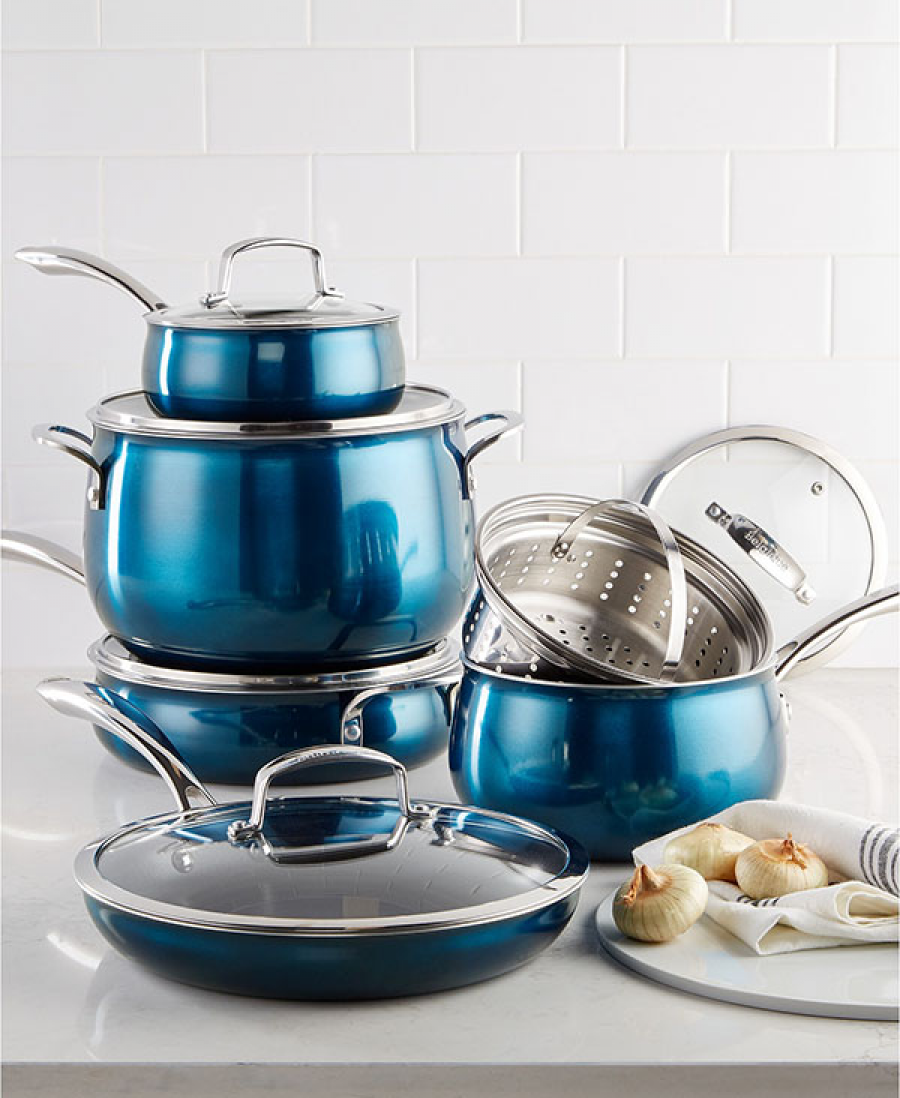 1. Does stainless steel cookware work as nonstick?
That depends. If you're talking about sticking, then no, stainless steel pans don't work as well as nonstick ones.
If you're talking about overall cooking performance, in general, stainless steel is the better option. That's because stainless steel allows you to brown meats and sear them, which nonstick skillets just don't allow for.
Additionally, the nonstick coating on pans are occasionally made with harmful materials, especially those from cheaper brands. This can present a health risk. On the other hand, stainless steel is non-reactive and doesn't pose any health risks.
2. Can I cook with Belgique at a high temperature?
This cookware brand is completely designed for low to medium heat, so higher temperature can cause burns at the bottom of the pots and pans. In addition, it can lead to burnt or stuck food.
We recommend only cooking on low to medium when using Belgique cookware.
3. How to take care of Belgique Cookware?
You need to wait for the pan to cool down before you wash them. This way, you won't risk warping the pan through thermal shock. You should also use non-metal utensils to avoid causing scratches to the pans.
4. Can I put Belgique Cookware in the Dishwasher?
Macy's claims that the pots and pans are safe to wash in the dishwasher. We suggest you to hand-wash these items regardless to keep them working long-term without chipping, wrapping, or peeling.
5. Does Belgique Cookware come with a warranty?
Yes, the stainless steel cookware sets offered by Belgique come with a limited lifetime warranty. You can check with the customer service for more information on claims, repairs, and replacements of the cookware.
Final Words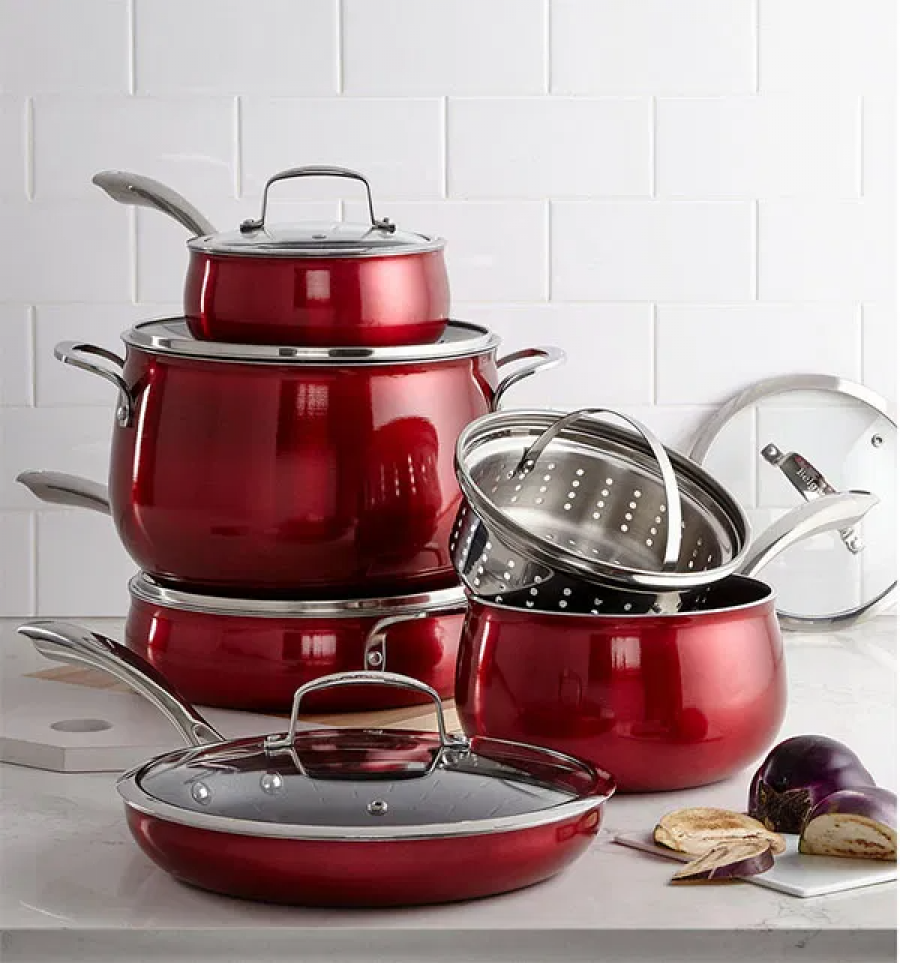 Belgique is not a high-end, chef-level cookware brand. However, it's great for the price you pay, and does exactly what it advertises. If you're an everyday cook with basic needs for cookware, a Belgique stainless steel cookware set will be great for you.
While there are no real problems to report with the brand and its sets, I found one key thing to keep in your mind before you use Belgique. You need to manage the temperature!
They warm up quickly, so always make sure to use a potholder or rag to protect your hands if you do not want your fingers to burn off. The handles tend to stay cool, but you have to be careful regardless.
On the same note, don't use high heat while cooking or food will stick and the fry pan itself may burn. Also, be careful when using the sets in the oven, as sometimes the glass lid can't handle the same heat as the pot or frying pan itself.
Otherwise, Belgique cookware is an excellent option to go with when it comes to various cooking needs and easy clean-up.
Editor's Choice

Belgique Stainless Steel 5-Qt. Sauté Pan with Lid

Talya Davis
Talya, like all members of the HomeDesignX team, is enamored by all things related to cooking and eating. She's written cookware articles for numerous publications before working with her lifelong friend Jessica to create their very own website on cookware.
She's currently writing a book on induction cooktops, and enjoys making clean, vegan meals for her family.