2nd Best Choice

Tramontina 80116/249DS Gourmet Induction-Ready Tri-Ply Clad Cookware Set
Check Latest Price
Editor's Choice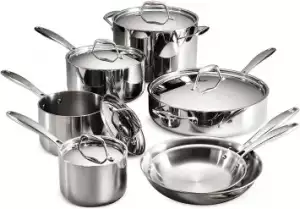 Tramontina 80116/249DS Gourmet Induction-Ready Tri-Ply Clad Cookware Set
Check Latest Price
3rd Best Choice

Tramontina 80101/203DS Gourmet Prima , Induction-Ready, Impact Bonded, Tri-Ply Base Cookware Set
Check Latest Price
Tramontina, as a company, has existed for a century in Brazil. It entered the USA market in 1986. The company headquarters is in Texas. There is a factory in the USA where few cookware and finishes get made through imported components. The stainless steel set comes with pan, saucepan, and stock pan.
The company has several varieties of cookware from ceramic, enamel, nonstick and stainless steel. Let's get into an in-depth Tramontina cookware review to clear all your queries and doubts.
Best Tramontina Cookware: Comparison Table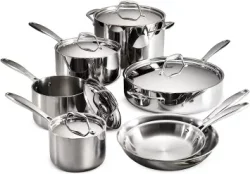 This Tramontina Gourmet stainless steel cookware set is an excellent option if you are interested in a conventional option for your kitchen setting. Each time you use it, you shall be happy about your investment. It is made of 3-ply clad construction with combination metals, including aluminum core, 18/10 stainless steel, and magnetic stainless steel. This design allows the heat to distribute evenly across the entire cookware and lets it stay within for long. You get to enjoy the quick, easy cooking experience with these pans and pots.
This 12-piece set of pots and pans is compatible with all kinds of cooktops, including oven, grills, and induction, with a heat tolerance level of up to 500oF. It is ideal for professional, chef-like cooking specially designed for prolonged use. Additionally, this cookware includes cast stainless steel, riveted 'stay-cool' handles, and tight-fitted stainless steel lids. The brand offers a lifetime warranty on this cookware set, which is manufactured and packaged in Brazil and the USA, respectively.
Features:
Triple-ply Clad construction
Even heat distribution
Suitable for cooking on all cooktops
Induction and oven-safe up to 500oF
Precision riveted-casting handles
Stainless steel (mirror-polished) lids
Made in Brazil, packaged in the USA
Limited lifetime warranty
Quick Facts
No. of Pieces: 12
Material: Stainless Steel
Dishwasher Safe: Yes
Oven Safe: Yes

Quick Facts
No. of Pieces: 10
Material: Stainless Steel
Dishwasher Safe: Yes
Oven Safe: Yes

Quick Facts
No. of Pieces: 12
Material: Hard Anodized Aluminum
Dishwasher Safe: Yes
Oven Safe: Yes

Quick Facts
No. of Pieces: 8
Material: Ceramic
Dishwasher Safe: Yes
Oven Safe: Yes

Quick Facts
No. of Pieces: 6-Quart
Material: Stainless Steel
Dishwasher Safe: Yes
Oven Safe: Yes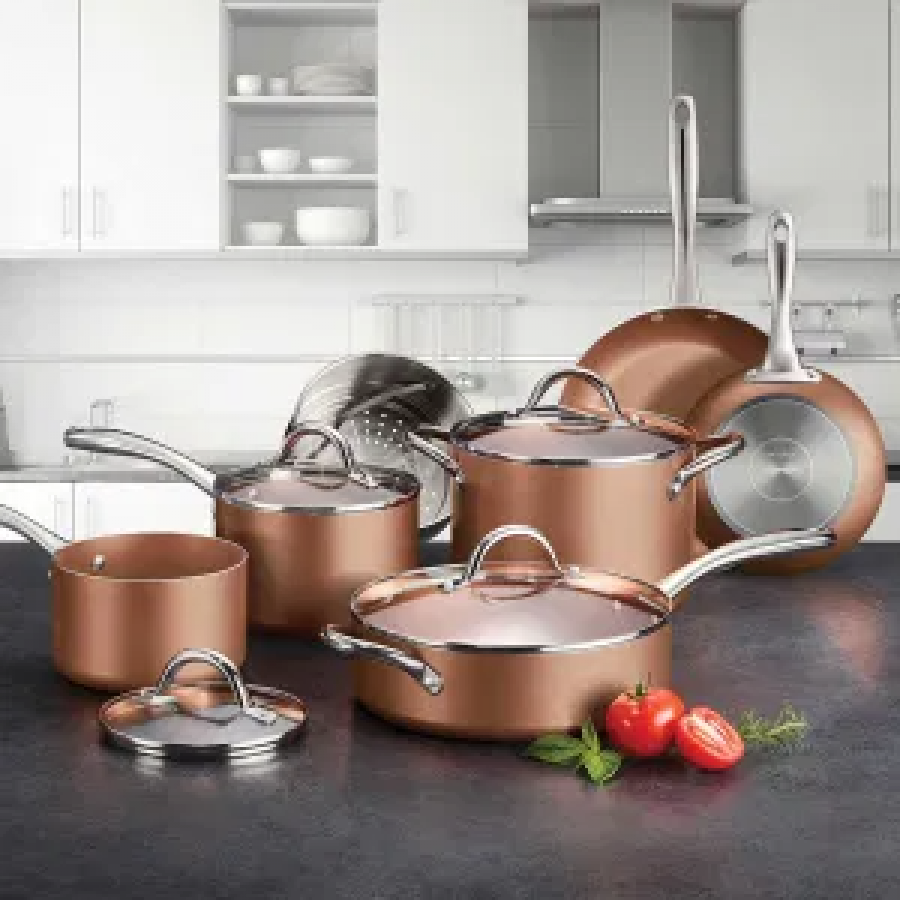 Tramontina Cookware Review
1. Product and Brand Value
The cookware is affordable and worth its money. If you buy in the sale, it becomes more economical. To the delight of the user, it comes with a lifetime warranty. The product does not distort with use. In case some defect develops in the handle, it is either repaired or the pot and pan get exchanged.
The brand has a reputation as being fair. The sturdy pieces last a lifetime. In case a defect is detected, it can be changed. The customer care department acts responsibly and promptly. This gives the customer confidence to purchase the cookware without apprehensions. I feel happy that I made the right decision to purchase. My cooking has become easy. I prefer you also enjoy the cooking process through purchase.
2. Design and Construction
The cookware is scientifically designed, and it cooks well on low medium and high heat. Cooking enthusiast enjoys the cooking process. The cookware is ergonomically designed for the best results. Cast iron steel handles are well constructed and stay intact for a long time. The product is in natural stainless color. The aluminum core is very effective for heat distribution.
The customer is relieved to know that the cookware does not give out toxic fumes even at high temperatures. The vent added lid makes cooking safe without causing an accident. I surveyed the market before purchase and made a very suitable choice. I recommend the cookware to others.
3. Compatibility and Performance
The best part of the whole experience is the cookware is compatible with all types of cooking tops. The cookware performs very well through the use of fat in the cooking process. Without the use of a greasy layer, it is not versatile. The food sticks and has to be removed through spatula jerks. Even washing needs to be scrubbed.
You can use steel utensils for stirring and mixing the food over the fire. These do not leave scratches and dull the beauty of the cookware. You can do dry cooking and wet cooking in the cookware. My experience of using the cookware is positive. Others can purchase the product without any doubt.
4. Cleaning and Maintenance
The company suggests to preferably hand wash the cookware. In case the food gets stuck at the base, then scrub wash becomes necessary. The cookware is lightweight and easy to carry. Even the elderly find it easy to carry. Storing is not an issue. It occupies less space and can be staked in the cabinet with little space requirement with ease. The maintenance is easy. Just wash and store. It does not lose its sheen.
If all guidelines are followed, the cookware will last a lifetime. I am happy that I have made my choice of purchasing it. It is a one-time investment, and regular cooking can be done. Do not be perplexed and make your purchase confidently.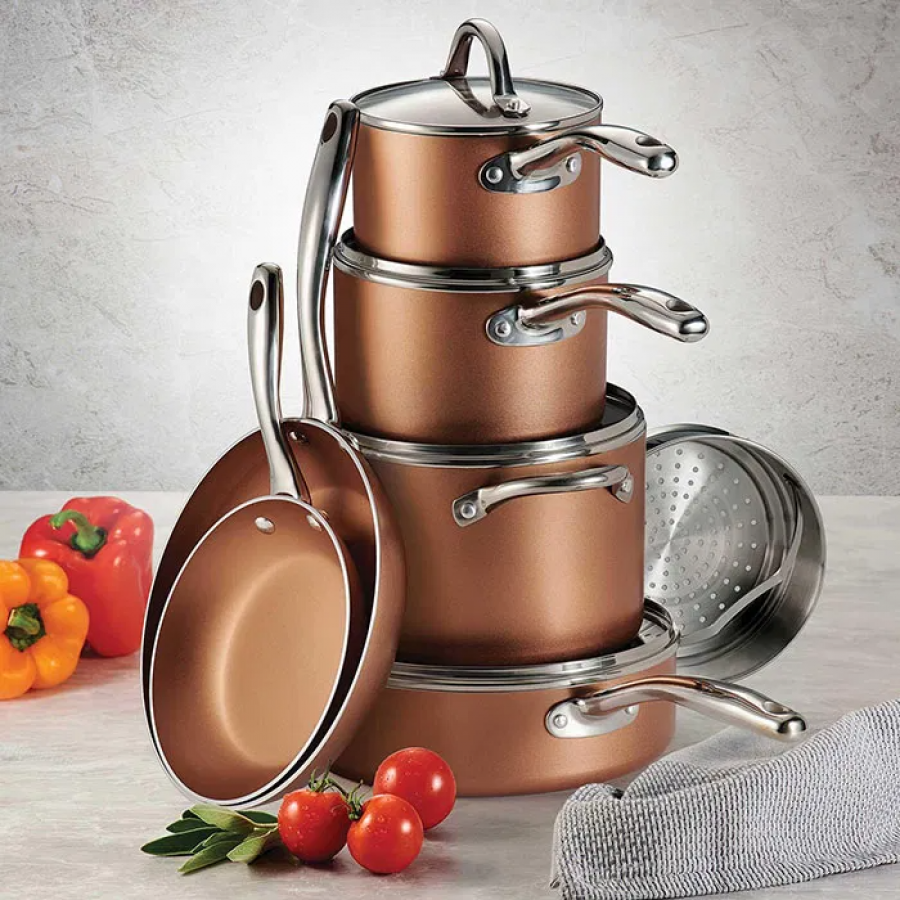 5. Advantages of Tramontina Cookware
Not only is this cookware attractive and increases the beauty of the kitchen, but it also is an excellent cooking companion when it comes to performance and durability.
We always look for pots and pans which are reliable as we are building nutrition for our family and friends in it; the lifetime warranty that this company offers gives us 100% assurance of reliability and all worth the purchase.
When you want to get into healthy cooking, this is an ideal pick. You would not require that extra butter, oil, or grease to make food in these pots and pans.
Now that we are spending a handsome amount on this cookware, we expect it to work on all kinds of stovetops and last for years together – this cookware meets all our expectations.
Lastly, this cookware is made in Brazil and assembled in the USA. This knowledge incites high morale in the buyer. The buyer does not feel duped.
6. Disadvantages of Tramontina Cookware
The handles tend to get hot when high temperatures are used for cooking; this is because it is not dual-riveted with silicone or other material.
Although the product claims to be dishwasher-safe, we recommend you to hand-wash them – you may have to spend some extra time cleaning if you do not want its shine to wear-out easily.
Read more:
Customer Reviews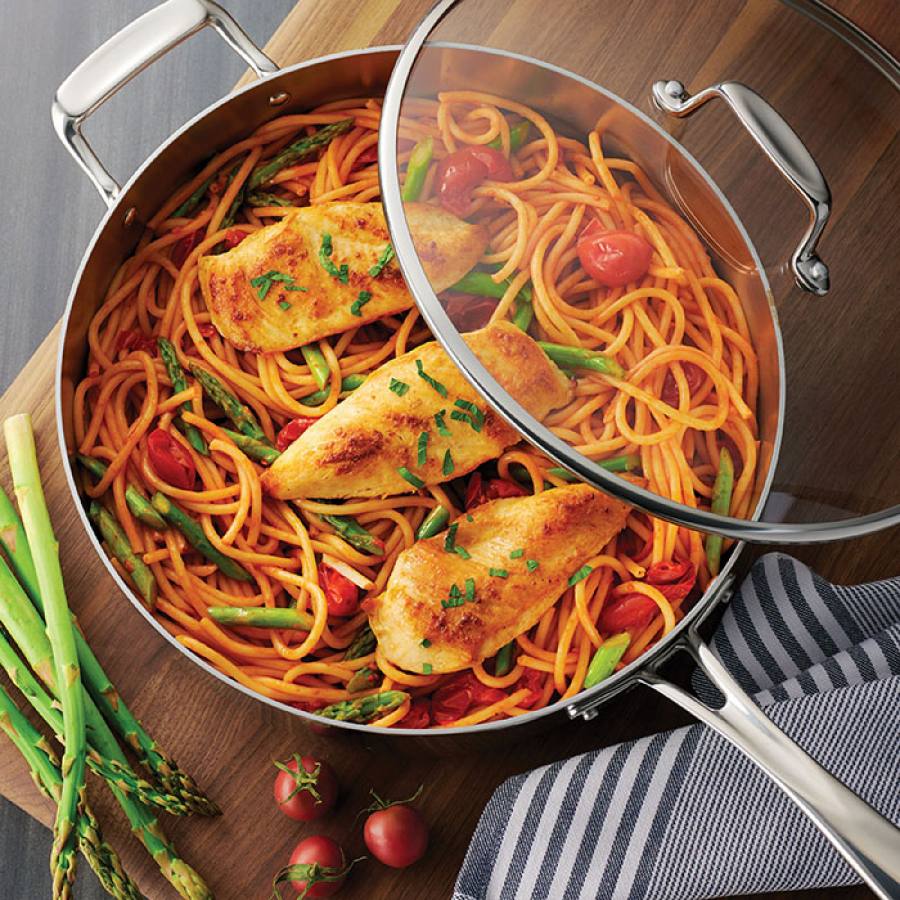 "I was apprehensive about buying the product. I am among the buyers who are not positively inclined to buy a Chinese product. I communicated with the company, and they assured me that it is made in Brazil and assembled in the USA. I was convinced and happily bought the cookware." – Shawl Thomas
"Our family is very fond of popcorns. The kitchenware makes it beautifully quickly. My whole family loves the kitchenware. Washing comes easy. I recommend it to others." – Eva Smith
"I made it a point to find out about handles. My question was, are they solid stainless or hollow. The fear in me was the kitchenware last, and handles do not. Without the handles, the kitchenware would look ugly. As the handles are riveted, it is difficult to tell. The company told handles are hollow in the middle. They assured me it would not reduce its functionality. I bought the kitchenware, and it is performing fine." – Margret Moss
"I saw the kitchenware but did not want to buy the entire set. I was delighted when the salesman informed them they could be bought separately as well. It suited my utility and budget. Now I am a proud owner and enjoy my cooking." – Mario Hens
HOT: Cuisinart MCP-12N Multiclad Pro Stainless Steel 12-Piece Cookware Set
Frequently Asked Questions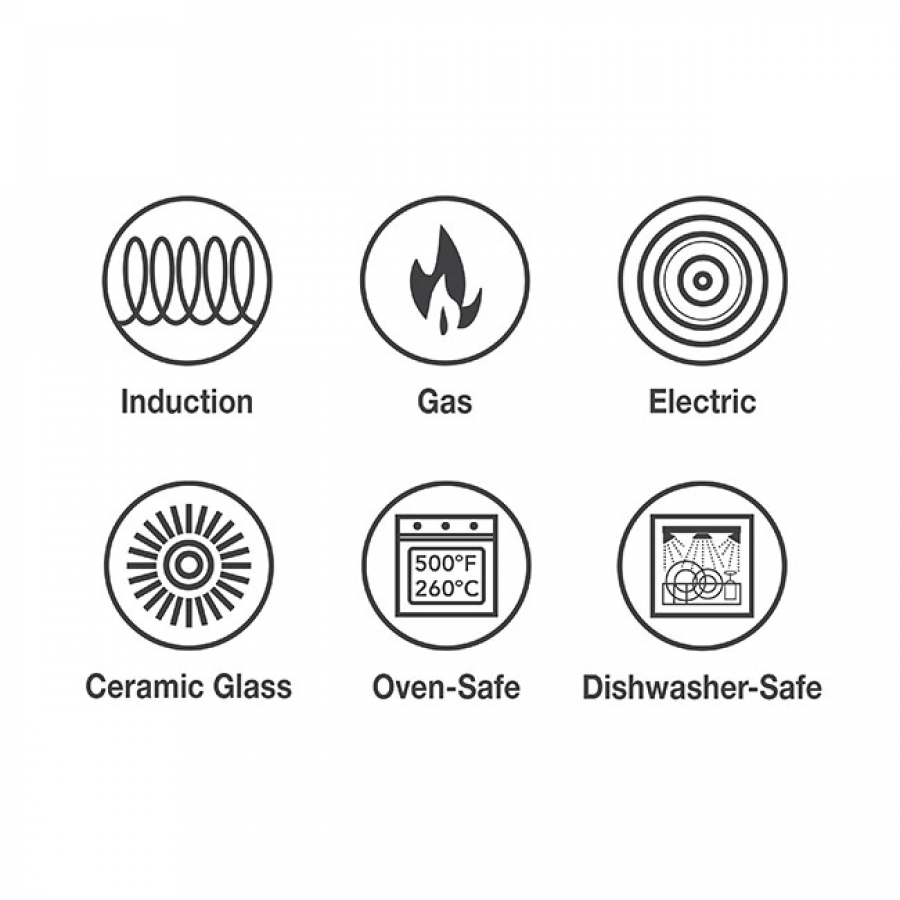 1. Is the stockpot one whole piece all around right up till the bottom?
It is solid one-piece construction of superior steel and aluminum core. It gives very good service.
2. When the oil is poured, it slides off towards the edges; it affects cooking?
The middle portion is slightly raised. It is the engineering of intelligent manufacturing. It prevents the warping of the pan. Cooking can be stirred to begin with. This way, food will not burn.
3. Does the frying pan come with grooves on the bottom?
The frying pan is flat and smooth underneath. It distributes the heat evenly as the cooking progresses. It can be used on induction, electric ceramic, glass cooktops and gas cooktops with ease.
4. Do the lids of saucepan fit the frying pan?
Not exactly. They do not fit into the rim of the pan. The seal is partial. You can melt cheese this way. For tenderizing vegetables, it is not very effective. It takes longer to cook.
5. Is the Tramontina Cookware tri-ply till the top?
Yes, that true. It is wonderful. No hot spot for food, and neither does the food gets burnt.
6. Does Tramontina Cookware require seasoning like cast iron?
No, that's not true. This product is manufactured through stainless steel. Use little fat and season your food effectively.
Final Words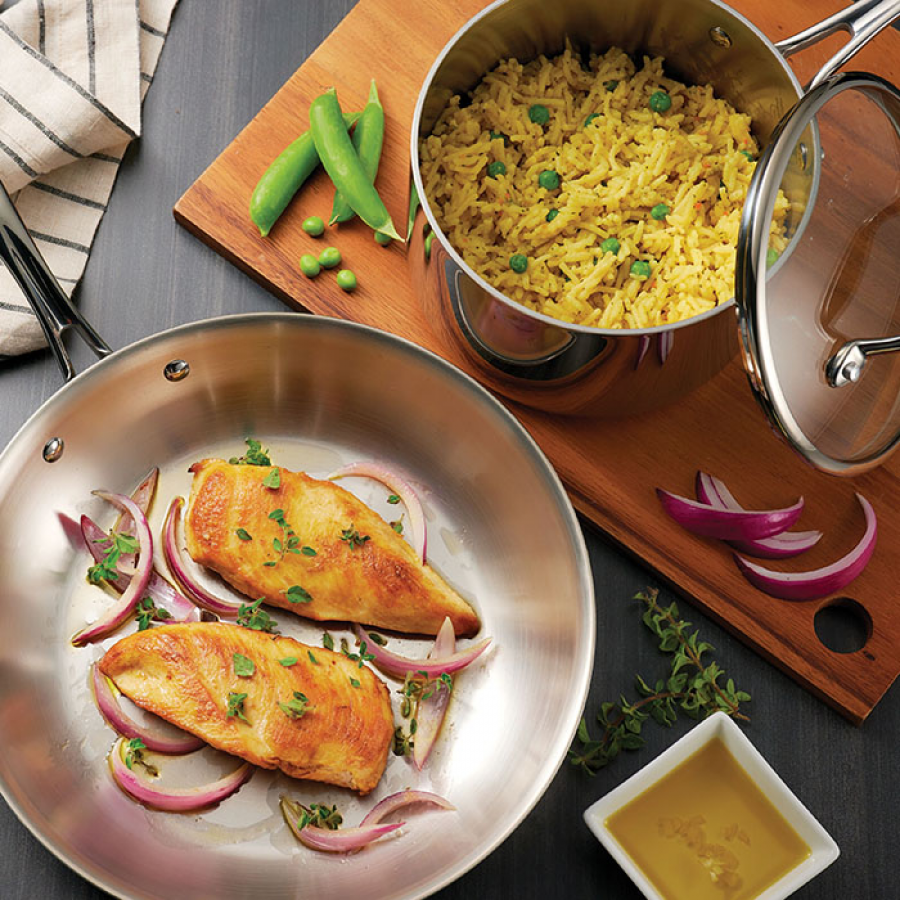 I am a very meticulous buyer. I gather all information about the product from salesman, company, and online. I go to market repeatedly till all my doubts are put to rest. Now, after the survey, I vouch for this kitchenware. Happy to know it is a one-time investment. I will be happy if you support my idea.
Editor's Choice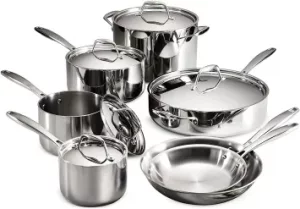 Tramontina 80116/249DS Gourmet Induction-Ready Tri-Ply Clad Cookware Set
No. of Pieces: 12
Material: Stainless Steel
Dishwasher Safe: Yes
Oven Safe: Yes

Talya Davis
Talya, like all members of the HomeDesignX team, is enamored by all things related to cooking and eating. She's written cookware articles for numerous publications before working with her lifelong friend Jessica to create their very own website on cookware.
She's currently writing a book on induction cooktops, and enjoys making clean, vegan meals for her family.