2nd Best Choice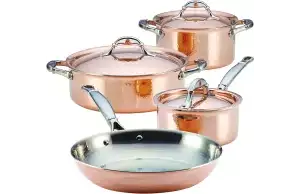 Ruffoni Symphonia Prima Triply Copper Stainless Steel 7-Piece Cookware Set
Check Latest Price
Editor's Choice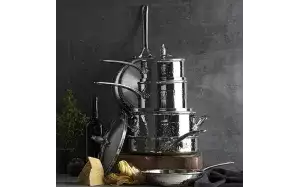 Ruffoni Omegna Stainless-Steel Hammered 10-Piece Cookware Set
Check Latest Price
3rd Best Choice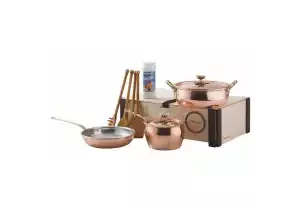 Ruffoni Historia 5-Piece Copper Cookware Set with Tools
Check Latest Price
Are you looking for cookware offered by Ruffoni? Here are full Ruffoni cookware review and list of top 3 Ruffoni cookware sets that you should consider buying.
About Ruffoni Brand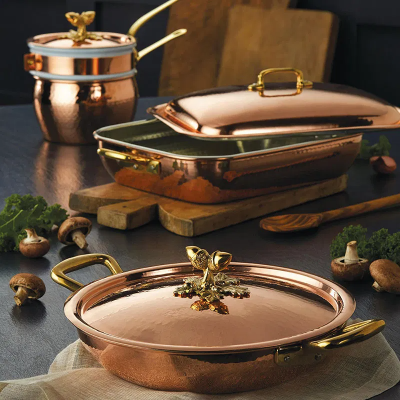 Since 1931, Ruffoni is famous in making premium quality handcrafted cookware pots and pans. The Ruffoni family from Italy has an unwavering commitment to functionality with beauty and friendliness. They encourage their friends and family to gather in the kitchen and enjoy at the table.
The art, nature, and all-around history inspire how the Ruffoni family live and created their products. The family member Walter defines how innovation happened at the Italian workshop of Ruffoni. They took inspiration from artworks, natural beauty, and all antique crafts. Their copper cookware is manufactured to spark serenity and joy and stand at the test of time.
The nature of beauty adapted is from their Italian vineyards and countryside areas. They are creating handmade cookware for generations in the Alps of Italian. It is a combination of knowledge and experience of renowned artisans with the quality associated with European restaurants. Ruffoni's products are infused of a luxurious Italian feel.
Read more: Woll Cookware Review: Should You Buy This?
3 Best Ruffoni Cookware Sets: Comparison Table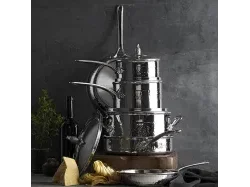 The Omegna Stainless steel hammered cookware set of 10 pieces has got the signature touch of Ruffoni. The collection is made of tempered glass lid and offers iconic finishing of William Sonoma pineapple finials. Its alternate layer of stainless steel with aluminum helps to transfer the heat efficiently by eliminating hot spots.
The hammered exterior band is the most attractive content. The stainless-steel handles have a detailed leaf pattern making them fashionable for any kitchen. It is ideal to use on cooktop and induction. The cookware set is handsome enough to use the oven and serve on the table directly. Each piece comes with an individual set of lids. Let's understand the major features:
Quick Facts
No. of Pieces: 10
Material: Stainless Steel
Dishwasher Safe: Yes
Oven Safe: Yes
Pros
Alternate layers of stainless steel with aluminum coating transfer heat efficiently and eliminates hot spots
Tempered glass lids with pineapple finials
Hammered exterior bands
Stainless steel handles
Compatible for any cooking type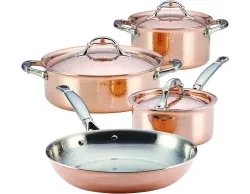 A union of timeless artistry and contemporary design is the hand-hammered Ruffoni Symphonia Prima Triply Copper and Stainless steel 7-piece cookware set. The cookware set is a combination of classic beauty with high-quality Italian craftmanship. This is an exceptionally beautiful stainless-steel cookware set.
When it comes to a gas stove, its thick core aluminum bottom between the layers of mirror-polished like stainless steel offers exceptional heat conduction. Shiny and shapely cast handles are dual riveted into each pan and pot. It features stamped copper signets and mirror-finished lids made of stainless steel accompany each piece of the cookware set.
Quick Facts
No. of Pieces: 7
Material: Stainless Steel
Dishwasher Safe: Yes
Oven Safe: Yes
Pros
Artisanal and hand-hammered copper make cookware with design
Handcrafted and copper wrapped aluminum core offers extraordinary heat conduction
Stainless steel inside for durability
Oven safe up to 450 degrees F
Suitable for tabletop service
Stainless steel handles and lids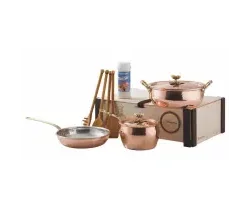 If you are looking for a classic fry pan, then this is the one. A daily use workhorse to accompany you at home for breakfast as well as dinner. The saucepan comes with a cover to allow you to simmer sauces and reduction without splattering. Its generously designed braiser will transit seamlessly from your oven or stovetop to the table. The copper set with tools is perfect for table presentation as it comes with decorative lids. The bottom of the cookware makes it perfect for low-temperature cooking. Its accessories are the right one for the pots. The specially formulated Ruffoni cleaner remove tarnishes and restores the shine of the copper.
Quick Facts
No. of Pieces: 7
Material: Copper
Dishwasher Safe: Yes
Oven Safe: Yes
Pros
Hand-hammered copper construction for high heat conductivity
Hand-tinned cookware inside
Handcrafted ceramic inserted with copper collar
Jewel exterior and hand-polished brass fitting
Stovetop and oven safe
Cast acorn-detailed lids with knobs
Polished brass side handles riveted for strength
We have now reviewed and gained information on the best cookware sets of RUFFONI; now, we also need to know how good this brand fares with various cooktops and stoves, including induction, gas, and glass cooktops.
Ruffoni Cookware Compatibility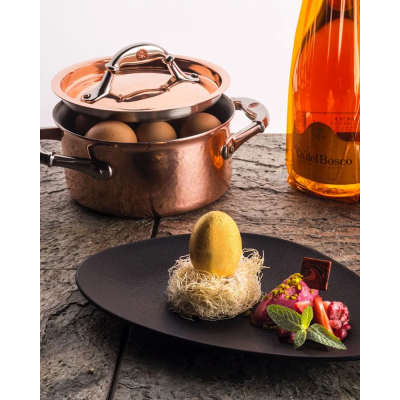 Cookware compatibility is vital when you go out to buy pots and pans for your kitchen. You need to invest in cookware that is compatible with installing a kitchen cooktop as you can't be putting your money to waste. Let's, therefore, have a look at RUFFONI's compatibility with various cooktops. Read further.
Induction Cooktops

The cookware from the Ruffoni family is well constructed, making it ideal for the induction cooktop too. Whether it is a hand-hammered stainless-steel mirror polished set or copper crafted superior one. Ruffoni cookware set delivers great heat conduction, so recommended to use on any cooktop. It helps to cook your food perfectly on the induction cooktops.

Gas Stoves

The versatility of cookware can be seen in the sets of Ruffoni. The rich legacy of Italian craftmanship is perfect for every aspect of cooking. It is safe to cook on gas stoves and to serve dishes on the table. They are handmade metal cookware specialized for cooking any dish easily. Its heat conductivity is efficient for evenly spreading temperature.

Glass Cooktops

Ruffoni stainless steel and copper range of cookware sets come with a flat and smooth bottom that won't scratch a glass cooktop. If you are invested in a glass cooktop, Ruffoni hand-hammered construction down and Italian craftsmanship in every aspect is elegant and durable. As glass ranges require more thoughtful choices of a set, Ruffoni is the best one for glass cooktops.
Why Should You Buy Ruffoni Cookware?
It's now time to look into the various reasons why you should be choosing the cookware sets that are offered by RUFFONI.
Traditional Handcrafted cookware: If you are interested in cooking traditional cookware, then Ruffoni is the best. Their cookware set is hammered, and belly shaped copper cookware set that comes with brass handles. Those who are well experienced in cooking always expect to have ideal cookware. So those who can appreciate low sticking properties of tin due to unmatched heat conductivity.
Performance and convenience: Ruffoni cookware is made of copper with stainless steel can expect better performance with convenience. Those looking for metal utensils and do not want to re-tin their set can go for Ruffoni. The aesthetic copper body and stainless-steel handles remain cool for a long time.
Usability: Ruffoni cookware also offers cookware made of non-tarnished stainless steel inside out. Those who enjoy cooking in thick aluminum core cookware with heat conductivity can choose Ruffoni. They are resistant and induction suitable easy to clean stainless steel encased cookware.
Anyone looking for contemporary cookware with a striking appearance can go for Ruffoni's different collections and compositions.
Things To Consider Before Buying Ruffoni Cookware
Like any other cookware sets, you may want to consider the following information before buying the RUFFONI cookware sets. Please read this information carefully as it may affect your purchase.
Copper tin lining inside the cookware can make your food sticky.
No metal tools can be used.
It is not dishwasher safe cookware.
Allows medium to low heat cooking.
No harsh chemicals should be used to clean the cookware.
Handles may get hot after long hours of use at high temperatures.
Final Worlds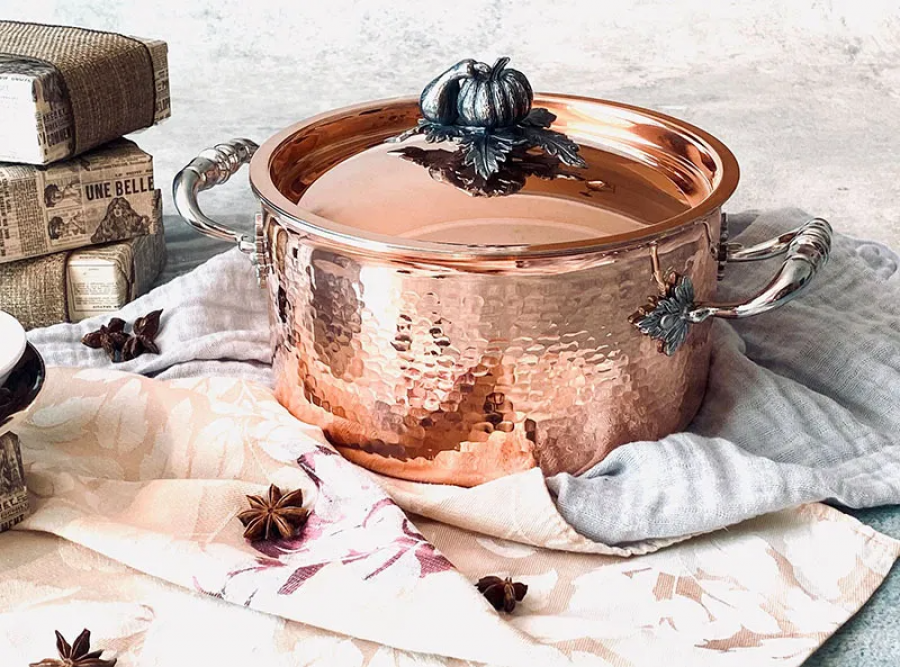 Ruffoni is offering a trusted service for long years now. They offer three range of cookware sets; copper with tin lining and stainless-steel lining and clad stainless-steel set. Their copper range of cookware set dates back to the millennium is the favorite cooking materials of Chef worldwide. The main reason behind it is the heat conductivity of copper.
Even though the most popular cookware set of Ruffoni is traditional and tin lined unsurpassed performance copper. Their modern and highly functional clad stainless-steel cookware is also preferable. Its thick aluminum core also offers heat conductivity. So, if you are looking for classic cookware set with the best heat conductivity, the Ruffoni cookware set is ideal to choose from.
Editor's Choice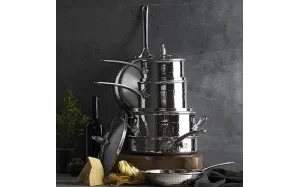 Ruffoni Omegna Stainless-Steel Hammered 10-Piece Cookware Set
No. of Pieces: 10
Material: Stainless Steel
Dishwasher Safe: Yes
Oven Safe: Yes

Talya Davis
Talya, like all members of the HomeDesignX team, is enamored by all things related to cooking and eating. She's written cookware articles for numerous publications before working with her lifelong friend Jessica to create their very own website on cookware.
She's currently writing a book on induction cooktops, and enjoys making clean, vegan meals for her family.