2nd Best Choice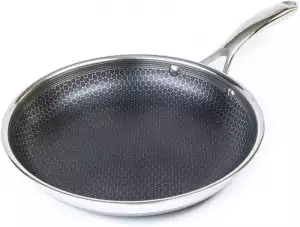 HexClad 10 Inch Hybrid Stainless Steel Frying Pan
Check Latest Price
Editor's Choice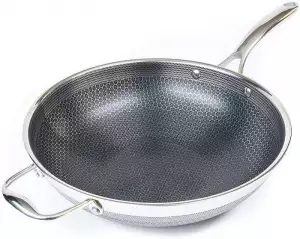 HexClad 12-Inch Wok Pan
Check Latest Price
3rd Best Choice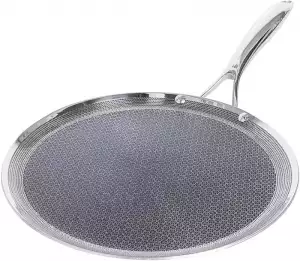 HexClad 12 Inch Griddle Fry Pan
Check Latest Price
Any cook will tell you that good food highly depends on the tools you use to prepare it, including your cookware. The right cookware will provide even heating and non-stick performance.
In turn, you'll enjoy the authentic flavors and structural integrity of your food. Using Hexclad cookware helps you cook your food perfectly, whether fried eggs or a whole roast.
Integrating a tri-ply and patented laser-etching construction, the cookware maintains even heating, non-stick performance, and long lasting durability.
Want to find out more about this cookware's pros and cons? Check out our in-depth Hexclad cookware review to find out.
What is Hexclad Cookware?
Hexclad cookware is an innovative, American-designed cookware set. The cookware features hybrid construction with a tri-ply technology. This tri-ply construction means there are three metal layers which enhance the cookware's functionality.
This includes a magnetic stainless steel base, aluminum core, and stainless steel outer layer.
The first magnetic stainless steel layer allows the cookware to work on most stovetops, while the middle aluminum layer acts as a heating element. The third layer improves the cookware's overall durability, ruggedness, and all-weather performance.
Additionally, Hexclad cookware has a unique non-stick technology, letting you cook food without sticking, whether it be eggs, steak, or a stew.
Hexclad Cookware Reviews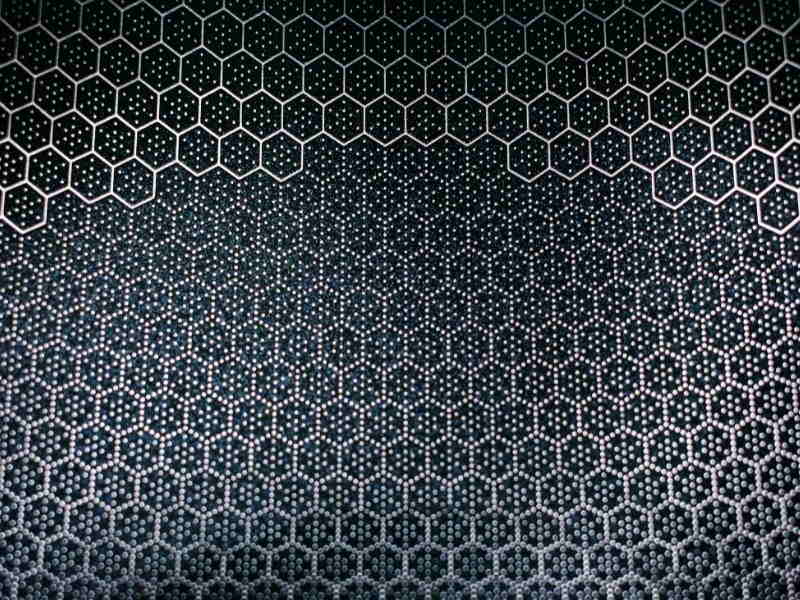 Feel
Hexclad pots and pans feels very tough when picked up, but in a good way. Its handle also feels strong and durable, even when you stuff the pan or pot with heavy ingredients. Yet, the cooking surface itself has a smooth feel.
You'll also notice the grooves of the! stainless steel lattice overlap, which is what gives it its non-stick performance. While the cookware has a tough feel to it, it's still light and easy to handle thanks to the aluminum and stainless steel build.
Design & Construction
Hexclad cookware features a tri-ply construction.
The first layer is made from magnetic stainless steel, allowing the cookware to work with gas, ceramic, halogen, electric, and induction stovetops.
The middle layer is aluminum, which acts as a heating element. Aluminum is very heat-responsive, which eliminates hot spots during cooking and allows for even heating. Also, the aluminum layer reduces the weight of the cookware.
The third layer is also stainless steel to reinforce the strength even more.
The combination of these materials gives the cookware a corrosion and rust-resistant finish.
In addition to the unique tri-ply construction, Hexclad cookware features a patented laser-etching technology.
This laser etching technology creates a series of Hexogonal overlays in the stainless steel cooking surface, hence the name Hexclad. As a result, this unique pattern complements the aluminum layer to eliminate hot spots for even heating and cooking.
Also, the laser etching design is paired with a Japanese ceramic non-stick coating. This high-grade coating is infused with diamond dust and makes the cookware non-stick, preventing food from sticking to the surface.
Look
The hexagonal pattern and stainless steel overlay cover the entirety of the cooking surface. In turn, this gives them a gorgeous, unique look. The brushed stainless steel handles and see-through glass lids also offer a classy look.
You'll also notice a diamond dusting layer on the exterior. This diamond dusting gives them a shimmering blue finish and also increases their durability.
Performance
When it comes to their performance, Hexclad pots and pans do an excellent job at even heating and conduction. The tri-ply construction allows the cookware to maintain heat for longer and spread it more evenly.
The non-stick coating also works very well, allowing you to explore different meals and recipes without your food sticking. You can use these pieces to sauté, sear, boil, or fry your food.
Additionally, the cookware boasts a high temperature rating of up to 500 degrees Fahrenheit. So, you can toss the cookware in the oven for roasting, baking, or broiling.
You can even use it on induction stovetops. It's a great choice of cookware for induction cooking.
The nonstick performance allows for easy food release, making cleanup a breeze. We always recommend hand-washing cookware; if you're in a hurry, though, you can also put the cookware pieces in the dishwasher.
Hexclad Pots and Pans VS Normal Nonstick
Hexclad pots and pans have a pretty unique construction technology compared to regular nonstick pots and pans.
Hexclad pots and pans use a unique design that integrates both clad stainless steel and a nonstick coating.
For the most part, regular nonstick pots and pans will feature a standard nonstick coating such as Teflon. Hexclad is a great option for non-toxic cookware because it doesn't contain the harmful chemicals that some other cookware brands use.
What really makes the Hexclad cookware unique from regular nonstick cookware is that its nonstick properties are built into the cooking surface. In other words, the hexagon-etched surface provides a slick surface for food in addition to the coating.
Unlike regular nonstick coatings, Hexclad's diamond-infused coating won't ever chip or flake off into your food. Its nonstick performance is on-par with other coatings, but it stands out because of how durable it is. It's even metal-utensil safe. This is a pan that can really take some abuse and still deliver a great performance.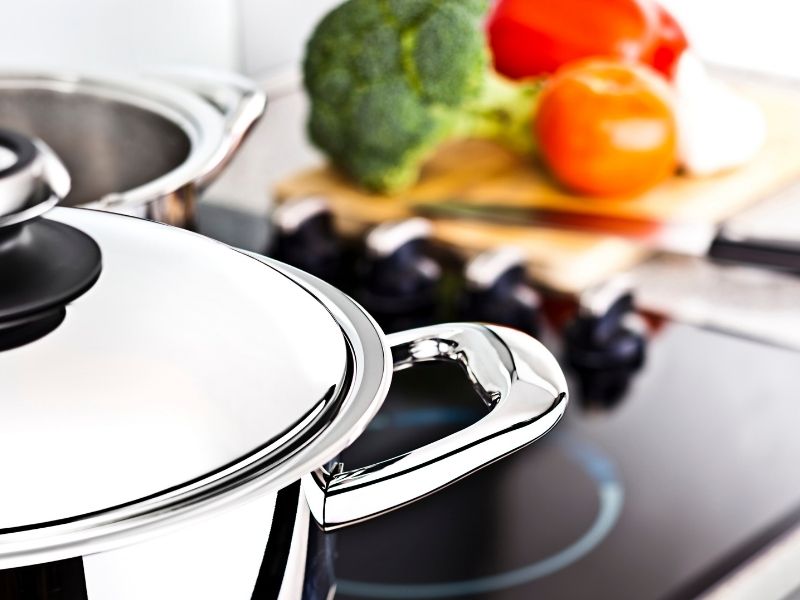 Pros and Cons of Hexclad Cookware
Even the best products come with pros and cons. Here's what we like and dislike about Hexclad cookware:
Pros
1. Stylish
Hexclad cookware has a stylish and classy finish. The laser-etched cooking surface is unique and eye-catching, and the stainless steel exterior is also pleasing. These pots and pans have a riveted stainless steel handle.
2. Durable
Like I mentioned earlier, the durablity of this cookware is probably its best feature. The nonstick coating can take lots of abuse and won't flake off. The tri-ply construction paired with the stainless steel lattice makes this cookware much more durable than regular non-stick pots and pans.
3. Easy to Handle
The use of an aluminum layer makes the cookware pretty lightweight in comparison with other materials. It also has strong handles that stay cool during cooking, making it easy to handle.
4. Corrosion Resistance
Hexclad pans have a wear-resistant finish, meaning they won't rust or corrode over time. Plus, the stainless steel hexagon pattern makes the interior and exterior scratch-resistant and easy to clean. The materials used are also PFOA-free.
5. Versatilty
This cookware's high heat tolerance (500 degrees Fahrenheit) means you can use them in the oven for baking, broiling, and roasting. Furthermore, Hexclad cookware pieces are safe to use with metal utensils and on most stovetops, including induction.
6. Easy Cleanup
Hexclad pots and pans are dishwasher-safe to make cleaning easy. However, we always recommend hand-washing your cookware to extend their lifespan as much as possible.
7. Safe to Use
Hexclad cookware sets are the perfect option for people who want nonstick pots and pans. But unlike regular nonstick cookware, Hexclad cookware doesn't have toxic elements.
Many nonstick cookware brands use nonstick coatings that contain some toxic elements. Often, these coatings easily flake off and leach into food.
Hexclad cookware doesn't have this problem. In addition to its non-toxic materials, the nonstick coating never flakes off. You can even use metal utensils without the risk of chipping or flaking.
Cons
1. Not Great for Searing
Hexclad cookware features a nonstick cooking surface that allows you to explore different cooking styles. While you can use the cookware for searing and stir-frying, it won't yield the same results you would get from a cast iron pan.
The combination of stainless steel lattice and nonstick coating prevents the meat from laying flat on the cookware surface, due to the air pockets it creates.
2. Discoloration
The steel layer of Hexclad cookware is prone to discoloration, even though it's rust-resistant. This is most noticeable when sear or stir-fry foods. Usually, this can be solved with the regular techniques for cleaning stainless steel pans.
3. Price
Compared to normal nonstick cookware sets on the market, Hexclad cookware sets are a bit pricey, especially for a relatively young brand. While it's a high-quality set to be sure, even the best nonstick coating will degrade over time.
Best Hexclad Pots and Pans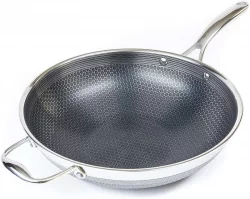 The Hexclad 12 Inch Wok Pan works great for those days where you want a quick stir-fry dinner or to cook Asian recipes.
The 12-Inch Hexclad wok features a typical pan build with elements of a wok, including a deep interior. This design allows you to prepare everything from Pad Thai to vegetables and sauces.
The large 12-inch depth also lets you prepare large batches of food to feed your whole family. Moreover, the wok pan's depth helps avoid messes on the stove. This is complemented by its uniquely flared shape to make it ideal for deep frying.
You can use it for your best churros or southern fried chicken recipes. As we mentioned before, the wok pan features a pan design with the functions of a wok. It's fitted with an interior riveted handle that's cool to the touch and easy to use.
With the long, durable handle, the Hexclad wok is easy to handle even for beginners. The grab handle on the other side makes it easy to move around the wok and toss foods.
Even after using dense and deep-colored sauces, you won't have to worry about struggling to wash this piece of cookware. Its nonstick coating and stainless steel lattice allow for easy food release and easy cleaning.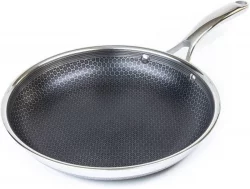 For your next steak dinner with your loved ones, the Hexclad 10 Inch Hybrid Stainless Steel Frying Pan will help you get the perfect sear.
This skillet is quite versatile, so steaks aren't the only thing you can prepare. You can also use this fry pan to sauté veggies, fry meat, or simmer homemade sauces.
The pan features a large, flat cooking surface to help you get the perfect cook on your food. Its shallow sides provide excellent evaporation to maintain a nice browning on your food. You'll also notice that the frying pan has a grooved lip for drip-free pouring when dealing with sauces.
Its flat surface and magnetic material make it compatible with induction cooktops.
The frying pan's cooking surface has a nonstick coating and a laser-etched design to offer even, clean cooking. You can even use metal utensils without worrying about scratching the surface.
In fact, the Hexclad 10-inch frying pan is made from 100% PFOA-free material, meaning it has no harsh coatings.
Furthermore, like all Hexclad cookware pieces, the 10-inch frying pan is oven safe with a temperature rating of 500 degrees. This means that you can incorporate your favorite oven recipes, including chocolate chip skillet cookies or baked salmon!
The skillet is fitted with a double-riveted stainless steel handle. The handle is cool to touch, extremely rugged, and stable. It even lets you use the skillet for a great flambéing session without losing your grip or breaking the handle.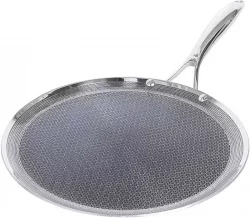 The Hexclad 12 Inch Griddle Fry Pan features a fully flat surface ideal for breakfast and comfort foods.
You can use this fry pan for pancakes, bacon, eggs, crepes, and different types of flatbreads. The griddle fry pan has a large 12-inch cooking surface that allows you to cook your food in large batches (enough to feed 2 to 4 people).
This griddle pan has Hexclad's signature hexagonal etching design and non-stick surface for healthier cooking. This is because, unlike regular pans, this technology lets you use minimal amounts of butter, grease, and oil.
For greasy foods like bacon, you won't need to add oil or butter at all. The nonstick surface and powerful heat conductivity of the frypan allow such foods to use their own fats to slick the pan.
The pan's stainless steel peaks ensure you always enjoy a golden sear on your food.
You won't have to worry about scratches or scuffing from metal utensils, either.
The Hexclad griddle fry pan features a long lasting tri-ply construction with three metal layers to promote even heating. This means while using the fry pan, you can be sure you'll consistently get expertly-cooked food. The lip on the rim allows for mess-free cooking, preventing spills.
This griddle also has a stay-cool handle so you can flip your pancakes and flatbreads without risking any burns.
The handle's long and ergonomically-angled design allows for a comfortable grip even if you have small hands. It offers just the right balance of weight for handling it.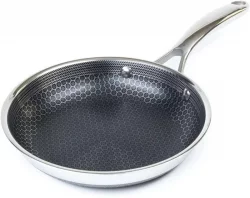 Hexclad's 8 Inch Hybrid Stainless Steel Frying Pan is the ultimate cooking tool.
For one, the frying pan's cooking surface is the size of a tortilla, which makes it a great pan for cooking crepes and pancakes. It can handle strong heat for an excellent sear on your meat dish.
While it's not big enough to cook a family-sized serving in a single session, this frying pan is still a great addition to your kitchen.
This frying pan is perfect for single-serving meals. Thanks to its relatively smaller size and the tri-ply construction, it offers well-distributed heat. It can also reach high temperatures faster. This, in turn, allows for an even better cook.
The hexagonal patterns of its laser-etched design create a 'valley' that optimizes nonstick performance. This valley creates an air entrapment between the food and the surface of the pan. This, in turn, creates a "floating" mechanism, preventing food from sticking to the surface.
The pan's design and size make it great for frying an egg, cooking a fluffy omelet, or searing a single serving of salmon. Additionally, the pan is ideal for preparing small batches of side dishes, such as sautéed vegetables.
This small frying pan is also the perfect tool for healthy eating, since you won't have to use as much oil or butter.
Like the other pieces in this list, you can use this in the oven at 500 degrees Fahrenheit. This means you can whip up delicious dessert recipes in your oven.
Furthermore, the 8-inch pan has a small surface area, making it easier to handle and clean. Combined with its non-stick performance, you'll never find the need to put this pan in the dishwasher.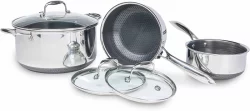 The 6-piece Hexclad Cookware Set comes with all the pots you need for a professional or home kitchen.
This cookware set caters to all your food prep needs, whether you want to prepare an elaborate feast or quick weeknight meals. This 6-piece set includes a 2-quart pot, 3-quart pot, and 8-quart pot. All these pots come with tempered glass lids.
You'll first notice the set's stylish and classy finish that complements any interior setting. The gorgeous appearance of the cookware set is thanks to its unique laser etching design.
The laser etching and stainless steel lattice don't just give the cookware a stylish finish - this innovative design is well thought out, giving the cookware a nonstick performance on the inside and a scratch-free finish on the outside.
The laser etching also makes the cookware pretty easy to clean up, helping you maintain its precious look much longer.
Not only are the pots easy to clean and dishwasher-safe, but so are the glass lids, making it easy to clean the entire set. The stainless steel overlays that extend to the exterior of the pans also make it easy to clean in case soups or sauces overspill and dry on the sides.
The tri-ply construction uses layers of stainless steel and aluminum for great durability and even heating. Furthermore, these pots are finished with double riveted, shiny stainless steel handles.
These handles feature an ergonomic design for better grip and long lasting comfort. They have a long and hollow design, making them cool to the touch even when cooking at high heat.
Each piece in the 6-count cookware set comes with a lifetime warranty (as long as you correctly use the cookware). This means that the cookware is protected from any manufacturer's damages or defects.
In fact, when properly cared for, the set can be used for as long as 20 to 30 years, according to the manufacturer.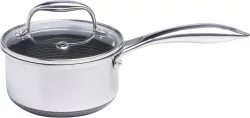 If you just want to invest in a high-quality pot to complete your kitchen set, this Hexclad 1-quart pot with lid is a great option.
Like the rest of the pieces in our list, this 1-quart pot uses Hexclad's patented laser-etching design and tri-ply stainless steel construction.
It's also PFOA-free and can handle up to 500 degrees Fahrenheit in the oven. You don't have to worry about using metal utensils or steel wool pads to clean it, since the cooking surface is so durable!
It features a tempered glass lid, which is protected against cracks and breaks. The tempered glass lid design is complemented by the stainless steel rim to further prevent cracking or chipping.
Its see-through design allows you to monitor the cooking progress without having to remove the lid. Additionally, the tempered glass lid is designed with steam vents for adequate air circulation and precise cooking.
Unlike most regular cookware lids, the Hexclad lid doesn't feature any plastic components. Instead, it incorporates an articulately molded stainless steel rim for a tight seal.
FAQ
Where is Hexclad Made?
According to the brand's official site, Hexclad cookware is made in an approved factory in Asia. This factory is has the right equipment and expertise to produce its patented laser-etched and tri-ply constructed cookware.
However, the Hexclad brand is American, with its headquarters in Los Angeles, California.
Is Hexclad Safe?
Hexclad pots and pans are free of PFOAs and other harmful chemicals to prevent toxicity.
However, it contains some PTFE that is inert and doesn't cause any harm to the human body. They use PTFE because non-PTFE nonstick cookware doesn't last long.
In some cases, you may notice discoloration on the cookware. This isn't a cause for concern. For the most part, discoloration on Hexclad cookware forms on the stainless steel as a result of high heat. Food residues and grease build up also cause discoloration.
To avoid these, use low to medium heat and clean the pans after each use.
Is Hexclad Induction Compatible?
Yes, Hexclad cookware is induction-stovetop compatible! The cookware features a tri-ply construction with a magnetic stainless steel layer which lets you use the pots and pans on induction stovetops. In fact, this unique tri-ply construction makes the cookware compatible with multiple stovetop types.
Is Hexclad Non-Stick?
Hexclad cookware is non-stick. The cookware uses a special patented laser-etched design on the cooking surface and exterior. This laser-etching creates a nonstick surface.
There's also a nonstick coating with stainless steel lattices for optimal nonstick function. In turn, this allows for easy food release and quick, mess-free cleaning.
What is Hexclad Made of?
Hexclad cookware is made using a tri-ply construction. This construction style integrates three layers of magnetic stainless steel, aluminum, and stainless steel, respectively.
As a result, the cookware isn't only durable; it also prevents hot spots from forming during cooking for even heating and high heat conductivity. The cookware is then finished with a laser etching design and diamond dusting.
Do You Have to Season Hexclad Cookware?
From what we've seen, we'd recommend you season your Hexclad cookware before the first use, like any other fine cookware.
If you want to know how to season Hexclad cookware, start by heating them on low-medium heat and spread a teaspoon of oil in the interior. Leave it on the heat for about a minute or two and you should be done. After the first seasoning, the Hexclad should perform well during multiple uses as it re-seasons itself.
Conclusion: Is Hexclad Worth It?
Hexclad cookware is certainly worth the investment.
For one, the cookware's unique and superior tri-ply and laser-etched construction improves its durability and nonstick functionality.
The three-layer construction's even heating and high heat conductivity mean that you will always enjoy evenly cooked food.
Even world-famous chef Gordon Ramsey has said he uses Hexclad cookware at home.
Hexclad cookware's laser-etched design helps maintain your food's structural integrity and look. It's a great choice for cooking enthusiasts who want the best flavors and appearance for their food.
If that's not enough, the cookware's unique look will compliment any kitchen decor.
So, if your budget allows for it, Hexclad cookware is a perfect companion to both home and professional kitchens!
Editor's Choice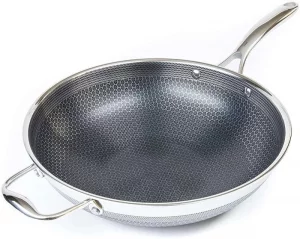 HexClad 12-Inch Wok Pan

Talya Davis
Talya, like all members of the HomeDesignX team, is enamored by all things related to cooking and eating. She's written cookware articles for numerous publications before working with her lifelong friend Jessica to create their very own website on cookware.
She's currently writing a book on induction cooktops, and enjoys making clean, vegan meals for her family.