2nd Best Choice

Copper Chef 9 Piece Round Set
Check Latest Price
Editor's Choice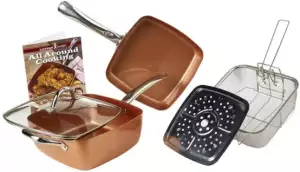 Copper Chef XL Cookware Set
Check Latest Price
3rd Best Choice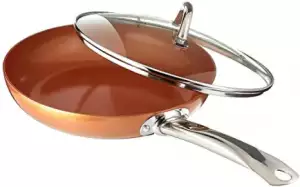 Copper Chef Round Pan with Glass Lid
Check Latest Price
When it comes to cooking, few things are as convenient and useful as non-stick cookware.
Non-stick pans can save you a lot of time cleaning, yes, but they can also help you cook healthier food by reducing the amount of oils you use when cooking.
Not only that, but depending on what material the nonstick pans are, they can also help protect the health of your family by avoiding certain chemicals.
In the world of non-stick cookware, one of the most well-known pans out there are Copper Chef pans, and it's easy to see why.
5 Best Copper Chef Pan Options (Copper Chef Cookware Reviews)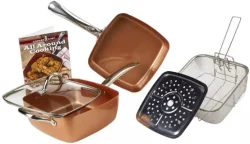 It may only have two pieces (plus accessories) but they're both large enough to feed medium to medium-large families, making it a great choice for family cookouts.
If the size isn't enough to convince you, keep in mind that this set comes with the deep square pan, which is sort of a flagship item for Copper Chef.
The deep square pan can be used to fry, deep fry, bake, boil, broil, roast, steam and pretty much everything else, making it one of the most versatile items in this list. The fry pan is a little more modest, but it can still be a game changer in your kitchen.
Both pieces are oven safe up to 800 degrees and induction compatible, which is something not many copper cookware sets can say.
It's worth repeating that the lids aren't made to withstand that kind of temperatures, so if you're planning on using any of the pans in the oven, do so without the lids.
The non-stick cooking surface is as good as you'd expect, as long as it's properly seasoned and used correctly.
The deep square frying pan comes with a steamer, a frying basket and a little cooking book that will show you exactly how to use it, though the later is only digital.
Pros
Works with induction cooktops
Sturdy and reliable
Versatile, can cook a bunch of different things
The handles stay cool to the touch
Oven safe up to 800 degrees
Cons
Rather large and can take up a lot of space in storage, your cooktop and the dishwasher
While dishwasher safe, it can make washing other things difficult so it's easier to wash it by hand.

If you're looking for a more traditional cookware set that boasts all the benefits of Copper Chef, look no further! This set is perfect for you.
Not only does this set comes with all the expected pans and lids, but it also includes accessories, such as a steamer insert and a frying basket that delivers results as good as the deep square pan, but at a smaller scale.
All of the pieces in this set are induction-ready and oven safe. The stainless steel induction plate can resist temperatures up to 700 degrees, though the same can't be said about the lids, so be careful when using them in the oven.
While the pans in this set are advertised as scratch-resistant, they do scratch easily if you're using metal, so try to use only silicone and wood if you can.
All the pieces in this set need to be properly seasoned before use, though the same can be said about most nonstick pans.
Dishwasher safe and very efficient, the only truly negative about this set we could find was that the pieces are a bit on the small size. As well, some have complained about the handles getting hot, so you may want to use potholders.
Pros
Oven safe
Dishwasher safe
Well equipped and versatile
Comes with fry basket and steamer accessories
PTFE and PFOA free
High quality
Compatible with all cooktops
Cons
Because of its induction readiness, the base of these pans is made with steel and aluminum, not copper
Can be scratched if you use metal utensils
A bit on the small side
Handles might heat up while in the oven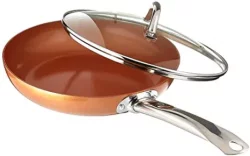 If you're curious about Copper Chef cookware but aren't committed enough to purchase an entire set, this 10" frying pan is perfect for you.
Compact and safe in the oven up to 850 degrees, this fry pan can be safely used to fry, sauté, braise and even bake!
Because of the built-in stainless steel induction plate at the base of the pan, you won't have to cook food with as high of temperatures compared to other cookware.
It's one of the best pans for glass top stoves.
The ceramic cooking surface is an excellent way of cooking without harmful chemicals and with as little oil as possible. However, it's easy to scratch if you're using metal forks and knives, so be careful with that.
This fry pan comes with a tempered glass lid, though we advise you not to use it in the oven, as it isn't as heat-resistant as the pan itself.
Speaking of the fry pan, we really liked the construction. Everything about it feels sturdy and well crafted, though the handles do heat up, particularly if you're using the oven.
Pros
Oven safe up to 850 degrees
Can cook a wide variety of food items
Slick and nonstick
Sturdy and well-designed
Healthier cooking thanks to not having to use as much oil/butter
Cons
A bit small of a pan (10 inches)
The cooking surface can scratch if you're not careful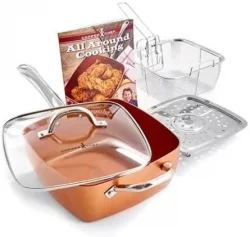 We mentioned earlier that the deep square pan is a flagship product of the Copper Chef brand, and you're about to find out why.
Equipped with a large frying basket, a steamer insert and a lid, this large fry pan can do just about anything and cook a wide variety of dishes, all while creating minimal mess in the kitchen.
This baby can fry, roast, boil, bake, deep fry, broil, steam, sauté, braise, smoke and a whole lot more. You just need to be creative about it...although this pan also comes with a cooking booklet that will show you all you can do.
As you can imagine, the pan is on the large side, which makes it a bit hard to store and wash. Still, it's definitely a good option if you're planning on cooking for more than one person.
Oven safe up to 800 degrees, dishwasher safe and scratch resistant, this is a sturdy pan that looks and feels like it can take a beating. We still suggest not beating it. After all, it's not exactly a cheap fry pan.
This pan is induction compatible and can be used in all kinds of cooktops. Of course, this means the base is stainless steel, but the heat distribution is still good and even, so it's a worthwhile compromise.
Pros
Oven safe
Induction compatible
Dishwasher safe
Very versatile and comes
Sturdy and well built
Cons
Somewhat heavy
The base is not copper, but stainless steel
Takes up a lot of space when in use, when washing and when storing it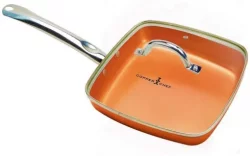 A good option for those of you looking to cook for a large number of people, this beautiful square pan can easily cook up to 4 burger patties at the same time with some space to spare!
Oven compatible up to 800 degrees and deep enough to cook food without a problem, this pan is more versatile than it looks and will allow you to cook a variety of food.
This pan is induction compatible, which means the base isn't made entirely out of copper. This can be a concern, since some users have reported heat spots, though this doesn't seem to be a problem as long as you use this pan on medium-low to medium heat.
The ceramic coating is very slick and mostly scratch resistant, but it doesn't handle metal all that well.
As with similar models, the glass lid isn't as heat tolerate as the pan, so skip using the lid in the oven if possible.
Pros
Sturdy and well-built
Large enough for lots of food
Induction friendly
Dishwasher-safe
Cons
Can't be used with utensils made of metal
The glass lid isn't as oven-safe as the actual pan
Heat spots can appear if you use this pan at high temperatures
What Is Copper Chef Pan?
Copper Chef pans are premium-grade pans made by combining two of the most trusted materials in the cooking world:8
Copper: This material is commonly regarded as the best in the cooking world thanks to its unparalleled heat conductivity, which allows it to react to temperature changes quickly and efficiently.
Ceramic: Known for its non-stick properties, ceramic is also non-reactive, which makes it ideal for cooking just about anything and an excellent choice if you're the kind of person who dislikes using oils when cooking.
Combined, ceramic and copper complement each other by creating oven-safe cookware that can cook food of all types with minimal effort. Copper Chef is also one of the best cookware brands for gas stoves.
Sounds good, doesn't it?
Is It Safe To Use Copper Chef Pan?
Yes, very!
Using Copper Chef cookware isn't only safe in a general way (as they're sturdy, well-built pans that won't cause accidents in the kitchen) but it's also safe in the sense that it's good for you!
As we mentioned before, Copper Chef pans use ceramic as a cooking surface, which means that you'll be consuming fewer oils and fats from cooking, which can help improve your health.
Not only that, but ceramic is also a non-reactive cookware material, which means there's no risk for chemicals releasing into your food.
If that wasn't enough, keep in mind that the nonstick properties of Copper Pan's copper are 100% natural, meaning your food won't be exposed to chemicals like Teflon or PTFE when cooking.
So, yes! It's safe to use Copper Chef cookware!
Should You Buy Copper Chef Pans?
While we're tempted to say yes right away, the price tag does make us hesitate a little.
Copper Chef cookware is quality and will change the way you experience cooking, there's no doubt about that. However, they do require some care that most people won't know about or just won't care to follow.
So while we absolutely recommend Copper Chef, we think these pans work better for people who take cooking seriously and can treat the cookware properly.
If you're thinking about purchasing Copper Chef pans but aren't sure where to start, worry not. You can check above for the 5 best Copper Chef fry pan reviews in the market to make things easier for you!
Pros of Copper Chef Pan
There are many advantages of using Copper Chef cookware, such as:
Conductivity
Because Copper Chef pans use copper as a base material, they heat up quite fast, saving you time and money when it comes to energy. It also allows you to cook more delicate food that may be ruined by using that doesn't respond as quickly to heat changes.

Non-Reactivity
Certain metals produce unwanted changes in your food, such as color or taste changes. Copper, for example, can't be used with tomatoes, as it turns them acidic and unpalatable.
While copper was used to create these pans, ceramic is used for the cooking surface, and ceramic presents no such problems. This gives you all the advantages of copper without any of the drawbacks!
Less Oil
By providing you with a naturally non-stick surface, Copper Chef pans can use less oil or fats when cooking, provided your pans are well seasoned. Seasoning does include oils, but the amount is minimal compared to using it daily.

Heat Resistance
Most Copper Chef pans are oven safe up to 850 degrees, making them perfect to finish off dishes in the oven. Few cookware brands can compare to this degree of heat tolerance, which earns Copper Chef extra points in our book.
Cons of Copper Chef Pan
The disadvantages of Copper Chef pans are few and far between, but they need to be mentioned.
Weight
While not as heavy as some other metal/ceramic combinations, Copper Chef pans are still weighty and can put a strain on your wrist if you're not careful with how you hold them. As you can expect, the weight increases when there's food on the pans, so plan accordingly.

Fragile
While useful in the kitchen, copper is a relatively soft metal that can easily bump or wrap. Ceramic isn't particularly resistant either and can crack if you accidentally drop your cookware. We won't go as far as to say the cookware is fragile, but it's the type of cookware you want to treat with care. This includes not using metal forks and washing by hand whenever possible.

Lids vs Body
While the pans themselves are heat resistant up to 850 degrees, the same can't be said about the tempered glass lid that most of them come with, so avoid using them inside the oven if possible. Most of the pans don't come with a warning about this (we had to learn it the hard way).

Cost
Copper Chef pans are a bit pricy. While the quality matches the cost, if you're not careful with the pans and they get damaged, that's a lot of money that will go to waste.
In conclusion, we believe that Copper Pan cookware is a good investment. While it's more expensive than other pans (including ones made of other materials such as stainless steel), it's not anything exorbitant.
Our experience, paired with the reviews of other users, confirmed that this cookware is great for those who take cooking seriously and will take good care of the pots and pans.
For beginner chefs, another pan set may be a better choice. We recommend a different brand, such as Blue Diamond, for beginner-level cooks.
What are your thoughts? Do you own a set of Copper Pan cookware? Let us know below!
Editor's Choice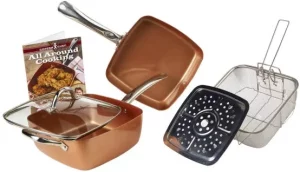 Copper Chef XL Cookware Set

Talya Davis
Talya, like all members of the HomeDesignX team, is enamored by all things related to cooking and eating. She's written cookware articles for numerous publications before working with her lifelong friend Jessica to create their very own website on cookware.
She's currently writing a book on induction cooktops, and enjoys making clean, vegan meals for her family.