2nd Best Choice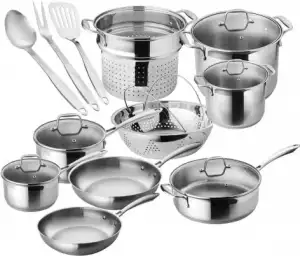 Chef's Star Professional 17pc Stainless Steel Cookware Set
Check Latest Price
Editor's Choice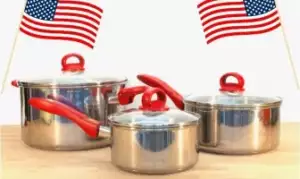 Viking Professional 5-Ply Stainless Steel Cookware Set
Check Latest Price
3rd Best Choice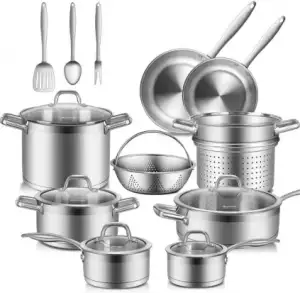 Duxtop SSIB-17 Professional 17-piece Stainless Steel Cookware Set
Check Latest Price
Whether you are an occasional cook or a professional, there is no denying that investing in a reliable cookware set is one of the best things you can do for your kitchen.
It is important you choose a set that is easy to use, versatile, promotes convenient cleanup, and delivers evenly cooked food anytime you want, whilst also impressing everyone when they're displayed on the kitchen counter.
However, with all the different varieties available online, it's hard to decide which one is worth adding to your kitchen. With that in mind, we have rounded up a list of the best American cookware suitable for all your kitchen needs.
Here are our picks for the best cookware made in the USA.
Best Stainless Steel Cookware Made in USA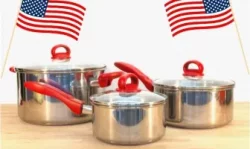 This set from Viking comes with an 8 inch and 10-inch frying pan, a 2 and 3-quart stockpot, and a 3.4 quart saute pan. Made in USA with an incredible 5-ply construction that allows for a great heat transfer, this set will cook your food quickly and evenly.
The exterior is made of magnetic stainless steel that makes it ideal for all cooktops.
The pots and pans heat up quickly for perfect searing and browning. If you are a fan of low- or medium-heat cooking, then this option is your best bet.
Finally, they are safe to put in the dishwasher, but are best if hand-washed with soap and a sponge.
Keep in mind, the stainless steel cookware set might start to lose its sheen with daily use. However, considering its top-notch quality, we are sure that this American made stainless steel cookware will last a while!
Pros
Works on all cooktops, including induction
Quick heat transfer
Dishwasher safe; handwashing recommended
Oven, broiler and grill safe up to 600°F
Cons
This stainless steel cookware may lose its shine over the years.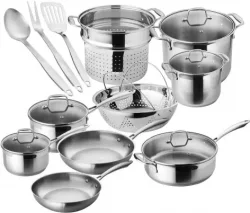 This 17-piece stainless steel cookware set is a full collection of pots and pans offering a wide variety of cookware. All the pieces are made of commercial-grade stainless steel with an aluminum base, assuring quick heat-up and minimal wear-and-tear.
They are also efficient at retaining heat, which makes them suitable for searing meat. On the other hand, you can also place them in the freezer to store your food.
This cookware set features strong handles with a firm grip and stability. If you have storage issues, then there is nothing to be concerned about as the handles have holes that help you hang them anywhere in the kitchen.
Pros
Made with 18/8 Stainless Steel and impact-bonded aluminum base
Anti-slip, ergonomic handles
Freezer-safe, dishwasher safe
Induction-compatible
Oven safe up to 550°F
Cons
Not non-stick, so make sure to use oil, spray or butter.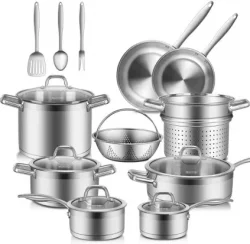 With a combination of impressive quality and user-friendly features, this 17-piece cookware set is essential for every kitchen.
The pots and pans feature riveted loop handles that offer a secure grip, staying cool while you cook. They have an even and rapid heat distribution, which makes for an enjoyable cooking experience.
Moreover, If you wish to store your leftover food in these pots and pans, you can easily do so. These units are safe to be stored in the freezer. Oh, and you can use this cookware set with any type of stovetop, including induction!
Lastly, these pots and pans don't scratch easily, which means they maintain their beautiful finish for a long time.
Pros
Non-stick pans without
Drip-free lids and stay-cool handles
Dishwasher- and freezer-safe
Oven-safe to 550°F
Cons
Ceramic nonstick coating works best and lasts longest if you only use low-to-medium heat while cooking.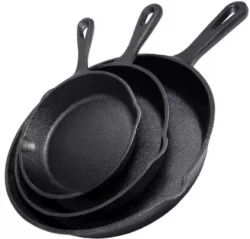 These splurge-worthy pans are not only beautiful, but also well-designed, affordable, and durable just like any cast-iron cookware should be. With versatility and reliability, this cookware will never let you down.
This high-quality set allows you to do all kinds of cooking, including grilling, slow-cooking, stir-frying, and sautéing. It comes with 10-, 8-, and 6-inch pans which makes this set versatile enough to cook a variety of meals.
These pans offer a superior heat retention design, allowing you to cook without risking burning the food. Thanks to its even heat distribution properties, whatever you cook will brown faster, so you can enjoy perfectly cooked meals anytime you want.
Pros
These skillets are pre-seasoned and ready to use right out of the box
Sturdy handles with holes for convenient hanging
Easy to clean
Cons
Some might find its pre-seasoning a bit rough, but with continuous uses and re-seasoning, it smooths out nicely.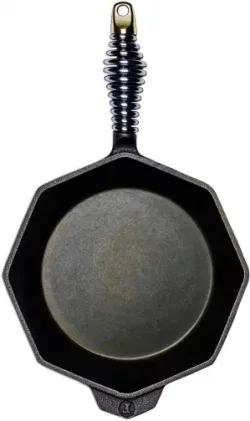 This skillet really impressed us in our test. Personally, I've never held a cast iron skillet so affordable that felt this sturdy. This cast iron cookware is hand-crafted and made in the USA, and built to last a lifetime.
With a multi-pour design and a spring handle that remains cool during cooking, this skillet comes pre-seasoned with organic flaxseed oil. This oil help with an easy-release finish to further improve your cooking experience.
Its unique octagonal shape (in addition to being a conversation starter) makes for easier, drip-free pouring.
This skillet is perfect for getting a fantastic sear on steaks and anything else that needs browning. This sturdy pan maintains heat like no other. From scrambled eggs to pancakes, everything will cook evenly without sticking on the surface.
Thanks to its satin-smooth cooking surface, this skillet is easy to clean with just a damp cloth.
Note that this skillet might be a bit heavy to handle than others, but the great design and heat retention make this a great choice for an American-made pan.
Pros
Works on any cooktop, including induction
Handles stay cool and are designed for comfort
Easy-release, pre-seasoned surface without chemicals
The thick base and walls provide even heating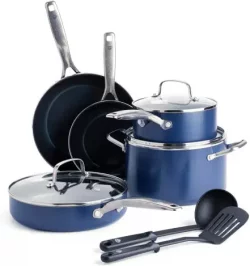 The blue finish on these pans adds a colorful pop to your kitchen. Ideal for small- to medium-sized families, this 10-piece cookware set features comfortable handles. Each piece is relatively lightweight for easy carrying.
These pans are not just aesthetically pleasing, but also convenient. They heat up quickly and evenly, searing food extremely well. Its non-stick coating will help you release the food quickly so you can easily swirl, flip or fold your eggs and other foods with ease.
These pans can even go in the oven up to 600°F and can be used with metal utensils.
Feel free to read our full review of Blue Diamond pans.
Pros
Toxin-free cookware without PFAS, PFOA, lead or cadmium
Diamond-infused coating is durable and heats up quickly
Bases won't warp over time
Dishwasher safe
Cons
Some have complained that the handles get hot while cooking, but this isn't a universal experience. Personally, I haven't had this happen with this set.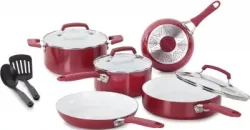 This is yet another high-performing, American-engineered cookware set. Known for its quality and robust construction, this set has a non-stick interior that is both stain and scratch-resistant to provide durability and ease of cleaning.
It also comes with soft silicone handles that are easy to grip. They don't get too hot while heating. You can also use the holes in the handles for hanging.
This lightweight cookware set provides superior heat distribution so you will never have hot spots. It also comes with glass lids, which enable you to monitor the cooking process without the need to open the lid.
This cookware set is not only convenient, but it also promotes healthy eating as it is toxin-free.
Some users complained that the seasoning comes off while cleaning. However, we found that this pan cleans fine with a soft (non-abrasive) sponge and warm water, no soap required. Treat the cookware well and it will last you a long time!
Pros
Ceramic coating offers scratch-resistance
Aluminum base for even heating
Soft, riveted handles for maximum comfort while handling
Oven safe up to 350°F for various cooking applications
Dishwasher safe
Cons
To avoid removing the seasoning, you'll need to use a soft sponge and very little soap. Also try to avoid cooking on very high heat.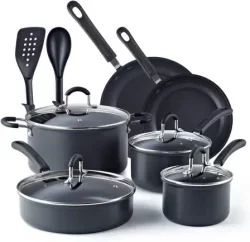 Incredible quality meets a plethora of sizes, making this set perfect for all of your cooking needs. This high-performing 12-piece cookware set is also amazingly easy to clean up.
You will love the rounded edges of the pans, which provide a wide surface area for cooking.
The riveted handles offer a comfortable and safe grip that stays cool. Also, the lids are tapered to prevent any drips. They are also ideal for many types of cooktops including gas, electric, ceramic, while also being oven safe up to 350 degrees.
This cookware set is well-built, and food doesn't stick to its surface at all, especially with a bit of oil or spray.
This set doesn't come with various color options, but we find the dark grey color looks great in just about any kitchen.
Pros
Tempered glass lids for convenient cooking
Hard-anodized, durable surfaces
Oven safe up to 350F, dishwasher-safe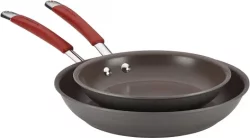 This skillet set is designed in the USA and comes with two different pans of 9.25 and 11.5 inches to accommodate everything you cook. The exterior of the pans is made of solid aluminum, which gives it a high-end look.
Both pans feature hard-anodized patented non-stick surfaces which allow you to saute, fry, or simmer your meals quickly. Its exceptional heat distribution features give you an excellent cooking experience while preparing food.
With such a durable construction, expect this cookware to last you a long while. Also, the tough build ensures you won't have to deal with warping and wobbling.
They are also available in 3 exciting colors. Needless to say, they are also easy to clean.
Note: These skillets don't come with lids, and finding the one that fits well might be time-consuming.
Pros
Comfortable, double-riveted handles
Quick and even heat distribution
PFOA-Free nonstick coating
Oven safe up to 400°F, dishwasher safe
Cons
The set does not come with lids.

Featuring a thermally efficient and attractive design, this 11 piece cookware is made from heavy gauge aluminum that adds to its durability.
The set comes with all the cookware you need to prepare large family meals. They are easy to clean, too.
The base of the pans are stainless steel, providing rapid and even heat conduction. The silicone handles are double-riveted and heat resistant so your hands remain safe when you move the pieces around the stove.
The pans also come with tempered glass lids that allow you to watch over the cooking progress without letting moisture out. You will also appreciate the nonstick cooking surface, which is great at releasing food and doesn't seem to wear off over use.
Lastly, this set is free from both PFOA and PTFE, which makes it a great option for those who are concerned with food safety.
They also have a very inexpensive price tag considering all the benefits and features they offer.
Pros
Metal-utensil safe, nonstick interior
Stainless steel bases for quick heat conduction
Works on all cooktops, including induction
Oven safe up to 350°F
Cons
Some have complained that the exterior may chip in the dishwasher, so although they are dishwasher-safe, we recommend handwashing.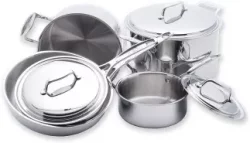 This well-rounded cookware set made in the USA steals the spotlight from its competitors thanks to its classy, innovative design.
With ergonomic handles, no-scratch surfaces, and robust 5-ply construction, this cookware set is sure to meet and pass all your expectations.
One of the many noteworthy features about this cookware is that it comes with a unique vapor cover design so you can also enjoy waterless and greaseless cooking.
This cookware has the reputation of having a superb-quality cooking surface that does not react to acids or alkalis, so your food retains its natural tastes.
Since the cookware is made of stainless steel with an aluminum core, it offers exceptional heat conduction, retention, and durability.
However, as with any metal cookware, the handles on the pans may get warm if used on high heat, but remain touchable. We recommend you use handle covers to prevent any risk of burning.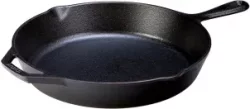 With an impressive heavy-duty design and heat distribution, this Lodge cast iron skillet is a great choice if you want your food to cook quickly and thoroughly.
The skillet is deep and has a fairly wide surface, so you can cook all kinds of delicious food for the whole family. The pan comes with a long handle which makes it easy to maneuver, while being sturdy and comfortable.
Other than that, you will also love its smooth base that doesn't scratch easily, which means it will remain as good as the first day you bought it.
Also, with its nonstick coating, you can prevent foods like eggs and cheese from sticking. This way, you don't have to spend much time cleaning after you're done cooking!
This skillet might be a bit heavier than some other options out there, but that doesn't stop this unit from being a wonderful addition to this list.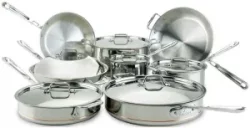 All-Clad is yet another cookware brand that holds a prominent position in the cookware industry. All their cookware is made from material made of the strongest and most durable American steel.
A great example of their sturdy cookware is the All-Clad 60090 Copper Core Cookware Set.
For both domestic and commercial use, this 14-piece cookware set delivers exceptional performance while meeting all of your cooking needs.
This set features a polished, stainless steel interior along with a starburst finish, which makes it stick-resistant so you don't have to worry about cleanup.
The handles are comfortable to hold and offer a secure grip, so you can conveniently move them around while cooking. It works well with all kinds of stoves, whether induction, gas, or electric.
Speaking of convenience, you'll be happy to know that this cookware is completely dishwasher safe. It is oven safe up to 600-degrees Fahrenheit.
Although this set might not be an affordable choice for everyone, it comes with everything you need in a reliable cookware set, and is made in the USA.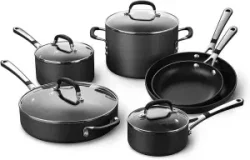 You may be wondering: Is Calphalon made in USA?
Well, although Calphalon has moved much of its production overseas to China in recent years, the majority of their aluminum cookware is still made in the USA, specifically in Toledo, Ohio.
If you're looking for quality, made in America Calphalon cookware, check out this hard-anodized 10-piece set.
This ultra-durable hard-anodized aluminum non-stick set is the best choice for cooking simple items.
The three-layer nonstick surface is durable enough to withstand daily usage. The best part? You can cook practically anything without having to worry about the food sticking to the surface, which makes cleaning a breeze.
Not only does the heat distribute evenly across the base of these pots and pans, but it also spreads to the top of the sidewalls, which cooks food perfectly on every occasion.
The pans nest neatly within each other, making for easy and efficient storage. In addition to the long ergonomically shaped handles, this cookware comes with tempered glass lids that won't shatter.
The pans also feature a pouring spout which makes this set one of the best! Not just that, it has a solid cooking surface that is resistant to stains and scratches.
However, this coating can chip easily if exposed to impact. Also, we noticed a strong metallic smell when they come out of the box, but this went away after washing them.
To read our full review on Calphalon cookware, click here.
Conclusion: Best American Made Pots and Pans
Every kitchen requires a set of safe and high quality cookware.
Whether you want to fry an egg, cook some pasta or saute some vegetables, you need to have pots and pans that don't get food stuck on them every time, don't warp, and last you for years to come.
So, go ahead and choose the options that suits you best!
Editor's Choice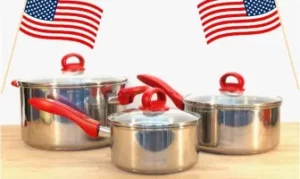 Viking Professional 5-Ply Stainless Steel Cookware Set

Talya Davis
Talya, like all members of the HomeDesignX team, is enamored by all things related to cooking and eating. She's written cookware articles for numerous publications before working with her lifelong friend Jessica to create their very own website on cookware.
She's currently writing a book on induction cooktops, and enjoys making clean, vegan meals for her family.