2nd Best Choice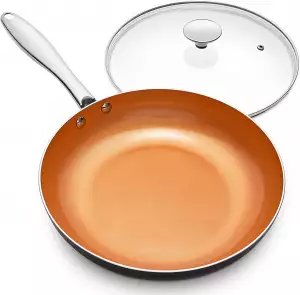 Michelangelo 12 Inch Nonstick Copper Frying Pan With Lid
Check Latest Price
Editor's Choice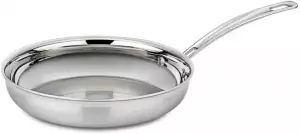 Cuisinart 10-Inch Multi-clad Pro Skillet
Check Latest Price
3rd Best Choice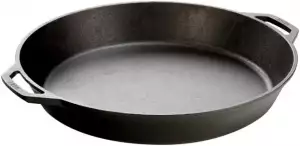 Lodge Pre-Seasoned 17-Inch Cast Iron Skillet
Check Latest Price
When it comes to fish, you need the right pan for the job. Not just any old pan will do; you need a fish frying pan that is specially designed for this purpose. In this comprehensive guide, we will take a look at some of the best pans for frying fish and their pros and cons.
We'll also discuss what to look for in a fish frying pan, and answer some common FAQs about cooking fish in a pan.
So, whether you're in the market for a new fish frying pan or you're just curious about your options, read on!
Tips to Find the Best Pan for Searing Fish
When it comes to pans for frying fish, you have a few different options to choose from. Each type of pan has its own set of pros and cons, so it's important to know what you're looking for before you make your purchase.
Here are a few tips to help you find the best fish pan.
Decide what type of fish you'll be cooking most often.
If you're only going to be cooking smaller fish, like tilapia or flounder, then a smaller pan will suffice. But if you plan on cooking larger fish, like salmon or trout, then you'll need a larger pan.
It also depends on how many people you plan to cook for!
Consider the material of the pan.
The material of the pan can make a big difference in how well your fish cooks. If you want a pan that heats evenly and doesn't stick as easily, then look for one with a non-stick coating.
If you're looking to sear fish, then a stainless steel pan is a good option. But keep in mind that these pans can be more difficult to clean.
Choose a pan with deep sides.
When you're frying fish, you want to make sure the oil doesn't splatter everywhere. A pan with deep sides will help contain the oil and prevent any accidents.
Best Pan to Cook Fish: Our 5 Picks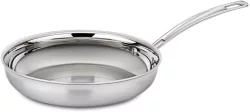 The Cuisinart MultiClad Pro Skillet is a great option for a fish fry pan. Not only is the brand well-known and reputable, but this pan in particular is high-quality.
The deep sides of this pan make it perfect to avoid oil splashes when searing fish. The rims are also tapered to prevent spills when pouring.
Additionally, it's made of cast stainless steel with an aluminium core. This construction means it has the strength of stainless steel, along with the even heat retention of aluminium, so you can cook fish evenly every time.
The pan is oven and broiler safe up to 550 degrees Fahrenheit. Finally, as an added bonus, Cuisinart offers a limited lifetime warranty on the pan, so you can be confident in your purchase.
Pros
Even heating
No spillage
Easy to clean
Limited lifetime warranty
Great price for the quality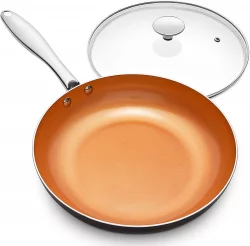 This is a great pan for fish lovers, especially those who want to have an easier cleanup job after cooking fish.
If you've read some of our articles on nonstick cookware before, you might know that we're a fan of Michelangelo pans.
That's because they're built strong, made of high quality materials, and have nonstick coatings that last.
This 12-inch fry pan is made of durable ceramic and titanium, which not only makes it nonstick but also scratch-resistant.
It's a great option if you're looking for a pan that heats quickly and evenly. Additionally, the copper design makes it look sleek and stylish in any kitchen. The Michelangelo frying pan also comes with a lid to help trap in heat and moisture while cooking.
It's also a good choice if you're into healthy cooking, as it allows you to fry fish with less oil.
Pros
Comes with a lid
Affordable
Oven safe up to 450 degrees Fahrenheit
Strong durability
Nonstick surface
Scratch resistant
Heats quickly and evenly
Induction-compatible
Cons
Some users have complained that the pan is not perfectly flat, which can cause troubles when using an induction cooktop.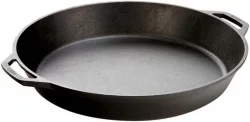 Cast iron pans aren't everyone's cup of tea, but there are undoubtedly benefits to using cast iron, like the delicious crust it creates on meats and the fact that it adds a bit of iron to your diet.
If you're looking for a fish fry pan that will give you a crispy outer layer on your fish, then the Lodge Pre-Seasoned 17-Inch Cast Iron Skillet is a great option.
Lodge is probably the most well-known brand when it comes to cast iron pans, and for good reason.
This family-owned business been making high-quality, Made in the USA cast iron pans for over a century.
This particular pan is extra large, perfect for cooking large fillets of salmon. It also has deep sides to prevent splashes, and can be used anywhere from a stovetop to an oven to an open campfire.
This pan comes pre-seasoned with 100% vegetable oil, so it's ready to use right out of the box. You can still season your pan regardless, just to ensure it stays rust-free and nonstick.
Pros
Creates a crispy outer layer
Can be used on any cooking surface, even induction
Deep sides to prevent splashes
Made in the USA
Pre-seasoned
Cons
Can be heavy and difficult to maneuver for some users
T-Fal is among the best-known names in nonstick cookware. This pan is made of hard-anodized aluminum, which makes it two times more durable than steel.
This fish pan also has a unique thermo-spot heat indicator, which shows when the pan is preheated and ready to use. It's safe to use on any most surfaces, including gas, electric, ceramic, and halogen.
The nonstick surface is exceptionally durable and scratch-resistant. For cleaning, simply wash by hand in soapy water.
This pan also comes with a lid, perfect for frying fish with marinades and keeping an eye on it while it cooks. The pan is oven safe to 350-degrees.
Overall, this is a great option for those looking for a durable and reliable fish frying pan. It's also perfect for those who want the convenience of nonstick cooking.
Pros
Hard-anodized exterior for durability
Thermo-spot heat indicator
Safe to use on most surfaces
Affordable price
Glass lid comes with a steam vent
Thick aluminum build prevents warping
Heavy, but not so much as to be uncomfortable
Cons
The Thermo-spot indicator can be pretty hit-or-miss, and when it does work, it's pretty faint. It's a minor complaint, but it's worth noting.

If you're looking for a fish fry pan made by one of the most sought-after brands on the market, you've found it.
All-Clad's stainless steel fry pan is made with a tri-ply construction. It has an aluminum core that's surrounded by American-made stainless steel.
Specifically, it's made with high-quality D3 stainless steel, which is heat-resistant and won't warp or corrode over time. The excellent heat transfer and layering of the metal makes it one of the best-selling pans on the market.
This fry pan also has a wide, flat base and flared sides, making it great for browning, frying, and sauteing. The lid is also made of stainless steel.
The All-Clad fry pan is oven safe to 600 degrees, making it one of the most versatile pans on the market.
What makes this a great pan for searing fish? For one, it creates a great fond. If you're not familiar with the term, it's French for 'base', and refers to the browned, flavorful bits of food that stay on the cooking surface after roasting or searing food.
This flavorful layer of fat and food bits is great for added flavor when throwing some vegetables or sauce into the pan after cooking fish.
Keep in mind that this pan is not nonstick. That means you'll still have to use some kind of grease or oil to keep your fish from sticking.
Pros
Long handle Made in the USA
Tri-ply construction
Stainless steel exterior
Offers the best frying results you'll get from a stainless steel pan
Stainless steel lid
Oven safe up to 600 degrees
Cons
Not nonstick
Expensive, but worth every penny for the quality and long-lasting durability. If you're serious about cooking, it's well worth the price.
FAQ About Cooking Fish in Pans
Is it better to fry fish in a cast iron skillet or a stainless steel pan?
Cast iron pans are great for cooking fish because they hold heat well and create a nice sear on the fish. Stainless steel pans are also a good option, but in general, you'll get better results from a cast iron pan.
What is the best way to keep fish from sticking to the pan?
The best way to keep fish from sticking to the pan is to use a nonstick pan or to coat the pan with oil before cooking.
We recommend butter for the best flavor, but you can use almost any oil. Try to swirl the oil in a heated pan before adding the fish.
Check out our full article on cooking fish in a pan for more tips.
How do I know when my fish is cooked through?
One of the best ways to tell if your fish is cooked through is to use a meat thermometer. The USDA recommends an internal temperature of 145 degrees for fish.
You can also cut into the thickest part of the fish with a knife to check that it's opaque all the way through.
Finally, cooked fish should flake easily with a fork. If it's still tough or rubbery, it needs to cook longer.
If you're pan-frying fish, keep in mind that it will continue to cook for a few minutes after you remove it from the pan. We recommend taking it out of the pan when it's just slightly undercooked, as it will finish cooking through while it rests.
What is the best fish for pan searing?
Almost any type of fish will work well for searing or frying, but some of our favorites include tilapia, salmon, sole, and trout.
Keep in mind that thinner fillets will cook more quickly than thick ones. You may need to adjust your cooking time accordingly.
What is the best way to clean a fish frying pan?
The best way to clean a fish frying pan is to wash it by hand with hot, soapy water. Avoid using harsh detergents, dishwashers or scouring pads, as these can damage the pan.
If there are stubborn bits of food stuck to the pan, you can soak it in hot water for a few minutes before washing. You may also need to use a little elbow grease to get it clean.
Once the pan is clean, dry it thoroughly with a towel before storing. If you live in a humid climate, you may want to store the pan in an airtight container to prevent rusting.
With proper care, your fish pan should last you for years!
So, there you have it! Our comprehensive guide to the best pans for frying fish. We hope you found this article helpful and that you'll be able to find the perfect pan for your needs.
Happy cooking!
Editor's Choice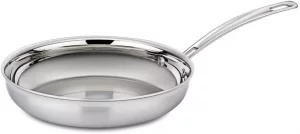 Cuisinart 10-Inch Multi-clad Pro Skillet

Talya Davis
Talya, like all members of the HomeDesignX team, is enamored by all things related to cooking and eating. She's written cookware articles for numerous publications before working with her lifelong friend Jessica to create their very own website on cookware.
She's currently writing a book on induction cooktops, and enjoys making clean, vegan meals for her family.