2nd Best Choice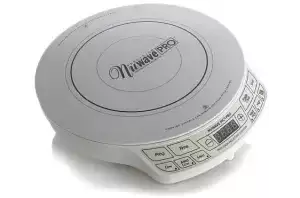 Nuwave Pro White Diamond Induction Cooktop
Check Latest Price
Editor's Choice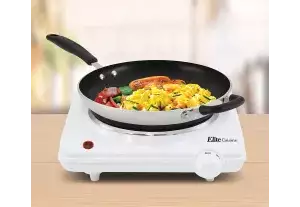 Maxi-Matic Elite Cuisine Single Burner, White Induction Cooktop
Check Latest Price
3rd Best Choice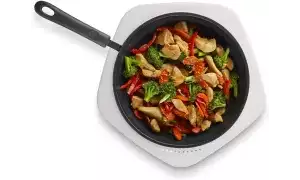 Goodful by Cuisinart OT1500GF Single Burner White Induction Cooktop
Check Latest Price
Are you looking for a white induction cooktop? Check out our list of the 5 best white induction cooktops review.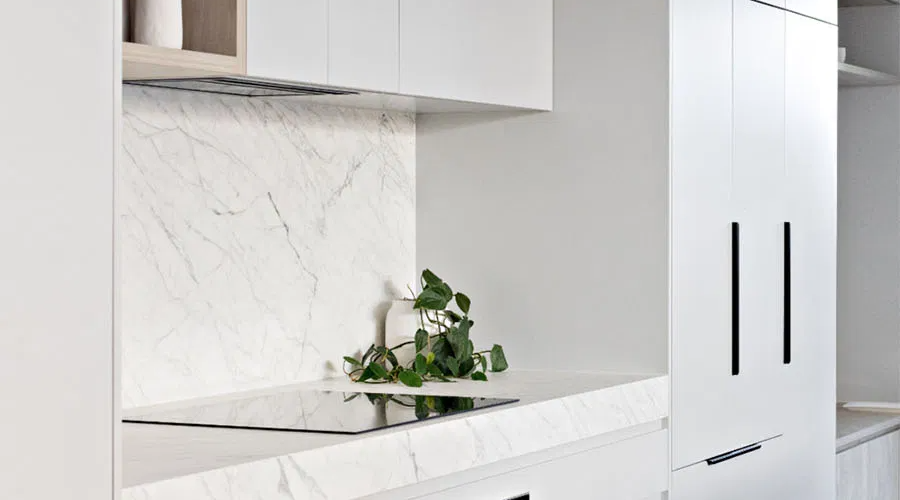 About the White Induction Cooktops
Induction cooktops are widely popular in today's times, especially the white ones. Three major brands manufacture white induction cooktops, which you can call it white. It is hard to find pure-white induction stoves in the US. You may find these brands selling offline, too – at a departmental store, but my experience says that it is challenging here. The online store – Amazon has it; thereby, I could find variant options to review each of them in detail.
Induction cooktops are high in-demand; however, now gaining popularity, the white ones are among the elegant stovetops that kitchens with top-notch interiors require. People opting for white cooktops do not budget as a constraint – they are mostly ready to spend a fortune when they get out to look for white kitchen tops. Again, these come in two variations – portable and built-in cooktops; thereby, this guide shall help you to come out of the confusion of buying the white cooktop for yourself.
We will cover the myths and facts about induction cooking to start with. Then we will discuss the different varieties' available induction cooktops. Later we shall discuss how to choose the best option, and I have also listed down the top 5 white induction cooktops that are available on the market.
Read more: 5 Best Portable Induction Cooktops
The Myths and Facts about Induction Cooking
There are several myths regarding health concerns when it comes to induction cooktops, as well as the fact that it does not accommodate well with most cookware. Here are some myth-busters to let you know the clear line between true and false:
The bottom of the cookware should be the same size as the cooktop burner: This myth is false. A burner on the induction cooktop can accommodate easily to the bottom of the cookware and provide heat only to those areas.
Only flat-bottomed cookware works on the induction: Here lies a partial truth – completely round cookware will not receive heat as evenly as flat-bottomed cookware will. But, regardless, there is no compensation in the magnitude of heat provided.
Mildly magnetic cookware does not work: The magnetic capability does not affect the heat distribution; it will work the same for alloys and the pure magnetic metals.
The induction cooktop is overall not safe: As a matter of fact, induction is one of the safest cooktops available in the market. It does not use hazardous fuels like gas, or require fire to cook food; most induction does not operate as an electric cooktop – they are charged and work with magnetic force.
Induction cookware is harmful to people with pacemaker: Wearing a pacemaker makes you vulnerable to several electrically charged appliances, but an induction cooktop operates with a magnetic charge. It is, however, safe to consult with your doctor before investing in an induction cooktop.
After the facts and realizations about the white induction cooktops range, it is time for you to start your buying process. Let's read about the detailed method of what to look for when buying the best white induction cooktop in 2020.
How To Choose The Best White Induction Cooktop?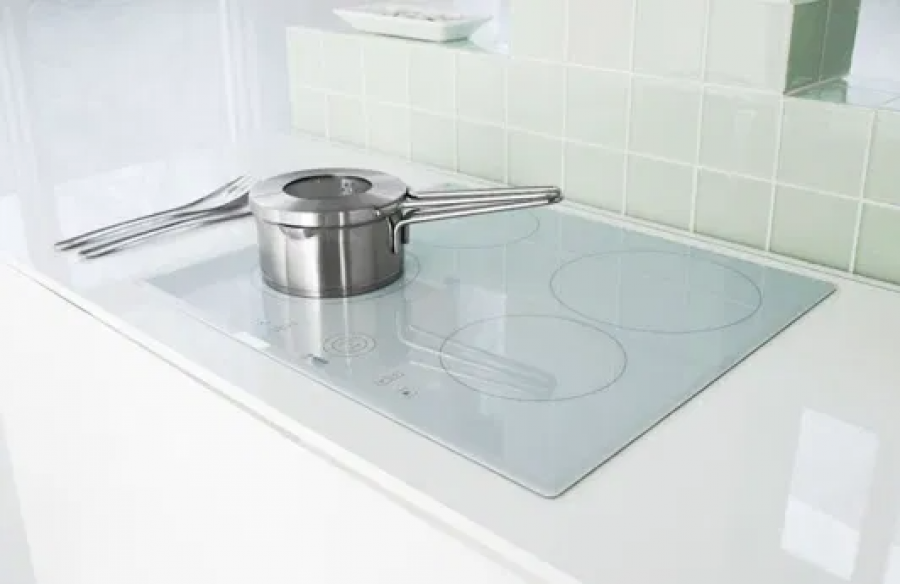 Buying the best white induction cooktop can be challenging, and I want to smooth this process for you. I have reviewed and researched about the white induction cooktops in detail; thereby, I have listed the vital factors that can affect your purchase. These will help you directly or indirectly in making a rightful, budget-friendly, and wise purchase. Let's read about each factor in details:
Size: It is important to measure the dimensions of your kitchen and where your induction cooktop will be placed so that you can ensure that you have the right size – neither too big nor too small
Type: There are portable, built-in, and full-size induction cooktops. The portable induction has 1-2 burners and great for dorm rooms or traveling. A built-in induction has 4-6 burners and fits precisely in the dimensions you require; it can be installed by a professional or you. Full size is not fit in, it is free-standing and almost the same as built-in with other aspects
Settings: The pre-set menus should have a relatively wide range, with respective burner having separate controls. It should each come with timer ranges, and be convenient– most importantly, relevant to you
Additional: Auto shut-off system, Child Safety Lock, Hot surface indicator; these may be additional, but are necessary for increased efficiency and safety
Price: Price is an important factor when you decide to buy an induction cooktop. White cooktops are more expensive than other cooktop variants; thereby, considering the features along with color in comparison to the price will help you in making the right purchase. It would help if you always looked for a value for money product.
Brand Value: Always look for a reputed brand when choosing kitchen cooktops; you are going to use them for years together, so you will need a perfect option that lasts long, even after prolonged use. A good brand provides a long-lasting induction cooktop.
Warranty: Look for a decent warranty period option when you go to buy a white color induction cooktop. Warranties help you in making a worry-free purchase.
Now that you've seen our top 5 recommendations of the best white induction cooktops, we'll give you more detail on each of them, including why we liked them.
Top 5 Best White Induction Cooktop Reviews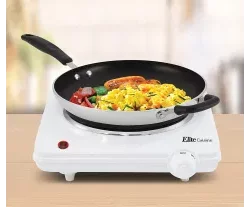 With this Elite Cuisine single burner white induction cooktop from Maxi-Matic, you can cook with ease and quick, as well as consistent. This electric single buffet burner is portable and easy to store –great feet for dorm students or travel escapades. It heats up fairly quickly with its 1,000 watts of power that comes due to an adjustable knob for temperature settings.
Features:
Non-stick flat hot plate surface of heavy-duty cast iron
Adjustable temperature knob with off, medium, low, high, and Off settings
Quick and accurate heating due to 1000 watts of power
Stable cooking with non-skid rubber feet
Power indicator light
Easy to clean and maintain
Takes up little cooking space
Cool to chat
Why We Like This Product:
This electric single buffet white induction cooktop offers a great number of features in its compact, portable body. This appliance is a perfect companion while traveling, or as a student. It offers stable cooking due to non-skid rubber feet and great heating abilities. With the non-stick heavy-duty cast iron flat hot plate, you can easily maintain this appliance.
Quick Facts
No. of Burners: 1
Watts: 1000W
Power Settings: 5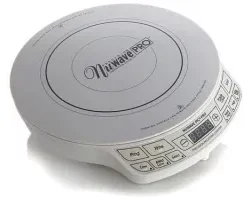 This pro-white diamond induction cooktop from Nuwave offers fast, efficient cooking and heating. The cooking surface accommodates well with the cookware, even large pots, and pans. It comes with a control panel that has digital LCD functionality. It offers conventional use with its ingenious features and easy to use construction. It increases the overall aesthetic of your kitchen with its beautiful pro-white diamond look.
Features:
Easy to use control panel with Digital LCD
Adjustable temperature due to 5-degree additions ranging from 100 to 575 degrees
Pre-programmed six settings for temperature catering to daily tasks
Carrying case included transporting the induction burner easily
The user manual comes with 60 recipes going from breakfast to full-course meal
12-inch accommodating surface, even for large pots and pans
Why We Like This Product:
This white induction cooktop comes with pre-programmed temperature settings, which are easily adjusted with the digital LCD control panel. It avails an easy user interface and saves you a lot of time. The kit of this induction cooktop comes with a nylon carry case, durable and lightweight, and a user manual with 60 recipes.
Quick Facts
No. of Burners: 1
Watts: 1800W
Power Settings: 6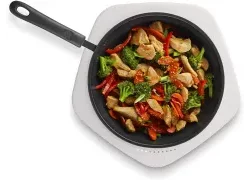 To take the guesswork out of cooking, this single burner white induction cooktop, model OT51500GF from Goodful by Cuisinart, is best for you. It comes with dual precision tracking of temperature, which allows you to be free of worry when cooking. You can indulge in different cooking styles with this cooktop – slow and low cooking will require no extra hardware.
Features:
App connectivity and capacitive touch for power control
Heats your pan quickly and hold it at the precise temperature
Slow and low cooking without extra hardware
Dual precision tracking of temperature
Ingenious settings to take the guesswork out of the cooking
Liquid temperature can be set constant at 1 degree
Bluetooth connectivity through iOS and Android One top application
The maximum level of operation at 450 degrees Fahrenheit
Why We Like This Product:
It is easy to connect your induction cooktop to your device through Bluetooth directly with an iOS and through the One Top application in Android. It allows slow and low cooking with the dual precision temperature and has a maximum level of operation at 450 degrees Fahrenheit. This induction cooktop saves you from the guesswork indulged in cooking.
Quick Facts
No. of Burners: 1
Watts: 1500W
Power Settings: N/A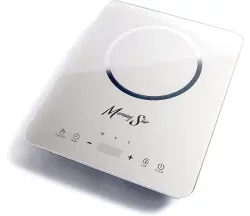 This Morning Star Portable Induction Cooktop, Model MS-151, comes in a sleek, ultra-slim design. The ingenious auto shut off feature stops the appliance immediately after the cookware is removed from the surface. It provides quick heating, which helps you in saving the cooking time.
Features:
Slim and sleek, does not take up a lot of space
Quick heating which reduces a lot of cooking time
Auto Shut off system stops the appliance immediately after cookware is removed
Precise temperature settings for convenience with range 140 10 460 degrees Fahrenheit
15 levels of power in range 100W to 1500W
Bright LCD Display with touch controls that have high sensors
Child-lock safety and system of diagnostic
1 to 240 minutes built-in adjustable timer

Why We Like This Product:
This induction cooktop can fit into any space in your kitchen easily – and provide you with high-grade functionality. It comes with several ingenious features such as the 15 power levels, quick heating, temperature settings, child-safety lock, adjustable timer with a wide range, and diagnostic system.
Quick Facts
No. of Burners: 1
Watts: 1500W
Power Settings: 15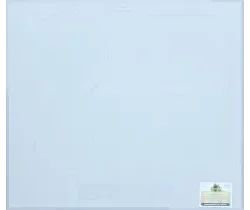 The Whirlpool White Built-in induction cooktop, Model ACM 808/BA/WH, avails four cooking zones whose settings can be adjusted with the control panel. It offers great technology in a beautiful sleek design. This induction cooktop is energy efficient and works ingeniously towards heating the cookware rather than heating the hot plate surface.
Features:
Front location control panel for easy access and avoidance of reaching over hot cookware
Reduction of energy dissipation
Focuses ingeniously on heating the cookware rather than the plate
Four separate cooking zones, adjustable with control panel
Device enabling indicator and a separate residual heat indicator
Timer for convenient cooking
Why We Like This Product:
This white sleek built-in induction cooktop has four heating elements, which provide quick heating with the focus directed towards heating the cookware rather than the plate. It is constructed to reduce energy dissipation and comes with a device enable indicator, as well as, a separate residual heat indicator.
Quick Facts
No. of Burners: 4
Watts: 7200W
Power Settings: N/A
What's The Best White Induction Cooktop?
There are a lot of points that are necessary to consider when buying a white induction cooktop. Above mentioned points in this guide are few of many – but they cover the basics as a whole. You can wisely decide on which cooktop suits your needs the best, or go with the winner we have chosen, that is the Morning Star (Model: MS-151) Portable Induction Cooktop.
This particular appliance product comes with all the safety precautional features like the child-safety lock, heat indicator, diagnostic system, and immediate auto shut-off. It is easy to carry and store, with its sleek design. The quick heat allows you to save a lot of time while cooking.
Editor's Choice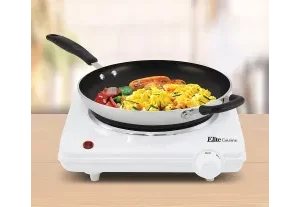 Maxi-Matic Elite Cuisine Single Burner, White Induction Cooktop
No. of Burners: 1
Watts: 1000W
Power Settings: 5

Talya Davis
Talya, like all members of the HomeDesignX team, is enamored by all things related to cooking and eating. She's written cookware articles for numerous publications before working with her lifelong friend Jessica to create their very own website on cookware.
She's currently writing a book on induction cooktops, and enjoys making clean, vegan meals for her family.