Whether you're a cooking enthusiast or a beginner in the kitchen, you'll need good quality and reliable cookware. This is to ensure that your time in the kitchen is well-spent and stress-free.
When it comes to the material and build quality of cookware, stainless steel is one of the most popular options.
This is because stainless steel is a tough and durable material that will last for years to come. It's also great for beginners and those who cook basic meals, as it's practical and easy to maintain.
Stainless steel cookware is also a better option than nonstick cookware, as those are usually less durable and harder to handle. This article will cover the pros and cons of stainless steel cookware, as well as all the different options available.
Pros and Cons of Stainless Steel Cookware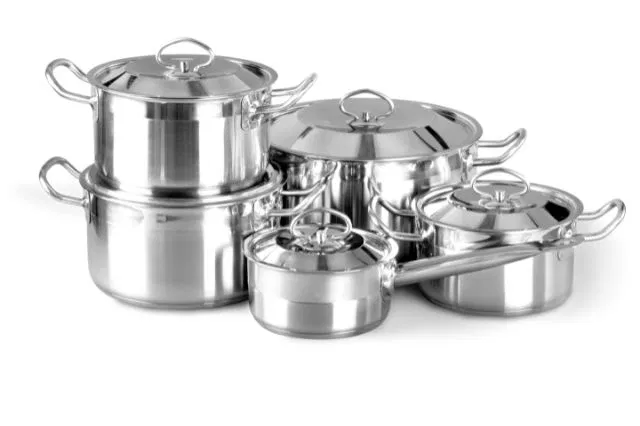 Pros
Is durable and long-lasting
Non-toxic option; chemicals and metal do not leach into your food
Ideal for sautéing, boiling, and baking
Heats up quickly and allows for evenly-cooked food
A versatile choice that is also oven-friendly
Easy to clean and normally dishwasher-safe
Has a sleek, professional look
Cons
Isn't non-stick, so it's not ideal for cooking sticky food
Can be unsafe for people who are sensitive to nickel
Can be difficult to clean
FAQ
Is stainless steel non-stick?
Well, the short answer to this is no! Stainless steel is normally uncoated and not ideal for cooking eggs and other foods that stick. However, there is a way around this. If you use butter and oil and heat it up to a medium temperature before you add your food, the stainless steel surface essentially becomes non-stick.
However, stainless steel definitely has some advantages over nonstick cookware such as it is more durable and can also withstand higher temperatures. So even though stainless steel might not be non-stick, it has a lot of advantages!
Stainless steel cookware is also easy to wash, but it's important that you clean it properly to maintain its shine and durability.
What to look for in stainless steel pans?
Once you have decided to purchase a stainless steel pan, you need to consider some other aspects to ensure you make the right choice.
One important aspect is the price. Stainless steel pans come in a range of different prices. You can get one for less than $100 and there are some that are way more expensive.
So, you need to consider what works for your budget and then look for a pan that fits within that budget and fulfills your needs. However, keep in mind that, as a general rule, a stainless steel pan that comes cheap is likely poor quality and you'll have to buy another one soon than you'd want.
Pay attention to the weight of the pan. While heavy stainless steel pans can be more durable, they are also harder to handle for new and inexperienced cooks. Consider your level of experience and how often you will be using the pan before making a purchase.
You should also opt for cookware options that have higher ply (cladding). The higher the ply of the cookware, the better it functions as a conductor of heat. This allows for even heating and better-cooked food.
What stainless steel is best for cookware?
When it comes to stainless steel, you can look at its grade to gauge its type.
Stainless steel that have a grade of 18/8 or 18/10 are usually the best option for cookware. These types of stainless steel have great chromium-to-nickel ratios, which makes them resistant to corrosion as well as super durable.
Conclusion
Now that you've read this guide, you have a solid grasp on the great stainless steel cookware options available on the market.
With so many choices, it may feel overwhelming to try and find the best option for you.
When it comes to stainless steel pots, pans, and even entire sets, you should consider aspects like weight, cladding, corrosion resistance, and price.
You will also have plenty of choices, but we recommend choosing a set from trusted and known brands like Cuisinart, Calphalon, KitchenAid, All-Clad, and more.
In case you don't want to purchase an entire set of cookware, you can even buy separate pots and pans. Stainless steel cookware will last you for years and take your cooking experience to the next level!
Happy cooking!

Talya Davis
Talya, like all members of the HomeDesignX team, is enamored by all things related to cooking and eating. She's written cookware articles for numerous publications before working with her lifelong friend Jessica to create their very own website on cookware.
She's currently writing a book on induction cooktops, and enjoys making clean, vegan meals for her family.