2nd Best Choice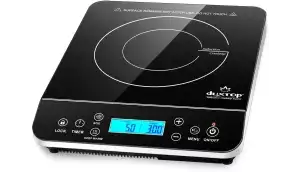 Duxtop 9600LS Portable Induction Cooktop
Check Latest Price
Editor's Choice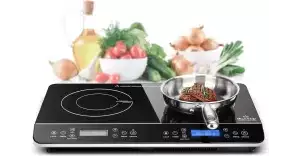 Duxtop 9620LS LCD Portable Double Induction Cooktop
Check Latest Price
3rd Best Choice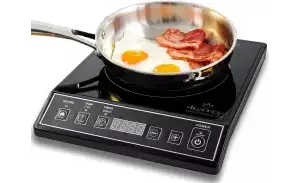 Duxtop 9100MC Portable Induction Cooktop
Check Latest Price
Are you looking for a Duxtop induction cooktop? Check out our list of the 5 best Duxtop portable induction cooktops review.
We will carefully analyze all the models of Duxtop portable induction consecutively, but first, let's take a quick look at this comparison table among the best Duxtop portable induction cooktops:
5 Best Duxtop Portable Induction Cooktops Reviews
In this section, we will help you identify which induction cooktop you should actually buy that can effectively cater to your needs. We have reviewed top 5 best Duxtop portable induction cooktops for every need.
Let's get to the reviews, shall we?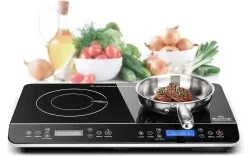 The LCD Portable Double Induction Cooktop from Duxtop, Model – 9620LS, is one of the best when it comes to heating capabilities. Additionally, it avails dual independent heating zones which avail separate settings with the use of its LCD screen. This induction is easy and safe to use with the child lock system – most importantly, it's easy to clean.
Features:
Temperature mode and Power mode with 20 presets each
Child safety lock system for extensive protection from mishaps
Simple to use control panel
Extremely easy to clean and maintain
Independent dual heating zones with separate settings
LCD screen; easy to operate
Energy-efficient and faster heating
Why We Like This Product:
This independent dual portable induction cooktop from Duxtop comes with two modes that provide versatile ways to cook your food; temperature mode and power mode, each with 20 presets. The LCD screen allows simple user-interface and easy-to-use control panel. This induction cooktop comes with a child safety lock system for protection from accidental mishaps and injuries.
Quick Facts
No. of Burners: 2
Watts: 100-1800W
Power Settings: 20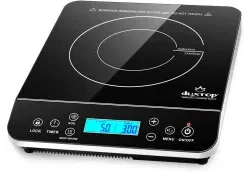 The Duxtop 9600LS Induction Cooktop is portable and provides professional functionality. It offers high efficiency by availing 20 presets for the power level – 100W to 1800W, and 20 presets for temperature level settings - 100°F to 460°F. The sensor touch panel easy user-interface and great multitudes of efficiency. This induction cooktop is lightweight and saves energy.
Features:
Electromagnetic energy for even heat distribution and retention
Stainless-steel construction is durable and reliable
Easy to clean, simply with water, and maintain
LCD Sensor touch panel for convenient user-interface
Lightweight and compact; easily portable
20 presets each for power settings and temperature levels
More energy efficient than traditional gas stoves
Why We Like This Product:
This induction cooktop is portable due to its compact and lightweight built. The stainless-steel material allows even distribution of heat and easy maintenance, as well as, simple clean-up with a normal wet cloth. There are 20 presets each for power settings, and temperature levels for an increase are versatile cooking styles.
Quick Facts
No. of Burners: 1
Watts: 100-1800W
Power Settings: 20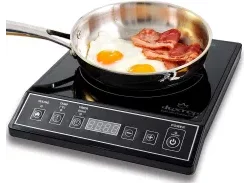 This 9100MC model of portable induction cooktop from Duxtop uses a 120v 15amp electrical outlet, which is standard. Because it is lightweight, this cookware is easy to handle and store. For dorm rooms, backyard cooking, and traveling, this cooktop is one of the bests. It is highly efficient with its 15 preset power settings from 200W to 1800W and 15 preset temperature levels ranging from 140°F to 460°F.
Features:
Convenient to clean and maintain with glass cooktop
Easy viewing with large-screened angle control panel
15 presets each of power settings and temperature levels
Lightweight and portable
Easy to store and handle
Auto-pan detection shuts off automatically in 60 seconds with no cookware contact
83% more energy-efficient than gas stoves
Why We Like This Product:
This energy-efficient and safe-to-use induction cooktop are lightweight, compact – therefore, easy to handle and store. The auto-pan detector switches the electromagnetic energy off within 60 seconds of having no contact with any compatible cookware. There are 15 presets each of the power settings and temperature levels.
Quick Facts
No. of Burners: 1
Watts: 200-1800W
Power Settings: 15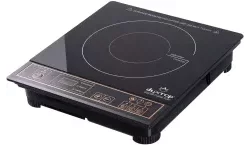 This Duxtop 8100MC Portable Induction Cooktop is compact and lightweight – which makes it portable and easy to store. This type of induction is preferred with abundant interest by college students, or traveling persons – because of its easy user-interface and portability. The Duxtop induction cooktop is energy efficient and safe to use; additionally, it provides more even heat than traditional gas stoves.
Features:
Even heating with electromagnetic energy
Built-in 170-minutes countdown timer with the simple control knob
Easy to clean and maintain glass cooktop
Lightweight, compact and portable
Power and temperature presets, ten each
More efficient than traditional gas stoves
Versatile for different cooking styles
Why We Like This Product:
The glass surface of this Duxtop portable induction cooktop is extremely easy to clean and maintain. The electromagnetic transfer of energy allows evenly distributed heat, along with the safety of not producing heat when in contact with non-magnetic cookware. Because it is lightweight and easy to store, many dorm students and traveling persons opt for it.
Quick Facts
No. of Burners: 1
Watts: 200-1800W
Power Settings: 10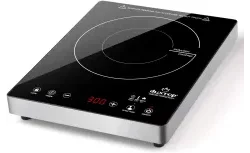 This portable induction cooktop model E200A from Duxtop is compatible with American electrical standards. It is conveniently lightweight, and therefore portable. Because of it, this cooktop is easy to carry around while traveling in RVs, or if you live in a dorm room. This induction offers quality service with 20 preset power levels and 20 preset temperature levels. It is energy-efficient, heats evenly and faster.
Features:
Full glass panel; easy to clean and maintain
Even heat distribution and retention
Sensor touch panel with built-in LED screen for easy operation
Durable and reliable due to stainless-steel housing
20 presets each for power and temperature levels
83% energy efficiency
Lightweight, portable, and easy to travel with
Why We Like This Product:
The induction cooktop from Duxtop is easily portable because of its lightweight construction and compact size. This cooktop is made of the full glass panel, which is easy to clean and maintain – moreover, it helps in evenly distributing and retaining heat. It is durable due to its stainless-steel housing. The LED screen avails easy operation, including sensor touch panel.
Quick Facts
No. of Burners: 1
Watts: 100-1800W
Power Settings: 20
About the Duxtop Portable Induction Cooktops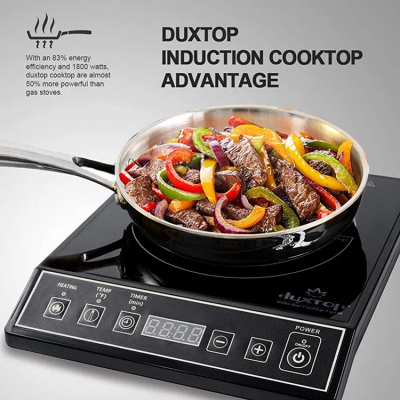 The Duxtop Portable Induction is a top-selling brand and one of the best induction cooktops to buy for a lot of reasons. Duxtop's parent company is Secura. Like most other induction burners, Duxtop induction burners are also manufactured in China.
The versatility and durability of all the models at a pocket-friendly distinguish Duxtop from other brands. They have more settings and provide an effective and better temperature control than most other brands at this price point. They are all good products. Duxtop induction cooktop models also provide a 1-year warranty for all their products to its customers. Before you get deep into the Duxtop induction cooktops range, you should know the thesis behind induction stoves, how they work, their goods and bad, what to look for, and more.
Read more: 6 Best Induction Range Reviews
How Does Induction Cooktop Work?
All the induction cooktops work through magnetism. A magnetic circuit is formed by placing a magnetic pot on an induction coil. This generates heat. The induction burner doesn't get hot itself, but rather, it's the pan that gets hot.
The pan or the cooking vessel must be made of or contain ferromagnetic metal such as stainless steel or cast iron. No vessel implies no heat. This means that if the pan is removed from the burner, the heating process will be interrupted.
What Makes Duxtop Different From Other Brands?
Duxtop is an amazing yet budget-friendly brand. Some other brands are more expensive and still have less to offer than Duxtop. Also, many brands try to fool customers by exaggerating the number of controls by including various things like shortcut buttons, presets, etc.
Moreover, while reading the reviews on Amazon, you can see that scorching and inability to regulate temperature, especially at the low end, are one of the most common complaints. However, with 9000 series Duxtop models, the case is different, which provides more sophisticated controls than most PICS in their price range. Due to these reasons, we prefer and recommend Duxtop induction cooktops over other popular brands.
At their price point, you know you're getting the best product available. Now that you know why you should choose Duxtop for induction cooking, its now time to check on the various factors that can affect your purchase. Let's have a look at them in detail.
How To Choose The Best Duxtop Portable Induction Cooktop?
Duxtop offers premium range cooktops for all types of kitchen settings; they are great to carry whenever and wherever you go, but because they come with a variety of features, you must consider the most suitable option for yourself. After careful research, we have listed the below factors that will directly or indirectly affect your purchase. We request you to go through them in detail. Let's follow further:
1. Number of settings
Most of the portable induction cooktops have a temperature range of 140F-160F and a power range of 200-1800 Watts. Within these ranges, they have a fixed number of settings, which is usually 8-10. Duxtop is also one such PIC. However, some brands claim to have more than ten settings, which is wrong. When you read the fine print, you will find the truth.
Those claims are made on the grounds of programmable settings, time settings, and memory settings, none of which can increase the granularity of control, which is an important motive. If you want to change the power or temperature settings, you only get the fixed number of settings, i.e., 8 or 10. Talking about Duxtop, even the cheapest Duxtop has ten temperature and ten power settings. The 9100 MC provides 15 each, and the newer models even provide 20.
2. Temperature Control
The number of settings is an important factor, but that's not just it. It is a difficult and expensive thing to do well precision in temperature control, so the most inexpensive induction cooktops have low-temperature control. It's very easy to make an induction burner run at full power, but it gets really difficult to hold a constant temperature without the variations, especially the low temperatures.
This is the reason behind the common complaints of scorching about the inexpensive induction cooktops. Given the price, Duxtop has excellent, and 'smart' heating controls, especially in the 9000 series models.
3. Delayed Auto-Shutoff
For the unversed, it's not the induction burner that gets hot, but rather, the pan does. This is because of the magnetic effect flow that is created. When the pan is removed from the burner, the heating process is interrupted, which means, no pan, no heat. So, it cannot be very pleasant to have to turn the burner back on every time you want to shake the pan. But Duxtop has got you covered.
All Duxtop induction cooktops provide a 60-second delay before the burner turns itself off. This is an amazing feature that most of the inexpensive induction burners don't have.
4. Budget
Budget is an essential factor to consider when you make a purchase, especially for an item that you are going to use occasionally. Portable induction cooktops not only are suitable for home use but are also a great option when you travel and tailgate; thereby, you should wisely invest in them. They should provide long-term, value for money, which means they should be reasonable and feature-rich, both at the same time.
Now that you have mastered the purchase factors, it's time to check the top 5 Duxtop portable induction cooktops that are highly trending this year. Let's read further.
What's The Best Duxtop Portable Induction Cooktop?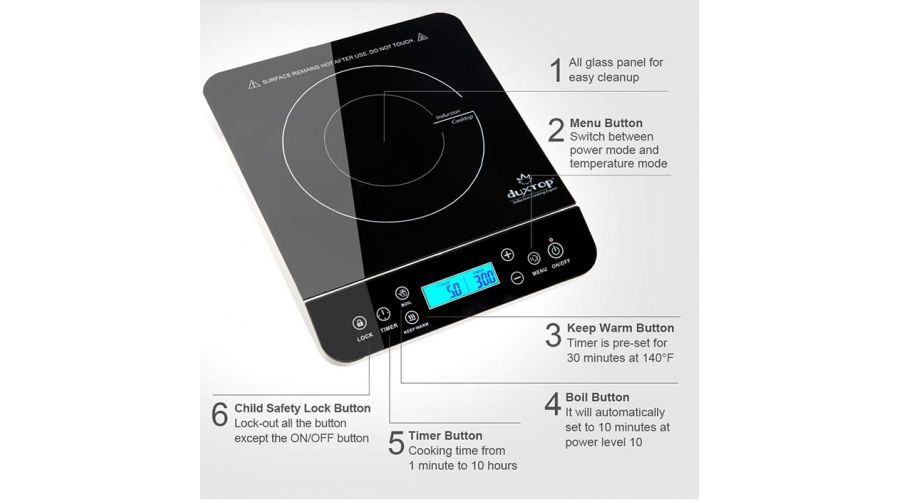 After a careful analysis, we have concluded that the Duxtop 9600LS is our most preferred pick. It has an amazing 20 power and 20 temperature settings and 10-hour running time. It is extremely lightweight and compact, which ensures easy handling and storage.
Heat output, heat distribution, quality of the material, it wins in all the areas. The durability and versatility of the product are unmatchable. Hence, this product is a must-have if you want to make your kitchen extra stylish!
Editor's Choice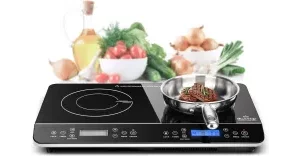 Duxtop 9620LS LCD Portable Double Induction Cooktop
No. of Burners: 2
Watts: 100-1800W
Power Settings: 20

Talya Davis
Talya, like all members of the HomeDesignX team, is enamored by all things related to cooking and eating. She's written cookware articles for numerous publications before working with her lifelong friend Jessica to create their very own website on cookware.
She's currently writing a book on induction cooktops, and enjoys making clean, vegan meals for her family.