Masterbuilt 200077515 Front Controlled Electric Smoker with Window and RF Controller, 30 inch.
Check Latest Price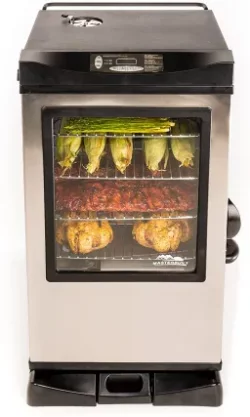 Right away you can tell this smoker was built with the objective of maximizing cooking space and making smoking meat (and other protein) as easy as possible.
Standing at only 30 inches tall, it may not be the largest smoker out there but it sure is roomy. You can place up to 4 racks full of food and still have extra space at the bottom for the drip tray and wood chip tray.
The relatively compact size also allows indoors storage, which is perfect for the winter months.
Built wise, this smoker feels quite solid and sturdy. It needs a little bit of assembly out of the box but it's easy enough and you'll be able to start smoking as soon as you get it. The door comes with a little window that lets you keep an eye on what you're cooking but it only really works at first, as the smoke makes it hard to see once you're cooking.
The wood chip tray is rather small, which means you're going to have to change it every hour or so. This can be a problem if you plan on leaving your smoker on while you're not around, so keep that in mind. However, this problem is solved by using the cold smoker option or by using moist wood chips.
All that said, feeding wood chips into the smoker is fairly easy and won't cause to lose any heat, so you'll be able to do it in just a few seconds without even opening the door.
Cleaning is made simpler by the removable racks and parts inside of the smoker, but you still need to work on it a little, which is why we recommend using foil on the drip tray to make things faster. That said, you're still likely to end up with grease all over the bottom and that's hard to clean.
Use wise, this smoker is fairly straightforward and will let you select between a variety of smoking modes, temperatures and times, making smoking meat as easy as clicking a couple of bottoms. It also comes with a little remote that lets you control things even easier.
As many other electric smokers, the temperature in this one doesn't go over 300 degrees, which can be a problem. Like other electric smokers, the Masterbuilt comes with air dampers, which work as vents to let smoke out.
This may seem counterproductive for a smoker, but allowing you to control the concentration of smoke lets you control just how flavorful the meat you're cooking will be, allowing you a degree of control superior to what you'd get using only wood chips.
This smoker also comes with wheels that let you move it around. They're small and delicate, so they won't take you far, but they're perfect for when you take the smoker out of the garage or the kitchen.
While using the electric smoker is rather easy, there's still a small learning curve while you get used to all this smoker has to offer. Rest assured that, as long as you read the instruction manual, you don't have any problem using the Masterbuilt 20066515.
Other interesting features of this electric smokers are the built-in meat thermometer and the light, which lets you see what you're cooking even in dark places. (Do keep in mind that the light is located outside which can cause a reflection in certain situations)
The electric cord is a little on the short side, so you may want to consider purchasing a heavy duty extension cord, though we only suggest this for outdoor use or if you really don't have a plug nearby.
With that in mind, let's take a look at the pros and cons of the Masterbuilt 200077515 Front Controlled Electric Smoker.
Let's get started!
Quick Facts
Pros:
Easy to clean: The Master built is easy to clean compared to charcoal and gas grills. However, you still need to deal with the grease drippings and general cleanup. This can be reduced by using a tray at the bottom, and by not inserting racks you won't use.
Easy to Program: With a front facing design and a remote, this is one of the easiest electric smokers to use! Just select time, temperature and press a button. It's as simple as that.
Woodchip Feeder Included: As we mentioned before, the wood chip is a bit on the small side, which means you're going to have to change the wood chips often. This is made easy by the attached woodchip feeder, which is a piece of cake to use.
Spacious: The Masterbuilt 20066515 Electric Smoker is very large. Large enough that it can fit 12 whole chickens! If that's not enough, you can always upgrade it to the 40 inch version, which is even roomier!
Insulated Design: Everything about the built of this smoker, sans the air vents, is insulated (and even those close) so there's no risk of heat or smoke escaping when you're cooking, even when it comes to adding wood chips.
Transportable: Due to its relatively small size, light weight and attached wheels, this smoker is portable enough to be able to move it around your home. This will give you the opportunity to store it indoors and take it outdoors when you plan on using it, or even using it indoors if you don't mind the smoke.
Minimal Assembly Required: Straight out of the box, it will need to have the wheels and latches attached, but that's about it. As long as you have a good screwdriver, you won't have any problems setting this up.
Cons:
Delicate Heating Element: Plenty of people who purchased this smoker have reported that the heating element, located at the bottom of the smoker, can stop working after several uses. This isn't a death sentence, as Masterbuilt sells replacements at very affordable prices, but it is an inconvenience that you should be aware of.
Meat Thermometer not Removable: While the built in thermometer does sound fantastic (and it comes in very useful) it can't be removed, which means you're going to have to clean it along the rest of the smoker. This can be bothersome, as it would be much easier to clean it like other types or probes.
The Remote Doesn't Work Well: While the included remote does give you a lot of liberty by allowing you to control the smoker from a distance, it doesn't always work at the first try. This can be fairly annoying, but as long as you remember to check that things are working properly, it shouldn't be an issue.
Temperature: The temperature can't really go over 300 degrees. This is still more than enough to smoke meat, but it's worth pointing out, as the relative lack of temperature control can make a huge difference for some.
Now that you know what makes the Masterbuilt 200077515 Front Controlled Electric Smoker so special, you may be thinking about purchasing it.

Talya Davis
Talya, like all members of the HomeDesignX team, is enamored by all things related to cooking and eating. She's written cookware articles for numerous publications before working with her lifelong friend Jessica to create their very own website on cookware.
She's currently writing a book on induction cooktops, and enjoys making clean, vegan meals for her family.