2nd Best Choice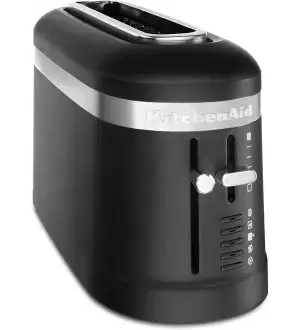 KitchenAid KMT3115BM 2-Slice Black Matte Long-Slot Toaster
Check Latest Price
Editor's Choice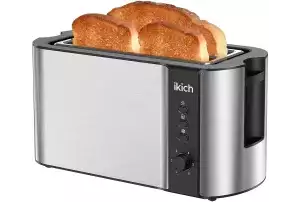 IKICH 4-Slice Stainless Steel 2 Long-Slot Toaster
Check Latest Price
3rd Best Choice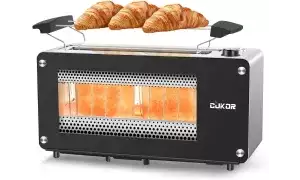 CUKOR 2-Slice Long-Slot Toaster with Window
Check Latest Price
Are you looking for the best long slot toaster? Here's our full review of top 5 long slot toasters and why you should buy them.
The days of one-size bread slices are gone; today, there are different shapes and sizes of bread slices with varying thicknesses. People have strayed from conventional toast and are more invested in tasty bread that you can easily make at home. But for the unconventional bread slice, you cannot work with your regular toaster. Here comes the Long-Shot Toaster to your rescue.
Considering the popularity of these Long-Slot toasters, it's time for us to have a look at the top-trending Long-Slot toaster options this year. We have made these considerations keeping in mind the product ratings, customer reviews, and brand and product value.
Top 5 Best Long Slot Toasters
Let's have a look at the top 5 highly trending long slot toasters that are in-demand this year!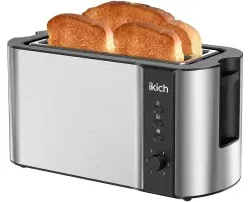 This 4-Slice Stainless Steel 2 Long-Slot Toaster from IKICH is great for making more toast at once and containing a larger size than the conventional bread slice. It comes with several beneficial features that help ease your worry about toasting bread and gives you the perfect heat you want.
This ingeniously engineered toaster comes with a warming rack that offers you optimal convenience. It is extremely easy to use –press the lift lever down, and the toaster rack pops up, which can warm up a variety of baked goods. There is a great range of 6 browning control options that allow you to choose how toasting you need to be done on the bread slice.
The range goes from 1 – which is lightest – to 6 – which is darkest. It avails the defrost setting, which is resourceful for frozen bread, and the reheat function helps in simply warming your toast without burning. Most importantly, the helpful cancel button allows you to stop the heating process irrespective of how long it is supposed to be in for. The 4-slice capacity allows you to toast more slices at once – which saves you a lot of time. It is constructed in an extended way that does not take up a lot of counter space and allows you to use the product to its fullest.
Quick Facts
Capacity: 4 slices
Power: 1300W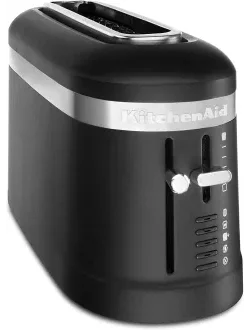 The KitchenAid 2-Slice Black Matte Long-Slot Toaster can make your daily life a lot easier. You can warm and toast your favorite types of bread and baked goods with exceptional efficiency and convenience. There are extra-long and extra-wide slots for you to be able to toast varying shapes and sizes, even toast homemade bread. It avails a high lift lever that helps you reach small pieces of bread without any problem.
This Long-slot toaster comes in a 20% smaller size, which helps you save most of your counter space and makes it easily portable and easy to store. There are so many options to choose from that can decrease your efforts to manually set the temperature for you to get the perfect heating or toasting. It avails efficient self-centering slots that let you heat the food evenly with exceptional flexibility.
It offers a great range of options for you to heat and toast; the defrost can help you warm your bread without burning it, especially frozen bread slices. There is a bagel setting for baked goods. Conclusively, these settings are great for English muffins or the cut side of bagels or toasting more and using the Little Longer setting. It comes with a removable crumb tray for extensive help in terms of cleaning.
Quick Facts
Capacity: 2 slices
Power: 900W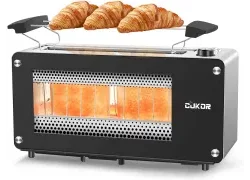 This BPA Free CUKOR 2-Slice Long-Slot Toaster comes with a window to maximize the product's efficiency and make it easy for you to heat and toast. The interior is made up of stainless steel, with no inclusion of plastic components. The front and the back are employed with quartz heating elements for high-quality precision. It allows you to brown and heat faster and better. It comes with aiding bottom holes for the aspect of cooling down and an increase in lifespan.
It is healthy and safe, giving you seven shade settings and an ingenious bun warmer, instant canceling, defrost function. The shade range goes from light to dark brown, and the toasting can go from reheating on a soft setting to a golden crispy. Two extra-wide slots can fit various baked goods such as muffins, bagels, muffins, and toasts. The top rack is great for you to warm pieces of goods like buns and croissants.
The slots are automatic slow-rising, which avoids the toasts bouncing out of the pop-up slot. It also prevents the toast from getting stuck in the toaster or jump out of the toaster suddenly. The stainless steel is easy to clean and avails easy user-interface. The sliding glass panels prevent the crumbs from entering the appliance. The transparent window allows you to keep an eye on the progress of the food.
Quick Facts
Capacity: 2 slices
Power: 1500W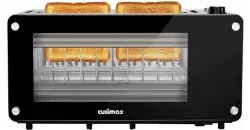 The CUSIMAX 2-Slice Long-Slot Toaster is great for small families or bachelor pads – where bread is the staple food, like in any other household. It is important to enjoy your breakfast to the fullest as it is the first meal of the day. The tempered glass allows you to see what is going on inside the toaster to cancel the browning if you feel that your bread slice has been toasted enough. Due to the all-stainless-steel construction, there is no odor of plastic in your toast.
Resistant to heat is great with the tempered glass, this long-shot toaster has longer and wider slots than a regular toaster to accommodate many types of bread – thickness and size-wise. An automatic lifting lever can take small pieces of bread out of the toaster without any problem.
There are seven shade levels for you to indulge in several options of browning and toasting. You can make your toast super crispy or warm it up. It helps you to make toast efficiently for a quick breakfast or snack time. The panels come with slide-out glass, and there is a removable crumb tray availed for easy cleaning. It has an easy user interface with the start button and multiple settings that you do not need to set manually.
Quick Facts
Capacity: 2 slices
Power: 1200W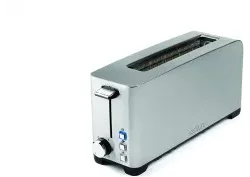 This Salton 2-Slice Electric Silver Long-Slot Toaster comes with several beneficial features for you to cook efficiently with conventional use. There are easy-to-use touch control buttons available for the varying options provided for toasting and heating. The highlight of this product is the LED indicator lights. The browning and heating options have a big range which can you defrost with, reheat, and toast – the cancel button allows you to stop the toasting at any time you want.
It has a good capacity and can toast frozen bread, waffles, bagels, and reheat other baked goods. You can warm, cold toasts, French toast, pancakes, and more. It comes with superior toasting technology and includes 11 element windings that provide you with a perfectly uniform result.
The toaster comes with a removable crumb tray, which lets you clean it easily. There is a safety anti-jam feature, which can automatically shut the power if the bread is jammed. There are self-adjusting guides to work with varying bread thicknesses. It is extremely efficient and convenient for users to automatically stop toasting bagel mid cycle, and the automatic toasting one side. You can enjoy a healthy and golden toast for breakfast with simple buttons.
Quick Facts
Capacity: 2 slices
Power: 900W
Final Verdict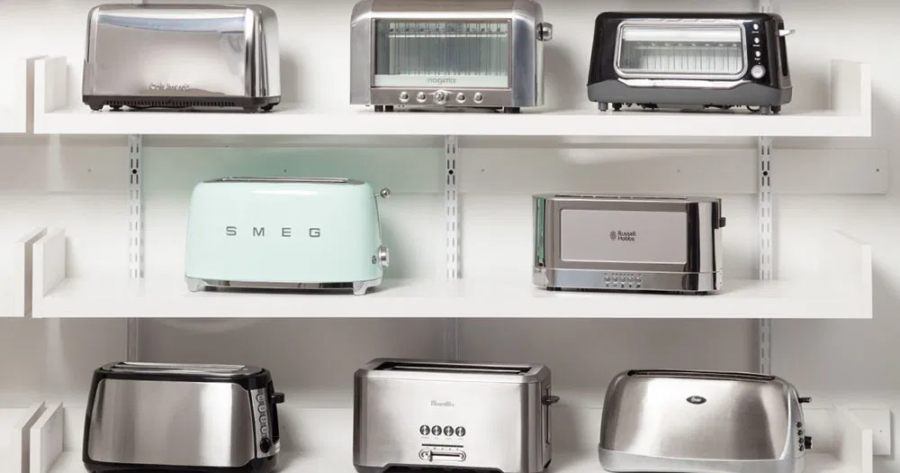 All the long-shot toasters in this guide are engineered ingeniously to ease your tension to work hard for the perfect toast. But, the winner of this guide, according to us, is the CUKOR 2-Slice Long-Slot Toaster with Window – which avails several good qualities and is extremely safe for use. It does not have plastic parts and rids of the bad odor to the toast.
Editor's Choice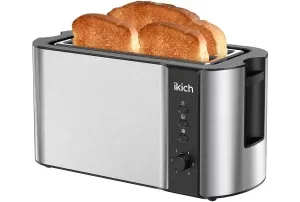 IKICH 4-Slice Stainless Steel 2 Long-Slot Toaster
Capacity: 4 slices
Power: 1300W

Talya Davis
Talya, like all members of the HomeDesignX team, is enamored by all things related to cooking and eating. She's written cookware articles for numerous publications before working with her lifelong friend Jessica to create their very own website on cookware.
She's currently writing a book on induction cooktops, and enjoys making clean, vegan meals for her family.